Elder Holland Helps Celebrate RSC's Fortieth
Thomas A. Wayment (thomas_wayment@byu.edu) was publications director, Devan Jensen (devan_jensen@byu.edu) was executive editor, and Brent R. Nordgren (nordgren@byu.edu) was managing editor of the BYU Religious Education Review magazine and production supervisor at the RSC when this was published.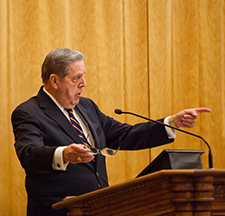 The Religious Studies Center (RSC) began forty years ago under the direction of Jeffrey R. Holland, then dean of Religious Education at BYU. So it was fitting to have Elder Holland help celebrate the RSC's fortieth anniversary, speaking at the Hinckley Center on BYU campus on May 14. Elder Holland was joined by a large group of prominent dignitaries, authors, and Religious Education faculty.
In his remarks, Elder Holland reminisced, "At one point in my life I thought my entire professional career would be with you doing things just like this: working side-by-side in the classroom on this campus and pursuing wonderful projects such as those of the Religious Study Center. The Lord stepped in to exercise damage control in that regard and has pretty much barred me from the classroom for the last thirty years or so, but I still consider myself a teacher, an advocate for Religious Education, and for the faith-promoting work of the Religious Studies Center."
So why did he establish the RSC, and what does he think of it today?
"The Heart and a Willing Mind"
In 1974, when Holland was appointed dean of Religious Education, he noticed a kind of hodgepodge of research efforts that hindered productivity. He recalled, "When I came to the dean's post I was rather immediately concerned that there was not a recognized center or identifiable focal point around which the faculty of Religious Education could pool their scholarship and be able to publish distinctly LDS research and writing. Publishing was being encouraged more and more throughout the university, but among the Religious Education faculty it was still a little newer and sometimes threatening idea. There was a fair amount of feeling that publishing is what other people did at the university and what we did in the Joseph Smith Building was teach."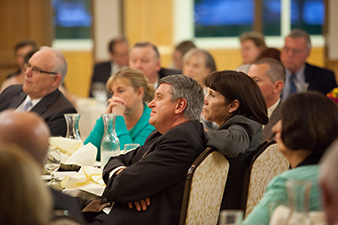 He remembered how, at the time, "no one was more of a defender of great teaching than I was, but I believed then and I believe now that great teaching had to be informed by great learning."
He added: "I simply realized we have a lot of important things to say by very able people—men and women. But we did not have a lot of opportunities to publish LDS-oriented scholarship. We had the Church magazines, but often the chance to publish there was by invitation and on assigned topics. It wouldn't necessarily have been somebody's area of interest or research. So we had very limited ways to let out what I thought was an increasingly wonderful and professional profound faculty right, and teach through the printed word and through the publication and get beyond the classroom—go beyond the university."[1]
Creating a research and publishing center would expand that outreach. "We needed a place—a center, if you wish—for our faculty to write and share their teaching with an ever-widening audience of students, alumni, and Latter-day Saints generally. So we combined those two elements: an organizational principle, a home for several existing entities, and a place to write and publish good, orthodox studies that would matter to us in Religious Education at BYU."[2]
But, more important, he saw a way to facilitate the academic needs of the growing worldwide Church. By late 1975, Dean Holland pitched the idea of the Religious Studies Center to BYU president Dallin H. Oaks and the board of trustees. Within weeks, the RSC was born.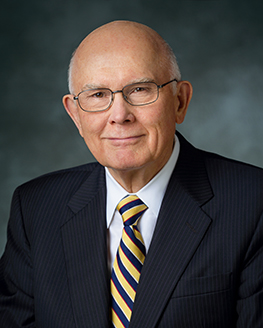 Elder Oaks wanted to help celebrate the fortieth anniversary of the RSC but was unable to attend. He did, however, convey a message that was shared with the audience by the current dean of Religious Education, Brent L. Top: "I send to you, and through you to your associates, my congratulations on the notable accomplishments of the Religious Studies Center. I do so with deep appreciation for your many publications and accomplishments in enriching Brigham Young University and the work of the Church of Jesus Christ of Latter-day Saints."
The RSC Then and Now
This new organization became a place where quality research on religious topics could be published and made available to an anxious—perhaps even hungry—Latter-day Saint audience. Elder Holland remembers, "We made our launch by publishing Nibley on the Timely and Timeless and held the first of what would become an annual symposium. Since that modest beginning, so many significant publications have been sponsored, encouraged, facilitated, and published by the Religious Studies Center. I am genuinely impressed as I hold here the bibliography of at least some of the work that has been done."[3]
The RSC started as a center to promote and encourage academic research primarily associated with the faculty of Religious Education. Over time the RSC expanded that original objective to include sponsoring research of academics who share similar interests with those of Religious Education.
Elder Holland didn't anticipate how the RSC would develop, but he's grateful "it has taken on the maturity and the dimension that it now has." He said, "It is very gratifying that it's forty years old, which is really quite amazing when you think of that. And often, I think the Lord does things with us and through us that we are not aware of at the time. The scripture says, 'Be not weary in well-doing, for ye are laying the foundation of a great work. And out of small things proceedeth that which is great' (Doctrine and Covenants 64:33). I think you are doing that with the RSC. I think it was a small thing—in a way, almost an incidental thing when we started—but out of small things proceedeth that which is great."[4]
Over the years, the staff of the RSC has grown from having a faculty publications director dedicating limited resources to identifying and supporting new research to having a full-time administrative assistant/publications coordinator (Joany Pinegar), a full-time editor (Devan Jensen), and a full-time production supervisor (Brent Nordgren).
The RSC employs several student employees who help with all aspects of everything with which the Religious Studies Center is involved. When Elder Holland learned of the positive impact on students, he said, "I am thrilled to see student efforts, student essays, and student products. I would not have been conscious enough at the time to see that would be one of the great things that the RSC would grow into. I am happy that it has. Again, I think that testifies to the vitality of a good idea. If something is good, suddenly it starts to bless more here and bless more there. If you plant a little seed and it grows up into a pretty healthy tree, I guess a lot of people can get under it and enjoy the shade in three or four or five directions."[5]
"Out of Small Things . . ."
"I think we are just beginning," he added. "I think we are just barely sprouting out of the ground. . . . I think we are all going to need our faith fortified, and one way we fortify it is by solid study. So I think for people to have opportunities, avenues, ways, channels, places to study and fortify their faith, to learn the wonders and beauties and marvels of the Restoration—I think you have just barely started on that, and so I would hope the RSC becomes much more widely known."[6]
"The Real Heartbeat of Intellectual Life"
Gathering for the fortieth-anniversary celebration raised at least two important questions: "What can we do better?" and "How will we change and grow in the future?"
Regarding the first, Elder Holland said, "I am thrilled with the products I see; I get a copy of most things that are published. I am very proud of that, and like it all very much. But I think we will want to keep asking hard questions: how much is practical, how much is needed, how many lines of communication do we need, and what books are good enough to carry our imprimatur. When we know which products those are, then we should do a world-class job with them."[7]
Regarding the second, he urged, "I would hope the quality of our product is unassailable, as definitive, as rewarding, as inspiring as a wonderful, bright set of faculty members and contributors can make. So I think what will happen is we will do a lot more of this, it will go not only to members, but it will bless Latter-day Saints, and it will bless those who are not of our faith. If we are going to be that kind of a voice for the Religious Education faculty within the university, then for a portion of the university itself, then for the Church, it will just have to be world-class work. . . . That is the journey we are on."[8]
He said, "I would like this to become known as the scholarly voice of The Church of Jesus Christ of Latter-day Saints on matters that would normally be considered as 'religious studies.' When people think, 'Where do I look to see the real heartbeat of intellectual life and academic contribution for The Church of Jesus Christ of Latter-day Saints,' I want them to think BYU, and at BYU when the issue is religious scholarship, I want them to think of the Religious Studies Center."[9]
Touching Hearts and Minds
At the conclusion of the fortieth-anniversary celebration, Elder Holland praised the fact "that as an RSC team, you are trying to touch all those centers of response, including the mind, as something of the final challenge and the concluding summit. Fortunately, we among the presiding council of the Church feel we do have your heart and soul and strength and mind, and we thank you and heaven for them."
He concluded with a stirring testimony and "an apostolic blessing on every man and woman and student who contributes to the great on-rolling of the kingdom, particularly here tonight at BYU, and particularly here tonight through Religious Education and the Religious Studies Center." He said, "I bless you that ideas will continue to come, that the truth will always shine, that the projects will take form, that the Spirit will lead you to insights and discoveries, and that your voice will be articulate and powerful, first in the classroom, and later, perhaps, as you form those words on the printed page, that the very angels of heaven will be on your right and left and will protect your hearts and your homes."[10]
This is the journey the RSC is on, and we hope you will join with us.
Significant Mileposts
Beginning in the 1980s, the RSC began publishing books that expressed a strong LDS interest and that were written almost exclusively to a Latter-day Saint audience. In the 1990s, RSC books often reflected growing interest in the Book of Mormon and the ancient world. The RSC also published a series of studies on the Book of Mormon, as well as a number of other important titles on doctrinal and historical themes.
At the turn of the century, the RSC began publishing the Religious Educator, an academic journal with a focus on the restored gospel of Jesus Christ, Latter-day Saint scriptures, and Latter-day Saint history. It was first intended to provide gospel teachers with carefully prepared, inspirational, and informative articles that would help assist them in their teaching roles. It has evolved to benefit a much broader range of Latter-day Saints who love the gospel and its teachings.
In 2008, the RSC website was launched, providing free and easy access to thousands of published articles and recorded conferences to a continuously growing global audience.
Also in 2008, the BYU Religious Education Review magazine was launched and made available to all full-time faculty at BYU and a growing number of interested subscribers at no charge.
Starting in 2009, the RSC and Deseret Book established a copublishing arrangement that would help RSC books reach a much broader audience and help fill an academic niche for Deseret Book in the area of LDS scholarship.
Global Research
Part of the variety in publications over the years is simply a reflection of the changing interests of academic researchers and, in part, a broad understanding of what were perceived to be subjects that warranted further interest. Looking forward, it is clear that the RSC can continue to loosely follow the trends of LDS academics, and in the future will continue to see studies that reflect wide-ranging interests and specialties. Most recently, three trends seem to be emerging, namely the interest in (1) publishing document-driven studies that help broaden our understanding of the growth of the Church into the modern era, (2) more specialized regional histories as we try to establish accurate and carefully written histories of the Church in areas across the globe, and (3) carefully written books and articles that will assist parents and leaders with ongoing answers to the ever-changing questions facing the youth and global membership of the Church.
Website and RSC App
Today, thousands of articles are available for free through the website, rsc.byu.edu, and the RSC app. Articles are mostly in English, but much research is translated into Spanish and Portuguese.
AWARDS
1981—MHA's Distinction in Editing Mormon Documents for The Words of Joseph Smith
1993—MHA's T. Edgar Lyon Award of Excellence for "Discipleship: Brigham Young and Joseph Smith," in Joseph Smith, the Prophet, the Man, ed. Susan Easton Black and Charles D. Tate Jr.
2006—MHA's Steven F. Christensen Best Documentary Award for The Diaries of Charles Ora Card: The Utah Years, 1871–1886
2009—MHA's Geraldine McBride Woodward Award for Best Publication in International Mormon History for A Land of Promise and Prophecy: Elder A. Theodore Tuttle in South America, 1960–1965
2010—MHA's Geraldine McBride Woodward Award for Best Publication in International Mormon History for In Harm's Way: East German Latter-day Saints in World War II
2012—Harvey B. Black and Susan Easton Black Outstanding Publication Award (Ancient Scripture) for No Weapon Shall Prosper: New Light on Sensitive Issues
2013—MHA's Best International Article Award for "The Role of Local Missionaries in Nineteenth-Century England," in Go Ye into All the World, ed. Reid L. Neilson and Fred E. Woods
2013—Harvey B. Black and Susan Easton Black Outstanding Publication Award (Church History and Doctrine) for Civil War Saints
2014—Harvey B. Black and Susan Easton Black Outstanding Publication Award (Ancient Scripture) for By Our Rites of Worship: Latter-day Saint Ritual in Scripture, History, and Practice
2015—Harvey B. Black and Susan Easton Black Outstanding Publication Award (Church History and Doctrine, Gospel Scholarship) for Nauvoo and Hancock County, Illinois: A Guide to Family History and Historical Sources
YEAR AT A GLANCE: 2015
Zion's Trumpet: 1854 Welsh Mormon Periodical
Our Savior's Love: Hope & Healing in Christ (BYU Easter Conference)
Psalms of Nauvoo: Early Mormon Poetry
An Eye of Faith: Essays in Honor of Richard O. Cowan
From Darkness unto Light: Joseph Smith's Translation and Publication of the Book of Mormon
Conversations with Mormon Historians
Against the Wall: Johann Huber and the First Mormons in Austria
Rediscovering the Sites of the Restoration: The 1888 Travel Writings of Mormon Historian Andrew Jenson, Edward Stevenson, and Joseph S. Black
The Coming Forth of the Book of Mormon: A Marvelous Work and a Wonder (44th Annual Brigham Young University Sidney B. Sperry Symposium)
A Missionary's Story: The Letters and Journals of Adolf Haag, Mormon Missionary to Switzerland and Palestine
Approaching Antiquity: Joseph Smith and the Ancient World
Provo's Two Temples
2015 BYU Religious Education Student Symposium
The Restored Gospel and Applied Christianity, 2015
BYU Religious Education Review (Winter and Fall)
Religious Educator (Winter, Summer, and Fall)
Studia Antiqua (Spring)
Conferences and Symposia
The RSC has sponsored and hosted numerous conferences and symposia throughout its forty years. Most of these are held annually. Some of the more notable ones include:
· Book of Mormon Symposium
· Sidney B. Sperry Symposium
· BYU Church History Symposium
· BYU Religious Education Student Symposium
· BYU Easter Conference
· King James Bible and the Restoration Symposium
Research Arm of the RSC
Two faculty members in Religious Education also facilitate the allocation of grant money to sponsor research, and more recently the RSC has created an outreach office with the intent to foster religious understanding.
At any given time, the RSC funds in part the research of a dozen or more academics, and the research topics covered is exceptionally broad. Currently, the RSC is funding research into Ethno-ornithology in Lacandon Maya culture, translations of papyri from Oxyrhynchus in Egypt, study of sixteenth-century English Bible translations, Jews in Russia, and research into the establishment of Fayette, New York, as a pilgrimage site for Latter-day Saints.
These efforts are made possible through the help of generous donors.
Photos and captions: The who's-who included Elders Paul V. Johnson and Kim B. Clark, past and present Commissioners of Church Education; Elder Steven E. Snow, Church Historian and Recorder; Richard E. Turley Jr. and Reid L. Neilson, Assistant Church Historians; and key Joseph Smith Papers team members. Why all the dignitaries? They wanted to voice strong support for the Religious Studies Center and celebrate the partnership between the key players.
RSC website (rsc.byu.edu, most content is free)
Notes
Notes
[1] Transcript of RSC Fortieth Anniversary, May 14, 2015.
[2] "The RSC Turns Forty: A Conversation with Elder Jeffrey R. Holland," interview by Thomas A. Wayment, Religious Educator 16, no. 2 (2015): 1–2.
[3] Transcript of RSC Fortieth Anniversary, May 14, 2015.
[4] "The RSC Turns Forty," 6–7.
[5] "The RSC Turns Forty," 5.
[6] "The RSC Turns Forty," 4–5.
[7] "The RSC Turns Forty," 3.
[8] "The RSC Turns Forty," 5.
[9] "The RSC Turns Forty," 3.
[10] Transcript of RSC Fortieth Anniversary, May 14, 2015.