Shield of Faith
The Power of Religion in the Lives of LDS Youth and Young Adults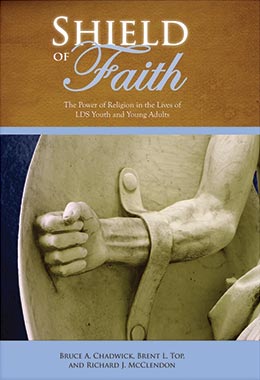 About the Book
Many scholars have claimed that religion has little or no effect on the lives of young people today; some have even asserted that religion is harmful to teens and young adults. Others have boldly predicted that the secularization of America will continue until religion has no place in our society.
This book emerged out of the authors' efforts to provide scientific evidence that shows how religion does play a significant role in the lives of LDS youth. The authors undertook a groundbreaking study that spans 17 years and three countries.
Each chapter of the book examines a different aspect of youths' religiosity and how it affects other aspects of their lives. It shows that religion is indeed a meaningful and positive force in the lives of LDS teens and young adults.
In this groundbreaking volume, Bruce A Chadwick, Brent L. Top, and Richard J. McClendon present the results of their 17-year study of the relationship between religiosity and delinquency in Latter-day Saint young people.
Truly the first of its kind, this study shows that LDS youth with a high level of religiosity are not only less likely to participate in harmful delinquent activities but also more likely to have healthy self-esteem, resist peer pressure, and excel in school.
Parents, priesthood leaders, and youth leaders know that the youth of the Church are constantly faced with temptation and opposition. This important study can help us provide our youth with the tools they need to fashion a shield of faith.
ISBN 978-0-8425-2761-3
Published in 2010