Salt Lake City, Ensign to the Nations
Hallowed Ground, Sacred Journeys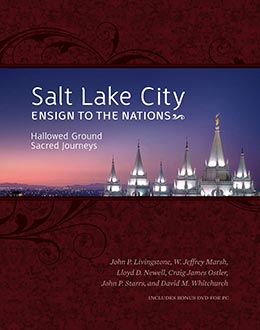 This book has not been released for online reading.
Published in 2008
ISBN 978-0-8425-2671-5
Book $34.95
About the Book
Tour the historic sites of Salt Lake City from the comfort of your own home. This full-color book includes a virtual tour DVD. Both the book and the DVD explain the historical and modern significance of each site. The authors guide the DVD tours with descriptions and details of historic sites. Also look for the travel-size companion book, Salt Lake City, Ensign to the Nations, Walking Tours.
Watch the book trailer here: