Prophets and Prophecies of the Old Testament
46th Annual Sidney B. Sperry Symposium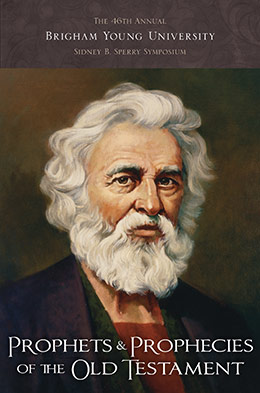 This book has not been released for online reading.
Published in 2017
ISBN 978-1-9443-9422-6
Book $24.99
Ebook $14.99
About the Book
The 46th Annual Brigham Young University
Sidney B. Sperry
Symposium
This book explains Old Testament prophecies in their original linguistic, historical, and theological contexts, helping us more fully understand the Old Testament and its relevance. Prophetic books such as Amos, Micah, Jonah, Daniel, Jeremiah, and Obadiah are contextualized. Topics include rhetorical questions and prophetic voice, imagery of salvation, and symbolic naming. The volume additionally concentrates on topics such as Daniel's apocalyptic visions, social domains and dimensions of foreign soil, sacred land and divine communication, gathering outcasts and remnant theology, the everlasting covenant and redemption, and the period of the exile. A section of the volume is also devoted to situating the Old Testament within other books of scripture. Chapters include topics such as Isaiah 7 and the fulfillment of prophecy in Matthew 1–2, the use of the Old Testament in the New Testament and Doctrine and Covenants, as well as the influence Old Testament prophets and prophecies had on the development of the Restoration.