Champion of Liberty: John Taylor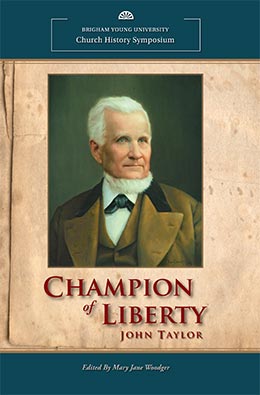 About the Book
The 2008 BYU Church History Symposium
The road from being an obscure child born in England to a "champion of liberty" in America began with John Taylor's baptism into The Church of Jesus Christ of Latter-day Saints. From that time until his death, John Taylor was an unflinching and powerful advocate of the truths that had come into his life. His motto became "The kingdom of God or nothing."

When John Taylor became the leader of the Church, his administration was limited by exile, due to federal prosecution of polygamy. Forced to move from hideout to hideout, he was rarely in a safe enough position to meet with his counselors or to be among general Church membership.

This book is a compilation of presentations from the 2008 annual BYU Church History Symposium. The purpose of this book is to remember the great legacy of John Taylor and the contributions he made to the Church during his lifetime.
ISBN 978-0-8425-2736-1
Published in 2009