Abinadi
He Came Among Them in Disguise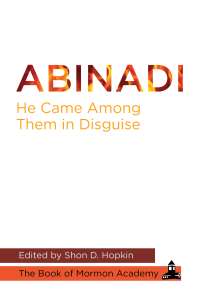 This book has not been released for online reading.
Published in 2018
ISBN 978-1-9443-9426-4
Book $27.99
Ebook $14.99
About the Book
Under the guidance of some of the best thinkers on the Book of Mormon, the Abinadi narrative springs to life as each chapter approaches Abinadi's story and words from a different perspective. Whether viewed through a sociopolitical, literary, theological, philosophical, or historical lens, new insights and a new appreciation for the richness of Abinadi's discourse will help readers reignite their passion for the beauty and depth of the Book of Mormon.
This volume is written for an informed, Latter-day Saint audience and seeks to make a contribution with other high-quality research and writing being done on the Book of Mormon. It is produced by members of Brigham Young University's Book of Mormon Academy, a group of scholars dedicated to research on the Book of Mormon. Each of the members brings a different area of expertise to bear on the Abinadi narrative. As that narrative is viewed from a variety of angles, its richness, beauty, and profound meaning come more clearly into focus.
Watch the book trailer here: