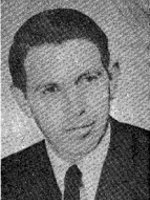 Spencer J. Palmer (1927–2000) was a professor of Church history and doctrine at Brigham Young University and a scholar on comparative religion who wrote many books on related topics. He served as director of the world religions division at BYU's Religious Studies Center and director of BYU's Center for International and Area Studies, the predecessor to the David M. Kennedy Center for International Studies.
Born in Eden, Arizona, Palmer was raised in Thatcher, Arizona. He studied at Eastern Arizona College before transferring to BYU, where he received his bachelor's degree. Between his studies at these two institutions, Palmer served as a missionary in the California Mission. He then studied at the University of California, Berkeley, where he received a master's degree in East Asiatic studies and a PhD in Oriental history. In 1956 Palmer married Shirley Ann Hadley in the Salt Lake Temple.
Palmer served in the US military as a chaplain in both Japan and Korea. He was the president of the Korean Mission from 1965 to 1968. During this time he often traveled and worked closely with Gordon B. Hinckley, the Apostle who oversaw the Church's work in Asia. As mission president, Palmer also purchased the site where the Church later built the Seoul Korea Temple. He also served as a regional representative of the Twelve in Southeast Asia, a bishop, and a counselor in a stake presidency. Palmer later served as president of the Seoul Korea Temple from 1988 to 1990.
In 1991 Palmer donated his collection of over 5,000 books on Asian and religious topics to BYU's Harold B. Lee Library, a collection that included about 1,500 rare books in Korean. In 1993 Palmer worked for six months as a professor teaching comparative religion in China to students from Ethnic Minority Groups in China, at the request of the government of China.
The Palmers were the parents of four children.