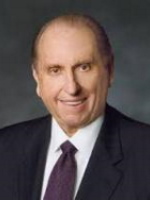 President Monson has served as the sixteenth president of The Church of Jesus Christ of Latter-day Saints since February 3, 2008.
Born in Salt Lake City, on August 21, 1927, President Monson is a son of G. Spencer and Gladys Condie Monson. He attended Salt Lake City public schools and graduated cum laude from the University of Utah in 1948, receiving a degree in business management. He did graduate work and served as a member of the College of Business faculty at the University of Utah. He later received his MBA degree from Brigham Young University.
President Monson served in the United States Navy near the close of World War II. He married Frances Beverly Johnson (1927-2013) on October 7, 1948, in the Salt Lake Temple. They are the parents of three children, with eight grandchildren and nine great-grandchildren.
President Thomas S. Monson was sustained to the Quorum of the Twelve Apostles in 1963, at the age of 36. He was called as Second Counselor to President Ezra Taft Benson in 1985 and in 1994 he was called as Second Counselor to President Howard W. Hunter. In 1995 he was set apart as first counselor to President Gordon B. Hinckley.