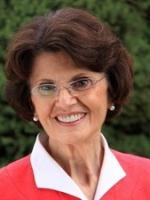 Ardeth Greene Kapp was the ninth general president of the Young Women Organization of The Church of Jesus Christ of Latter-day Saints from 1984 and 1992. During her tenure, Kapp had five different counselors: including Elaine L. Jack, Janette C. Hales and Patricia T. Holland. In 1992, Kapp was succeeded by Hales.
Kapp was the second counselor to Ruth H. Funk in the presidency of the church's Young Women organization from 1972 to 1978.
From 1992 to 1995, Kapp accompanied her husband, Heber B. Kapp, while he served as president of the church's Canada Vancouver Mission. From 2000 to 2003, they served as president and matron of the Cardston Alberta Temple.