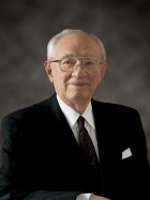 A fourth-generation Latter-day Saint, Hinckley was born in Salt Lake City, Utah to prominent LDS writer and educator Bryant S. Hinckley and Ada Bitner Hinckley. He graduated from LDS High School in 1928. After which he attended the University of Utah where he earned his undergraduate degree, Hinckley became a missionary for the LDS Church, an unusual occurrence for Depression-era Latter-day Saints. He served in the London-based British Mission from 1933 to 1935. On April 29, 1937, Hinckley married Marjorie Pay (November 23, 1911 – April 6, 2004) in the Salt Lake Temple. They had five children.
Gordon B. Hinckley served as the 15th President of The Church of Jesus Christ of Latter-day Saints (LDS Church) from March 12, 1995 until his death. Considered a prophet, seer, and revelator by church members, President Hinckley was the oldest person to preside over the church in its history.
President Hinckley was awarded ten honorary doctorate degrees, and in 2004, he was awarded the Presidential Medal of Freedom by George W. Bush. President Hinckley also received the Boy Scouts of America's highest award, the Silver Buffalo, and served as chairman of the Church Boards of Trustees/Education He died of natural causes on January 27, 2008.