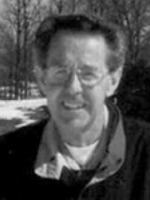 Kenneth W. Godfrey grew up on a small farm in Cornish, Utah, before attending Ricks College and Utah State University, where he earned a bachelor's degree in political science. He served an LDS mission to the Southern States Mission, spending most of his time in Florida, from 1953 to 1955. He married Audrey Ann Montgomery on September 17, 1956, and soon after completed a master's degree at Utah State in political science. He then entered the Church Education System (CES) and worked for CES as a seminary and institute teacher, as well as an administrator, until his retirement in 1995. Additional graduate work at the University of Southern California, the University of Utah, and Brigham Young University culminated in a doctorate from BYU in 1967.
Dr. Godfrey has spent most of his professional life immersed in Mormon history, reading almost everything written in that field and compiling an impressive bibliography of books and articles, including Women's Voices: An Untold History of the Latter-day Saints (1982), which he coauthored with Audrey Godfrey and Jill Mulvay Derr. He has also become an authority on the history of Cache Valley and has published several historical works on that region.
In 1983–1984, Dr. Godfrey served as president of the Mormon History Association.