Scott C. Esplin was an associate professor of Church history and doctrine at Brigham Young University when this was published.
As The Church of Jesus Christ of Latter-day Saints has expanded globally, its educational system has followed step for step.[1] At present, the Church Educational System operates in 140 countries, generally in the form of its well-recognized seminary and institute programs and its post-secondary institutions. Additionally, it maintains a handful of elementary and secondary school programs serving nearly 7,000 students in several long-established locations, including Fiji, Kiribati, Samoa, Tonga, and, for the focus of this chapter, Mexico.[2] In Mexico, one of the Church's earliest uses of education in a global context occurred at the Juárez Academy, the Church's longest-operating international school. Originally serving an isolationist purpose for Saints seeking refuge beyond the borders of the United States, the school was established in 1897 to educate Anglo, English-speaking children sequestered in northern Mexico. The history of the school, highlighted by the accounts of those who attended or taught at it, captures the successes and challenges in expanding the Church abroad. This study will examine the Juárez Academy's history in order to explore how the Church has employed education to facilitate international expansion.
Settling the Mormon Colonies and Establishing the Juárez Academy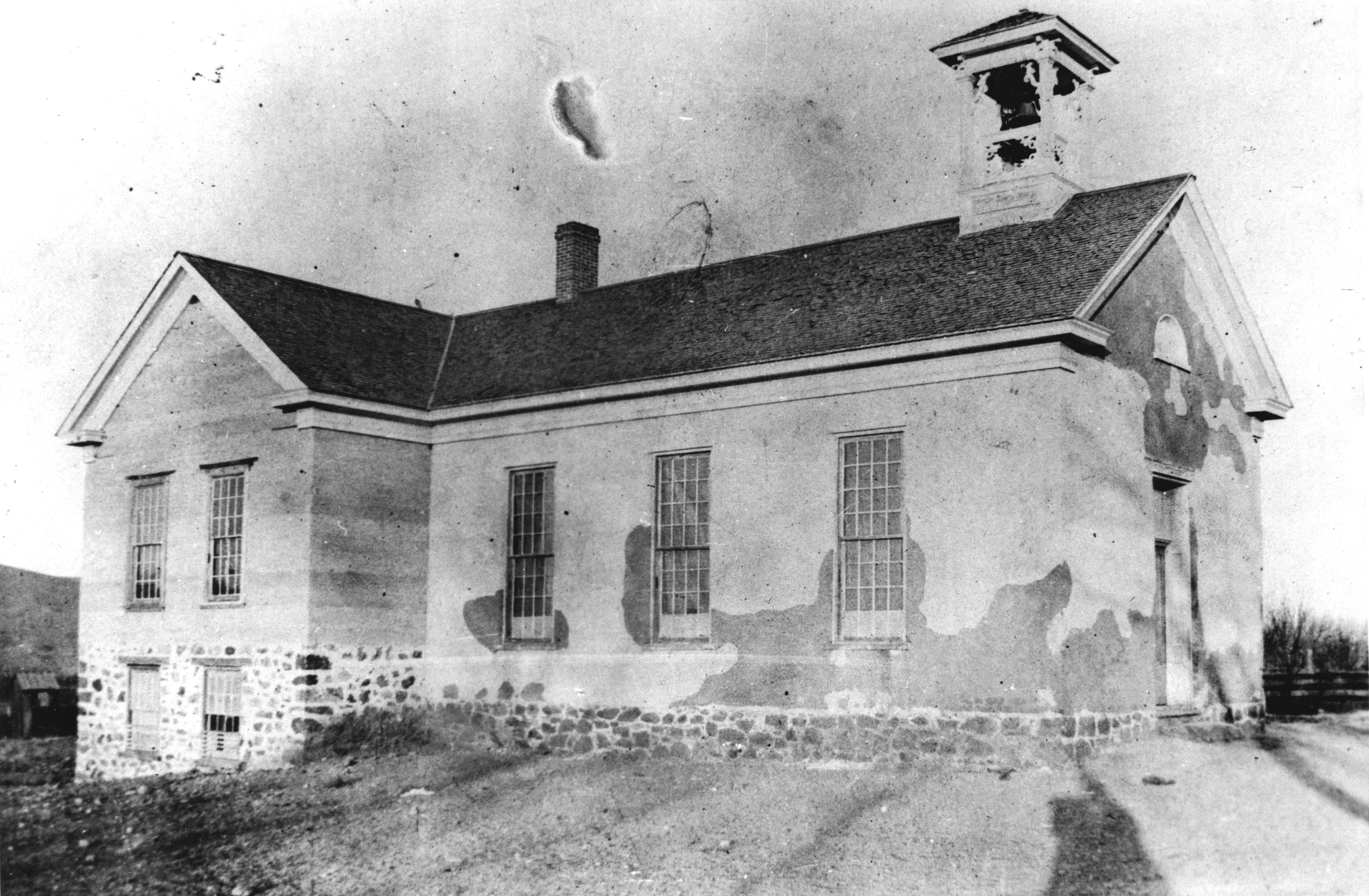 The original church building and school house in Colonia Jaurez, Mexico. (Used by permission of Utah State Historical Society.)
Mormon educational presence in Mexico is rooted in the early history of the faith and especially its response to the United States government's antipolygamy crusade of the 1880s. "A general attack is being made upon our liberties throughout all the territories where our people reside," Church President John Taylor wrote to community leaders in Arizona in December 1884. Characterizing the Church's isolationist response, President Taylor proposed, "Our counsel has been and is to obtain a place of refuge under a foreign government to which our people can flee when menaced in this land."[3] Within weeks of the announcement, more than three hundred Latter-day Saints from Arizona, New Mexico, and Utah poured across the Mexican border, eventually settling nine communities in the northwestern states of Chihuahua and Sonora, Mexico.[4] Chief among them was the community of Colonia Juárez, which became the headquarters for a stake in the region in 1895.[5] Among the primary reasons for relocating beyond the borders of the United States was the desire to completely live the teachings of the faith, including the practice of plural marriage. Though the practice of plural marriage was discontinued during the community's early years, the motivations behind it influenced all aspects of colony life, including its educational practices.
As Church members were settling along the Sierra Madre Mountains of northern Mexico, Church leaders in Salt Lake City responded to the loss of societal control brought about by increasing federal opposition to Church practices. Attempting to protect the Church from encroaching outside influence, Church leaders instituted an educational policy of isolation. In April 1886, President Taylor declared, "The duty of our people under these circumstances is clear; it is to keep their children away from the influence of the sophisms of infidelity and the vagaries of the sects. Let them, though it may possibly be at some pecuniary sacrifice, establish schools taught by those of our faith, where, free from the trammels of State aid, they can unhesitatingly teach the doctrines of true religion combined with the various branches of a general education."[6] Following President Taylor's death, President Wilford Woodruff implemented the vision. "The time has arrived when the proper education of our children should be taken in hand by us as a people," President Woodruff declared in 1888 as he called for each stake to create its own private academy.[7] Within months, dozens of Church academies sprang up across Utah, Idaho, and Arizona.[8] Saints in Mexico followed suit when the community of Colonia Juárez opened the Juárez Stake Academy in September 1897. Patterned after its sister academies in the United States, the Juárez Academy offered traditional academic study bolstered by the study of religion. Enrolling 225 common-school students its first year, and the school graduated fifteen students from the eighth grade in 1898. These students became the first ninth-grade class later that fall.[9] Among the students was Anna Lowrie Ivins, a girl whose story reveals early global perspectives within Mormonism.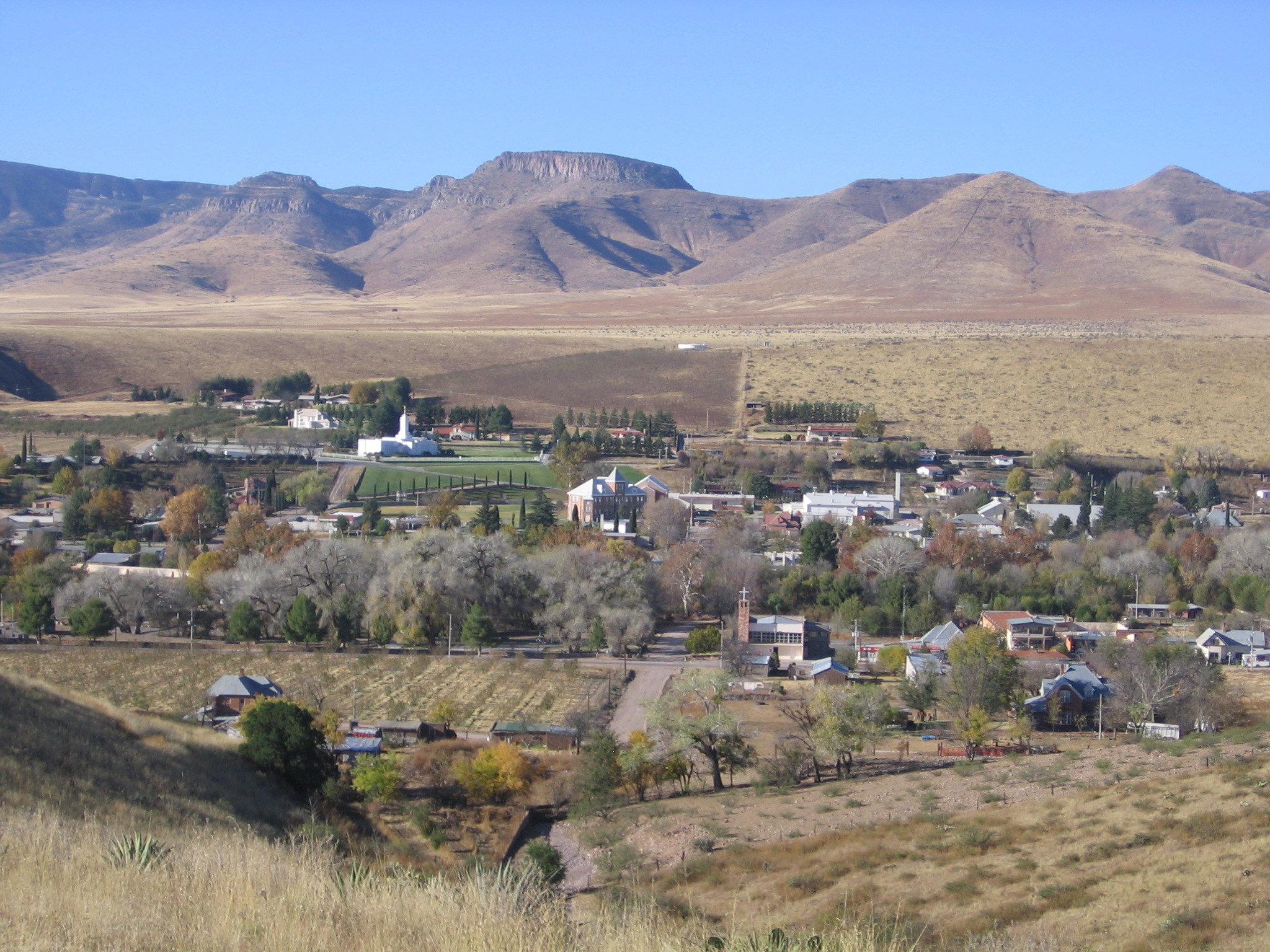 The modern community of Colonia Juarez, Mexico, with the Juarez Academy at the center. (Photo by Scott C. Esplin.)
Anna's life began in St. George, Utah, where she was born to Anthony Woodward Ivins and Elizabeth Ashby Snow on October 20, 1882. The third in a family that eventually included nine children, Anna recalled her childhood days in St. George as "very happy ones . . . and a source of many pleasant memories."[10] Ivins's reminiscent account is punctuated by details of her studies, recess games of little rounders, one old cat, marbles, hikes to the top of St. George's Sugar Loaf mountain, kissing games, and walks home after parties paired off as couples.[11] Its tone, however, changes with her father's call from the First Presidency on August 18, 1895 to relocate to Mexico, preside over the Mexican Mission, organize the Juárez Stake, and serve as its first stake president.[12] Thirteen-year-old Anna notes the sacrifice on the part of her father, who was, in her words, "a very promising candidate for the governorship of the state," and her mother, who was in poor health and "looked forward with dread to life in a new, strange country." For herself, Anna called the move to Mexico "the greatest tragedy of my life thus far."[13]
After a year of preparation, the Ivins couple, together with their then seven children ranging from sixteen-year-old Antoine to nearly three-year-old Gusta, traveled by train from southern Utah to Salt Lake City and then to El Paso, Texas. Crossing into Mexico in October 1896, Anna recalled her mother's nervousness during the family's first night encamped near Ahumada, Mexico. When her father reassured them that government soldiers were stationed nearby, Ivins's mother revealed the tensions evident in this unfamiliar global foray by replying that she "would feel just as frightened of them as of the local population." Ivins captured the scene by reflecting a nineteenth-century Latter-day Saint girl's vision of an international adventure in the process. "As we traveled through the sparsely settled country, it was quite evident that we were, indeed, in a totally different country," Ivins reported. The "many interesting sights" that "met our eyes" included "Mexican men in their tall sombreros and bright colored sarapes driving their heavily loaded burros before them along the dusty roads, the flat-topped brown adobe huts with just as brown men, women and children hovering about the doorways surrounded by their chickens, dogs and goats; the men working in the fields with their primitive methods and crude machinery consisting of wooden plows, and hoes. . . . All [were] indicative of the new country in which we were to live."[14]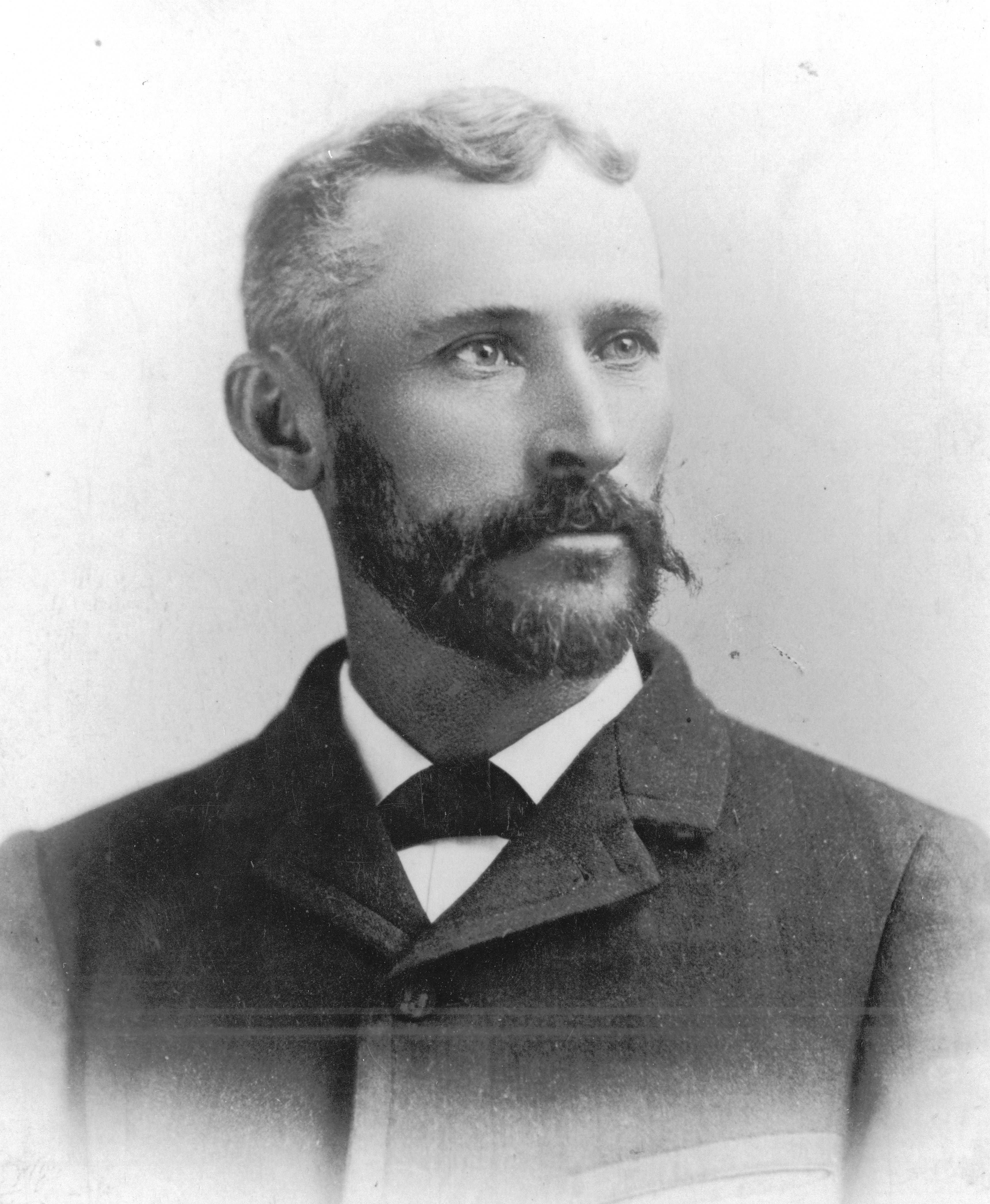 Anthony W. Ivins, first stake president of the Juarez Stake. (used by permission of Utah State Historical Society.)
Settling in the community of Colonia Juárez, Ivins quickly made friends and resumed her studies. "Educational facilities being so limited my father at once set all out to improve them," she recalled. A schoolhouse with two large classrooms was quickly erected.[15] With an adequate facility in place, Ivins's father next turned his attention to securing a competent teacher for the isolated Mormon community, engaging Guy C. Wilson, an instructor at the Brigham Young Academy in Provo, Utah, for the task. Curriculum at the international school paralleled that of the academy system in the United States and included, among other subjects, algebra, geometry, English literature, history, psychology, and accounting. Recognizing that the younger grades needed attention if future students were to be prepared to attend the academy, officials arranged for Ella Larsen to assist Principal Wilson in conducting teacher-training classes to develop future faculty. Additionally, professors from Church schools in Utah regularly visited to conduct training and keep the school on par with its sister institutions. In 1903, ground was broken on a new academy building that would mirror facilities at the other Church schools.[16]
With its traditional academic curriculum, corresponding teacher training division, and matching school building, the early Juárez Academy looked like any other Church academy, but with one significant exception: its location outside the United States. Examining the school, little would indicate it was not located somewhere in rural Utah, Arizona, or Idaho. During its earliest years, names of faculty and students reflect the school's Anglo population and contain some of the faith's most prominent local names. For example, though small, the six members of the school's first graduating class had, in addition to Anna Ivins and her older brother Antoine, the surnames Bailey, Clayson, Harris, and Hatch. Similar northern European surnames like Bentley, Cox, Jones, Redd, Robinson, Romney, Snow, Spilsbury, and Taylor dominated the subsequent five graduating classes. Teacher rolls also reflected the American presence, with names like Cannon, Clark, Eyring, Hatch, Larson, Romney, Smith, Snow, Wilson, and Young prominent during the school's first fifteen years.[17] Additionally, all instruction was done in English, with the exception of a Spanish course, the lone curricular deviation from the Church's other academy offerings.[18]
This Spanish course helped the participants in the Juárez Academy come closer to connecting with their Mexican surroundings during the institution's early years. Manrique Gonzalez, an adult Hispanic student, appears to be the only native Spanish speaker to have graduated from the school during its first twenty-five years of operation.[19] Originally from the state of Coahuila in northeastern Mexico, Gonzalez moved to Colonia Juárez for work in 1898, joined the Church, and enrolled in a first-grade class as a seventeen-year-old young man. Accelerating his education, he graduated from the eighth grade five years later at the age of twenty-two. Later that year, Principal Wilson approached Gonzalez about teaching Spanish at the Academy while continuing his secondary school studies. Teaching part-time, Gonzalez graduated from the Academy in 1910 at the age of twenty-eight.[20] After graduation, he taught Spanish at the school full-time, becoming the only Hispanic member on an otherwise Anglo faculty during the first several decades of its operation. Gonzalez later recalled the influence he had on the school: "My job was to teach them Spanish. That I tried to do to the best of my ability. . . . I was the first Mexican student that graduated from the [Juárez Academy]. I was instrumental in bringing to school many Mexican students that have made great success: Andres C. Gonzalez, Luis Gonzalez, Manuel Gonzalez W., General Julio Gonzalez, Manuel Quijano, Luis Flores, and others that I cannot think of at this time. . . . They all have confessed to me that the foundation they got at the Juárez Stake Academy has been the greatest help to them in their everyday life."[21]
In spite of these examples, interactions between the American expatriates and local Mexican residents were limited during the community's early years. Anna Ivins's account subtly notes her family's employing Ruperta Hernandez, a young Mexican girl, to assist Anna's mother in the home while a neighbor named Andres assisted with the outdoor farm work. Additionally, her brother, upon graduating, spent several years studying Mexican law in Mexico City, where he "spoke the language like a native and learned to understand the Mexican people."[22]
The wording of Ivins's account, writing that her brother understood "the Mexican people," subtly highlights the way settlers of the Mormon colonies viewed themselves as something other than Mexican. In this way, it reflects the limitations to true globalization in the Church's early international endeavors. In reality, the community of Colonia Juárez kept one foot in the United States and another foot in Mexico. This navigating of cultures was highlighted in Ivins's reminiscence of community gatherings that blended elements of traditional Mormon and American celebrations with those of Mexico. She recalled the Utah connections that persisted in the community. "Holidays were of special interest and we had a number of them. We celebrated the 24th of July with perhaps a parade and a public meeting at which we listened to speeches about our Mormon Utah Pioneers." However, she also noted their adopting of Mexican celebrations. "Then there were the Mexican [holidays], the Cinco de Mayo (5th of May) and the Diez y Seis (16th of September). A gathering in the town park, the singing of the National Anthem, orations about the history of the nation, often a parade, the braiding of the May pole on the Cinco de Mayo, games and contests for all, and always a dance in the evening all helped to make these days memorable ones for us. We thrilled to the exploits of [Miguel Hidalgo,] the poor priest who led his people in their struggle for freedom and [Benito Juárez, who] later became president of the Republic." Explaining the balance these settlers sought in being both Americans by birth and yet exile residents in Mexico, Ivins continued, "We were doing our best to be good citizens of our adopted country, not actual citizens in a legal sense, for few of the Mormon colonists ever became naturalized, but we did endeavor to be loyal to the country and its laws."[23] For his part, Principal Wilson, who married Anna Ivins in May 1903, loved his work in Mexico and the successful school he helped found. "There is nothing to be gained by going out of Mexico for anything that is taught in the Juárez Stake Academy," Wilson counseled the student body in 1911. "On the contrary there is every reason why we should all support our home institution and make it the pride of our people and a credit to Mexico. RESOLVE! WORK! COME!"[24]
Ironically, Wilson's invitation for students to stay in Mexico in 1911 was reversed a year later when in July 1912, the Mexican Revolution made it necessary to abandon the school. Leading up to the conflict, Ivins notes in her account, "The colony people endeavored to remain entirely neutral as we desired to incite no animosity toward us." However, "the revolution continued going from bad to worse as far as our people were concerned." Eventually, "much tension and ill-feeling between the local Mexicans and the 'Americanos,' as they called our colonists" developed, and it was determined to evacuate to El Paso, Texas.[25] Though some returned, Ivins's intimation that she would never see her Mexican home again proved true, as her family relocated to Salt Lake City where her husband became the Church's second seminary teacher and, later, the first full-time religion faculty member at Brigham Young University.[26]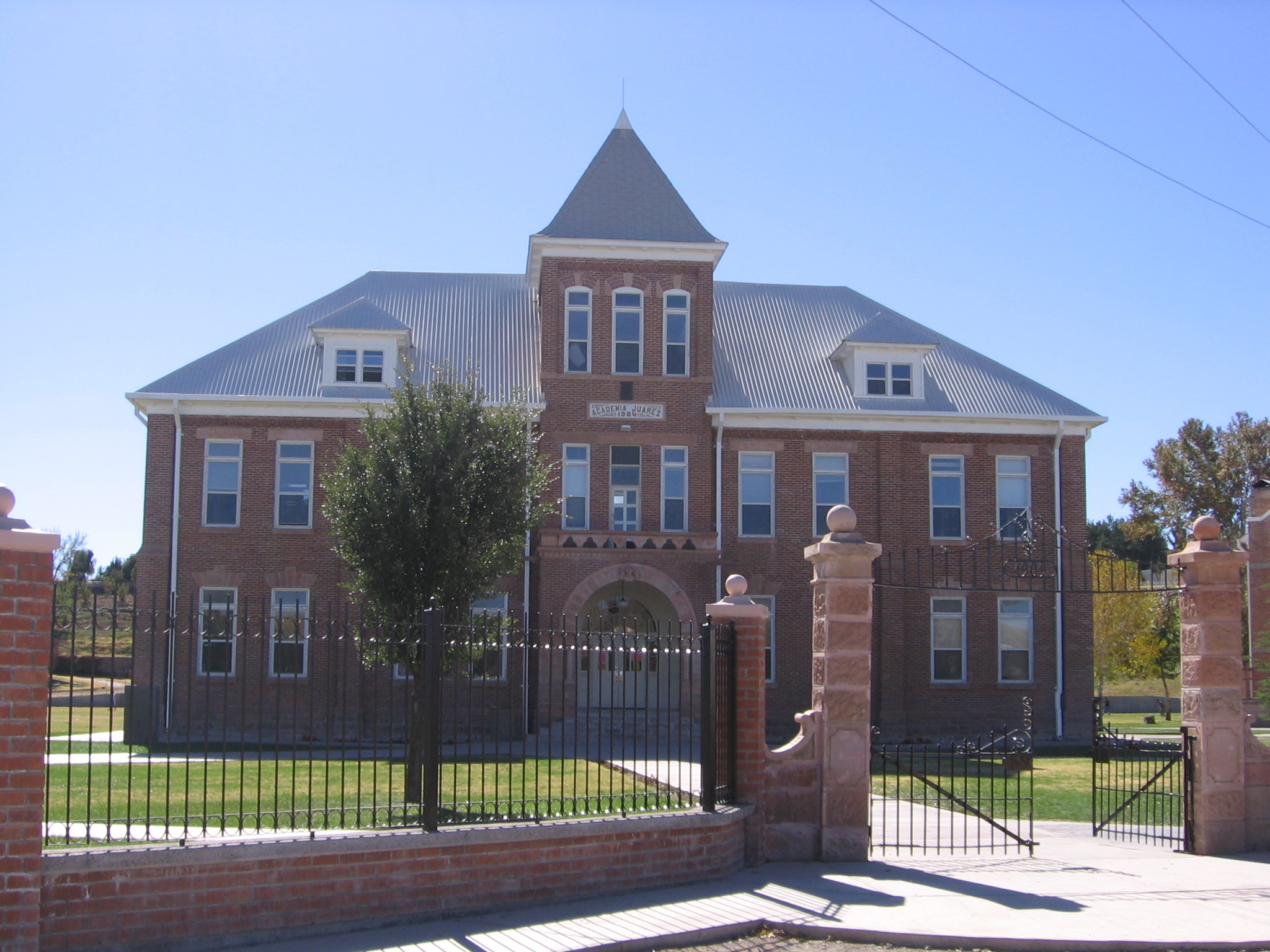 Juarez Academy main building, completed in 1904. (Photo by Scott C. Esplin.)
While the colony experience in Mexico ended for many with the evacuation of the community in 1912, the Juárez Academy itself lived on. Some residents returned to Colonia Juárez a year later, solidifying effects of the Mexican Revolution into the Church's global approach to education in the early twentieth century by entrenching ideas of isolationism and protectionism. The community of Colonia Juárez and the Juárez Academy itself served as a refuge for Mormon settlers in Mexico during the turbulent years that followed. For this reason, in part, when the Church divested itself of the other Church academies in the 1920s, the Juárez Academy was preserved.[27] At the time of the decision, Church School Superintendent Adam S. Bennion answered why the Juárez Academy survived: "The Church has no desire whatsoever to operate a system of schools in opposition to those under state control. . . . The academies that it now operates, it operates not in a spirit of rivalry, but having operated them in communities not served by public high schools, it continues to do so to the relief of the treasury of the state and to the very great satisfaction of the people served by them."[28]
The school survived, not because it was an international school or because the Mormon colonies represented an early Church effort at globalization. Rather, the school persisted because it extended American educational opportunity to expatriate Americans in Mexico. Describing his call to a Spanish-speaking mission, J. LeRoy Hatch, a 1930 graduate of the school, reflected the reality of the era, "In our colonies, isolated as we were, all of our schooling, our church services, our activities were conducted in English. Actually, we came in contact with very few Mexicans, only those who had drifted into our area looking for work in the orchards and fields."[29] Though school administrators and educators worked throughout the 1930s to ensure that all graduates could write, read, and speak Spanish fluently and "develop understanding between the colonists and their adopted countrymen," they fought an uphill battle to blend the American and Mexican cultures.[30]
Eventually isolationism and protectionism, with the underlying thread connecting the community to the United States, became entrenched within Church education in Mexico. An elementary school history from a neighboring community whose graduates attended the Juárez Academy chronicled the tension between the cultures. "One day after a session on patriotism for the colors of the flag, a pupil, Allie Acord, paraded an American flag around the school yard. A little Mexican student snatched the flag to the ground and stamped it as he shouted, 'This must not be carried in Mexico!'" Deescalating the situation but reflecting the community divide, "the teacher, thereafter, continued his lesson on patriotism to include the colors of red, white, and green of the adopted country. Always after that, the two flags flew together on the flagpole."[31] Perpetuating the division, the Juárez school "taught the courses required by the Mexican Department of Education," historian Clark Johnson summarized in his analysis of Church schools in Mexico, "but they did not comply with the requirement that these courses be taught in Spanish. They also continued to celebrate Independence Day on July 4 each year rather than on September 16, Mexican Independence Day. The Juárez school simply did not embrace the Mexican culture," Johnson concluded.[32] One teacher summarized the goal of this instruction, "We are going to make the natives good Americans and not good Mexicans for Mexico."[33]
Changing the Church's View on Global Education
For the Church to truly flourish in a global way in Mexico, perspectives and programs needed to change. A 1942 study of Latter-day Saint schools in Colonia Juárez conducted by Henry L. Cain, director of the American School in Mexico City, summarized the Church's challenge. "Although these schools have been in existence since 1885, a visitor can easily imagine himself in Kansas or Utah. And, while Spanish is taught in all grades, it creates nothing of an atmosphere. Some of the teachers were born in Mexico and they speak the Spanish language perfectly, nevertheless they fail to give the child much more of Mexico than his cousin receives from his Spanish class in Salt Lake City. Of the many cultural values which Mexico has to offer, few are entering into the education program in these schools," Cain opined. "All in all, they are giving a good American education to those who attend them."[34] Mexican public school inspector Manuel Lara Villanueva more bluntly summarized that the residents were still "Americans in their hearts."[35]
Segments of Mexican society took exception to this outsider element in their country. Arguing that Mexico had been dominated by the imitation of foreign ideas, habits, and customs, some Mexican educators proclaimed that the "task of education . . . is to dispel from the mind of the Mexican all shadows of inferiority."[36] By the middle of the twentieth century, Mexican authorities began reacting to Mormon exceptionalism in the Colonies and used the Juárez Academy in particular as a point of contention. In 1950, Moisés T. de la Peña, a respected Mexican sociologist, circulated a scathing critique of the Latter-day Saint settlements in northern Mexico. "In scholastic subjects the Mormons say that they accept the official program and that they maintain their schools only until the Government furnishes them with schools," Peña noted.[37] "The truth of the matter," he continued, "is that their religious prejudices make them look upon the official instruction with repugnancy and fear, and they are in fact absolutely free in their academic program, a situation which ought to be corrected, since this illegal privilege cannot be tolerated at this time." Peña praised colonists for being "zealous about obeying the laws regarding public registrations, in births, marriages, and deaths." Indeed, "their respect for Mexican Law, with the exception of the schooling example mentioned, is inalterable and exemplary," he continued. Culturally however, Peña concluded, "they are a demographic cyst, who disdain the society in which they live, that is, the Mexicans as a group. This undeniable truth makes them undesirable people."
Peña's assessment laid bare the lack of globalization evident in the Mormon communities in Mexico by the middle of the twentieth century. In his opinion, "the colonists appear to be optimistic and satisfied with their rapid progress, and add that they are happy 'in participating in the brilliant picture of progress and improvements of our beloved Mexican Country.'" However, he believed that their commitment to Mexico was "a theoretical problem" because the colonist "considers himself a Mexican and civically his conduct is almost without reproach; but he continues to be a Mormon foreigner 100 percent." As evidence, Peña reported a visit to Colonia Juárez, where he heard academy students walking the streets "giggling in English" and met "a happy and robust old lady, who still speaks no Spanish, after 57 years of residence in Mexico." Even among the Mormon colonists who spoke Spanish and contributed in positive economic ways, Peña decried that "these virtues are cancelled out by the fact that they oblige us to tolerate them as a social cyst." In his words, the colonists operated "within an unbreakable purist barrier which in the end is racial and Nordic." Furthermore, of the two hundred Mexican members living in the region, Peña found them to be "a very poor crop" after nearly six decades of proselytizing efforts. "Generally they are humble folks who are treated in a separate world from the opulent foreign Mormons, who speak very little in favor of [them.]"
As a result of his evaluation, Peña called for dramatic change within the Latter-day Saint Mexican community, including a prohibition against foreign language texts in the schools, an obligation to celebrate Mexican civic festivities, the hiring of Mexican teachers without exception, and the requirement that all men and women over the age of ten demonstrate competency in reading and writing Spanish as well as a basic understanding of geography, national history, and civics or Mexico. If these changes did not occur, Peña recommended the expulsion of American Latter-day Saints from the country.[38]
As the school and community underwent these critiques in the 1950s, its very existence as an outpost was threatened from internal challenges, some of which Peña captured in his report. "These colonists have maintained a constant emigration of their young folks, which has prohibited their growth," Peña summarized. "Since the young people feel an outright passion to educate themselves, upon leaving the Academy, they distribute themselves in American universities (very few go to Mexico), and as is apparent they have no reason for returning."[39] Demographic challenges like these undercut community growth, forcing scholastic change. When only nine students graduated from the Academy in 1954, another author questioned, "Have the Academy and the colonies which it guided served their purpose? Will the Academy, which has had such a rich and thrilling historical background and which has fought adversity so many times to survive, finally wink out?"[40]
To make both the school and the community survive, a change needed to occur within the Church's perspective on globalization. Rather than preserving and transmitting American ideals, the school, like the larger Church in its international approach, needed to embrace local culture. In Salt Lake City, Church Apostle Marion G. Romney, himself a product of the community of Colonia Juárez, acknowledged the need for change. "We have a great work to do in these lands . . . developing our programs around the native cultures," Romney counseled. Using schooling in Mexico as an example, Romney outlined, "Stories and illustrations for Mexico should be taken from Mexican history and from the lives of Mexican heroes such as Benito Juárez and Hidalgo. Our activities should feature Indian and Mexican dances, folk lore, and music." Ideally, he hoped that Church membership could "look to Mexico City rather than to the Juárez Stake Academy or the United States" for their educational model.[41] Complying with these desires, programs at the Juárez Academy were revised to strictly adhere to the Mexican regulations.[42] Additionally, the Juárez Academy as well as local Church-run elementary schools that fed it increased their participation in local celebrations, parades, and activities.[43]
At the same time, the school sought to better integrate Hispanic students into its program, thereby stabilizing the dwindling enrollment. Children of local residents, including those from some of the most influential families in the state of Chihuahua, were recruited to attend the school.[44] While English continued to be the primary language of instruction at the school, special programs were instituted to help native students continue learning in their own tongue while acquiring proficiency in English.[45] Options were also explored to establish scholarships for Church members from across Mexico to study at the academy. As a result, Church officials reported two positive visits by the governor of the State of Chihuahua to the school as well as the belief that the Mormon colonies were becoming "a show window for progress, farming, and scholastic methods" in the area.[46]
The change in and expansion of the student population did not come about without opposition. Responding to a proposal in 1959 to construct new campus facilities, Mexico North Mission president and Juárez Academy graduate Joseph T. Bentley cautioned against going "completely 'overboard'" with ideas that "would damage rather than help the colonies in Mexico." Reflecting the perceptions of the earlier era, Bentley expressed his opinion that overcrowding came from admitting too many students of other faiths. He questioned if the resources could be put to better use elsewhere. "If this money were used to build a school in Monterrey and perhaps some of the other large cities in Mexico, a great many more members could benefit," Bentley offered.[47] Reflecting sensitivity to needs beyond the colonies, Bentley proposed "planning for all of these young folks" across the country rather than a small few who could attend the Juárez Academy. "By greatly increasing the capacity of the Academy," Bentley cautioned, "the additional students will all come from the Mexican population which will bring a great many racial and other problems such as intermarriage, discipline, standards (church), etc." Unsuccessfully, he urged careful, long-range planning and the adoption of a one-to-one ratio between the Anglo and Mexican student population at the school.[48]
In spite of tensions over the changing makeup of the institution, a noticeable increase in Hispanic-named graduates emerged. During the 1967–68 school year, Hispanic students outnumbered Anglo students for the first time, a trend that has continued to increase.[49] At the same time, enrollment rebounded from its earlier lows, eventually stabilizing near its present levels of approximately 400 students in the seventh through twelfth grades. By the end of the twentieth century, roughly 85 percent of the school population was Latino, with about 25 percent of the student body non-Mormon.[50] Academically, the school became a prominent religiously sponsored bilingual preparatory school.
All of these changes at the Juárez Academy coincided with dramatic Church growth across Mexico. Membership exploded more than twenty-five-fold from 5,646 members in 1950 to 141,211 by 1975.[51] By 2015, the Church reported a membership of more than 1.3 million people in Mexico, the highest total for the faith in any country outside the United States.[52] Educationally, with its 52,180 students, Mexico boasts the highest enrollment of seminary and institute students of any country outside the United States.[53] From a globalization perspective, most importantly, this growth occurred among the nation's native people.
Conclusion
In the earliest years of the Juárez Academy, the school worked to preserve an American national heritage in a Mexican outpost. However, the adherence to the United States' educational practices created a barrier for assimilation into Mexican society. Anna Ivins, the daughter of the community leader, a student in the school's first graduating class, and the eventual spouse of the school's principal captured the worldview that permeated her day when she wrote, "We were doing our best to be good citizens of our adopted country."[54]
Eventually, this preservation of an American type of Mormonism, however well intentioned, had to be set aside if the Church was to flourish in Mexico. Isolation needed to be replaced by acculturation. Stanley A. Peterson, longtime administrator of Church education who directed much of the system's international growth, summarized the shift. "It's critical that we use local people," Peterson said. "I saw areas where we kept sending Americans, and every time you send an American and use him the local people don't grow. Over the years, our philosophy has been to use the local people as soon as you can. Don't keep sending Americans because there's no continuity. There isn't the growth locally. It isn't their program."[55]
In the case of the Juárez Academy, "local people" includes the descendants of the colonists who settled the region more than a century ago. However, as a result of demographic shifts, government pressure, and greater cultural awareness, "local" also includes the Hispanic population of the area. Fostering an educational paradigm that celebrates both groups opens the door for marvelous Church growth in Mexico.
Notes
For an extended academic analysis of Mormon education in Mexico, see Scott C. Esplin, E. Vance Randall, Casey P. Griffiths, and Barbara E. Morgan titled "Isolationism, Exceptionalism, and Acculturation: The Internationalisation of Mormon Education in Mexico," Journal of Educational Administration and History 46, no. 4 (2014): 387–404.
[1] For an account of the Church's international education expansion, see Joe J. Christensen, "The Globalization of the Church Educational System," in Global Mormonism in the 21st Century, ed. Reid L. Neilson (Provo, UT: Religious Studies Center, 2008), 183–201. Christensen was associate commissioner of education for the Church during much of this expansion and believes that there was "no other Church program that moved toward globalization and nationalization so quickly."
[2] "Seminaries and Institutes of Religion Annual Report for 2015" (Salt Lake City: The Church of Jesus Christ of Latter-day Saints, 2015), 2, 4.
[3] John Taylor and George Q. Cannon to Christopher Layton, December 16, 1884, cited in Thomas Cottam Romney, The Mormon Colonies in Mexico (Salt Lake City: University of Utah Press, 1938), 51–52.
[4] The six colonies in the state of Chihuahua included Colonia Díaz, Colonia Juárez, Colonia Dublán, Colonia Pacheco, Colonia García, and Colonia Chuichupa. The three colonies in Sonora were Colonia Oaxaca, Colonia Morelos, and Colonia San José. (Colonia San José was a late breakoff formed by residents from Colonia Morelos and is not included in some lists of Mormon Mexican colonies.) Clarence F. Turley and Anna Tenney Turley, History of the Mormon Colonies in Mexico (The Juárez Stake), 1885–1980 (Salt Lake City: Publishers Press, 1996), 1; Romney, The Mormon Colonies in Mexico, 56.
[5] Clarence F. Turley and Anna Tenney Turley, History of the Mormon Colonies in Mexico (The Juárez Stake), 1885–1980 (Salt Lake City: Publishers Press, 1996), 87.
[6] John Taylor, in Messages of the First Presidency of The Church of Jesus Christ of Latter-day Saints, ed. James R. Clark (Salt Lake City: Bookcraft, 1966), 3:58–59.
[7] Wilford Woodruff to the Presidency of St. George Stake, June 8, 1888, cited in Messages of the First Presidency, 3:167–68.
[8] The Church operated as many as thirty-six stake academies and twenty other schools called seminaries because a corresponding stake academy already existed in the stake. These seminaries are not to be confused with the present Church education endeavor of the same name. Scott C. Esplin and Arnold K. Garr, "Church Academies: 1875–1933," in Mapping Mormonism: An Atlas of Latter-day Saint History, ed. Brandon S. Plewe, S. Kent Brown, Donald Q. Cannon, and Richard H. Jackson (Provo, UT: BYU Press, 2012), 126–27.
[9] Albert Kenyon Wagner and Leona Farnsworth Wagner, The Juarez Stake Academy, 1897–1997: The First One Hundred Years (Juárez, Mexico: The Academy, 1997), 6.
[10] Anna Lowrie Ivins Wilson, "Reminiscences, 1967," Church History Library, Salt Lake City, 15.
[11] Wilson, "Reminiscences," 18–20.
[12] Anthony W. Ivins had previously served as president of the Church's Mexican Mission from 1882 to 1884.
[13] Wilson, "Reminiscences," 34–35.
[14] Wilson, "Reminiscences," 40.
[15] Wilson, "Reminiscences," 46.
[16] Nelle Spilsbury Hatch, Colonia Juarez: An Intimate Account of a Mormon Village (Salt Lake City: Deseret Book, 1954), 153–55.
[17] Wagner and Wagner, The Juarez Stake Academy, 149, 195.
[18] In her account, Ivins records of her struggles with the Spanish language, "All the high school classes were taught by our principal, except Spanish which was a requirement, though I never became proficient in the language." Wilson, "Reminiscences," 49.
[19] The Juarez Stake Academy, Announcements for the Twelfth Academic Year, reproduced in Wagner and Wagner, The Juarez Stake Academy, 36.
[20] Nelle Spilsbury Hatch, "Manrique Gonzalez," in Stalwarts South of the Border, ed. Nelle Spilsbury Hatch and B. Carmon Hardy ([California], Ernestine Hatch, 1985), 212–13.
[21] Manrique Gonzalez to Nelle S. Hatch, November 26, 1950, http://www.orsonprattbrown.com/Pauly-Brown/Gonzalez/ManriqueGonzalez/manrique-gonzalez1882-.html.
[22] Wilson, "Reminiscences," 56.
[23] Wilson, "Reminiscences," 52.
[24] Guy C. Wilson, cited in Nelle S. Hatch, Academia Juárez A.C., 1901–1976 (Juárez, Chihuahua, Mexico: Academia Juárez A.C., 1977), 17.
[25] Wilson, "Reminiscences," 70.
[26] Richard O. Cowan, Teaching the Word: Religious Education at Brigham Young University (Provo, UT: Religious Studies Center, 2008), 9–10.
[27] For a discussion of the Church's discontinuance of its academies, see Scott C. Esplin and E. Vance Randall, "Living in Two Worlds: The Development and Transition of Mormon Education in American Society," History of Education 43, no. 1 (2014): 3–30.
[28] Adam S. Bennion, "The Latter-day Saints and Education," Improvement Era, July 1920.
[29] E. LeRoy Hatch, Medico: My Life as a Country Doctor in Mexico (Mesa, AZ: J. J. Hatch, 1999), 20.
[30] Annie R. Johnson, Heartbeats of Colonia Diaz (Salt Lake City: Publishers Press, 1972), 223; Hatch, Colonia Juarez, 233.
[31] Johnson, Heartbeats of Colonia Diaz, 223.
[32] Clark V. Johnson, "Mormon Education in Mexico: The Rise of the Sociedad Educativa Y Cultural" (PhD diss., Brigham Young University, 1977), 50.
[33] Manuscript History of the Juárez Schools, 1–2, cited in Johnson, "Mormon Education in Mexico," 40.
[34] Henry L. Cain, "Report of the Juárez Stake School System," October 1, 1942, Mexico, cited in Johnson, "Mormon Education in Mexico," 51.
[35] Cited in Johnson, "Mormon Education in Mexico," 51.
[36] Cited in Johnson, "Mormon Education in Mexico," 48.
[37] At the time of Peña's critique, the only government-sponsored school in the area was an elementary school, known today as the Escuela Primaria Niños Héroes. This school opened in Colonia Juárez in the 1930s. A middle school known as the Telesecundaria opened in the 1980s.
[38] Moisés T. de la Peña, "Problemas Agrícolas e Industriales de Mexico," translation cited in letter from Daniel P. Taylor to Joseph T. Bentley, January 7, 1959, 3, 7, in Joseph T. Bentley Papers, L. Tom Perry Special Collections, Harold B. Lee Library, Brigham Young University, Provo, Utah.
[39] De la Peña, "Problemas Agrícolas e Industriales de Mexico," 3, 7.
[40] Dale M. Valentine, "The Juarez Stake Academy" (master's thesis, Brigham Young University, 1955), 72.
[41] Harvey L. Taylor, "The Story of L.D.S. Church Schools," 1971, 2:10–11, L. Tom Perry Special Collections, Harold B. Lee Library, Brigham Young University, Provo, UT.
[42] Taylor, "The Story of L.D.S. Church Schools," 2:20.
[43] Johnson, "Mormon Education in Mexico," 58.
[44] Dale M. Valentine, "The Juarez Stake Academy" (master's thesis, Brigham Young University, 1955), 67.
[45] Johnson, "Mormon Education in Mexico," 59.
[46] Harvey L. Taylor, "Report: Trip to LDS Colonies in Juarez and Dublan, Mexico, and the University of Chihuahua," in Joseph T. Bentley Papers; Joseph T. Bentley to Daniel P. Taylor, February 3, 1959, in Joseph T. Bentley Papers.
[47] The Church did advance its educational system in other parts of Mexico, opening Benemérito de Las Américas in Mexico City in 1964. Barbara E. Morgan, "Benemérito de Las Américas: The Beginning of a Unique Church School in Mexico," BYU Studies Quarterly 42, no. 4 (2013): 89–116.
[48] Joseph T. Bentley to Ernest L. Wilkinson, August 8, 1957, Joseph T. Bentley Correspondence, L. Tom Perry Special Collections.
[49] Johnson, "Mormon Education in Mexico," 59.
[50] Shawn Foster, "The Mexican Connection: Mormon Colonies in Mexico Feel, Look Like Central Utah," Salt Lake Tribune, May 24, 1998, J1.
[51] Efraín Villalobos Vázquez, "Church Schools in Mexico," in Mormonism: A Faith for All Cultures, ed. F. LaMond Tullis (Provo, UT: Brigham Young University Press, 1978), 127.
[52] The Church of Jesus Christ of Latter-day Saints, "Facts and Statistics: Mexico," Mormon News Room, http://www.mormonnewsroom.org/facts-and-statistics/country/mexico.
[53] "Seminaries and Institutes of Religion Annual Report for 2015" (Salt Lake City: The Church of Jesus Christ of Latter-day Saints, 2015), 4.
[54] Wilson, "Reminiscences," 52.
[55] Stanley A. Peterson, oral history, May 1, 1991, cited in Casey P. Griffiths, "The Globalization of Latter-day Saint Education" (PhD diss., Brigham Young University, 2012), 272.