Gaye Strathearn (gaye_strathearn@byu.edu) was an associate professor of ancient scripture at BYU when this was written.
"I hope we inspire our students to learn. And I hope that learning leads to inspiration. When both things happen, inspiring learning occurs, and we then know we are on the right track to achieve the core goals set forth in our mission statement."[1] In the summer of 2015, I was sitting on the eastern shore of the Sea of Galilee at the Ein Gev Kibbutz. It was a hot, muggy day. I was there as part of my assignment to teach at the BYU Jerusalem Center for Near Eastern Studies. We had finished with classes for the day, and many of the students were enjoying time in the water. As I was sitting and looking out over the water, I noticed some students who were at the water's edge, building some kind of sand sculpture. The longer they were there, the more intrigued I became with what they were doing. Eventually I wandered over to take a look. As I got closer to their sand sculpture, I began to recognize what they were doing. Their creation was not just any sandcastle. They were creating the city of Jerusalem during the time of Solomon: something they were learning about in their ancient Near Eastern studies class. Their attention to detail impressed me. They had formed the ophel of David's city with the Solomonic temple to the north. What I was most impressed about was that they had also included the fortification around the Gihon Spring and even the large stepped-stone structure, both of which we had visited on one of our field trips. As I stood there admiring their handiwork, I was struck by how they had showcased their classroom learning in a creative way and how the act of creating this structure reinforced that learning. Even though I was not their ancient Near Eastern studies teacher, I was so impressed with what they had done that I thought to myself, "These students deserve an A!"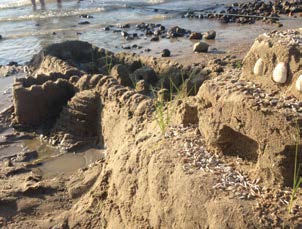 Sand sculpture on the eastern shore of the Sea of Galilee at the Ein Gev Kibbutz.
This experience reinforced in my mind how classroom learning can be both enhanced and deepened when students engage in creative projects. Speaking particularly of adult learners, Randee Lipson Lawrence has argued, "Artistic forms of expression extend the boundaries of how we come to know, by honoring multiple intelligences and indigenous knowledge. . . . Making space for creative expression . . . helps learners uncover hidden knowledge that cannot easily be expressed in words. It opens up opportunities for adult learners to explore phenomena holistically, naturally, and creatively, thus deepening understanding of self and the world."[2]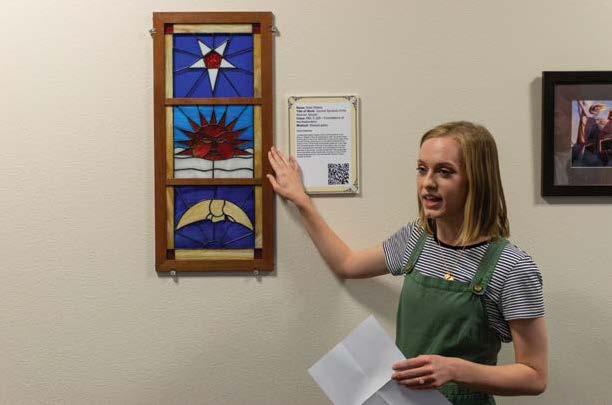 A stained glass window with symbols from the Nauvoo Temple, which is encased in surplus floorboards from the Nauvoo Temple, by Kate Stokes
For the past three years, I have included a project in all of my religion classes. The students are invited to choose a project that reflects one of their talents, or a talent that they would like to further develop, that both strengthens their connection with heaven and is tied in some way to the things that we are discussing in class. A number of Religious Education professors include similar types of projects in their courses. We see these projects as one evidence of President Worthen's vision of achieving BYU's "core goals set forth in our mission statement" through "inspiring learning." So it seemed only natural to find a way to showcase some of these student projects that are being produced in religion classes.These events were part of the genesis for Religious Education's Visualizing Learning exhibit that began in March 2019. It is located on the first floor of the Joseph Smith Building in the hallway between the auditorium and the First Vision atrium. The exhibit enables us to showcase some of the amazing projects that students are producing. At this point we are focusing on the visual artwork that they have created, but our hope is that we will eventually be able to expand and include ways to showcase other creative projects as well. On 25 October 2019 we opened our current exhibit, which includes eleven pieces of art:
A quilt depicting Book of Mormon scenes (Elizabeth Butler; REL A 275)
A stained glass window with symbols from the Nauvoo Temple, which is encased in surplus floorboards from the Nauvoo Temple (Kate Stokes; REL C 225)
A word-art depiction of Jesus appearing to Mary Magdalene that is composed entirely of scriptural verses from the New Testament: verses describing Gethsemane are used to create the olive tree, the sky is created with words from the Beatitudes, and the path consists of John 14, which includes Jesus saying that he is "the way, the truth, and the light" (Micah Gygi; REL A 250)
The First Vision depicted through three paintings where each one representing different moments throughout the process of revelation: darkness, despair, and light (Nathan Balaich; Rel. C 225)
A computer-generated animation depicting Scottish ancestors, with "hair as flaming red as their testimonies," traveling by ship to join the Saints in the United States (Ryann Bailey Wawro; Rel C 225)
An oil painting depicting Emma Hale Smith (R. R. Christensen; REL C 225) that depicts the nobility and poise she exhibited during the tension after the Prophet's death as she attempted to keep her family together while Brigham Young worked to keep the Church together. Our exhibit includes a copy of the original, which is currently on display in another exhibit back east.
An acrylic painting that draws on both the inspiration of Isaiah's teachings on the gathering of Israel (1 Nephi 21:9; 22:25) and the concept of Christ as our shepherd who calls each of us by name (Leah Meredith; REL A 275)
A depiction Jesus's washing of the disciples' feet in John 13:1–17. The brown tones of the painting reflect not only the dirt of the Apostles' feet but also the willingness of Jesus, through his atoning sacrifice, to serve and cleanse the dirtiness of our souls (Ale Ramos; REL A 250)
A watercolor journal illustrating the thoughts and impressions that came while studying the New Testament (Megan Day; REL A 212)
A watercolor depiction of the River of Laman flowing out of the Valley of Lemuel (McKay Bryson; REL A 275)
A computer-generated picture of the Jaredite encampment, with the barges built and ready for their journey but awaiting revelation from the Lord about how to proceed with acquiring light, air, and directions (Andrew Cuthbert; REL A 275)
Next to each piece we have included a description of the work and an artist's statement. Each of these placards contains a QR code that allows those who visit the exhibit to vote for the artwork that is most impactful to them. We hope that students, faculty, and visitors to the Joseph Smith Building will take the time to enjoy the creative ways that students taking religion classes are engaging in inspiring learning.
If you'd like to support current BYU students, Visualizing Learning, or other types of media initiatives in Religious Education, we encourage you to make a onetime or recurring donation at https://ldsp-pay.ldschurch.org/donations/byu?funds=30123127 .
Notes
---
I am grateful for the enthusiasm, expertise, and direction of Anthony Sweat, Mark Ellison, and Jason Combs who have made the Visualizing Learning exhibit possible. I am also grateful for the photographs that Richard Crookston took of some of the students and their artwork. The pictures are used with his permission.
[1] Kevin J Worthen, "Inspiring Learning" (address at university conference, Brigham Young University, 22 August 2016), https://speeches.byu.edu/talks/kevin-j-worthen/inspiring-learning/.
[2] Randee Lipson Lawrence, "Knowledge Construction as Contested Terrain: Adult Learning Through Artistic Expression," New Directions for Adult and Continuing Education, no. 107 (Fall 2005): 3, https://onlinelibrary.wiley.com/doi/pdf/10.1002/ace.184.