Andrew C. Reed (Andrew_reed@byu.edu) was an assistant professor of Church history and doctrine at BYU and one of the faculty advisers to the Interfaith Club when this was written.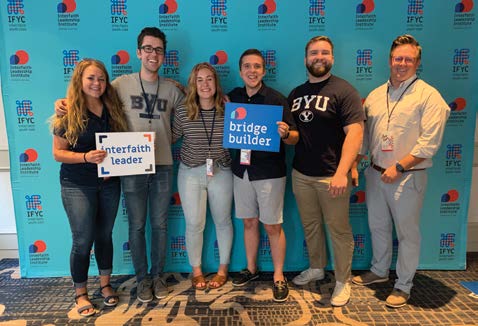 In February 2018, forty-five students gathered together to begin thinking about the possibility of greater interfaith engagement across campus. The meeting was the result of two concurrent movements: the desire for the BYU Office of Religious Outreach to bring students into the work of the Outreach Council and the desire two highly motivated students had to fill a need among their fellow students. Maddie Blonquist and Savannah Clawson worked through their final semester here at BYU to found and build up the Interfaith Club from its inception to its very first events in that first semester. The Interfaith Club is geared toward student learning and student engagement with the core values of BYU, including strengthening faith, increasing academic learning, and providing service. When Maddie Blonquist and Savannah Clawson hosted an interfaith panel that concluded Blonquist's student project, "Sacred Sounds: A Compassionate Listening Guide for Musical Worship," which included Cantor Wendy Bat-Sarah from Congregation Kol-Ami, Imam Muhammad Mehtar from Khadeeja Islamic Center, and myself, the Interfaith Club was officially recognized as a university academic club. That same evening, during the Inaugural Interfaith Harmony Week Lecture hosted by Dr. Grant Underwood (Richard L. Evans Chair of Religious Understanding), the club was officially recognized for its cosponsorship of the event.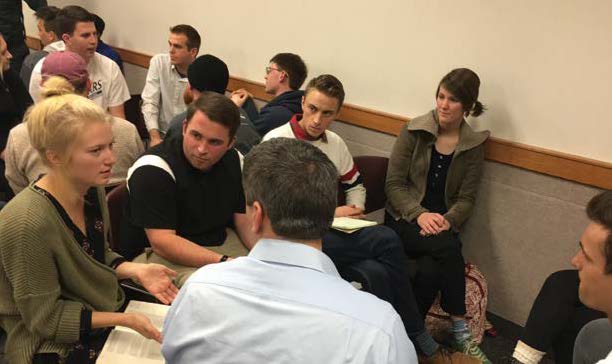 BYU Interfaith Club dialogue activity. Photo by Andrew C. Reed.
From the outset, the club leaders have sought out additional training and opportunities to engage with interfaith leaders from across the world. This drive to better understand how and why we seek out these opportunities emerges from students' individual recognition of the importance of this work and from the club's mission statement. At the core of our efforts to strengthen interfaith work on campus is the desire to foster a form of pluralism that allows for real commitment to religious traditions while also creating a community of common values. The BYU Interfaith Club's Mission statement follows:
BYU Interfaith Club Mission Statement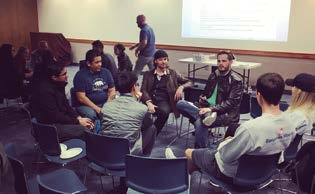 BYU Student Dialogue with CrossPoint Church community. Photo by Andrew C. Reed.
"Religious diversity is a reality in today's world. To promote appropriate forms of religious engagement at BYU, the BYU Interfaith Club seeks to build a community of religious pluralism. Religious diversity alone is not sufficient for, nor synonymous with, true religious pluralism; pluralism implies a more active, two-way engagement across identity divisions. This kind of engagement is not intuitive. Therefore, the BYU Interfaith Club seeks to actively create a safe, compassionate environment for people of all faith traditions and belief identities in order to learn this engagement.
The aims of the BYU Interfaith Club include creating a sense of community among people of diverse belief systems and identities, allowing for a shared space to learn and foster respect for others of differing beliefs, and providing resources to learn to engage across identity divisions.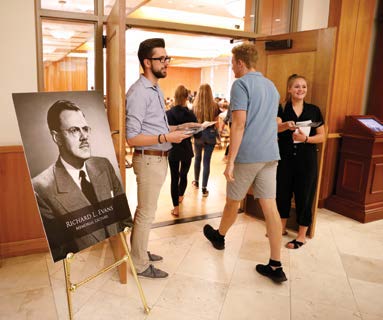 Student Interfaith Club leaders (Nick Hainsworth and Lauren Cranor) greeting audience members for Richard Mouw's Richard L. Evans Memorial Lecture 2019. Photo by Andrew C. Reed.
By adhering to the principles of respect, empathy, and compassion, members of the BYU Interfaith Club will learn to value each other's spiritual experiences, to respect each other's beliefs, and to build a community of people with diverse belief identities."
Skill Building
To build a cadre of qualified students with the developed interfaith skills and leadership qualities, BYU Religious Education helped provide funding to four BYU students (Nick Hainsworth, Lauren Cranor, Haley Kendall, and Thomas Britt) to attend the Interfaith Youth Core (IFYC) Interfaith Leadership Institute (ILI) in Chicago in August 2019. After Eboo Patel's visit to Brigham Young University earlier this year, the club established a desire to participate in this training program and learn how to improve interfaith efforts on campus. While at ILI, students participated in small-group learning cohorts to develop their interfaith skills and formulate programming to initiate at BYU upon their return. BYU students engaged with students from Loyola Marymount University, Utah Valley University, and other students from across the United States. Lauren Cranor, one of the BYU students who attended the ILI, reflected on the experience in this way: "There is nothing to lose and everything to gain from attending IFYC and the Interfaith Club at BYU. These two safe spaces are the most efficient ways to educate our community on how to recognize, relate to, and interact or learn to interact with people of different faiths. It is increasingly more difficult to learn these skills, as we often choose to surround ourselves with people of our same faith, but it is a necessary skill to be able to socialize and work with people that are different from us. IFYC and the Interfaith Club are our best shot at becoming the people we need to become in order to help all of God's children."[1] One of the results of ILI for BYU students is the continuation of training in connection with Utah Valley University's Interfaith Council and Reflection Center Staff. Together with Ellie Thompson (Reflection Center Coordinator) and Laura Guerrero (Philosophy, UVU), we invited students interested in working further on interfaith leadership skills and programming. In November, students from both campuses began planning a joint event for February 2020 as part of the IFYC Better Together Days 2020.
To date, the Interfaith Club has hosted various events and activities to bring the campus clubs and community members together. Recent events (held in the fall 2019 semester) include an interfaith panel with students at BYU, a service activity with members of the BYU Newman Club and USGA where they knitted hats and scarfs for the Provo Refugee Center, and a personal interfaith storytelling training and dialogue with Pastor Logan Wolf and local members of CrossPoint Church where students and community members learned and then employed the club's rules for good interfaith work. These rules for interfaith dialogue include
Using "I" instead of "we" statements (e.g., I believe that . . .)
Seek first to understand and to be understood
Seek appreciative knowledge
Assume the best of intentions in others
These rules allow members of the club to speak for themselves and their experience without assuming to speak for their community at large. Brady Early, who organized the dialogue with local members from CrossPoint Church, sees his participation in the interfaith club as personally important for his own development. Early suggested, "Participating in the club helps me to find greater meaning and purpose in my own beliefs as I learn more about the beliefs of others. The activities remind me how others care just as deeply about their beliefs as I do about my own."[2]
Through such interactions, students can build practical skills that can be readily employed in their future careers, in community leadership, and in religious service. As lifelong learners, these students leave BYU with the ability to work with those of other traditions while appreciating the uniqueness of their own experience and community.
These activities and dialogues provide students a unique opportunity to learn from others about their faith, their journey, their values and build relationships through deepened understanding and commitment to learning more. At the core, the club aims to strengthen spirituality across campus, provide significant academic enrichment, and build service as a central component of our engagement.
Notes