The World is our Campus
Foreword
Religious Education Review 2.1 (Provo, UT: Religious Studies Center, Brigham Young University, 2009)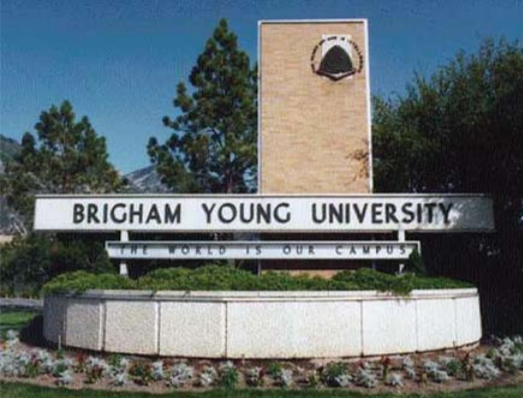 Many BYU visitors enter at Canyon Road and Bulldog Boulevard on the west side of campus. When they do, they pass two large signs welcoming students and guests to the university. One of them boldly proclaims, "The World Is Our Campus."
BYU tries to live up to this extraordinary motto by admitting a number of international students each year and recruiting faculty members from around the world to teach on campus. We also have excellent study abroad programs in Jerusalem, Vienna, Paris, London, and many other international cities—allowing students another type of international experience while they are enrolled at BYU. Additionally, a number of international scholars, ambassadors, and business people from around the world regularly speak on campus at our forums and in our classes.
Guests to BYU often notice the international languages spoken—some by native speakers and some by those who have served a mission in far-away lands or in language communities in the United States. The languages of the world are taught, spoken, and experienced at BYU like nowhere else.
Religious Education is committed to fulfilling the university's vision of making the world our campus. Members of the Ancient Scripture and Church History and Doctrine faculty teach at the Jerusalem Center and other BYU study aboard programs. My colleagues, Gaye Strathearn (Australian) and Dong Sull Choi (Korean), lend valuable international perspective to Religious Education and our students. A number of my colleagues are on the ground in international locations doing their work in archives, libraries, and historical and archeological sites. Many present papers at international conferences, where they meet scholars from around the world and return to Provo to pass along their experiences to their students and colleagues.
Another effort to fulfill the vision is in the area of publications. Recently, the Religious Studies Center released Mark L. Grover's new book, A Land of Promise and Prophecy: Elder A. Theodore Tuttle in South America, 1960–1965. This adds to our expanding RSC library of books dealing with the international Church. Added to our efforts to tell a more complete story of the Restoration are our efforts to reach out beyond the walls of our classrooms and offices on campus.
Our most recent initiative includes a new RSC Web site that will provide people information about Religious Education and the Religious Studies Center. Additionally, the site will contain electronic copies of all our publications. Finally, as part of our goal to fulfill the motto, "The World Is Our Campus," we have provided translations of some of our library in Spanish, Portuguese, and German.
We hope this current issue of the BYU Religious Education Review will provide you insights to our faculty, their work, and our outreach. "The World Is Our Campus" is more than a motto for Religious Education—we are engaged in helping BYU fulfill the university's vision of reaching out to the world from Provo. Please join us!
Richard Neitzel Holzapfel
Publications Director