Teaching Legacy: Sidney B. Sperry
Father of Religious Education at BYU
V. Wallace McCarlie (vwmccarlie@byu.net), a dentist, is currently working on a PhD at Indiana University. He is currently writing a book-length biography on Sydney B. Sperry, his great-grandfather, with financial support from the Religious Studies Center and the Neal A. Maxwell Institute for Religious Scholarship.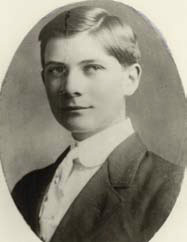 During the 1945–46 academic year, Dr. Sidney B. Sperry was confronted by one of his BYU colleagues. David H. Yarn Jr., who later became one of the deans of the College of Religious Instruction, was an eyewitness to the scene. Brother Sperry was sitting at his desk, writing one of his books, when a voice came through the open door: "Sid, what are you doing?" He replied, "I'm writing this book on the Book of Mormon." To which his colleague responded, "Oh, you don't believe that old stuff about the Book of Mormon, do you?" Brother Yarn reported, "Brother Sperry put his pencil down and bore a firm testimony of the Book of Mormon." As he bore testimony concerning the divinity and majesty of Jesus Christ as taught by Book of Mormon prophets and the reality of the First Vision, Brother Yarn was left overcome.
He never forgot the feeling he had in that moment. He remembered, "That made a great impression on me. I knew he had a testimony from all I had witnessed before of him, but when I saw him bear his witness to this man, who was on the fringes, it really thrilled me to see that he had that kind of testimony."[1] Dr. Sperry's testimony so moved him that after graduate studies at Columbia, Yarn sought to return to BYU as a faculty member. He was informed that Dr. Sperry had to approve his appointment, which he did. In the estimation of H. Curtis Wright, one of Sperry's greatest assets to religious education, BYU, and the Church in general "was his ability to spot and select people who had real redeeming faith."[2]
Brother Sperry joined the Church school system in 1922, after serving a mission to the southern states from 1919 to 1921. For some time, the Church school system had had "difficulty getting the right kind of men" to shepherd the youth and facilitate the development of their faith.[3] Brother Sperry observed three things upon entering the system: its three-year course in theology lacked a specific course on the Book of Mormon;[4] there was a need to create an environment that would help the youth of the Church develop greater faith; and there was a dearth of scholarship for the teachers to draw from. Brother Sperry witnessed the effects of these three observations. The Book of Mormon had been neglected,[5] testimonies seemed more or less stagnant, and teachers did not have even a basic knowledge of ancient history or languages. He and others joined in expressing the need for greater focus on the Book of Mormon, scholarship, and the nurturing of faith.
Brother Sperry felt he could contribute to the Church in a significant way by becoming a scholar who knew the history and languages of the prophets of old. After joining the system in 1922, he had numerous conversations with Elder James E. Talmage about his idea to obtain a PhD in biblical studies. Elder Talmage said it was time to have someone in the Church take the lead and become a fully trained theologian. Other General Authorities shared Elder Talmage's feelings. He told Brother Sperry that in his mind, he would do a great service to the Church by taking up the task of learning the ancient languages, especially those that could shed light on the scriptures. Elder Talmage's thoughts were personal, not official. The Church was in no way sponsoring Brother Sperry (as it did semiformally for a number of prospective biblical scholars after Sperry had finished).
Brother Sperry received a master's degree (1926) and his PhD (1931) in Old Testament languages and literature from the University of Chicago. In 1929 he taught his first two Old Testament courses at BYU.[6] He also did postdoctoral work as a university fellow at the American School of Oriental Research in Beirut and the Hebrew University in Jerusalem (1931–32).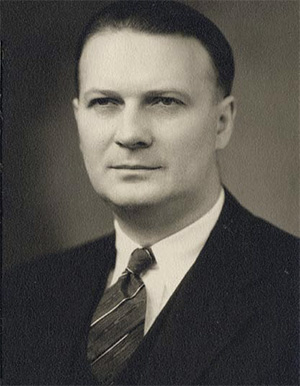 He had done what no one else had in the first century of the Church's organization. From an academic standpoint, Brother Sperry's professors were some of the most "learned men who ever lived," according to Hugh Nibley.[7] "Each of them was a giant endowed far beyond the normal run of men with independence of mind, imagination, curiosity, insight, energy, and integrity." The University of Chicago's theological faculty surpassed any other faculty in the country by the sheer volume of works it produced the year Brother Sperry entered the University.[8] He never regretted choosing Chicago, as he recognized the caliber of professors instructing him.[9] Professors that made up the theological faculty at the University of Chicago stood unequaled in transforming American Christian thought, especially modern thought, according to Noll.[10] Even so, they lacked the priesthood and the gift of the Spirit, but Brother Sperry had both of those qualifications and took everything the secular world of scholarship could offer and sought to use it to the Church's benefit. As his postdoctoral work in the Holy Land came to a close, he considered that he might have the largest impact by being a Latter-day Saint scholar out in the world. He "seriously considered staying somewhere in the east, at a larger, more prestigious center of learning" instead of coming to BYU.[11] The Lord had other ideas.
One night in 1932,[12] as his studies were wrapping up in the Holy Land, he had a dream. Karl G. Maeser and Alfred Kelly had seen similar visions about BYU, but Dr. Sperry's vision was singular in that the vision was more expansive and far-reaching than the previous two.[13] He saw a veritable Mecca of learning—multistory buildings, tens of thousands of students, world-class professors and facilities. The buildings were tall and light colored, and appeared white. He saw concourses of students from all over the world. In his own words:
I was up high, looking down on the foothills of Y mountain, but it was a time farther in the future. The campus I saw was not the tiny cluster of buildings I had known, but a great array of many, many buildings. I was amazed at Brigham Young University, and I thought, "How much is going on in those buildings, with thousands of students and teachers, and much research. What a power for good it is!

Then I scanned the foothills and saw that the university spread northward, with many more buildings, and most of the structures were white. They reached the point where they adjoined a white temple, and I thought, "So we will have a temple!"[14]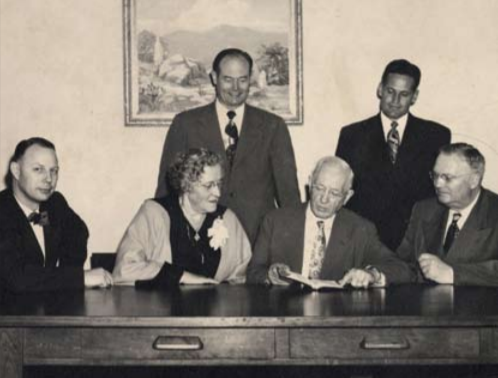 Elder Joseph Fielding Smith and Dr. Sperry corresponded from the mid-1920s to the late 1960s.
In 1932, in the wake of the stock market collapse, Church authorities thought they might be forced to close BYU. President Heber J. Grant traveled to New York in an effort to secure a loan that would keep the Church afloat. While in New York, President Grant announced the Church could not continue supporting "its many enterprises," and in order to secure a substantial loan it was necessary "to give up the various colleges which the Church was supporting," including BYU.[15] Many faculty members "were worried about losing [their] jobs" and "everything else."[16] The Church needed a reservoir of cash to shore up its debt, or it would indeed lose BYU. Dr. Sperry was admittedly "heartsick" at President Grant's message from New York.[17] But although he knew things looked bleak, he had confidence in his dream.
Anxieties about the university's future clouded campus during the early fall of 1932. In an effort to assuage his colleagues' fears, Dr. Sperry related the dream, knowing that the Lord would somehow change things. He simply said, "BYU will not close its doors. The Church [is] not going to give up BYU."[18] He was certain of it, and he was right. When President Grant returned from New York, he declared that the Church "would continue to operate" BYU, even though all of the Church's junior colleges would be turned over to the local governments.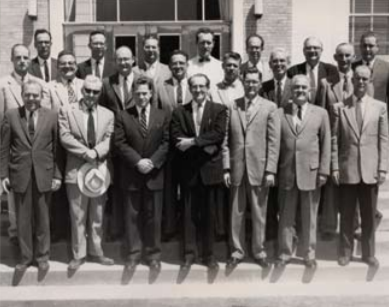 Religion faculty in the late 1960s.
Sidney Branton Sperry was the father of religious education at Brigham Young University and transformed religious education in the Church. He was the Church's first full-fledged biblical scholar, who not only stayed true to the faith but also inspired others to do the same. He served as a mentor, in one way or another, to every dean of Religious Education through 1990. Speaking of Dr. Sperry, Ellis Rasmussen, dean from 1976–81, said, "It was he who really persuaded the administration and the Brethren that there needed to be a core of people that were trained" at the highest academic levels in matters of the Old and New Testaments (as well as an understanding of the milieu out of which all of the standard works came and their doctrines).[19] Richard L. Anderson points out that "Brother Sperry never compromised [his knowledge of the restored gospel] by taking the ego trip that he knew more than the revelations of the Lord."[20] According to Hugh Nibley, he was the "Grand Old Man" of religious education who had the rare attribute of unshakable faith.[21] Sidney B. Sperry transformed religious education in the Church, according to Daniel Peterson, and "many people do not realize the pivotal and important role he played."[22] To think of religious education at BYU and throughout the Church without recalling Dr. Sperry's work would be, to use another's metaphor, "like seeing the circus and missing the elephants."[23] While his gospel-teaching career spanned over five decades, what he stood for and the impact he made will go on.
In his 1947 work, Our Book of Mormon, Dr. Sperry unequivocally affirmed that the Latter-day Saints need not be ashamed of the Book of Mormon. It was indeed the very word of God. His book brought up academic questions that no one had brought up before, but it was all in the context of building faith.
Many great biblical scholars followed. Perhaps more than anything else, Dr. Sperry made sure that those studying had testimonies of the reality and divinity of Jesus Christ as well as the restored gospel. And although in this case he is speaking about Paul, we may infer that it also applies to all of the holy prophets' words. Said he, "We are living in a time when men doubt that Christ is the very Son of God, the Redeemer and Savior of the world, who was literally raised from the dead and who, by the shedding of His blood, wrought out an atonement for all mankind. . . . Without this testimony there is little reason to study Paul."[24]
Notes
[1] David H. Yarn Jr., interview with V. Wallace McCarlie, September 5, 1998.
[2] H. Curtis Wright, interview with V. Wallace McCarlie, January 12, 2000.
[3] Franklin S. Harris to George H. Brimhall, May 9, 1921, Franklin S. Harris Papers, L. Tom Perry Special Collections, Harold B. Lee Library, BYU, Provo, UT.
[4] Roy A. Welker to George H. Brimhall, August 22, 1922.
[5] Adam S. Bennion to Franklin S. Harris, November 3, 1924: "We are slighting [the Book of Mormon] in our present course."
[6] Richard O. Cowan, Teaching the Word: Religious Education at Brigham Young University (Provo, UT: Religious Studies Center, Brigham Young University, 2007), 3..
[7] Hugh Nibley, Abraham in Egypt, from The Collected Works of Hugh Nibley: Vol. 14 (Salt Lake City: Deseret Book, 2000), 127. He also speaks of Petrie, Meyer, von Bissing, and Sayce, who were not at Chicago, but Sperry learned from Petrie while in the Holy Land. See also p. 107.
[8] William Michael Murphy and D. J. R. Bruckner, eds., The Idea of the University of Chicago: Selections from the Papers of the First Eight Chief Executives of the University of Chicago from 1891 to 1975 (Chicago: University of Chicago, 1976), 366.
[9] Sidney B. Sperry to Eva B. Sperry, July 26, 1925; in author's possession.
[10] Mark A. Noll, The Old Religion in a New World: The History of North American Christianity (Grand Rapids, MI: Eerdmans, 2002), 143. Here, the term modern thought is used in a general sense. Modernism itself did not specifically speak to whether or not God existed, although some of its most devoted disciples begged to differ. That question fell outside the analysis. No mode of analysis, however skillfully devised by men, can take the place of or ever stand on equal ground as revelation. Faith, therefore, had to fall outside the modernist's scope of analysis. Yet many modernists who studied the Bible ironically ended up denying that God even existed. But modernism did not have to go that way. One did not have to conclude that God did not exist, for example, just because modernist analysis revealed something new about the scriptures that might have flown in the face of preconceived notions about the nature of God and his doctrine. Instead of questioning their own ideas they questioned God and doubted His word. Many studying the Bible ironically stopped believing in the prophets. Of course, Dr. Sperry never succumbed to such fallacies. He had simple and sublime faith in the revelations of God and understood well the limitations of secular scholarship and yet took from it all he could to benefit the Kingdom.
[11] Carma de Jong Anderson, "Sidney B. Sperry: Memories," Journal of Book of Mormon Studies 4, no. 1 (1995): xix.
[12] The date may have been late 1931, and in that case, he most likely had the dream while in Chicago before traveling to the Holy Land. It is certain that he had the dream at the culmination of his doctoral studies.
[13] Merrill J. Bateman, "Gathered in the Tops of the Mountains," devotional address, September 7, 1999, 3.
[14] Anderson, "Sidney B. Sperry: Memories," xix.
[15] Sidney B. Sperry and Lyman Sperry, interview by Ernest L. Wilkinson, September 26, 1975, in Ernest L. Wilkinson Papers; Special Collections, Harold B. Lee Library, BYU.
[16] Sidney B. Sperry and Lyman Sperry, interview by Ernest L. Wilkinson, September 26, 1975, in Ernest L. Wilkinson Papers; Special Collections, Harold B. Lee Library, BYU.
[17] W. Cleon Skousen, Memorandum, "Vision of Dr. Sidney B. Sperry," September 24, 1975, Provo, UT, Centennial History Committee, Records, 1972–1976, Special Collections, Harold B. Lee Library, BYU.
[18] Skousen, Memorandum, "Vision of Dr. Sidney B. Sperry," September 24, 1975.
[19] Ellis T. Rasmussen, interview with V. Wallace McCarlie, August 22, 1997.
[20] Richard L. Anderson, interview with V. Wallace McCarlie, May 30, 1998.
[21] Hugh W. Nibley, interview with V. Wallace McCarlie, November 17, 1998.
[22] Daniel C. Peterson, conversation with V. Wallace McCarlie, June 25, 2003.
[23] Thomas Parke Hughes, Elmer Sperry: Inventor and Engineer (Baltimore: Johns Hopkins, 1971), xvii. Here, the biographer uses this metaphor to describe an eminent engineer who happens to be a distant relative of Sidney B. Sperry.
[24] Sidney B. Sperry, Paul's Life and Letters (Salt Lake City: Bookcraft, 1955), viii.