A Message from the Dean's Office
Dennis A. Wright, Associate Dean of Religious Education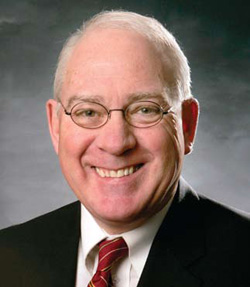 Religious Education is committed first to student learning. As part of an increased effort to promote student success, each professor carefully identifies specific student learning outcomes for each class and communicates them through the course syllabus. In this way, our students have the opportunity to understand clearly the specific goals for the class. The learning outcomes then become the foundation for all class instruction. Discussions, class activities, assignments, and examinations work together to assist students to achieve the desired objectives.
One member of our faculty recently described the benefits of the new emphasis: "Students understand exactly what is expected of them. This helps them focus their study and exercise their faith in achieving the goals set for them. As an instructor, I benefit by realizing that I am not just teaching content but, more importantly, teaching students. Their success becomes my success." The focus on student learning encourages an effective professor–student relationship that enables more students to succeed in their religion classes.
In Religious Education, we measure student learning through indirect and direct evaluations. Indirect measures are those obtained through extensive alumni and senior class surveys conducted by the university. We are pleased that in these surveys, students rank their religion classes at the top of the scale. Clearly, they are satisfied with their experience in Religious Education.
Our latest effort to evaluate the effects of our work involves a standardized test of student knowledge in the three core subjects: Doctrine and Covenants, New Testament, and Book of Mormon. Administered annually, this direct measure will help us analyze the changes that occur in scriptural understanding between the freshman and senior years of college. The information from this test, along with our indirect measures, will enable a more complete evaluation of our service to students. Our expectation is that this specific attention to student learning will enable us to keep our commitment to excellence in religious education.

Dennis A. Wright
Associate Dean of Religious Education