Sweetwater Revisited, Sour Notes, and the Ways of Learning
John C. Thomas, "Sweetwater Revisited, Sour Notes, and the Ways of Learning," Religious Educator 10, no. 2 (2009): 97–110.
John C. Thomas (thomasj@byui.edu) was a faculty member in the Department of Religious Education at BYU–Idaho when this was written.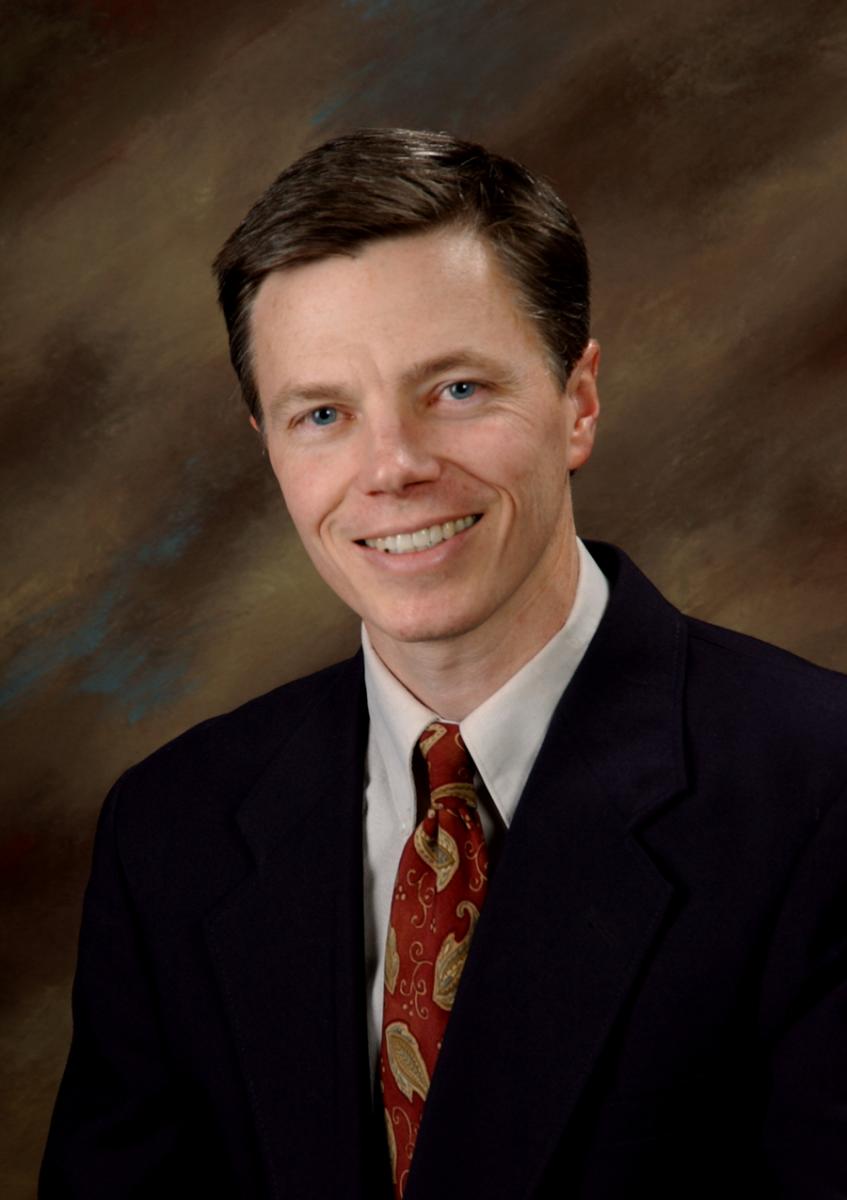 John C. Thomas.
In May 2007, my Religion 342 students had written a review of Chad Orton's article, "The Martin Handcart Company at the Sweetwater: Another Look," published in BYU Studies in 2006. After engaging other issues in class, only ten or fifteen minutes remained when I projected a slide containing Solomon Kimball's well-known account of events at the Sweetwater River in November 1856, an account Orton examines and revises in the article.[1]
Nine years old in 1856, Solomon Kimball did not witness the handcart rescue, though his elder brother David played a prominent role in the scenes at the Sweetwater. Not until 1908, however, did Solomon Kimball write about the rescue, and his best-known narrative appeared in 1914. By the time he wrote, several other accounts had been published. In 1878, handcart emigrant John Jacques first described several "brave waders" helping Saints across the Sweetwater in a newspaper series. In 1888, Orson F. Whitney mentioned the incident in his biography of Heber C. Kimball. Whitney said that the rescuers "immortalized themselves" by their brave efforts. Naming three men, including David Kimball, he said they carried some 500 emigrants across the river and then contracted "severe colds" that "finally conduced to their death." (At the time of this report, however, one of the three men named was still alive.) In 1890, Daniel W. Jones recounted his own remarkable experiences as a rescuer. He essentially ignored events at the Sweetwater and discounted efforts "to make individual heroes of some of our company," insisting that "everyone did all they possibly could."
When Whitney (1892) and Andrew Jenson (1893) revisited the handcart saga, they relied on John Jacques's earlier narrative to capture the Martin Company's ordeal. Then in 1907 another handcart veteran, Josiah Rogerson, retold the story for a newspaper, writing that Daniel H. Grant (probably George W. Grant) spent nearly two hours carrying some 150 emigrants across the Sweetwater. Rogerson praised Grant as a hero and recalled Grant telling him decades before that "his services that day" had "ruined" his health and left him an "invalid" through rheumatism.
Not until 1908 did Solomon Kimball narrate the Sweetwater incident. In language closest to Whitney's 1888 version, he said that three young men's brave service in the frigid water induced "colds that finally terminated in their deaths." Then he added an element to the story that had never been written before. He said that Brigham Young "wept like a child" when informed of the rescuers' efforts at the river, "and declared that this act alone would immortalize them." When Kimball wrote a series of articles about the 1856 emigrants for the Improvement Era in 1913–1914, he finally wrote what probably became the best known paragraph about the wider handcart rescue. Though he cited several other authors, Kimball again hewed closest to Whitney's portrayal. Yet when he reiterated his own version of Brigham Young's reaction, this time Kimball asserted that the prophet "later declared publicly" that the young men's heroism would "ensure [them] an everlasting salvation in the Celestial Kingdom."[2] To date, no contemporary record of such a statement has surfaced. Were it a Kimball family tradition, one might expect to find it in Whitney's earlier writings.[3]
With such puzzles in mind, Orton investigates the events at the Sweetwater and reports new evidence about the number of rescuers in the river, the number of emigrants assisted, the subsequent lives and deaths of the rescuers, and the comments attributed to Brigham Young. Having used available records to revise Kimball's narrative, Orton then constructs a new interpretation of the significance of the Sweetwater episode within the larger rescue effort. Referring to that paragraph in Kimball's 1914 narrative, I asked my students something like, "What's right and what's wrong with that account?" The first hands went up on the back row, where three or four male students sat (all returned missionaries). Soon after the first student started talking, I felt heat rising on the back of my neck. He said that "he only 'felt the Spirit' when reading the traditional account." [4] Then a nearby student weighed in: "I don't see what's so wrong with that version anyway," he said, questioning the value of revisiting the story. And one of them raised another issue: Why would President Hinckley use this story if there's something wrong with it? In retrospect, these seem like predictable concerns, but they caught me by surprise that day, in part because student reactions had been so positive the previous semester. Taken aback, I saw their concerns as pitfalls to avoid rather than a puzzle to engage. What might have been the beginning of a thought-provoking discussion felt more like a standoff.
There was a problem that day, but my perception of the problem was skewed because desire and ego as well as reason and faith inform my teaching and learning. Ironically, as Randy Bass points out, having a problem is something we like when it comes to research. Problems are "at the heart of the investigative process," and we enjoy talking to our colleagues about them. In teaching, however, we generally don't want problems—we are anxious to avoid or fix them—and if colleagues ask about them, it can "feel like an accusation." Yet we actually professionalize teaching when we "problematize" it, when we treat teaching and learning as subjects worthy of "ongoing investigation" and "communal discourse."[5]
It takes time to adopt this outlook. In a journal entry two days after that classroom encounter, I wrote of being "crestfallen—visibly distraught, I think—at the negative reaction." I seemed to be as defensive as some of my students.[6] Over time, however, what felt initially like a crisis began to look like a case for ongoing investigation—a problem worth having (as Bass would say). With mixed motives, I changed the way I introduced Orton's study to students, and I started collecting additional evidence about the way they encountered a revision of their past. The project, though unfinished, yields some interesting insights about what it means to learn and teach Church history at one university.
What am I looking for? Reminding us that students are not "empty vessels waiting to be filled with knowledge," David Pace urges teachers to examine "what . . . students bring to the history classroom that may have a major impact on their learning." Students come to college with some sort of historical narrative already in place (learned in school and popular culture). They also arrive in our classes with certain "ways of thinking about the past"—what Pace calls "preexisting cognitive organization." Without some reorientation, both of these "preexisting conditions" may impede, rather than facilitate, new learning.[7]
As a concrete example, it appears that historians read documents and narratives more actively and critically than novices, probing authors' motives, assumptions, and evidence. As Sam Wineburg observes, they "decode" authors and texts, seeking to locate them in a meaningful context and subjecting them to stiffer "cross-examination" than untrained readers. To succeed in history, students need to practice these kinds of mental procedures.[8]
I teach Latter-day Saint history in a Religious Education department, which serves students from all disciplines on campus. Do observations about the discipline of history apply to teaching and learning in my classes? The syllabus does not advertise learning to think like a historian as an expected course outcome. Nor, I think, do many students consider that a central purpose of religious education at BYU– Idaho. But the syllabus does say that the class should help students grow as learners and teachers of truth.[9] Can reading and thinking more like a historian help in that regard? I think it can, if it helps students to be more discerning as learners and teachers.
What Student Responses Reveal about Their Learning
Hours after that eventful class in May 2007, I printed two papers to read as I left town, intentionally choosing two student authors who likely held contrasting views about revisiting Sweetwater. At the time I simply wanted to see how widely their judgments varied about the value of the study. Since then, I have reexamined papers from six classes over three semesters to see what they reveal about the ways students read, think about, and make meaning of the Mormon past.
As expected, the first two students diverged widely in their review of Orton's article.
Student 1 (male): There is great value in searching for the truthful details in any such story. In our culture we tend to romanticize stories and hope for a greater emotional stir, and therefore sometimes details are left out or exaggerated. . . . Although I wouldn't have thought to do it on my own, the extra research on the subject brought new light to the subject and also made me think of those today who constantly are working hard for others but are not receiving public praise.

Student 2 (male): There is little value in this article. There were a few new pieces of information, and a lot of speculation. . . . The author tried unsuccessfully to balance his view between an appreciation of the heroic act and a desire to blow the traditional account all to heck. I don't see any historical value, just some new Mormon trivia. This article is like speculating on all the deep doctrines of the church . . . [that] lack value as necessary to gain a testimony of the truthfulness of the gospel.
The first reader admires the research effort, infers both causes and effects of romanticized stories in his culture, and draws a usable lesson from the revised narrative. The second reader doubts the author's freedom from bias, suspects that his inferences overreach his evidence, and dismisses the article's normative value. He also poses some provocative questions about the construction and uses of narrative as he cross-examines the text.[10]
I structured the review around several questions intended to help students move up a gradient of intellectual activity from basic comprehension to analysis and evaluation as they read and wrote.[11] I had ignored any affective elements of learning. When student 2 showed gaps in capturing Orton's arguments or evidence, had his emotional reservations impeded the basic mental processes required to digest the article? I had told students what to look for but said nothing about how to investigate and make meaning of the author and text. Who was the more accomplished reader and meaning-maker—the receptive or the critical student? And who grew more in the course of the exercise? First impressions may be deceptive.
It could be illuminating to consider what comments from the most critical (or dismissive) readers reveal about the challenges of teaching and learning Mormon history,[12] but most readers are closer to the first student. In six classes over four semesters, at least 90% reach a generally favorable conclusion. Most of them effectively summarize new knowledge learned, and they embrace Orton's revision of a narrative most of them have heard repeatedly and seldom questioned. This happens despite the fact, explicitly reported in about one-third of papers, that rethinking the familiar account brings an initial sense of loss.[13]
What skills do they practice, and what capacities grow? As they "look over a historian's shoulder," do they learn to read a text differently? Do their ways of thinking about the past grow in sophistication? Perhaps the best test of growth would be how they decode and reconstruct another narrative, without coaching from either Orton or me. To date, I have not (intentionally) designed such an encounter, but I continue to collect and reflect upon student work that reveals some interesting elements of the problem.
Tweaking the Exercise: Introductions and Questions
Teachers need to "build a continual case for learning . . . instead of assuming that students see the self-evident value" of the work we give them. This applies with special force when the "learning and critical thinking" we seek may bring with it "an ambivalent mix of feelings . . . in which anger and confusion are as prominent as pleasure and clarity." As obvious as this statement may seem, it can be difficult to implement it consistently, but it makes sense to help students "know why we're so committed to certain activities."[14]
Even if you're convinced that the cause is just, it can be hard to articulate why you want students to experience certain things and difficult for them to grasp your intentions, especially before they encounter the learning activity. Full disclosure may remain out of reach, but intentionality is a worthwhile goal.
As I first tinkered with the Sweetwater assignment, nervousness motivated me as much as scholarly teaching. Over time I grew more comfortable about my case for the activity and more intrigued about what student responses can teach us. What began as tactical maneuvers, closely tied to one assignment, has evolved into a strategic approach to most class activities, where revisiting Sweetwater weaves into a semester-long conversation about how we read, think about, and make meaning of our past.
One of the first adjustments was to try to lower emotional barriers to new knowledge.[15] Most of my students don't read historical periodicals, so BYU Studies connoted nothing to them. Noticing that some students referred to "Brother Kimball" and "Mr. Orton," I started by introducing the author of the article as "Brother Orton," sometimes adding that he worked for the Church History Department.[16]
For the first two semesters of 2007, my course syllabus introduced the article as "a nice model of inquiry." I described the scholarly tasks the author performed, using familiar verbs. It never occurred to me to ask my students what this introduction meant to them, nor did I ask what they thought of my assertion that Orton went about his work with "discipline and humility and even charity."
In subsequent semesters, I tweaked the introduction to the assignment, making it simpler but more direct. The Winter 2008 syllabus for Religion 342 explained that students would review some "historical scholarship," calling Orton's article "a nice example of researching a well-known but partly misunderstood story." I continued to describe the tasks he performed but introduced them with a basic statement of purpose: "to understand events better."
Since evidence collected in the summer semester showed that even receptive students perceived some costs in revisiting Sweetwater, I started asking them to spell out what they saw as the "benefits and costs of digging deeper into the story." In sorting through answers to this question, I found that the costs and benefits students identify give insight into the quality of their thinking.
In addition to statements acknowledging sadness, surprise, or disappointment at the fallibility of the best-known version of the story, some of the more thoughtful statements about the costs of inquiry raise issues like how to deal with contradictory primary sources, how descendants come to grips with more complicated portraits of ancestors, how best to account for mistakes in Solomon Kimball's narrative, and how to constitute a narrative that focuses on the most important issues. These statements show students thinking somewhat independently of both Kimball and Orton as they deconstruct and reconstruct narratives of the rescue.
Some student comments about the costs of inquiry have troubled me. When I asked students to write the costs and benefits on index cards in two classes (fall 2007), I was surprised to see how many students said Orton had found the letter of the story at the expense of its spirit. Several said the revision was secular, not spiritual. What concerns me most about this response is the adjectives with which student papers describe the spiritual story—words like heroic, exciting, glorious, magical, mystical, romantic, moving, and dramatic.[17] Similarly, I don't know what a student means when he worries about "a blow to one's testimony of the pioneers." This looks questionable as religion or history.[18]
When students write of the benefits of further research, they tend to echo Orton's arguments: the grandeur of the wider rescue story, the justice of acknowledging other heroes, and the need to scrutinize ill-documented prophetic statements with wider doctrinal implications. Many go a little further in saying "the story [is] a lot more meaningful" in light of new knowledge, and that a history free of embellishment is more reliable. Some other "benefits" students discover may actually reveal simplistic notions about history, such as claims that we know the whole truth now, that true history has saved us from myth, or that there must have been a cover-up.
I made two more adjustments in winter 2008. Even though Orton unveils Solomon Kimball as the human source of the famous narrative, I chose to reinforce this by asking students what questions they would like to ask Kimball, identified as "author of the earlier account" and Orton, identified as "author of this new study." In prior semesters, a distinct minority of student papers actively critiqued either author. In response to this new question, many more students directly cross-examined Kimball's memory, sources, and purposes for the narrative, some more empathetically than others. Many students asked what motivated Orton to revisit the story—a sign of admiration, curiosity, or caution—but also a meaningful element of historical reading and inference.[19]
I also used pre- and post-class blogs to collect some more information about learning. The pre-class blog asked students to share what they knew of the Sweetwater incident and how they learned it. The intent was to learn how prior knowledge would affect their reading and learning. Unfortunately, most posted comments immediately after they read the article. This gave me a preview of their reactions, but no good data to track the links between their prior understanding and their capacity to acquire new understanding.[20]
In the post-class blog, I asked students to describe and explain what use they would make of Kimball's account if they were teaching a fireside about the handcart rescue. A majority of students thought it best to rely on recent research, but some could see reasons to continue using the account, despite its limits, for various purposes. Students on both sides of the question developed moral arguments about Kimball's narrative and the role it has played in wider Latter-day Saint history. For example, if something is flawed but seems to do good, what does that mean?
It Started with a Mistake
When class ended that Friday in May 2007, two students paused on their way out. In a conciliatory tone, the first student said I had cut him off before he could completely describe his response to the reading. Encountering doubts about Kimball's account had set him on edge, but when he read Orton's concluding observations he saw value in the research. What he said haltingly as we talked, he said better in his paper, which I read several days later:
I have come to love the quote. . . . about three men helping the saints cross the Sweetwater. . . . I felt the Spirit and it really pricks my heart every time. [And] for a large part of the article it seemed the writer was trying to prove the entire thing wrong and tear apart the account. . . . But as . . . in life you have to see things through to the end. The last few pages brought into light for me why the article was written. . . . It is true that the events leading to the crossing and after the crossing are more or less forgotten. . . . This is why we are told to dig deeper into things. We don't want to miss all the other great things that we could learn because we only know the parts that every one focuses on.
This student may not have plumbed the deepest analytical or normative implications of the exercise. But his words suggest that he learned—he struggled, he persisted, and he learned.
Rereading that paper months later, I see that the student performed some useful tasks as a learner and teacher. For example, he unveiled Solomon Kimball as creator of the narrative he so admired—giving the quote a history. He followed and admired Orton's workmanlike examination of primary and secondary sources about the event, despite doubts about the endeavor. Lastly, he drew on his best principles to make meaning of a revised narrative. The story still taught him about courage, endurance, and sacrifice, and it also illustrated another virtue he associated with his faith: "to dig and look deeper into things and try to gain a better understanding for ourselves."[21]
To me, his response reveals promise, both spiritually and intellectually— I see him growing as a learner and teacher of truth. Ironically, had I heard him out in class, a crisis may never have blossomed and ripened into a problem worth investigating and talking about.
Postscript
In April 2008, Elder Quentin L. Cook of the Quorum of the Twelve Apostles talked about the handcart rescue in general conference. I knew he was a descendant of one of the rescuers singled out in Solomon Kimball's account, and I wondered what meaning Sweetwater had for him.
Elder Cook recounted his mother giving him Orson Whitney's biography of Heber C. Kimball, and he quoted Whitney's account that the rescuers risked their lives and thereby "immortalized themselves" among a grateful people. He then noted his own ancestor's efforts at the Sweetwater and the great impression such deeds made on him as a teenager.[22] He recalled wanting to prove his devotion by some dramatic act, only to be taught by a grandfather that the real lesson he should learn was to give "consistent, faithful dedication to the counsel of a prophet."[23]
Later I read Elder Cook's talk. Checking the endnotes, I reacted enthusiastically when I saw that he had cited Orton's article. Why would that matter to me? Perhaps it illustrates that teachers, like their students, do not encounter history as empty vessels. We read and understand the past in a process where experience, intellect, spirit, and emotion all play their part. The more discerning we become, the more likely we are to achieve harmony among these ways of learning.
To illustrate, consider the thought process of a student who wrote about what he would say to someone who "felt the Spirit more with the less accurate version." He began by acknowledging that he was one of those people stirred by the excerpt from Solomon Kimball's article, which he remembered from a Church Educational System video. Having examined Orton's evidence, the student observed that the 1914 version "seemed to focus in on a few and was really a 'Hollywood' version of the truth." Upon initial reflection, he wondered if being moved by that account meant that he "really felt the Spirit as much as I just felt good." Probing further, he considered what the Holy Ghost could teach a discerning learner: "The Spirit is trying to tell us that something significant happened here, and we can really learn from what happened. The Spirit, if listened to, might also be helping us hunger after the truth of the story." Reflecting on his own emotional response to an incomplete account, he warned against a tendency "to feel so caught up in the magic that we forget to listen to the Spirit fully."[24] In history and life, that kind of discernment can help us grow as learners and teachers of truth.
Notes
---