Salzburg Branch
Roger P.Minert, "Salzburg Branch," in Under the Gun: West German and Austrian Latter-day Saints in World War II (Provo, UT: Religious Studies Center, Brigham Young University; Salt Lake City: Deseret Book, 2011), 297–300.
The western outskirts of Salzburg form the border of Austria and Germany. This beautiful city on the Salzach River had not joined Austria until 1815 and had 77,172 inhabitants when German troops marched in on March 12, 1938. [1] The small branch of Latter-day Saints had existed in the city for only a few years at the time, and the branch president was traditionally a young missionary from the United States. Clark Hillam of Brigham City, Utah, was one such branch president. He recalled that the members he met in January 1939 were "pretty solid." However, "compared to Munich it was a small branch." [2] When the American missionaries were evacuated from the continent in August 1939, Josef Duschl became the branch president.
| | |
| --- | --- |
| Salzburg Branch [3] | 1939 |
| Elders | 2 |
| Priests | 3 |
| Teachers | 1 |
| Deacons | 1 |
| Other Adult Males | 11 |
| Adult Females | 27 |
| Male Children | 4 |
| Female Children | 2 |
| Total | 51 |
Like so many LDS branches in Germany and Austria, the branch in Salzburg was characterized by a large number of adult women, many of whom were the only members of the Church in their homes. Sunday School began at 10:00 a.m. and sacrament meeting at 8:00 p.m. Mutual and Relief Society meetings were held on Wednesday evenings at 7:30 and 8:30 respectively, and the Primary association met on Tuesdays at 4:00 p.m.
The annexation of Austria by Germany had an immediate impact on the LDS missionary work: all five Austrian branches were transferred from the Swiss-Austrian Mission to the West German Mission. The records of the mission office in Frankfurt include the following report dated December 2, 1938:
President and Sister M. Douglas Wood and Private Secretary Richard E. J. Frandsen, visited the second meeting of the series of these gatherings which were held on this trip into the newly acquired branches in Austria, now belonging to the West German Mission, in Salzburg. There were fifteen members, six friends and ten missionaries, present. Other visitors present were: district Presidents Ludwig Weiss from Nuremberg and Johann Thaller from Munich; Fred. W. Babbel, Nuremberg; Grant Baker, Augsburg; and John G. Teasdale, Munich. It was a thrill for these Saints to meet President and Sister Wood for the first time and to enjoy the fine spirit of the meeting which was held there. [4]
As the war approached in the late summer of 1939, the Salzburg Branch was holding its meetings in a small residential structure just a few yards from the Salzach in the northern part of the city; the address was Jahnstrasse 2. Rudolph Weissenburger (born 1913) joined the Church in 1934 and recalled that the branch moved into the building shortly after his baptism. "There was a small room and a large room that we used. Brother Nestlinger helped a great deal to [find] a meeting hall." [5] No other details of the rooms are available.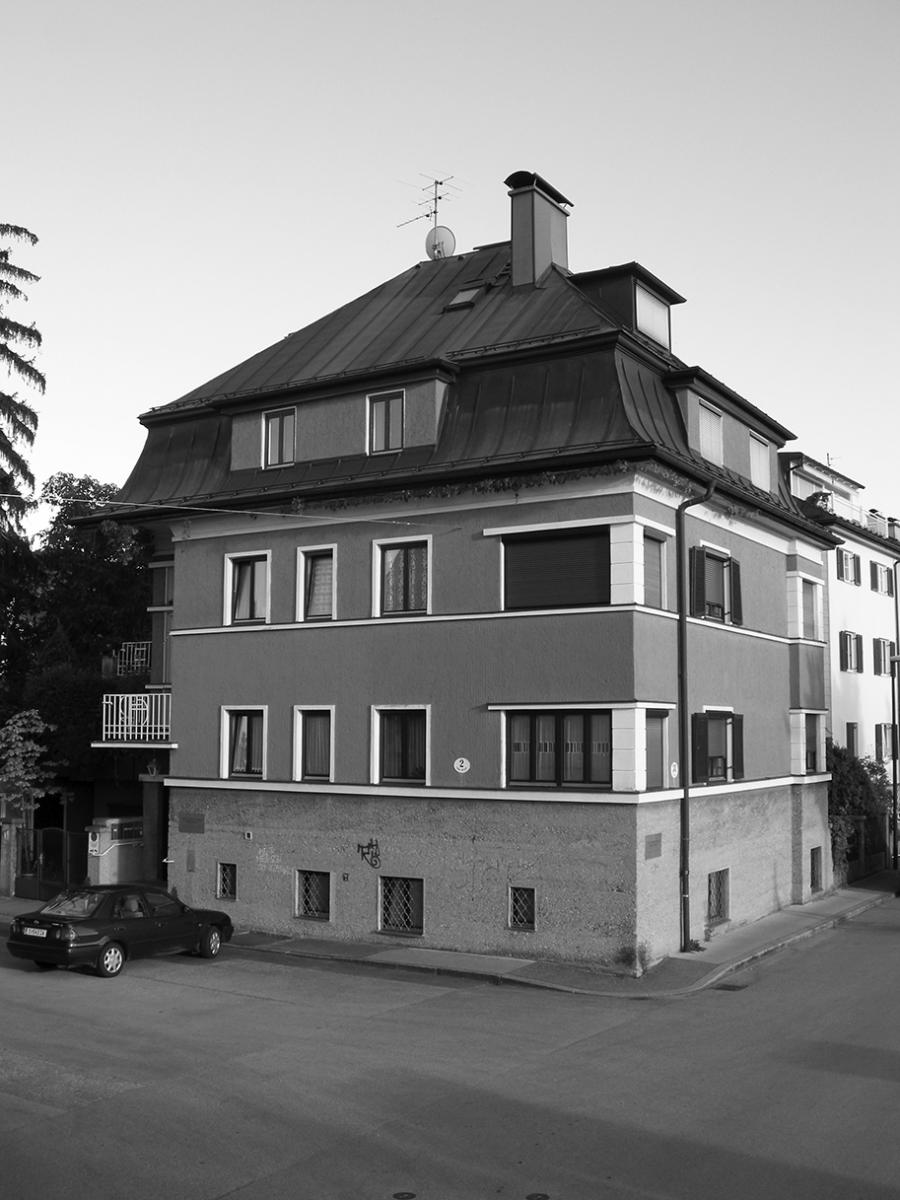 Fig. 1. The building at Jahnstrasse 2 in Salzburg where the branch held its meetings during the war. (R. Minert, 2008)
With so few priesthood holders among the members in Salzburg, it must have been difficult to watch the young men be drafted and leave the area. Rudolph Weissenburger donned the uniform of the Wehrmacht in 1940 and began an odyssey that took him all around Europe and as far as the Mediterranean Sea. From Salzburg, he went first to Innsbruck and Graz (two of Austria's largest cities), then to Nienburg in northern Germany, where he was trained as an engineer. He spent a few months in France, Poland, and Russia. "We marched almost the entire distance," he recalled. "In one day we marched 75 kilometers [47 miles]." By then it was 1941, and the German army had moved deep into the Soviet Union. [6]
Brother Weissenburger was one of the many German LDS soldiers who struggled with the problem of what to do if he was in a position to shoot at enemy soldiers. "When I was drafted, I fasted for a day and prayed that I would not be forced to shoot anyone during the war. This was my prayer." In Russia, he operated a machine gun, and on two consecutive days was close enough to Red Army soldiers to be in great danger. In each case, he did not fire, and the soldiers hastily retreated. [7]
Rudolph's time in Russia was relatively short because he fell victim to frostbite in February 1942. "My fingers were frozen and they turned black. . . . The flesh fell off. It didn't hit the bones. Had the frost hit the bones, there would have been a need for amputation. The same with the feet. Then I returned to Tapiano in East Prussia." After recuperating in various hospitals, he was sent back to Austria, where he volunteered to serve in Africa. "'It's not too cold there,' I said to myself." [8]
Like his counterparts in other LDS branches all over Germany, the clerk of the Salzburg Sunday School kept regular records of the meetings. However, the great detail common in the records before the war declined during the war, and the entries featured only the numbers of attendees and the names of Sunday School officers. The attendance for 1941 and 1942 vacillated from ten to twenty-six persons. Forty-three members and friends attended the Christmas program. [9]
Herbert Schreiter (born 1901) had been the president of the Chemnitz Center Branch before being drafted into the Wehrmacht. Everywhere he went as a soldier, he sought a connection with the Church. His first opportunity came when he was transferred to Salzburg in January 1943 to work as a gunsmith. He recalled:
Of course, I immediately went looking for the branch. The branch president was Brother Duschl and he was 82 years old. The other brethren had all been drafted and the branch consisted almost entirely of sisters. So I arrived and was [soon] called to be the Sunday School president. . . . I sat up front in my uniform, and I brought a few other soldiers along because they were bored. [10]
Herbert's arrival in Salzburg was most timely, for Josef Duschl was too weak to carry on, and Herbert found himself the only priesthood holder left in the Salzburg Branch. Brother Duschl's wife, Elisabeth, passed away about that time, and Herbert borrowed a suit in order to conduct her funeral. At the last minute, Munich District president Hans Thaller arrived and dedicated the grave.
Herbert enjoyed his time in the Salzburg Branch very much, where the Sunday meetings were often followed by group walks amid the local hills. He was disappointed when he had to leave in mid-1944, although the transfer took him back to his native Chemnitz.
The dedication of the remaining Latter-day Saints in Salzburg must have been exemplary, because despite the lack of priesthood holders, the attendance at Sunday School in 1943 and 1944 remained consistent. The numbers swung from thirteen to twenty-seven in 1943 and were as high as forty-six in 1944. Surnames frequently seen in the minutes are Leitner, Herbert, Schreiter, Mayr, Mühlbacher, Schauperl, Standl, Götzenberger, Duschl, Rauch, and Hingshammer. [11]
Rudolph Weissenburger's next assignment in late 1942 took him from Austria to the island of Crete in the Mediterranean. There was little to do both in Crete and in his next location, Greece. Back on Crete when the war ended, Rudolph and his comrades surrendered themselves to British forces on June 8, 1945. As prisoners of war, they were sent to a camp near Great Bitter Lake in Egypt. He was released there just in time to return to Salzburg by Christmas 1946. [12] The branch was still holding meetings, and several American soldiers had joined them by that time.
The Saints in Salzburg were fortunate in that nearly all of them lived in homes and apartments that survived the war. The city was bombed on fifteen occasions by the US Army Air Corps, and 47 percent of the structures were damaged or destroyed and 482 persons killed. At least 65 of the sons of this city died in military service. American soldiers entered Salzburg in April 1945, and the city surrendered without a fight.
In Memoriam
The following members of the Salzburg Branch did not survive World War II:
Adolf Duschl b. Guigl, Salzburg, Austria, 17 Jun 1911; son of Josef Duschl and Elisabeth Stockinger; bp. 2 Nov 1921; ord. teacher; m. Cottbus, Brandenburg, 4 Apr 1938, Minna Berta Galow; d. Teodorowka, Russia, USSR, 17 Sep 1944 (FHL microfilm 25758, 1935 census; IGI; AF)
Maria Lindt Gaigg b. Ebensee, Oberösterreich, 11 January 1880; dau. of Johann Loidl and Anna Stueger or Anna Maria Vogl; bp. Bern Switzerland Temple 25 February 1959; conf. 25 February 1959; m. Ebensee 18 November 1900 or 1903, Sebastian Gaigg; d. Ebensee 11 January 1937 (Nfs)
Johann Mayr b. Mitterbreitsach, Eberschwang, Oberösterreich, Austria, 11 Jun 1909; son of Johann Mayr and Maria Katzboeok; bp. 27 Jul 1923; conf. 27 Jul 1923; ord. deacon 4 Aug 1929; ord. teacher 15 Apr 1934; ord. priest 3 Feb 1935; m. 1 Oct 1934, Adele Przybyla; 4 children; corporal; k. in battle at Malowa Gora, Poland, 28 Jul 1944 (Dozekal-Vazulik; CHL CR 375 8 2445, no. 864; www.volksbund.de)
Josef Mühlbacher b. Molln, Oberösterreich, Austria, 23 Jul 1923; son of Michael Mühlbacher and Katharina Gurtner; bp. 13 May 1934; conf. 13 May 1934; ord. deacon 15 Mar 1936; d. wounds 10 Aug 1944; bur. Mont-de-Huisnes, France (Dozekal-Vazulikl; CHL CR 375 8 2445, no. 873; www.volksbund.de)
Elisabeth Stockinger b. Geboltskirchen, Oberösterreich, Austria, 21 Oct 1875; dau. of Sebastian Stockinger and Elisabeth Arminger; bp. 2 Nov 1921; conf. 2 Nov 1921; m. Guigl, Salzburg, 7 Oct 1909, Josef Duschl; 3 children; d. heart ailment Guigl, Salzburg, Austria, 24 Apr 1944 (CHL CR 375 8 2445, no. 853; FHL microfilm 25758, 1935 census; IGI; AF)
Antonia Tibisch b. Molln, Oberösterreich, Austria, 9 Jan 1871; dau. of Vinzenz Tibisch and Antonia Thaler; bp. 18 Aug 1928; conf. 19 Aug 1928; d. stroke 2 Apr 1941 (CHL CR 375 8 2445, no. 889; FHL microfilm 245285, 1930 and 1935 censuses)
Notes
[1] Salzburg city archive.
[2] Clark Hillam, interview by the author, Brigham City, Utah, August 20, 2006.
[3] Presiding Bishopric, "Financial, Statistical, and Historical Reports of Wards, Stakes, and Missions, 1884–1955," 721, CHL CR 4 12.
[4] West German Mission quarterly reports, 1938, no. 45, CHL LR 10045 2.
[5] Rudolph Weissenburger, interview by Justus Ernst, April 30, 1986, Salt Lake City, 4, 14, CHL MS 9260; trans. the author.
[6] Weissenburger, interview, 11.
[7] Ibid., 13.
[8] Ibid., 11.
[9] Salzburg Branch, Sunday School minutes, CHL LR 7846 15.
[10] Herbert Schreiter, interview by Matthew K. Heiss, Leipzig, Germany, October 11, 1991, CHL; trans. the author.
[11] Salzburg Branch, Sunday School minutes.
[12] Weissenburger, interview, 4–5.