Goslar Group
Roger P. Minert, " Goslar Group, Hanover District," in Under the Gun: West German and Austrian Latter-day Saints in World War II (Provo, UT: Religious Studies Center, Brigham Young University; Salt Lake City: Deseret Book, 2011), 200–203.
When World War II began in September 1939, the only members of The Church of Jesus Christ of Latter-day Saints living in Goslar were the family of Walter Horn. With his wife, Rosilie, and three daughters, Walter had moved to Goslar from Weimar, where the family had been faithful members of the branch. The family was motivated to move because Nazi Party leaders in Weimar were putting pressure on Brother Horn to join. It occurred to him that he might escape that pressure by moving to Goslar, where he found other employment. According to his daughter, Evelyn (born 1932), the tactic worked: "Once we got to Goslar, the party there did not come looking for my father." [1]
Evelyn's earliest memories in Goslar include seeing Jewish residents with the garish yellow Star of David on their coats. She recalled telling her girlfriend that it was not nice to make the people wear that star because it made them nervous when people saw it. When she told that to her mother, Sister Horn panicked and said, "Don't you ever dare say this to anybody or else they will pick up your father and take him away!" After that, Evelyn worried every time there was a knock at the door that somebody was coming to arrest her father.
The Horns held church meetings in their home. Walter and Rosilie taught their children the gospel, and they sang the hymns of Zion. "We rented a pump organ and eventually owned it," recalled Evelyn. "When we held our testimony meeting, we just went around the table, and everybody gave their testimony—young and old." Brother Horn taught his family from several different church books, such as The Voice of Warning by Parley P. Pratt. As the district president of the Sunday School, Brother Horn was an expert in Church literature.
The Horns were joined early in the war by Sister Kramer and her daughter, Hilda, so the group of Saints grew from five to seven. The family sometimes traveled from Goslar to Hanover (forty miles away) to conferences and other church activities. Evelyn was baptized in a public bathhouse in Hanover along with several other persons from the district.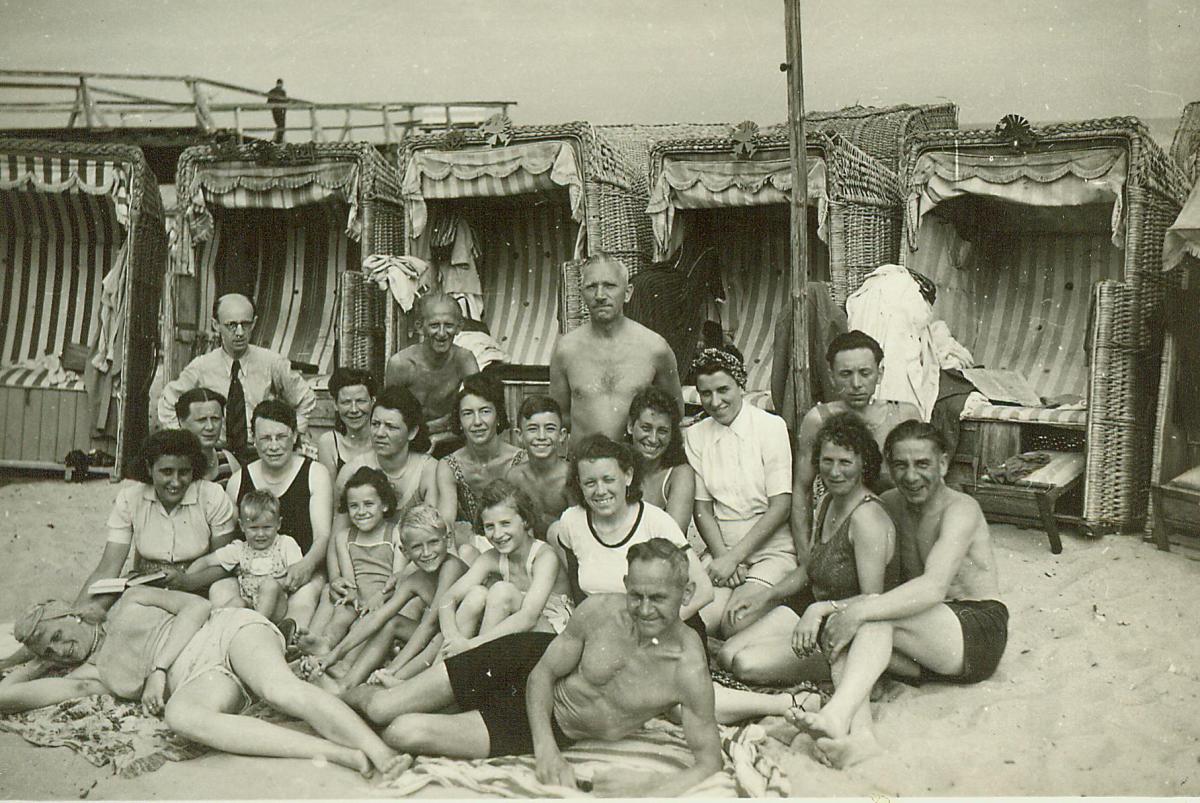 Fig. 1. Walter Horn (left rear with shirt and tie) was probably considered conservative when he participated in this company outing to the Baltic Sea in 1943. (E. Horn Pruess)
Walter Horn was employed by the Greifwerke, a company that made stationery items for the government. As a small man, he was classified as unfit for military service, something neither he nor his family ever regretted. In many ways, the war seemed far away from this historic city at the foot of the Harz Mountains, but Evelyn Horn knew that there was a war going on. The military hospitals established in local hotels offered clear evidence of that. As she recalled:
We were encouraged in school to take our families and visit the soldiers. So on Sunday afternoons we would go and visit the soldiers, and then later on they made it even a school thing that we had to just go with recorders or violin or whatever and sing for them or play music. I remember that one time I just couldn't stand to see those people suffer, and I was just sick. . . . There was one man who had just been dragged out from under a burning tank, and you couldn't see anything [because he was all wrapped up], and it smelled awful in there.
On many occasions, Evelyn and her sisters saw soldiers who were well enough to walk around town, but even that was a frightening sight. She recalled seeing soldiers who had severe facial injuries. Skin was grafted from an arm to the face, and a soldier would walk around town with his arm tied to his face. "I've always been happy-go-lucky, but I thought, 'Oh these poor guys!' It was terrible. Sometimes, one side of the face was already healed, and it was all just red and the other side still [looked terrible]."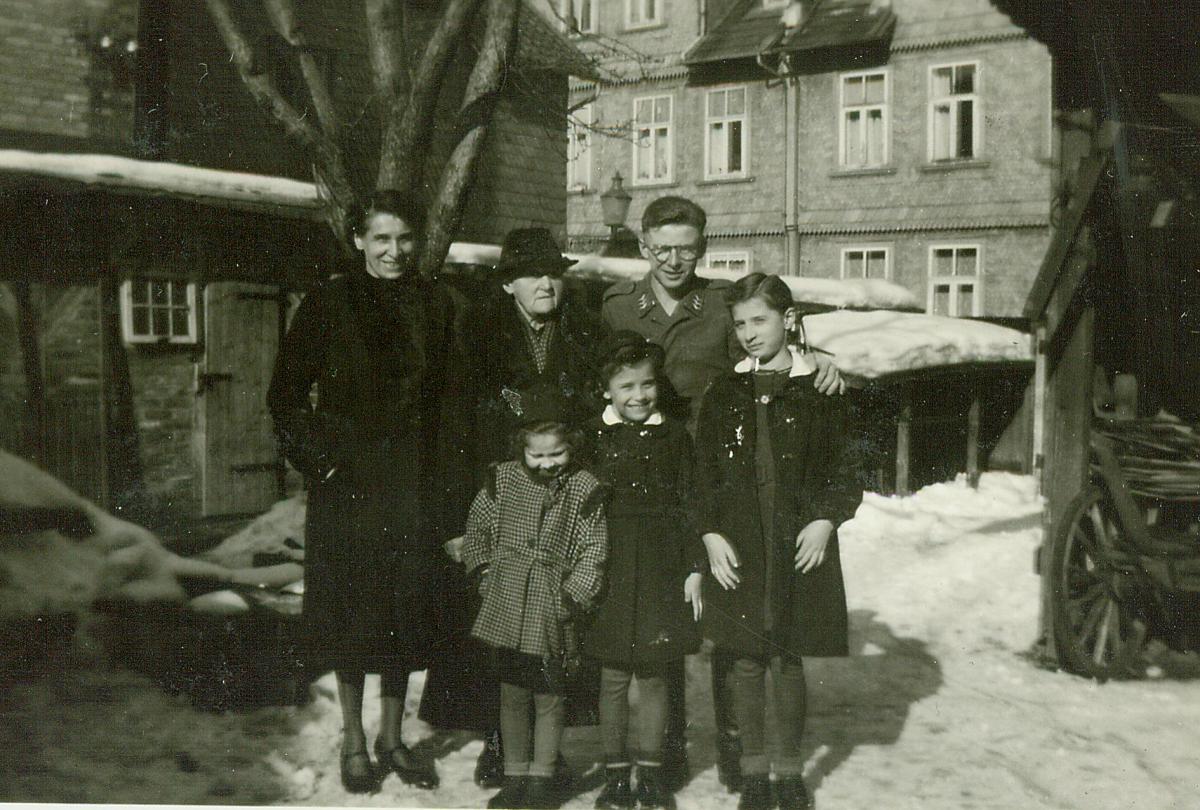 Fig. 2. Winter 1943: the Horn girls (from left, Annegret, Irene, and Evelyn) with their mother, Margarete [Author: is her name Rosilie? See p. 36.1], grandmother Anna Gluth (whose home had been bombed in Hanover), and visiting Luftwaffe soldier Hans Beyer. (E. Horn Pruess)
For the three Horn girls, growing up in wartime meant restrictions in the types of entertainment available. However, their parents knew how to entertain their daughters. According to Evelyn, "we were a family of readers. We read a lot. When we couldn't get new books, my mother went through all of our books and picked out the ones we could read. I read lots of books that were written for adults."
The air raids that made life unbearable in larger cities were not a problem in Goslar, but on occasion enemy planes flew by Goslar on the way to other targets, and that set off the sirens in Goslar. When the sirens were heard, the Horns went down into their dank basement and listened to the radio until the all-clear was sounded. "They never bombed us, so eventually, nobody worried if people didn't all come to the basement," claimed Evelyn Horn. Nevertheless, the Horns always took a briefcase with their most important personal and genealogical records.
The war ended in Goslar in mid-April 1945 with the arrival of the American army. The city's mayor asked that the residents hang white sheets out of their windows. As Evelyn recalled the day:
All of a sudden, somebody came running down the street yelling, "They're here! They're here!" . . . We all ran down to the end of the street and waved to them, and they threw chocolate and all kinds of stuff around. . . . They were smiling and waving, and people were waving [back], and it was liberation. . . . The next morning we had a surprise: there were all kinds of pamphlets glued and stapled on the buildings [with curfew restrictions] in German.
The Horn family spent the war years in relative peace, and the war came to an end for them in an equally peaceful way. In the following months, LDS refugees from the East German Mission moved into the area around Goslar, and soon group leader Walter Horn found himself branch president.
District president Hermann Walter Pohlsander wrote the following in his report to the West German Mission office in August 1945:
The dependent branch of Goslar, which is connected with the Braunschweig Branch, has only 7 members, consisting of the Horn family in Goslar and Sisters Kraemer Sr. and Jr. in Oker. The meetings are held in the home of Elder Walther Horn. The branch is small but very fine. At this time there are also members of the East German Mission [refugees] in Oker. [2]
No known members of the Goslar group died during World War II.
Notes
[1] Evelyn Horn Pruess, interview by the author, Salt Lake City, December 1, 2006.
[2] Goslar Group general minutes, CHL LR 3260 2.