William Law
Lawrence R. Flake, Prophets and Apostles of the Last Dispensation (Provo, UT: Religious Studies Center, Brigham Young University, 2001), 243–45.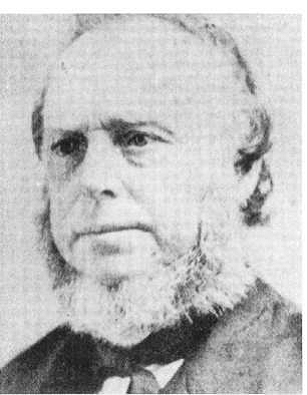 Born: 8 September 1809, Tyron County, North Ireland
Second counselor to President Joseph Smith: 24 January 1841 (age 31)
Excommunicated: 18 April 1844
Died: 19 January 1892 (age 82), Shullsburg, Wisconsin
Rumors of renewed Missouri persecutions, including attempts to kidnap and assassinate Joseph Smith, reached Nauvoo. On 29 December 1843 Joseph Smith, as mayor, addressed the police concerning the protection of the city. In regard to his own safety, he declared: "All the enemies upon the face of the earth may roar and exert all their power to bring about my death, but they can accomplish nothing, unless some who are among us and enjoy our society, have been with us in our councils, participated in our confidence, taken us by the hand, called us brother, saluted us with a kiss, join with our enemies, turn our virtues into faults, and, by falsehood and deceit, stir up their wrath and indignation against us, and bring their united vengeance upon our heads." [1] The Prophet referred to the Savior's betrayal by one of his apostles and then declared, "We have a Judas in our midst." [2]
Unfortunately, these words accurately described William Law, second counselor in the First Presidency. [3] William joined the Church near Toronto, Canada, after hearing the gospel from Isaac Russell. In 1839, shortly after his baptism, he led a group of Canadian Saints to Nauvoo, where he became a wealthy mill and store owner.
Blessed with much inherent ability, William Law put his talents to good use in many ways in Nauvoo, including service on the city council and as registrar of the University there. In a revelation given 19 January 1841, he was called as second counselor to Joseph Smith (D&C 124:91,126; see also 124:97–102, 107). Brother Law occupied a position of love and trust in the eyes of the Prophet. Joseph said of William Law and several other friends, "These love the God that I serve; they love the truths that I promulgate; . . . my heart feels to reciprocate the unwe[a]ried kindnesses that have been bestowed upon me by these men." [4] About two years later the Prophet began to suspect Law of being a Judas. After his rejection of the revealed doctrine of plural marriage, details of his complicity with, and even leadership of, schemes to murder the Prophet came to light. After his excommunication in April 1844, William openly sought to destroy Nauvoo and its founder. Together with his brother Wilson and other apostates, he organized a short-lived church with himself as president. They published a slanderous newspaper called the Nauvoo Expositor. The destruction of this newspaper under the order of the city council was the event that precipitated the assassination of Joseph and Hyrum Smith. Willard Richards, who was present at the scene of the murder, listed William Law as a member of the mob that performed the deed. [5]
Full of bitterness and hatred to the end of his life, William Law died in Shullsburg, Wisconsin, 19 January 1892, at age eighty-two.
Notes
[1] History of the Church, 6:152.
[2] History of the Church, 6:152.
[3] Lyndon W. Cook, William Law: Biographical Essay, Nauvoo Diary, Correspondence, Interview (Orem, UT: Grandin Book, 1994); "William Law, Nauvoo Dissenter," BYU Studies 22, no. 1 (winter 1982): 47–72.
[4] Dean C. Jessee, ed., The Papers of Joseph Smith, Volume 2: Journal, 1832–1842 (Salt Lake City: Deseret Book, 1992), 416–17.
[5] History of the Church, 7:146.