Lawrence R. Flake, Prophets and Apostles of the Last Dispensation (Provo, UT: Religious Studies Center, Brigham Young University, 2001), 529–33.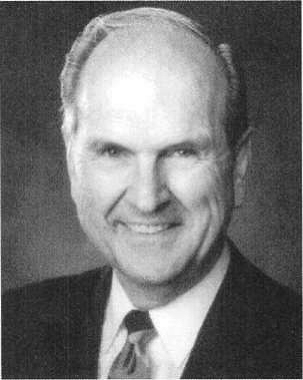 Born: 9 September 1924, Salt Lake City, Utah
Quorum of the Twelve Apostles: 7 April 1984 (age 59)
Russell M. Nelson served in many demanding Church callings over the years as he gained worldwide renown as a highly acclaimed heart surgeon. But in 1984 his need to balance these two demands came to a sudden stop. He was called to the Quorum of the Twelve and became the eighty-fifth apostle of this dispensation. He was expected to devote his full time to this ecclesiastical calling, and except for fulfilling several previous commitments, his brilliant medical career was over. What were his thoughts as he made this huge change in his life? He did not question it. The call was from the Lord. "I have learned not to put question marks but to use exclamation points when calls are issued through inspired channels of priesthood government." [1]
Elder Nelson was born 9 September 1924 to Marion C. and Edna Anderson Nelson. He was raised in Salt Lake City. His mother was an accomplished musician and a guest soloist with the Tabernacle Choir. Even though he was a somewhat reluctant student, she saw to it that her son learned to play the piano. He had perfect pitch and sang during his high school and college years in choirs, musicals, and quartets. His love for music led him to the girl he eventually married. While attending the University of Utah, one of his instructors pressured him into participating in a musical called "Hayfoot, Strawfoot." At the first rehearsal he saw a beautiful brunette on stage, singing the leading role. He immediately felt that she was the one he would marry. [2] The young lady, Dantzel White, had the same feeling about him and told her parents so. Elder and Sister Nelson were married in the Salt Lake Temple in 1945, the same year he graduated from the University of Utah. They were blessed with nine daughters and one son.
From the time he was fifteen years old, Elder Nelson knew he wanted to become a physician. Of his reasons for making this decision, he said, "I liked people. I wanted to serve them. I reasoned that the finest career that would be available to a human being would be that of a mother. Inasmuch as that was out of the question for me, I reasoned that the second best occupation would be medicine." [3]
By completing a four-year medical degree at the University of Utah in only three years, Elder Nelson became "a full-fledged M.D. at just 22 years of age." [4] After obtaining a Ph.D. from the University of Minnesota and gaining numerous years of varied medical experience in Boston, Washington, D.C., and in other centers, he began a private practice and joined the staff at LDS hospital in Salt Lake City. He noted, "We had five children before I sent the first bills for professional service." [5] Elder Nelson has held numerous prestigious positions and has received many high honors in the course of his medical profession.
During his years at the University of Minnesota, Elder Nelson worked on the team that developed the heart-lung machine used for open-heart surgery today. In 1955 he was the first doctor in Utah to perform an open-heart operation employing an artificial heart-lung machine. More than one hundred thousand such operations are performed yearly now throughout the world.
Progress was not made without sorrow, however. Any unforeseen or unfavorable outcome would plunge Dr. Nelson into feelings of deep despair. On one such occasion, his grief was beyond expression. When he went home, he told Dantzel of his grief and said, "'I'm through. I'll never do another heart operation as long as I live!' I wept most of the night. . . . I determined that my inadequacies would never be inflicted on another human family. When morning came, Dantzel finally said, 'Isn't it better to keep trying than to quit now and require others to go through the same grief of learning what you already know?' I listened to her counsel. I returned to the laboratory to work a little harder, learn a little more, and strive further." [6]
Elder Nelson had an experience that bore powerful testimony to him of the Lord's intervention in his professional endeavors. In the early stages of open heart surgery, the mortality rate was extremely high and each operation required a heavy time commitment—sometimes even days with one patient. In 1964 he was called to be a stake president and knew that having adequate time would be a challenge. Elder Nelson said that in setting him apart, Elder Spencer W. Kimball "specifically blessed me that our mortality rates with aortic valve surgery in particular would be reduced, and that no longer would the procedure be the drain on my time and energy that it had been in the past. The following year, the time demands of the operation did decrease . . . [and] our mortality rates went down to where they are today—at a very low and acceptable, tolerable range." [7]
Surprisingly, several years later, in 1972, Dr. Nelson performed that very same operation on President Kimball. Again, Elder Nelson received a strong witness of the power of the priesthood. He said that in a blessing given by President Harold B. Lee preceding the operation, "I was promised that the operation would be performed without error, that all would go well, and that I need not fear for my own inadequacies, for I had been raised up by the Lord to perform this operation." [8] At the conclusion of the surgery, another powerful testimony came to Elder Nelson: "I had a sure witness as I was standing there that the man I had just operated on would become the President of the Church!" [9] Elder Nelson was surprised by this revelation because Joseph Fielding Smith was president of the Church, and Harold B. Lee, next in line, was a much younger and apparently more healthy man than President Kimball.
After seven years as stake president, eight years as general Sunday School president, and five years as a regional representative, Russell M. Nelson was called to the Quorum of the Twelve Apostles in April 1984.
Elder Nelson has a powerful testimony of the Savior and shares it whenever he speaks. Shortly after his call he was asked, "Do you really have a testimony?" Elder Nelson responded: "Emphatically, irrevocably, and positively, yes! I know that my Redeemer lives. I know that He is the Son of the living God. I know that this is the Church of Jesus Christ of Latter-day Saints, which He directs by prophecy and revelation through His divinely appointed priesthood authority. For this testimony, I am willing to work, to live, and to die." [10]
Notes
[1] Russell M. Nelson, "Call to the Holy Apostleship," Ensign, May 1984, 52.
[2] Russell M. Nelson, From Heart to Heart (Salt Lake City: Quality Press, 1979), 44.
[3] Gerry Avant, "Elder Nelson: Husband, Father are Highest Titles," Church News, 16 February 1986, 4.
[4] Joseph Walker, "New Apostle Has a Flair with the Heart," Church News, 22 April 1984, 4.
[5] Avant, "Elder Nelson," 5.
[6] Lane Johnson, "Russell M. Nelson: A Study in Obedience," Ensign, August 1982, 21.
[7] Nelson, "Call to the Holy Apostleship," 87.
[8] "Elder Russell M. Nelson of the Quorum of the Twelve Apostles," Ensign, May 1984, 88.
[9] "Elder Russell M. Nelson of the Quorum of the Twelve Apostles," 88.
[10] Russell M. Nelson, Twenty Questions: An Address to Religious Educators 13 September 1985 (Salt Lake City: The Church of Jesus Christ of Latter-day Saints, 1985), 6; see also Marvin K. Gardner, "Elder Russell M. Nelson: Applying Divine Laws," Ensign, June 1984, 8–13.