Lawrence R. Flake, Prophets and Apostles of the Last Dispensation (Provo, UT: Religious Studies Center, Brigham Young University, 2001), 551–54.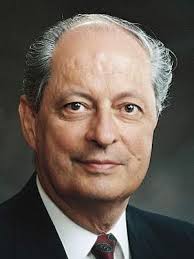 Born: 24 August 1932, New York City, New York
Assistant to the Quorum of the Twelve: 4 April 1975
First Quorum of the Seventy: 1 October 1976
Presiding bishop of the Church: 6 April 1985
Quorum of the Twelve Apostles: 2 April 1994 (age 61)
Before attending church each Sunday morning, Aaronic Priesthood holder Robert Hales had to sweep the floor of their rented hall and clean up from the party there the night before. He grew up in a family where dedication to the Church and its priorities began early. His father's employment with a large commercial art firm in New York City took him and his young bride from Rexburg, Idaho, to the area where Robert and his brother and sister were born. The children were reared on a heavily wooded place on Long Island called Great Neck. They lived twenty miles from where they attended church in a Citizen's League hall in Queens, New York. Elder Hales recalled, "My father had a rule that my brother and I had to be up early enough to drive to priesthood. I was always at church on Sunday. We went to every meeting." [1]
Elder Hales's early love for baseball gave him a chance to demonstrate his faithfulness to the principles of the gospel. When his team won and wanted to celebrate by having a drinking party, he would not compromise. He said, "I stuck to the Church standards. I am very happy I did, because years later fellows remembered that I never once deviated." [2] He played at Great Neck High School, at the University of Utah, and later in some semi-professional leagues. In one memorable game he pitched a no-hitter, and coincidentally, the pitcher of the other team did the same thing. Their double no-hitter was noted in Ripley's Believe It or Not "among the oddities of sports." [3] Elder Hales dreamed of pitching in the major leagues, but his coach spoke with him frankly, telling him, "You just aren't strong enough and you're not fast enough." Instead of feeling defeated, he used this counsel to take a realistic look at his future. "That's tough to tell a young man who has his heart set on a career . . . but failure or disappointment will come in life, and we have to learn how to overcome it." [4]
Robert attended the University of Utah, working full-time at KDYL and KSL television stations to earn his way. Following his sophomore year, he returned home to New York to work for the United Nations. It was then that he met his future wife, Mary Elene Crandall. As he was transferring from the subway to the railroad, the attractive young lady boarding a nearby bus momentarily caught his eye. He was very surprised to see her the next Sunday in church. They began dating and continued their courtship in the fall as she returned to BYU and he to the University of Utah. He was so busy working full-time and going to school full-time that their dates often consisted of her studying at the library while he slept on a nearby couch. One friend commented to Mary, "I don't know what you see in that boy. All he does is sleep." [5] They were married 10 June 1953.
In 1960 he earned an MBA from Harvard University, a springboard to a very successful career in many executive positions with large companies; he was president of Papermate, vice president of Max Factor, Inc., president of Hughs Broadcasting Corporation, and group vice-president of Cheesbrough-Ponds, Inc. The Hales family lived in many locations in the United States and in Europe. During all this time of heavy corporate responsibilities, he held time-consuming Church positions as well. The hardest one to accept, he remembered, was when he was called to be elders quorum president while a student at Harvard: "I was right up to my ears in studies. I thought it might mean failure in school." Still, he accepted the call, "knowing that the time to serve was when the call came." [6] He was either the branch president or the bishop in Albany, Georgia; Weston, Massachusetts; Frankfurt, Germany; Seville, Spain; and Chicago, Illinois. He served on the high council in London, England, and as a member of the stake presidency in Boston.
Elder Hales's call to become a general authority in 1975 began as a call to serve as mission president in London. He and his family were excitedly preparing for that assignment when they received another phone call from Church headquarters that altered their plans. President Kimball came on the phone and asked, "Do you mind if we change your mission?" The prophet then explained that the new "mission" would be in Salt Lake City and would last a lifetime. Brother Hales was asked to be an Assistant to the Quorum of the Twelve. "That took my breath away. I couldn't even talk . . . . It was one of the few times in my life that I've been totally off guard." [7] He knew, of course, that the new call would be a complete change from his past life: "I had to let go of everything I'd known to become an assistant," he said. [8] The next year, 1976, the assistants were made members of the First Quorum of the Seventy, and two years after that—from 1978 to 1979—Elder Hales did have the privilege of serving as the president of the London mission. In 1985 he became the presiding bishop of the Church, a calling he was fulfilling when he was sustained to the Quorum of the Twelve, 2 April 1994. In regard to this sacred calling, he said, "Imagine what it means to be a young boy from New York who memorized the names of all the apostles when I was a deacon. . . . I never thought I'd be among them." [9]
Notes
[1] J. M. Heslop, "Baseball Lessons Valuable in Life," Church News, 26 April 1975, 6.
[2] Heslop, "Baseball Lessons Valuable," 6.
[3] Heslop, "Baseball Lessons Valuable," 6.
[4] Gerry Avant, "Energetic Approach to Life and Insatiable Curiosity Have Made Him a 'Rich' Person," Church News, 30 June 1985, 4.
[5] Avant, "Energetic Approach to Life," 4.
[6] Heslop, "Baseball Lessons Valuable," 10.
[7] Heslop, "Baseball Lessons Valuable," 10.
[8] "Four New Assistants Express Gratitude, Pledge Devotion," Church News, 12 April 1975, 17.
[9] Peggy Fletcher Stack, "The Newest Apostle's Life is a Sermon in Service," Salt Lake Tribune, 3 April 1994, Al; see also "Elder Robert D. Hales of the Quorum of the Twelve," Ensign, May 1994, 105–6.