Lawrence R. Flake, Prophets and Apostles of the Last Dispensation (Provo, UT: Religious Studies Center, Brigham Young University, 2001), 547–50.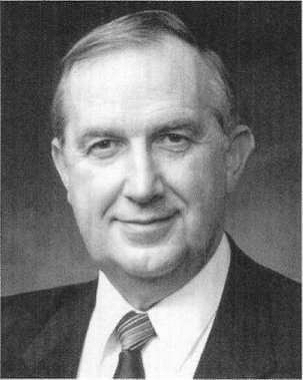 Born: 7 November 1928, Pocatello, Idaho
First Quorum of the Seventy: 2 April 1977
Quorum of the Twelve Apostles: 1 October 1988 (age 59)
One night twenty-one-year-old Richard Scott, a mechanical engineering student at George Washington University, and Jeanene Watkins, daughter of a U.S. senator from Utah, had a quiet talk about their future. Their friendship over the past three years had developed into love. Richard was only a few months from graduation, and Jeanene was also attending college. "She said to me, 'When I marry, I'm going to marry a returned missionary in the temple'" [1] Raised in a home where his father was not yet a member, Elder Scott had not thought too seriously about serving a mission before this time; he said, "You can be sure that I thought about it all that night and the next day! Shortly after that I was in the bishop's office and had made the decision to serve a mission." [2] Within a few months he was on his way to Uraguay and was engaged to be married upon his return. Jeanene was raised in a very mission-oriented family. Later she made up her mind to serve a mission as well and was called to the Northwestern States Mission.
Several of Elder Scott's professors at George Washington University warned him that leaving at such a crucial point in his career would greatly limit his chances for success. But the rightness of his decision was underscored when, just five weeks after he started his first job since his return from Uruguay, he was asked to join the highly prestigious staff of Admiral Hyman G. Rickover in the development of nuclear power for the Atomic Energy Commission. Several weeks later Elder Scott noticed that one "professor who had said I wouldn't be able to get a good job if I went on a mission . . . was working three levels below me in the program. That was a testimony to me of how the Lord blessed me as I put my priorities straight." [3]
His mission, his subsequent marriage to Jeanene in the Manti Temple on 16 July 1953, and his job with the Atomic Energy Commission led him into the paths he followed for the rest of his life. He worked at his new post for twelve years, furthering the use of nuclear power for the Navy's submarines. Then in 1965 came another mission call—this time to serve as president of the North Argentine Mission. Again, his superiors, especially Admiral Rickover, warned him that his career would be ruined if he interrupted it at this point. Undaunted, he accepted the call, serving with valor and devotion for four years. Upon his return, he was again blessed to reenter his highly competitive and technical field with the company MPR Associates, a consultant group to the nuclear industry. He said, "I feel that when we do what the servants of the Lord ask us to do to the best of our ability, we will be given aid and will not lose out in any way." [4]
Elder Scott was born on 7 November 1928 in Pocatello, Idaho, to Kenneth L. and Mary Whittle Scott. He and his four brothers were raised in Washington, D.C., and lived in Kansas City, Missouri, during Elder Scott's high school years. He worked at several interesting summer jobs as a youth, including playing the clarinet and saxophone for a jazz band at a resort, harvesting oysters in Long Island Sound, and spending two seasons as a cook at Bryce Canyon, Utah. His father, before he was a member of the Church, supported his sons on their missions and joined the Church while the third missionary from their family was serving. Elder and Sister Scott had seven children, two of whom passed away. Sister Scott, an exceptionally devoted and supportive wife, also preceded Elder Scott in death after forty-two years of marriage, on 25 May 1995 at the age of sixty-five, after suffering from cancer.
On 28 March 1977 Elder Scott was called to serve in the First Quorum of the Seventy. When he telephoned his children with the surprising news that he had been called to serve as a general authority, his daughter Linda, age thirteen, dropped the phone and began jumping and squealing with excitement. She then picked up the phone and asked, "Dad, what's a General Authority?" [5] For eleven and a half years he served in his calling as a Seventy. For three years Elder Scott resided with his family in Mexico City, serving as Executive Administrator in Mexico and Central America. In October of 1983, a year after returning to the States, he was called to be one of the presidents of the Seventy and became managing director of the Genealogy Department. During this time, the name of this department was changed from "genealogy" to "family history." During his leadership the methods of going about the work were also changed. The Church made huge advancements toward the use of computers, an area in which Elder Scott's technological background served him well. Elder Scott declined taking personal credit for these improvements. He said, "They were made in accordance with inspired long-range goals established by the First Presidency and the Quorum of the Twelve. . . . I was fortunate to come to that position after a great foundation had been laid by my predecessors." [6]
In October 1988 Richard Gordon Scott was called to fill the vacancy in the Quorum of the Twelve occasioned by the death of President Marion G. Romney the previous May. Greatly depending on the Lord all of his life, Elder Scott said at the time of his call to the apostleship, "I know the call is from the Lord. I know that there is a great gap between what I am and what I am expected to do. That recognition is very humbling. No one would undertake to serve in this assignment without the assurance of the support and direction of a loving God. The real power comes from the Lord." [7]
Notes
[1] JoAnn Jolley, "Elder Richard G. Scott: Putting God and Family First," Ensign, January 1985, 36.
[2] Jolley, "Elder Richard G. Scott," 36.
[3] Jolley, "Elder Richard G. Scott," 36.
[4] Lynn Hollstein, "Harmony of Truth Inspires Him to Do the Will of the Lord," Church News, 30 April 1977, 7.
[5] Jolley, "Elder Richard G. Scott," 38.
[6] Marvin K. Gardner, "Elder Richard G. Scott, 'The Real Power Comes from the Lord,'" Ensign, January 1989, 10.
[7] Gardner, "'Real Power," 11.