Lawrence R. Flake, Prophets and Apostles of the Last Dispensation (Provo, UT: Religious Studies Center, Brigham Young University, 2001), 427–30.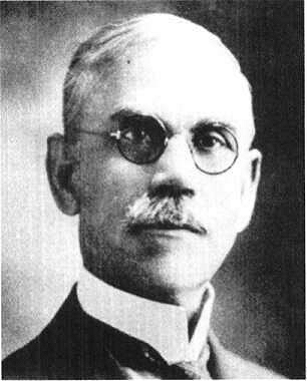 Born: 10 January 1862, Salt Lake City, Utah
Quorum of the Twelve Apostles: 8 April 1900 (age 38)
Died: 9 February 1941 (age 79), St. Petersburg, Florida
When he was only twelve years old, Reed Smoot received the following promise in a blessing given by his father: "If thou art faithful, thou shalt not be a whit behind the chiefest of the Apostles." [1] This promise was fulfilled twenty-six years later when, following a mission to the British Isles and a period of service in the stake presidency of the Utah Stake, Brother Smoot was called and ordained to the Quorum of the Twelve Apostles.
His early life was largely spent in the pursuit of a goal he had set as a young man—to become an influential businessman in the rapidly expanding economy of the Utah pioneer community. Beginning with the menial position of a potato sacker in the Provo Cooperative, he moved up to superintendent of that institution within a few years. Beginning as a common worker in the Provo Woolen Mills, by sheer determination, innate ability, and hard work he became manager of that enterprise. He wielded great financial power in numerous companies, including ZCMI, Deseret Savings Bank and Loan Company, Hotel Utah, and Utah and Idaho Sugar Company. In 1884 Brother Smoot married Alpha M. Eldrege of Salt Lake City; six children were born to them. Sister Smoot died in 1928, and two years following her death, he married Alice Taylor Sheets, who outlived him. Six years after his first marriage, in 1890, he served as a missionary to Great Britain. Four years after returning from his mission, in 1895, he was called as a counselor to Edward Partridge, president of the Utah Stake. Five years later at the age of only thirty-eight, he became a member of the Quorum of the Twelve, serving in that capacity until his death in February, 1941, at which time he was second in line for the presidency of the Church. [2]
The phase of Brother Smoot's life for which he became most famous started in 1903 with his election to the United States Senate. Previously Elder B. H. Roberts had been elected to the House of Representatives but was denied his seat because of his practice of polygamy. Charges were also brought against Senator Smoot because of his being an apostle. His opponents felt that the Church was interfering in politics and that his position as a Church leader made it unconstitutional for him to be seated. The so-called "Smoot Investigations" continued for four years and included the subpoena of President Joseph F. Smith to the hearing in Washington, D.C. The committee finally submitted the report that Mr. Smoot should be refused his seat. However, the Senate voted against this recommendation, vindicating the senator.
Brother Smoot's thirty-year career in the Senate was outstanding. As a legislator, he made particular contributions in the field of government finance, and in 1932 President Hoover told the citizens of Utah that Senator Smoot "knew more about the government than any other man." [3] Twice he was requested to fill the presidential nomination on the Republican ticket—if only he would renounce his religion. This Senator Smoot refused to do with a statement that will long inspire those who acquaint themselves with his life: "If I had to take my choice of being a deacon in The Church of Jesus Christ of Latter-day Saints, or being President of the United States, I would be a deacon." [4]
Senator Smoot's life was a great public example of Mormonism to the entire world. He had many opportunities to preach the gospel by precept and example. Once at a banquet held in his honor by the richest man in Britain, the governor of the Bank of England, Brother Smoot was seen to sip his water glass during a toast, instead of his champagne. When questioned about this by the governor, Brother Smoot taught him the Word of Wisdom and explained the restored Church to him. Over the next two weeks during nearly every spare moment between their meetings on foreign debt, the governor questioned Senator Smoot concerning his religion. Before Elder Smoot left England, the governor took him aside and said: "Brother Smoot, I am convinced beyond any shadow of doubt that the Gospel, which you represent, is truly of God; that this is the only true church in existence. And if I had the courage that you exhibited the night of the banquet, I would join the Church. I realize now that I am taking my chances with the Creator, and possibly will be damned for it, but if I were to accept the Gospel I would have to give up my place in the social world of Great Britain and my place in the financial world, and this I do not feel that I can possibly do. Know this—I have a testimony of the divinity of your Church. Good-bye Brother Smoot. I am very unhappy." [5]
The depression that began in 1929 took a huge toll on Elder Smoot, in both his financial circumstances and his political popularity. He suffered a resounding defeat in the senatorial race of 1932, and for the last eight years of his life he devoted his full time to his duties as an apostle. [6] While on vacation in Florida, he died at age seventy-nine as a result of injuries he suffered incident to a fall. At the time of Elder Smoot's passing, Elder Richard L. Evans paid him this tribute: "And so the nation has lost a patriot and one of its most able statesmen; Utah has lost one of its most distinguished native sons, and the Church has lost one of its greatest missionaries—a missionary through his personal life and prestige and world influence." [7]
Notes
[1] Matthias F. Cowley, Prophets and Patriarchs of the Church of Jesus Christ of Latter-day Saints (Chattanooga, Tenn: Ben E. Rich, 1902), 310.
[2] Milton R. Merrill, Reed Smoot: Apostle in Politics (Logan, UT: Utah State University Press, 1990), 7.
[3] Richard L. Evans, "The Passing of a Great American," Improvement Era, March 1941,180
[4] Bryant S. Hinckley, The Faith of Our Pioneer Fathers (Salt Lake City: Deseret Book, 1956), 202.
[5] Hinckley, The Faith of Our Pioneer Fathers, 204–5.
[6] Merrill, Reed Smoot, 9.
[7] Evans, "Great American," 180.