Lawrence R. Flake, Prophets and Apostles of the Last Dispensation (Provo, UT: Religious Studies Center, Brigham Young University, 2001), 435–37.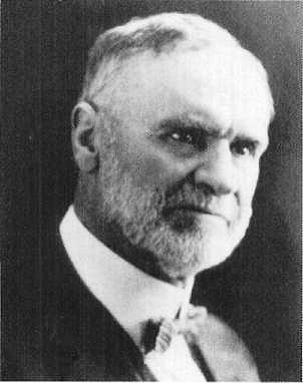 Born: 1 July 1855, Salt Lake City, Utah
Quorum of the Twelve Apostles: 9 April 1906 (age 50)
Died: 16 May 1931 (age 75), Salt Lake City, Utah
A young elder named Orson F. Whitney was chided by his companion for not taking enough interest in his missionary work. Instead of spreading the gospel, Elder Whitney was absorbed in trying his literary wings on some articles for the Salt Lake Herald about the American history sites he had visited in the East.
One night the Lord sent him a beautiful dream in which he saw the Savior suffering in Gethsemane. "I was so moved at the sight that . . . I wept, out of pure sympathy. My whole heart went out to him; I loved him with all my soul, and longed to be with him as I longed for nothing else." [1] Orson saw the apostles unable to keep watch with Jesus for one poor hour during his trials and felt very strongly that these sleeping apostles were symbolic of his own lack of diligence as a missionary: "I was asleep at my post—as any man is who, having been divinely appointed to do one thing, does another." [2] This dream took on even more significance when he himself became an apostle of the Lord, called thirty years later in 1906 by President Joseph F. Smith.
The circumstances under which Elder Whitney went on his mission were unusual. Having a great interest in literary and oratorical pursuits, he was instrumental in forming the famous Wasatch Literary Society, many members of which became prominent Utahns. Talented as an actor and entertainer, Orson had determined to go east to pursue a career on the stage. The members of the literary society gave him a benefit send-off party and collected a sizeable purse to help him on his way to fulfill what he thought was his life's calling. But before he could leave, he received a call from President Brigham Young to fulfill a mission in the East, preaching the gospel of Christ rather than treading beneath the bright lights of the stage. The decision was a hard one, but aided by his widowed mother's prayers and her success in selling a piece of land to augment his funds, he entered the mission field. Following his marvelous dream, he zealously dedicated himself to the work, and his great gift of preaching began to unfold.
Brother Whitney was a man of many talents. He played several musical instruments. He wrote poetry and authored a well-known work on the life of Heber C. Kimball and a four volume work entitled The History of Utah. He organized the Home Dramatic Club in Salt Lake City and was active in politics, serving on the city council, as city treasurer, as clerk to the Utah territorial legislature, and as a delegate to the Utah Territorial Convention, where he took a strong stand for women's rights. He taught English and theology at Brigham Young College in Logan and served as chancellor of the University of Deseret (the University of Utah).
For twenty-eight years he served as bishop of the Salt Lake Eighteenth Ward. He was appointed to this post following his mission before he was even married. He and his first wife, Zina Beal Smoot, daughter of Abraham O. Smoot, had nine children. Following Zina's death, he married May Wells, who was the daughter of another famous Latter-day Saint, Daniel H. Wells. Together they had two children. His own grandfathers were Presiding Bishop Newel K. Whitney and Heber C. Kimball, counselor to President Brigham Young.
As an apostle, Elder Whitney presided over the European Mission and became well known throughout the Church for his marvelous preaching ability as he traveled far and wide imparting his great spirit to others. He was never a man to acquire worldly possessions, and his sound sense of values showed in this statement concerning his legacy to his children: "I cannot bequeathe to you gold and silver, houses and lands. My life has not been spent in acquiring earthly riches. My parents gave me something far more precious than that which moth and rust can corrupt or thieves break through and steal. They taught me true and noble principles, and shed the light of a good example upon the path they wished me to pursue. I have tried to do as much for my sons and daughters." [3]
Notes
[1] Orson F. Whitney, Through Memory's Halls: The Life Story of Orson F. Whitney, as Told by Himself (Independence, MO: Zion's Printing and Publishing, 1930), 82.
[2] Whitney, Through Memory's Halls, 83.
[3] George D. Pyper, "Orson Ferguson Whitney: An Appreciation," Improvement Era, July 1931, 555.