Lawrence R. Flake, Prophets and Apostles of the Last Dispensation (Provo, UT: Religious Studies Center, Brigham Young University, 2001), 517–20.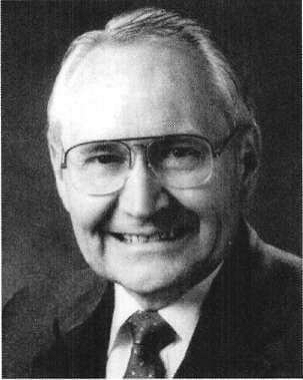 Born: 5 August 1922, Logan, Utah
Assistant to the Quorum of the Twelve: 6 October 1972
Quorum of the Twelve Apostles: 6 April 1974 (age 51)
A group of Marines persuaded a Mormon buddy of theirs to accompany them into Los Angeles for what they promised would be an exciting and entertaining evening. It didn't take long for the young Marine, a native of Logan, Utah, to realize that he had been invited to come along because he didn't drink and would be on hand to guide his companions back to the barracks. Private Tom Perry, reflecting on the faith and trust of his parents, looked for an escape but soon found himself on a streetcar headed toward a dance hall. He recalled how the Lord came to his rescue: "The streetcar stopped and allowed new passengers to come aboard. The new passengers separated me from my buddies and pushed me to the back of the car. It was there that I discovered a nice group of young people standing and seated. Immediately upon finding me in their company, one spoke up and said, 'Hi, Marine! We're Mormons. What do you know about our Church?' I answered, 'Plenty,' and got off the streetcar with them and went to a ward social." [1]
Elder Perry attributed the blessing of the Lord's protection extended to him in this and many other incidents to the "shield of faith" that his parents' teachings and prayers afforded him. He said: "As we would kneel in family prayer and listen to our father, a bearer of the priesthood, pour out his soul to the Lord for the protection of his family against the fiery darts of the wicked, one more layer was added to our shield of faith." [2]
The noble parents who offered him this kind of upbringing were Leslie Thomas and Nora Sonne Perry. They raised their children on a farm and taught them the value of work. Elder Perry commented, "Anyone who is anxious and willing to work can almost write his own ticket. I know from business experience, to get a good man is a very challenging assignment. An employer will have to go through many interviews before he can find a person that will really roll up his sleeves and try to accomplish something." [3]
His own first job for pay consisted of cleaning the office of his father, a lawyer. From this task, for which he earned a nickel for some candy and ten cents for a movie, he progressed to being comptroller for Halles Department Store in Sacramento. He later became vice president of finance of Lechmere Sales, an appliance and hardware company in Boston, and vice president and treasurer for R. H. Stearns Company, which operated six department stores in the Boston area. Following a mission to the northern states and his term as a Marine in the South Pacific, Brother Perry married Virginia Lee, whom he met at a stake MIA leadership meeting. The Perrys became the parents of three children.
In 1949 Elder Perry received a bachelor's degree in finance from Utah State University. Following graduation, the Perrys moved to Lewiston, Idaho, where he was called as a counselor in a bishopric. This call necessitated his becoming a high priest. The ordination took place under the hand of Elder Harold B. Lee of the Quorum of the Twelve. In the blessing Elder Lee said that Brother Perry would someday sit in the leading councils of the Church. After more than three decades of diligent church service in bishoprics, high councils, and stake presidencies, L. Tom Perry became president of the Boston Stake. It was at this time that the promise spoken by Elder Lee began to come to pass.
In October 1972, President Perry and his wife made a trip west to attend general conference and visit their son, Lee, a student at BYU. As they entered the campus, a BYU security car immediately stopped them. Inside the security car was their son. He bounded out of his car with the exciting announcement that President Harold B. Lee was trying to get in touch with his father.
Elder Perry described the subsequent interview with the President of the Church: "When I opened the door and there sat President Lee, I was overwhelmed. He asked me to sit in the chair right next to him. He took me by the arm and explained the reason I was there. Would I accept the call as an Assistant to the Twelve? was the first question President Lee asked. The second question was, How soon can you move West? It was an overwhelming, and a very spiritual experience." [4] Just eighteen months later, Elder Perry was called to fill the vacancy in the Quorum of the Twelve occasioned by the death of President Lee.
Sister Perry suffered for some time with cancer. Elder Perry felt that her life was miraculously preserved six years longer than the doctors had expected. "It was during this period that she was able to stand by my side as we were honored in these present positions. She was able to see, at least in some degree, what she had tried to make of me." [5] In December 1974, eight months after his call to the Twelve, she passed away.
Over the next decade Elder Perry would experience the loss of a daughter and a grandchildren. His characteristic faith and optimism showed through even in these trying times: "The Lord is very kind. Even though some experiences are hard, he floods your mind with memories and gives you other opportunities. Life doesn't end just because you have a tragedy—there's a new mountain to climb." [6]
In 1976 Elder Perry was blessed with another noble companion, Barbara Dayton, from Cokeville, Wyoming, who had studied and practiced nursing and was teaching nursing on the BYU faculty. They were married in the Salt Lake Temple and have enjoyed years of companionship as Elder Perry has served throughout the Church in his many assignments as a member of the Twelve. He has always borne a powerful testimony that matches his impressive frame and booming voice:
"Those of us who hold the holy apostleship always wish to fulfill our responsibility by testifying of the divinity of the Savior. I feel compelled to do so. I have had a testimony all of my life. Recently, however, there has come into my soul an overpowering witness of the divinity of this holy work. This sure witness is more certain than ever before in my life. Of this I testify in the name of Jesus Christ." [7]
Notes
[1] L. Tom Perry, "Build Your Shield of Faith," Ensign, May 1974, 99.
[2] Perry, "Build Your Shield of Faith," 98.
[3] "Conference Visit Wasn't Routine," Church News, 11 November 1972, 5.
[4] "Conference Visit Wasn't Routine," 5.
[5] L. Tom Perry, "A Tribute," Ensign, May 1975, 33.
[6] Loren C. Dunn, "Elder L. Tom Perry: Serving with Enthusiasm," Ensign, August 1986, 20.
[7] Conference Report, October 1997, 79.