Lawrence R. Flake, Prophets and Apostles of the Last Dispensation (Provo, UT: Religious Studies Center, Brigham Young University, 2001), 307–10.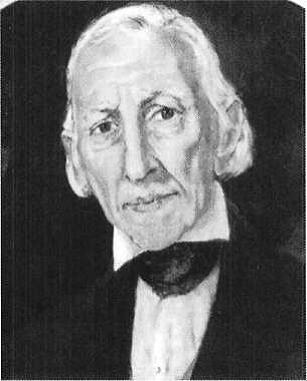 Born: 12 July 1771, Topsfield, Massachusetts
Patriarch to the Church: 18 December 1833 (age 62) to 14 September 1840
Assistant counselor to President Joseph Smith: 3 September 1837
Died: 14 September 1840 (age 69), Nauvoo, Illinois
It was no accident that Asael Smith gave the name Joseph to his second son, born in 1771, nor was it by chance that this Joseph then gave his third son, born in 1805, that same name. Thirty-five hundred years earlier, Joseph, the son of Israel, prophesied of a great latter-day seer whom the Lord would send to the earth: "And his name shall be called after me; and it shall be after the name of his father" (2 Ne. 3:15).
Throughout his life the Prophet Joseph displayed great love and respect for his father and often sought his counsel. In 1837 he chose his father as an assistant counselor in the First Presidency. Joseph wrote this description of him: "He was six feet, two inches high, was very straight, and remarkably well proportioned. His ordinary weight was about two hundred pounds, and he was very strong and active. In his younger days he was famed as a wrestler, and, Jacob like, he never wrestled with but one man whom he could not throw. He was one of the most benevolent of men." [1]
Born in Topsfield, Massachusetts, in 1771, Joseph Smith Sr. moved to Tunbridge, Vermont, with his father's family at the age of twenty. Five years later he married nineteen-year-old Lucy Mack and settled on his own farm in Tunbridge. Over the next thirty years they became the parents of eleven children, nine of whom grew to maturity. After being swindled out of three thousand dollars in a business deal, the Smiths were forced to sell their farm. Three successive years of crop failure on a rented farm compelled them to move west to New York State in 1816. Four years later, when Joseph Jr. began having the visions and revelations that led to the restoration of the gospel, his father believed him immediately and devoted himself to the new kingdom. A descendant of Father Smith characterized this relationship in these words: "Father Smith never sought prominence over the Prophet. Rather, he humbly followed the Prophet's lead in all things pertaining to the kingdom of God. . . . Theirs was a father-son relationship in which the son was greater than the father, yet the father was, in every sense, a worthy sire to such a noble son." [2] A man of deep spirituality, Joseph Smith Sr. had earlier received dreams and inspirations, which he later recognized as being fulfilled in the work of his son.
In New York, Ohio, Missouri, and Illinois, the Prophet's father suffered the persecutions common to those who accepted the gospel. On one occasion he chose to spend a month in jail for a debt of fourteen dollars rather than deny the truth of the Book of Mormon and be forgiven the debt. While incarcerated, he preached the gospel to two fellow prisoners whom he later baptized. Father Smith was privileged to be one of the Eight Witnesses to the Book of Mormon and was baptized on 6 April 1830, the day of the organization of the Church. He became the first patriarch to the Church in 1833, with the promise that the right to this holy calling would continue in his lineage. When the Prophet ordained him to this office, he said, "Blessed of the Lord is my father, for he shall stand in the midst of his posterity . . . and shall be called a prince over his posterity, holding the keys of the Patriarchal Priesthood over the kingdom of God on earth." [3] In 1836, from his home in Kirtland, Ohio, the Prophet's father set out on a mission to the eastern states with his brother John. In four months, from June to October, these two faithful brethren covered 2,400 miles preaching the gospel, visiting members, and giving patriarchal blessings in five states from Ohio to New Hampshire. [4] Loved and honored by thousands of Saints, Joseph Smith Sr. died at the age of sixty-nine from a disease he contracted during the forced exodus of the Saints from Missouri.
The impact of a noble father on the life of the Prophet is incalculable. Joseph wrote: "He was a great and a good man. The envy of knaves and fools was heaped upon him. . . . He was of noble stature and possessed a high, and holy, and exalted, and virtuous mind. . . . I love my father and his memory; and the memory of his noble deeds rests with ponderous weight upon my mind, and many of his kind and parental words to me are written on the tablet of my heart." [5]
In a revelation given through Joseph Smith four months after the death of his father, the Lord refers to "my aged servant Joseph Smith, Sen., who sitteth with Abraham at his right hand, and blessed and holy is he, for he is mine" (D&C 124:19). [6]
Notes
[1] History of the Church, 4:191.
[2] Mark L. McConkie, The Father of the Prophet (Salt Lake City: Bookcraft, 1993), 160.
[3] Joseph Fielding Smith, Life of Joseph F. Smith: Sixth President of The Church of Jesus Christ of Latter-day Saints, 2nd ed. (Salt Lake City: Deseret Book, 1969), 34–35.
[4] McConkie, Father of the Prophet, 92.
[5] History of the Church, 5:125–26.
[6] See also Matthias, F. Cowley, Prophets and Patriarchs of the Church of Jesus Christ of Latter-day Saints (Chattanooga, TN: Ben E. Rich, 1902), 5–8; Andrew Jenson, Latter-day Saint Biographical Encyclopedia (Salt Lake City: Publishers Press, 1971) 1:181–82.