Joseph Fielding Smith
Lawrence R. Flake, Prophets and Apostles of the Last Dispensation (Provo, UT: Religious Studies Center, Brigham Young University, 2001), 57–65.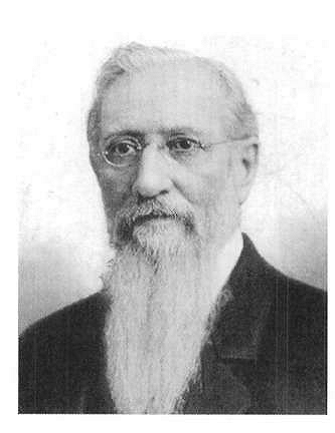 Born: 13 November 1838, Far West, Missouri
Additional counselor to President Brigham Young (ordained an apostle—not in the Quorum): 1 July 1866 (age 27)
Quorum of the Twelve Apostles: 8 October 1867 (age 28)
Second counselor to President John Taylor: 10 October 1880
Returned to the Quorum of the Twelve Apostles: 25 July 1887
Second counselor to President Wilford Woodruff: 7 April 1889
Second counselor to President Lorenzo Snow: 13 September 1898
First counselor to President Lorenzo Snow (sustained but not set apart): 6 October 1901 to 10 October 1901
President of the Church: 17 October 1901 (age 62)
Died: 19 November 1918 (age 80), Salt Lake City, Utah
Even as an infant Joseph F. Smith suffered the atrocities of bitter anti-Mormon persecution in Missouri. He was nearly suffocated when a ruthless mob broke into his father's home and overturned a mattress on the newborn child while ransacking it. Later as a five-year-old boy in Nauvoo he saw his noble father, Hyrum, and his Uncle Joseph leave the beautiful city for the last time. This sad parting left such an indelible impression on the youth that many years afterward while visiting Nauvoo he recalled, "This is the exact spot . . . where I stood when the brethren came riding up on their way to Carthage. Without getting off his horse father leaned over in his saddle and picked me up off the ground. He kissed me good-bye and put me down again and I saw him ride away." [1] The next news he received of his saintly father was the tragic report delivered by a messenger tapping on their bedroom window: "Sister Smith, your husband has been killed." Her cries and moans pierced the night and stuck fast in the memory of little Joseph. He remembered being lifted up by his mother to look upon the lifeless faces of his uncle and father.
The turning point in the destiny of the descendants of Joseph and Hyrum came when the Saints abandoned their comfortable homes in Nauvoo to face the treacherous journey to the Rocky Mountains. The Quorum of the Twelve offered to assist the Prophet Joseph Smith's widow and her children in reaching the valley, but she refused to follow the Church any farther. [2] On the other hand, Hyrum's widow with dogged determination and fierce courage began making preparations for herself and her young family to brave the journey. "This test was a severe one. She knew that every inducement had been offered to Emma Smith, but instead of feeling that such offers should be made to her, she placed her faith in God and was fully converted to His work. She knew that the Lord would provide. . . . With a brave heart and unsurpassed fortitude she worked and toiled in the midst of all her sorrow, knowing that there was no peace in Nauvoo for those who remained faithful to the truth for which the martyrs died." [3]
The boy Joseph, though only seven years old when they left Nauvoo in September 1846, drove two teams of oxen across the plains. Many miracles occurred on their journey—Sister Smith was able to find their lost cattle by inspiration and was able, by her faith and by the administration of the priesthood, to have one ox raised from near death in order that their journey might continue. They reached the Salt Lake Valley in the fall of 1848 when Joseph was nine.
In the valley, Joseph seldom had time to play as other children did but worked as the man of his mother's family. He raised potatoes and saw the best loads of them taken to the tithing office at the instructions of his faithful mother, who, though a poor widow, needed the Lord's blessings that she knew would be granted by obeying his laws. And the blessings came: "We never lacked so much as many others did; . . . we were never without corn-meal and milk and butter, to my knowledge," reported Joseph F. [4] He labored as a herd boy and was successful in not losing a single animal from neglect on his part. He loved his mother and owed more to her example and strength than to any other person. When she died just three years after their arrival in the valley, he was left an orphan.
Two years later, at the age of only fifteen, Joseph F. was called to fulfill a mission in the Sandwich (Hawaiian) Islands. His life there seemed an agonizing struggle—he suffered for want of clothing and food and friends. He described his circumstances in these words: "I was very much oppressed, once, on a mission. I was almost naked and entirely friendless, except the friendship of a poor, benighted, degraded people. I felt as if I was so debased in my condition of poverty, lack of intelligence and knowledge, just a boy, that I hardly dared look a white man in the face." [5]
While in this condition, a beautiful dream was opened up to him. In it he saw himself entering heaven, where he was greeted by his mother, his father, Brigham Young, and the Prophet Joseph Smith. The experience was, in reality, more than a dream. He said: "Now I suppose that is only a dream? To me it is a reality. There never could be anything more real to me. I felt the hand of Joseph Smith, I felt the warmth of his stomach, when I put my hand against him. I saw the smile upon his face. . . . I know that that was a reality, to show me my duty, to teach me something, and to impress upon me something that I cannot forget." [6]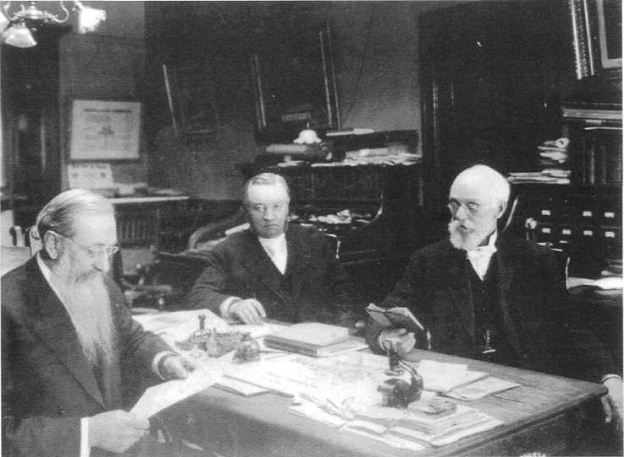 First Presidency, 1901–10. Left to right: President Joseph F. Smith, Anthon H. Lund, and John R. Winder
He explained the marvelous effect of this manifestation on him: "When I awoke that morning I was a man, although only a boy. There was not anything in the world that I feared. I could meet any man or woman or child and look them in the face, feeling in my soul that I was a man every whit. That vision, that manifestation and witness that I enjoyed at that time has made me what I am, if I am anything that is good." [7]
During his stay in the islands, he became very ill and was nursed back to health by a compassionate Hawaiian woman. Years later when as president of the Church he returned to his former mission field, a little ninety-year-old woman approached him amidst the leis and music and pomp that surrounded his visit. She had a few bananas in her hand as a gift to the great man. Presiding Bishop Charles W. Nibley, present on the occasion, described the tender scene: "She was calling, 'Iosepa, Iosepa!' Instantly, when he saw her, he ran to her and clasped her in his arms, hugged her, and kissed her over and over again, patting her on the head saying, 'Mama, Mama, my dear old Mama!' And with tears streaming down his cheeks he turned to me and said, 'Charley, she nursed me when I was a boy, sick and without anyone to care for me. She took me in and was a mother to me!'" [8]
On 1 July 1866 while Joseph F. Smith was working in the Church Historian's Office in Salt Lake City, he attended a meeting with President Young and several members of the Twelve. Brigham Young said, "Hold on, shall I do as I feel lead? I always feel well to do as the Spirit constrains me. It is my mind to ordain Brother Joseph F. Smith to the Apostleship, and to be one of my counselors." [9] Because there was no vacancy in the quorum at the time, this ordination was not announced publicly until 8 April 1867 when Joseph F. Smith succeeded Amasa M. Lyman as a member of the Quorum of the Twelve. When John Taylor became president of the Church, he chose Elder Smith as his second counselor.
During President Taylor's administration, the anti-polygamy persecutions forced many of the brethren, including President Smith, into exile. During his absence he visited the Saints in the southwestern United States, Mexico, Hawaii, Canada, and the eastern states. When he returned to Utah, he still had to remain in hiding but would meet secretly with his family, blessing them and teaching them the gospel. One of his sons, Joseph Fielding, noted the impact of these special occasions: "It can be said in truth that the older children who remember these happy scenes in the midst of anxiety, have never forgotten what they were taught, and the impressions have remained with them and will likely do so forever." [10]
In 1891 amnesty for the presidency of the Church and other polygamists was finally granted—President Smith could appear in public before his beloved brothers and sisters. Speaking in the Tabernacle he declared, "This is a memorable day to me . . . and no words at my command can express my gratitude to God." [11]
Joseph F. Smith served as a counselor to Wilford Woodruff following President Taylor's passing, and also to President Lorenzo Snow until this aged prophet's death in 1901. One week later Joseph F. Smith became the sixth president of the Church. The years of his presidency until 1918 were a time of strong anti-Mormon sentiment, including the notorious discrimination against Apostle-Senator Reed Smoot when he attempted to take his seat in Congress. The venerable President Joseph F. Smith was audaciously subpoenaed to Washington, D.C., in the course of the investigations.
President Smith was the husband of five loving and devoted women and the father of forty-eight children. Rejoicing over the beautiful relationship he had with his wives, he exclaimed: "Truer wives have never lived, nor more loving mothers, nor better women, according to their knowledge. Not only would they die for me but they live for me and my happiness, and they have been not only faithful to me but to my children and to God! Oh! how I have been, am and will be, blessed in them in time and eternity!" [12]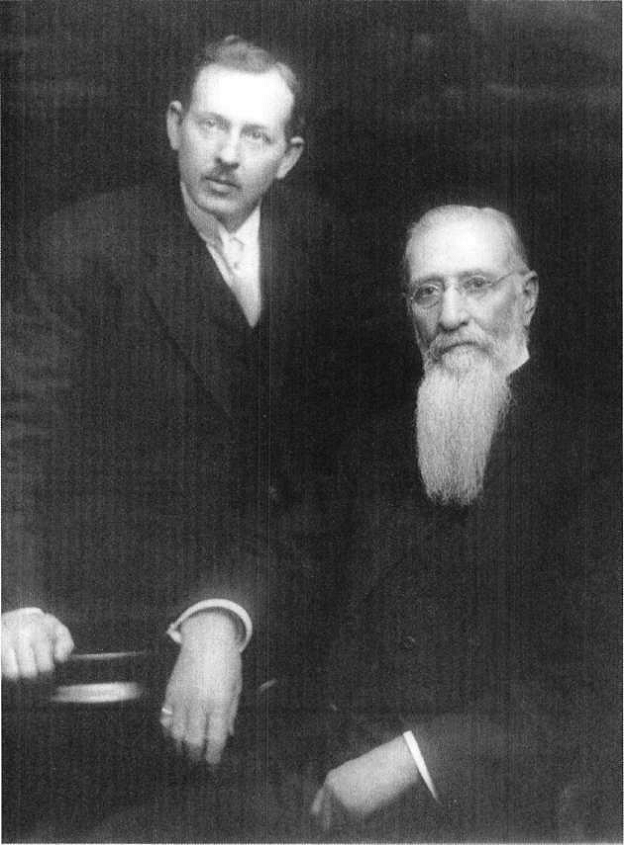 President Joseph F. Smith and his son Joseph Fielding Smith, 1914
An insight into his kind and loving feelings toward his children can be seen in the touching words he wrote concerning one of his little daughters, who preceded him in death: "I look down the garden walk, peer around the house, look here and there for a glimpse of a little golden, sunny head and rosy cheeks, but no, alas, no pattering little footsteps. No beaming little black eyes sparkling with love for papa; no sweet little enquiring voice . . . no soft little dimpled hands clasping me around the neck . . . but a vacant little chair. Her little toys concealed, her clothes put by, and only the one desolate thought forcing its crushing leaden weight upon my heart—she is not here, she is gone!"' [13]
President Smith, as can be seen from the poetic nature of his writing, had a great gift with words, which, coupled with his marvelous testimony and knowledge of the gospel, made him one of the greatest preachers of the latter days. Bishop Charles W. Nibley, lifelong friend of the prophet, wrote: "As a preacher of righteousness, . . . who could compare with him? He was the greatest that I ever heard—strong, powerful, clear, appealing. It was marvelous how the words of living light and fire flowed from him." [14]
One of the great teachers of doctrine of this dispensation, President Smith studied the scriptures continually. It was while he was engaged in pondering upon the writings of the apostle Peter that he was blessed with a great latter-day revelation concerning the spirit world. This manifestation, called "The Vision of the Redemption of the Dead," was given just six weeks before his death. In it he saw his father Hyrum, the Prophet Joseph, and many other prophets including Adam, Abraham, Moses, Elijah, and Moroni. He also saw the Son of God enter the spirit world and appoint messengers to spread the gospel among the hosts of the dead.
On the seventeenth anniversary of his ordination as president of the Church, Joseph F. Smith addressed his beloved family, which had gathered to honor him. One month later he fell ill of pleurisy and two days after that, 19 November 1918, he passed quietly away. Because a dangerous influenza epidemic was sweeping the country, no public funeral could be held, but services were held at the graveside of this greatly admired man. Elder Heber J. Grant, his successor to the presidency of the Church, paid him a most deserved tribute: "No man that ever lived had a more powerful testimony of the living God and of our Redeemer than Joseph F. Smith. From my earliest childhood days he has thrilled my very being with the testimony that he has borne to all those with whom he has come in contact. . . . I loved Joseph F. Smith as I never loved any other man that I have ever known." [15]
Notes
[1] Preston Nibley, The Presidents of the Church (Salt Lake City: Deseret Book, 1959), 228.
[2] Joseph Fielding Smith, Life of Joseph F. Smith: Sixth President of the Church of Jesus Christ of Latter-day Saints (Salt Lake City: Deseret Book, 1939), 130.
[3] Smith, Life of Joseph F. Smith, 130.
[4] Conference Report, April 1900, 49.
[5] Smith, Life of Joseph F. Smith, 445.
[6] Smith, Life of Joseph F. Smith, 447.
[7] Smith, Life of Joseph F. Smith, 446.
[8] Francis M. Gibbons, Joseph F. Smith: Patriarch and Preacher, Prophet of God (Salt Lake City: Deseret Book, 1984), 40.
[9] Smith, Life of Joseph F. Smith, 227.
[10] Smith, Life of Joseph F. Smith, 286.
[11] Nibley, The Presidents of the Church, 249.
[12] Smith, Life of Joseph F. Smith, 451.
[13] Smith, Life of Joseph F. Smith, 456.
[14] Nibley, The Presidents of the Church, 249.
[15] Nibley, The Presidents of the Church, 261.