John Rex Winder
Lawrence R. Flake, Prophets and Apostles of the Last Dispensation (Provo, UT: Religious Studies Center, Brigham Young University, 2001), 187–89.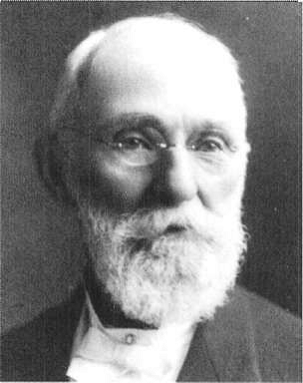 Born: 11 December 1821, Biddenham, Kent County, England
Second counselor to Presiding Bishop William Bowker Preston: 8 April 1887 (age 65)
First counselor to President Joseph F.Smith: 17 October 1901
Died: 27 March 1910 (age 88), Salt Lake City, Utah
A small scrap of paper on the floor of the London leather shop attracted the attention of John Winder, one of the shoemakers. Someone had torn up a letter and had dropped it, and John felt impressed to pick up one small piece. He puzzled over the words on the fragment—"Latter day Saints." He had never heard or read the name before. A fellow worker was able to tell him a little about this American church, including the fact that a branch of the church held regular meetings in London. He went to their meeting, crept up the back stairs, and peered through the banister. Elder Orson Spencer was preaching. "I thought he knew I was there," John said, "for every word he spoke fit my case and seemed to be for my express benefit." [1] Very soon John and Ellen Winder were baptized and began making plans to go to America. Five years later, in 1853, they and their three children sailed for Zion. While on the voyage, John contracted smallpox and became very ill. He overheard the sailors say that his body would be the next one they would have to cast into the sea. The faith and prayers of his wife and children and the priesthood blessing of his brethren enabled him to prove the sailors wrong.
Plying his skill with leather in Salt Lake City, John began making boots and saddles and later went into the tanning business with several partners, including President Brigham Young. As a captain in the Utah Nauvoo Legion, John and fifty militia men were among the units assigned to guard Echo Canyon against the U.S. Army during the fall and winter of 1857–58. Distinguishing himself in various military expeditions, including the Blackhawk War, Brother Winder earned the rank of lieutenant colonel. In addition to holding more than a score of prominent governmental and business positions, Brother Winder presided as patriarch over a large family of four wives and twenty children.
In 1892, while he was serving as a counselor in the Presiding Bishopric, Church leaders decided to try to finish the construction of the Salt Lake Temple by the next April, making the building time forty years from start to finish. Bishop Winder was given the responsibility and the credit for seeing that the 250-man crew met this deadline. After the dedication on 6 April 1893, he was called as first assistant to the temple president, Lorenzo Snow. His humility is evidenced by his reaction to being selected by President Joseph F. Smith to serve in the First Presidency of the Church on 17 October 1901: "To think that one who had sprung from the source I had, without any education . . . slow to speech, feeling as though I could pass through the floor whenever I am called upon to speak to the people—was it possible that President Smith could choose me for his counselor?" [2]
At the time of Brother Winder's death nine years later, President Smith gave this evaluation: "If any man loved him any more than I do, I say God bless that man. In his military career and all other phases of his life, he never sought office or honors; they were always in search of him. Heaven itself could scarcely be more true than President Winder was true." [3]
Notes
[1] Orson F. Whitney, "John Rex Winder," History of Utah (Salt Lake City: George Q. Cannon, & Sons, 1892), 4:240.
[2] Edward H. Anderson, "President John R. Winder," Improvement Era, May 1910, 624.
[3] Anderson, "President John R. Winder," 626.