Lawrence R. Flake, Prophets and Apostles of the Last Dispensation (Provo, UT: Religious Studies Center, Brigham Young University, 2001), 379–81.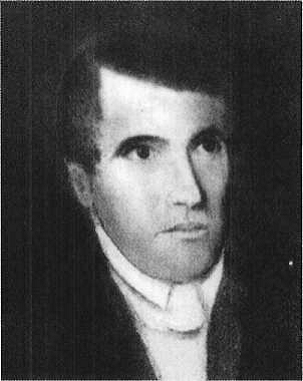 Born: 25 February 1799, Trenton Township, New York
Quorum of the Twelve Apostles: 19 December 1838 (age 39)
Disfellowshipped: 9 February 1846
Excommunicated: 27 June 1846
Died: 14 October 1867 (age 68), De Kalb County, Illinois
John Page was somewhat reluctant to accept a mission call to Canada, ostensibly because he was poor and not well clothed. The Prophet Joseph took off his own coat and gave it to Brother Page, promising him the Lord's blessing. During this two-year mission, Elder Page traveled five thousand miles and baptized nearly six hundred people. The success of his mission and other future endeavors notwithstanding, John's early recalcitrance seems to have been a constant problem for him and the Church.
Brother and Sister Page were baptized in 1833 by Emer Harris, brother of Martin Harris. Sister Page and their two children accompanied Elder Page during part of a mission to Canada. When the Pages returned, they moved to DeWitt, Missouri. Of their experiences there, Brother Page wrote: "We were attacked by an armed mob, and by them barbarously treated for near two weeks." [1] They later moved to Far West, where more tragedy beset them—Sister Page and the two little ones died as a result of the privations and persecutions they were forced to suffer. The bereaved husband and father wrote: "I buried my wife and two children as martyrs to our holy religion, who died through extreme suffering for want of the common comforts of life, which I was not allowed to provide even with my money." [2]
In Missouri John was called by revelation (D&C 118:6) to the Quorum of the Twelve. He failed to go to England with the other members of the Twelve on their great mission of 1839, which the Lord had commanded (D&C 118:4). In 1840 he was appointed to go with his fellow apostle Orson Hyde on a mission to dedicate Palestine for the return of the Jews. Although he started this mission, again he failed to complete it. Instead he traveled around in the East preaching the gospel. After receiving word of some trouble Brother Page had with the branch in Philadelphia, Hyrum Smith wrote to him requesting his return to Nauvoo. He did not comply for a year. Later at the Cincinnati Branch, Elder Page annulled the organization effected only days earlier by apostles Heber C. Kimball and Orson Pratt. Subsequently the Prophet expressed disapproval of some of John's actions in Boston.
When Elder Page learned of the martyrdom of Joseph and Hyrum Smith, he advertised in the newspaper for a preaching position for anyone who would pay him. Disfellowshiped from the Twelve, he later supported the claims of James J. Strang, who sought the leadership of the Church. Still later John Page met a group of Canadian Saints bound for Nauvoo. He told them that the Twelve had sent him to direct them to Wisconsin where Mr. Strang's followers were gathering. A few of the Saints were deceived by this lie. John E. Page was excommunicated from the Church and died in obscurity near Sycamore, Illinois, twenty-one years later.