Jedediah Morgan Grant
Lawrence R. Flake, Prophets and Apostles of the Last Dispensation (Provo, UT: Religious Studies Center, Brigham Young University, 2001), 251–53.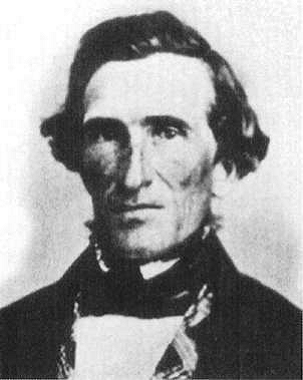 Born: 21 February 1816, Windsor, New York
First council of the Seventy: 2 December 1845
Second counselor to President Brigham Young: 7 April 1854 (age 38)
Ordained an apostle (not in the Quorum): 7 April 1854 (age 38)
Died: 1 December 1856 (age 40), Salt Lake City, Utah
A group of skeptical southerners whose preachers worked long hours preparing sermons did not believe the eloquent Mormon missionary when he told them that he had never studied up a sermon in his life but delivered them spontaneously after filling his mind with scriptures and truths of the gospel. They mockingly challenged him to preach to them at an appointed date in the courthouse at Jeffersonville, Virginia, from a text that they would furnish upon the spur of the moment. Thinking to make a fool of the naive young man, they handed him a piece of blank paper in front of his audience. Not to be thwarted by their cruel sense of humor, Elder Jedediah M. Grant, without hesitation, uttered a marvelous sermon on the theme of the blankness of the Protestant doctrine, winning the good will of almost all there and convincing some of them that the gospel had been restored. One well-wisher, greatly impressed with the remarkably skillful young orator and observing Elder Grant's frayed clothing, suggested that his listeners take up a collection for him. Many of the congregation readily responded, and the sum collected not only provided Brother Grant with a fine suit of clothes, but with a horse and saddle as well. [1] Many such stories of Elder Grant's unforgettable sermons circulated in the Southern States Mission for years after his departure. [2]
Jedediah was seventeen when he joined the Church in Windsor, Broome County, New York, the same county where the restoration of the Melchizedek Priesthood took place. The next year, after traveling to the headquarters of the Church at Kirtland, he joined the historic Zion's Camp march. This expedition of brethren who set out to aid their distressed fellow Saints tested the mettle of its participants, and Jedediah showed his to be superior. In 1842 he was called by the Prophet to preside over the Church in Philadelphia. He returned to Nauvoo at the time of the martyrdom and, accompanied by his young bride, Carolyn VanDyke, he carried the news of the tragedy to Brigham Young and the other apostles, who were on missions in the East. The next year, Jedediah was ordained to the First Council of the Seventy. As captain of a company of one hundred, he trekked to the Salt Lake Valley in 1847, suffering the devastating loss of his beloved wife and tiny daughter as a result of the hardships of the journey. He later married Rachel Ivins; they were the parents of one child, Heber J. Grant, who later became president of the Church. [3]
In 1851 Jedediah Grant was elected the first mayor of Salt Lake City and retained that position by an almost unanimous vote until his death. The honor of being chosen as second counselor to Brigham Young came in 1854, and with this call came the blessing of being ordained an apostle in the Church of Jesus Christ. Two years later a great reform movement swept the Church, headed in large measure by President Grant. [4] The purpose of the reformation was to urge the Saints to improve the appearance of both themselves and their property and to become purified of all sin, confessing and abandoning everything unholy in their lives. So ardently did he work to effect this marvelous sanctification among the people he loved that his health broke down.
Upon his deathbed a miraculous experience occurred, which he related to Heber C. Kimball. Brother Grant entered the spirit world two nights, witnessing there the marvelous order of heaven and seeing his deceased wife and his baby girl. Sister Grant told him that though the wolves had devoured their baby's body when they left it on the plains, she was, by the reality of eternal life, alive and well. He also beheld beautiful buildings and spectacular flowers. So perfect and harmonious and glorious was everything there that he was loathe to return to his mortal body. [5] President Grant died soon afterward on 1 December 1856 at the age of only forty. He was deeply loved and revered by thousands.
Notes
[1] Joseph Walker, "A Sermon with No Text," Church News, 13 March 1983, 16.
[2] "Jedediah Grant Was Powerful Speaker, Gospel Defender," Church News, 7 April 1962, 16.
[3] Ronald W. Walker, "Jedediah and Heber J. Grant," Ensign, July 1979, 47–52.
[4] Gene A. Sessions, Mormon Thunder: A Documentary of Jedediah Morgan Grant (Urbana, IL: University of Illinois Press, 1982), 270–72.
[5] See Journal of Discourses, 4:135–37.