Lawrence R. Flake, Prophets and Apostles of the Last Dispensation (Provo, UT: Religious Studies Center, Brigham Young University, 2001), 273–77.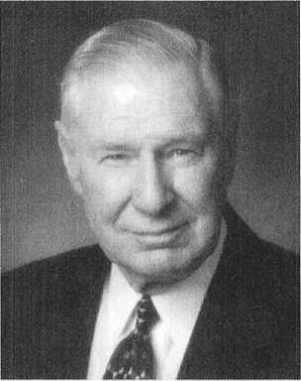 Born: 31 July 1920, Delta, Utah
Assistant to the Quorum of the Twelve: 6 October 1972
President of the First Quorum of the Seventy: 1 October 1976
Quorum of the Twelve Apostles: 30 September 1978 (age 58)
Second counselor to President Gordon B. Hinckley: 12 March 1995
A prominent Salt Lake City attorney was just about to take action against a Texas lawyer who had kept part of a check that belonged to the Salt Lake attorney's firm. James E. Faust paused for a moment to consider the seriousness of reporting his colleague to the Texas Bar Association and decided that as a faithful Latter-day Saint, and as a bishop, he should pray about this decision as he would any other. He felt impressed not to make the report. Just a few days later, President Faust received the check and a letter of explanation—the man had been seriously ill and unable to transact any business. He had no intention of not forwarding the money. Through President Faust's inspiration and trust in the Lord, the Texas lawyer had been saved the serious consequences of being reported. Of this incident President Faust said, "I learned a good lesson. . . . I learned how we must let this feeling of love for the Lord and the gospel, enter into our professional lives" [1]
Being close to the Lord has been a lifelong experience for James E. Faust. "I've always had a testimony. It's been easy for me to believe. I don't claim anything for myself; it is a gift. But I feel, with a deep sense of blessing, that I can say with the brother of Jared that I know, nothing doubting." [2]
He was born 31 July 1920 in Delta, Utah, to George A. and Amy Finlinson Faust. When he was only two, the family moved to Salt Lake, where his father attained prominence as a lawyer and a judge. James E. Faust enrolled at the University of Utah where he was a member of the track team. His schooling was interrupted by a mission call to Brazil and then by service in World War II. When he was able to return to school, he followed in his father's footsteps, becoming a very successful lawyer himself. He was active in politics, serving in the Utah legislature. He served as president of the Utah Bar Association and was appointed by U.S. President John F. Kennedy to serve on the Lawyers Committee for Civil Rights and Racial Unrest.
The Fausts have five children—two daughters and three sons, two of whom also became lawyers, making three generations in that profession. In fact, all of the Faust lawyers at one time or another had offices in the same building, the Kearns Building, in downtown Salt Lake.
He and Sister Faust, the former Ruth Wright, were married in the Salt Lake Temple while he was serving as a first lieutenant in the Army Air Corps and on a ten-day furlough from officers' training school in Florida. They considered this opportunity to be married a blessing from the Lord, since Elder Faust was one of the few officers at his school to be granted this furlough. Sister Faust said, "It was as if a miracle had happened, and I really believe that it did." [3]
President Faust was called to responsible Church positions at an unusually early age. He served as Sunday School Superintendent at age seventeen; as a bishop of the Cottonwood Ward at age twenty-eight; and as a stake president at age thirty-five, a position he held for seventeen years until he was called as a regional representative in 1968. He served a mission to Brazil from 1939 to 1942, a time when the elders had almost no success. "In those days it was a difficult mission. . . . We had hardly any baptisms, and it was very, very discouraging. It took some strength and discipline under those circumstances to work at it and to keep the Spirit. . . . We didn't accomplish much except for the changes in ourselves. I feel it was one of the most productive and valuable times in my life." [4]
It was there in Brazil that his great love for all people was nourished. He said, "I have learned to love all of the people in the countries where I have been as a missionary, soldier and General Authority, regardless of the color of their skin. I hope to be a disciple after the manner and example of President Kimball and the others, in their love for the humble, the downtrodden, the poor, the afflicted, the needy and the poor in spirit, for I am mindful that if we forget these, we can in no way be His disciples." [5] As a general authority, President Faust has served as zone adviser for South America, later for South Africa, and as president of the International Mission. During the building of the São Paulo Temple, he noted that many members, who because of their lineage could not enter the temple, worked tirelessly along with everyone else to make blocks for its construction. "There was nothing on the horizon indicating they would be able in this life to enjoy the temple blessings, but it seemed to make no difference. They believed in the divinity of the Church and that's what mattered," he said. [6]
President Faust has always held his wife and family in high regard. "My wife is perfect. She's been supporting, sustaining, constantly helpful. I'm quick to acknowledge that she's part of me—the best part. I can't love anyone in the world as I love her." [7] He says of his children, "My children have become my best friends I try to give [them] the same kind of supporting influence that my father gave me." [8]
President Faust was initially called as an Assistant to the Twelve, but when that position was eliminated in October 1976, he was made a member of the First Quorum of the Seventy and was also assigned to be one of the seven presidents of that quorum. He was ordained to the Quorum of the Twelve on 1 October 1978. His humility and the strength of his testimony were apparent from his comments at the time of his call: "I pledge to God and His prophet, President Kimball, my life, and whatever energy and little ability I may have, fully and completely and without reservation, for I know that Jesus is the Christ, the Son of God. I know that the Savior knows that I know that He lives, so I willingly accept the call, the keys, the charge and promise to do the best I know how." [9]
One of his most difficult but significant assignments as a member of the Quorum of the Twelve was his labor with Elder Howard W. Hunter to establish the Brigham Young University study abroad center on the Mount of Olives in East Jerusalem. The entanglements they confronted in bringing about its construction were vast and overwhelming; but along with then BYU president Jeffrey R. Holland, and through many miracles, they battled the obstacles until the center was completed in 1988. In terms of bringing the presence of the Church into the Holy Land, the Jerusalem Center has proved to be of incalculable worth. [10] A biography of President Faust adds this insight:" As Elder Holland watched Elder Faust deal with the many difficulties that arose during the construction of the Jerusalem Center (an experience he summarizes with the quip, 'We may not have crossed the Plains, but we helped to build the Jerusalem Center'), he saw his friend's abilities tested in some of the hottest fires of adversity." [11]
When Gordon B. Hinckley became president of the Church, he announced President Faust's selection as the second counselor in the new First Presidency. As a member of the First Presidency, President Faust has traveled all over the world—from Hong Kong, where he met with officials to advise them of the Church's activities, to Brazil, where he broke ground for two new temples, received a prestigious award from the city of São Paulo, and even walked some of the streets where he served as a missionary decades earlier. [12] Along with his many administrative responsibilities, he has conducted numerous area conferences and has blessed the lives of members of the Church in countless ways. His biographer payed him this tribute: "From his service as a missionary through every subsequent calling he has accepted, James Esdras Faust has served as an unassuming yet stalwart emissary of the Savior. In so doing, he, like Peter, has been an eyewitness of the Savior's majesty as he has watched the work grow throughout the world." [13]