Howard William Hunter
Lawrence R. Flake, Prophets and Apostles of the Last Dispensation (Provo, UT: Religious Studies Center, Brigham Young University, 2001), 133–40.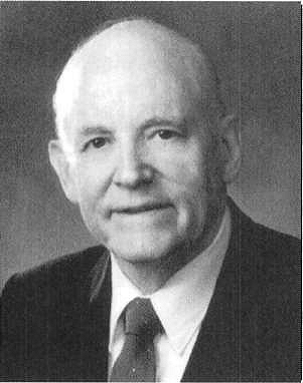 Born: 14 November 1907, Boise, Idaho
Quorum of the Twelve Apostles: 15 October 1959 (age 51)
Acting President of the Quorum of the Twelve: 10 November 1985
President of the Quorum of the Twelve: 2 June 1988
President of the Church: 5 June 1994 (age 86)
Died: 3 March 1995 (age 87), Salt Lake City, Utah
A young man from Idaho packed his musical instruments into their cases. He was putting them away permanently after several years of playing in a band he had formed called "The Croonaders." His music had brought him enjoyment, money, and even travel, as his band had obtained a contract to play aboard a cruise ship, the SS President Jackson, which had taken him to see many exotic sights in Asia. His reasons for this abrupt ending to his musical career lay in his devotion to a greater cause. He explained that life as a musician "was glamorous in some respects, and I made good money, but the association with many of the musicians was not enjoyable because of their drinking and moral standards." [1] He had met and fallen in love with a wonderful young woman, six years his senior, Clara May Jeffs (Claire). They were planning to be married, and the life of a musician just didn't fit in with their religious and family goals. Young Howard W. Hunter almost never again had any occasion to use his instruments. He and Claire were married in the Salt Lake Temple on 10 June 1931. They encountered sorrow early in their marriage when their first baby, a son, died at the age of only seven months of an ulcerated intestine. Elder Hunter said, "He slipped quietly away as we sat by his bed. We were grief-stricken and numb as we left the hospital into the night." [2] Two more sons were later born to the Hunters.
Elder Hunter became the president of the Church in June 1994, following the death of President Ezra Taft Benson. In several ways his background was different from the thirteen prophets who preceded him. He was the first president born in this century; he was born into a part-member family—his mother, Nellie Marie Rasmussen Hunter, was an active member, but his father, John William Hunter, though of Mormon descent, did not join the Church until Howard was an adult. Howard came from a small family—he had only one sister; he was not baptized at the age of eight—his father wanted him to wait until he was older and could make up his own mind about religion. Howard begged to be baptized, and finally when he was twelve, his father consented. Interestingly, President Hunter was the first Church president to be baptized in an indoor font. He did not have the privilege of serving a mission as a young man and had never lived in Utah before he became an apostle.
President Hunter was born and raised in Boise, Idaho, and moved to California after his marriage to take a position at a bank in Inglewood. When the bank failed at the time of the Depression, he was forced to find other employment. He determined to obtain a law degree, which he did while working full time to support his family. He graduated cum laude with a juris doctorate from Southwestern University Law School in Los Angeles in 1939 and began practicing law in California. In 1940 he became the bishop of the El Sereno Ward and in 1950 president of the Pasadena Stake. President Hunter was instrumental in the building of the Los Angeles Temple, the first one in California.
In 1959, while President Hunter was attending general conference, President David O. McKay invited him into his office. "The Lord has spoken," he said. "You are called to be one of his special witnesses, and tomorrow you will be sustained as a member of the Council of the Twelve." Elder Hunter's reaction was profound: "Tears came to my eyes and I could not speak. I have never felt so completely humbled as when I sat in the presence of this great, sweet, kindly man—the prophet of the Lord." [3] He used his talents to fill many important roles as an apostle. He was adviser to the Genealogical Society and supervisor of the missions in the South Pacific and western America. He served for two years as Church historian and was instrumental in bringing about the Polynesian Cultural Center. In Jerusalem, a place he especially loved, he helped establish the Orson Hyde Memorial Garden and the Brigham Young University Jerusalem Center on the Mount of Olives. He loved the land where Christ walked, and he had many close friends among Israelis and Palestinians alike. In 1985 he became acting president of the Twelve, and two and a half years later, 2 June 1988, he became president of the Twelve.
Although he served only eight months and twenty-six days as president of the Church, President Hunter's service was memorable and powerful. In the first speech he made as he accepted his high calling, he pinpointed two "invitations" to the Saints that characterized his presidency: "First of all, I would invite all members of the Church to live with ever-more attention to the life and example of the Lord Jesus Christ, especially the love and hope and compassion He displayed. I pray that we might treat each other with more kindness, more courtesy, more humility and patience and forgiveness." [4] Not surprisingly, President Hunter himself exemplified these traits. He loved the Savior, emulated him, and testified of him: "As one called and ordained to bear witness of the name of Jesus Christ to all the world, I testify . . . that He lives. He has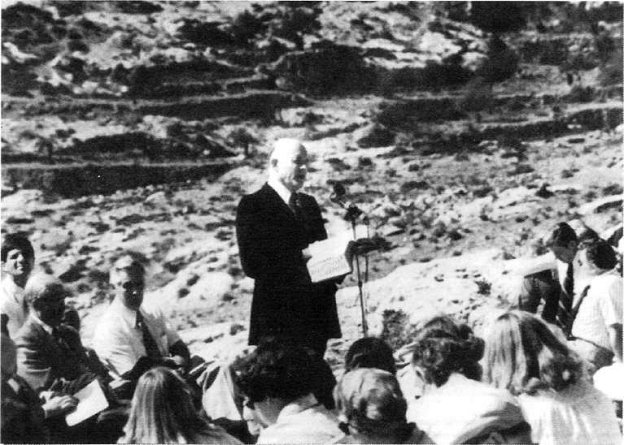 President Howard W. Hunter teaching out of the Scriptures on the Mount of Olives.
a glorified, immortal body of flesh and bones. He is the Only Begotten Son of the Father in the flesh. He is the Savior, the Light and Life of the world." [5]
The second invitation was a call to the Saints to give higher priority to temple attendance. He said, "I also invite the members of the Church to establish the temple of the Lord as the great symbol of their membership and the supernal setting for their most sacred covenants. It would be the deepest desire of my heart to have every member of the Church temple worthy." [6] As a result of this added emphasis, temple attendance rose markedly in the Church over the next few months.
Beginning in 1980, after twenty years as an apostle, many health problems began to plague Elder Hunter. He suffered a massive heart attack followed by surgery to remove a benign tumor. In 1986 he underwent a quadruple bypass operation to clear his arteries of blockage. Within just a few months of this operation, he was hospitalized twice more—once for surgery on a bleeding ulcer and once for back surgery. After the back surgery, the nerves in his legs deteriorated due to diabetes, and he was confined to a wheel chair. Determined to walk again, Elder Hunter rose above his situation, making a dramatic comeback. At the April 1988 general conference, the congregation was stunned to see him fall backward as he gave his address that day. Three brethren lifted him back up to the podium, and although he had broken three ribs, he continued his talk without missing a word. This same calm courage came to the fore in 1993 when he was approached by a deranged man who had jumped up onto the stage at the Marriott Center while President Hunter was addressing BYU students. The assailant threatened that he would detonate a bomb unless Elder Hunter read a certain statement. Elder Hunter remained calm and said nothing. Eventually the man was subdued. The trouble averted, President Hunter proceeded with his speech as though nothing had happened.
In spite of his frailty and his difficulty walking, President Hunter, at eighty-six, kept a busy schedule of meetings and travel during his presidency. "He called and set apart Elder Jeffrey R. Holland of the Seventy to fill a vacancy in the Council of the Twelve, dedicated the Bountiful and Orlando temples, created the Church's 2,000th stake in Mexico City, and participated in commemorative services noting the 150th anniversary of the martyrdom of the Prophet Joseph Smith," to name just a few highlights of his months as prophet. [7] Occasionally, during his many trips as an apostle, he would get to see his grandchildren while making a flight connection. One of his little grandsons made a telling comment about his grandfather's busy life. When he told his parents he wanted to visit Grandpa, they asked him which grandfather he meant; he answered, "Oh, you know, the one who lives at the airport." [8]
Throughout his years of service, President Hunter truly followed the counsel he had given his brethren while serving as President of the Twelve: "As special witnesses of our Savior, we have been given the awesome assignment to administer the affairs of his Church and kingdom and to minister to his daughters and his sons wherever they are on the face of the earth. By reason of our call—to testify, govern, and administer—it is required of us that despite age, infirmity, exhaustion, and feelings of inadequacy, we do the work he has given us to do, to the last breath of our lives." [9]
For many years Elder Hunter's wife, Claire, was an invalid, afflicted with a form of Alzheimer's disease, unable to dress and feed herself. [10] One of his neighbors described the tender care he gave her: "We had many home evenings with [the Hunters]. . . . He would dress [his wife] in the most beautiful outfits and bring her to our home. He would feed her by hand, so lovingly. He would pat her on the hand and ask, 'Would you like some of this, Honey?' He just treated her like such a queen." [11] She died in 1983, leaving Elder Hunter a widower for seven years, until 1990 when he married Inis Bernice Egan Stanton in the Salt Lake Temple. Characteristic of Elder Hunter's unassuming and very private nature, he didn't tell his fellow apostles of his plans until just a few hours before the wedding: "This came as a surprise," Elder Hunter wrote in his journal. [12]
In January 1995, the Church announced that President Hunter had prostate cancer, which had spread to the bones. Just three months later, at the age of eighty-seven, he passed away in his home. President Hunter understood suffering and adversity. His many serious health problems and those of his wife no doubt gave him the compassion he displayed for others. At the time of his passing, he was eulogized in these words: "President Hunter, a gentle, kind and gracious individual, will be remembered for his compassionate nature. He treated everyone exactly the same—with kindness and gentleness—whether they were the highest station in life or the lowest. He was concerned less about his own health and more about the comfort and care of those around him, particularly his wife and family. His last words in 'a very quiet, sweet voice' to those caring for him were, 'Thank you.'" [13]
Notes
[1] Eleanor Knowles, Howard W. Hunter (Salt Lake City: Deseret Book, 1994), 81.
[2] Knowles, Howard W. Hunter, 88.
[3] Knowles, Howard W. Hunter, 88; "Howard William Hunter: Apostle From California," Improvement Era, January 1960, 18–21, 36–38.
[4] "Pres. Hunter Is Ordained Prophet," Church News, 11 June 1994, 14.
[5] Conference Report, April 1988, 19.
[6] "Pres. Hunter Is Ordained Prophet," 14.
[7] "Nine Busy Months for 14th President," Church News, 11 March 1995, 8.
[8] "Wives of General Authorities: Clara Jeffs Hunter," Church News, 16 May 1964, 6.
[9] "Elder Marvin J. Ashton: A Voice of Faith and Hope," Ensign, April 1994, 76.
[10] Knowles, Howard W. Hunter, 264–71.
[11] "Fond Memories and Sad Good-byes," Utah County Journal, 5 March 1995, 2.
[12] Vern Anderson, "Hunter Named LDS President," The Daily Herald, 6 June 1994, A2.
[13] Dell Van Orden, "Gentle, Compassionate Leader," Church News, 11 March 1995, 3.