Lawrence R. Flake, Prophets and Apostles of the Last Dispensation (Provo, UT: Religious Studies Center, Brigham Young University, 2001), 387–89.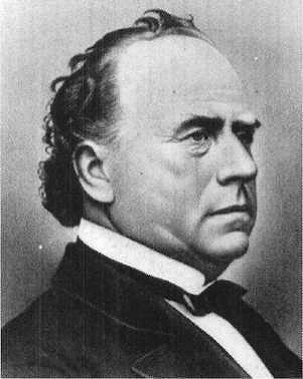 Born: 22 February 1811, Mendon, Massachusetts
Quorum of the Twelve Apostles: 16 July 1846 (age 35)
Died: 3 September 1869 (age 58), Ogden, Utah
As a young man, Ezra Taft Benson was impressed by an unexplained feeling that he should move westward. He had every reason to remain in his native Massachusetts, where his family and the family of his wife, Pamela Andrus, lived. Although he had been successful as a farmer, postmaster, hotel keeper, and cotton miller, Ezra was unable to find contentment.
In 1837 Ezra went as far west as Pennsylvania, where he remained for a year, but still he felt prompted to go farther. Finally he moved to St. Louis, where he entered the mercantile business, and later to Quincy, Illinois. Western Illinois was occupied at that time by many beleaguered Mormons who recently had been cruelly expelled from Missouri. Ezra was touched first with sympathy and later with respect for the Mormons, and eventually with a conviction of the truth of their gospel. He and his wife were baptized on 19 July 1840. A few months later, Hyrum Smith appointed Brother Benson to be second counselor in the Quincy Stake presidency.
The next spring the Bensons moved to Nauvoo, where Ezra accepted the first of a half dozen mission calls to the eastern states. In Nauvoo he worked on the temple during the day and guarded it by night. He now knew that he had been impressed to go west in order that he might find the joy he experienced with the Saints, but his westward movement was not finished. In 1846 he and his family were forced with the rest of the Church to abandon Nauvoo and move to the Rocky Mountains.
At Mount Pisgah, one of the temporary settlements the exiles established in Iowa, Elder Benson received a note from Brigham Young, who had camped ahead in Council Bluffs, Iowa. The note advised him of his call to the Quorum of the Twelve and of his selection to be in the first pioneer company to travel to the new home in the mountains. Ezra T. Benson became a pillar of strength in the emigration and colonization efforts. [1]
In a revelation given to President Young in 1847 (D&C 136:12), Elder Benson was appointed to help organize the companies moving west. Twice he returned from Salt Lake to preside over the Saints in western Iowa who were waiting to go to the valley. In Utah he helped establish several communities, and for ten years he presided over the Saints in Cache Valley. He became a member of the territorial legislature and a contractor for the Central Pacific Railroad. For two years, from 1856 to 1858, he and fellow apostle Orson Pratt were given charge of the missionary work in Europe. Elder Benson's westward travels reached their farthest point in 1864 when in the company of Lorenzo Snow, Joseph F. Smith, and two other elders, he filled a special mission to the Sandwich (Hawaiian) Islands. Here the Lord miraculously intervened to spare Ezra and the other missionaries' lives when their boat capsized. Five years later, at the age of only fifty-eight, a heart attack brought his mortal ministry to an early close. His biographers noted, "Stricken as he was in the full bloom of manhood, Ezra T. Benson in the prime of his mortal career, had reached his full maturity in wisdom. He had crowded into his short life more rich experiences than most men do in a lifetime which lengthens out into ripe old age." [2] President Wilford Woodruff declared, "He has been true and faithful unto death and he will receive a crown of life." [3]
Ezra Taft Benson's powerful testimony touched the hearts of thousands: "I testify that Joseph Smith was a Prophet of the Most High. . . . My testimony is: that 'Mormonism' is the kingdom of God." [4]
The fruit of Elder Benson's valiant life continued into the next century when, in 1985,115 years after his death, a grandson who bore his name became the thirteenth president of the Church.
Notes
[1] John Henry Evans and Minnie Egan Anderson, Ezra T. Benson: Pioneer–Statesman–Saint (Salt Lake City: Deseret News Press, 1947), 321.
[2] Evans and Anderson, Pioneer–Statesman–Saint, 324.
[3] Forace Green, Testimonies of Our Leaders (Salt Lake City: Bookcraft, 1958), 123. See also Matthias F. Cowley, Prophets and Patriarchs of the Church of Jesus Christ of Latter-day Saints (Chattanooga, TN: Ben E. Rich, 1902), 206–11.
[4] "Ezra T. Benson Left Nauvoo with First Pioneer Company," Church News, 4 February 1961, 16.