Ezra Taft Benson
Lawrence R. Flake, Prophets and Apostles of the Last Dispensation (Provo, UT: Religious Studies Center, Brigham Young University, 2001), 123–31.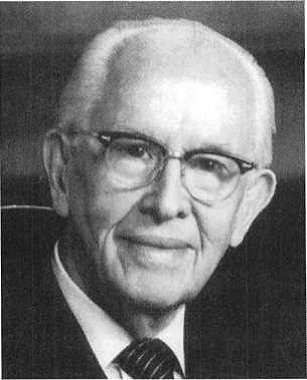 Born: 4 August 1899, Whitney, Idaho
Quorum of the Twelve Apostles: 7 October 1943 (age 44)
President of the Quorum of the Twelve: 30 December 1973
President of the Church: 10 November 1985 (age 86)
Died: 30 May 1994 (age 94), Salt Lake City, Utah
The doctor shook his head sadly when a tiny, frail baby was born to George and Sarah Benson in the small town of Whitney, Idaho. "There is no hope for the child, but I think we can save the mother," the doctor announced. Little Ezra Taft Benson's two grandmothers, attending the birth, were not willing to give up on the baby. They grabbed him and went to work. President Benson related, "The faith of my father, the administrations of the priesthood and the quick action of my two grandmothers, placing me first in a pan of cold water, and then warm water, alternating, brought forth a husky yell, to the joy of all." [1]
That little baby, the oldest of eleven children, was the first great-grandson of the apostle Ezra Taft Benson, who had joined the Church in 1840 during the Nauvoo period of Church history. Ezra's father and grandfather, both named George, were hard-working farmers and Church leaders in southeastern Idaho's Cache Valley. Stalwarts in the kingdom, the three forebears passed their traits and their priorities along to Ezra Taft Benson, who became, in 1985, prophet, seer, and revelator of the Church. [2] At the age of four President Benson could drive a team, and he was soon herding cattle and thinning beets on his parents' farm in the rural community of Whitney. When he was sixteen, he once single-handedly thinned an entire acre of sugar beets in one day. The farmer who had hired him was astonished at the nearly impossible task and rewarded him with two five-dollar gold pieces and two silver dollars for his efforts. [3]
He made long trips daily from his home to Preston, Idaho, to attend school so that he could, when his responsibilities on the farm permitted, enter the Utah State Agricultural College in Logan. It was there that he met and determined to marry Flora Amussen, whose father was Utah's first jeweler and watchmaker. Her higher economic circumstances, popularity, and refinement would have caused the average farm boy to despair of ever attracting her, but young Ezra courted her with perseverance until his mission call to Great Britain in 1921. After his return Flora decided to go on a mission herself; still determined, he waited for her, finishing his undergraduate education during those years at Brigham Young University. In September 1926 they were finally married. Following their marriage, they went to Iowa State College, where Ezra had a scholarship to do graduate studies in agriculture. They became the parents of six children—two sons and four daughters—and at the close of President Benson's life they had thirty-four grandchildren and sixty-seven great grandchildren.
After President Benson obtained his master's degree, the Bensons went back to farming in Idaho, where he assumed the first of his many agricultural posts. He became a county agent and then, moving to Boise, he became the secretary to the Idaho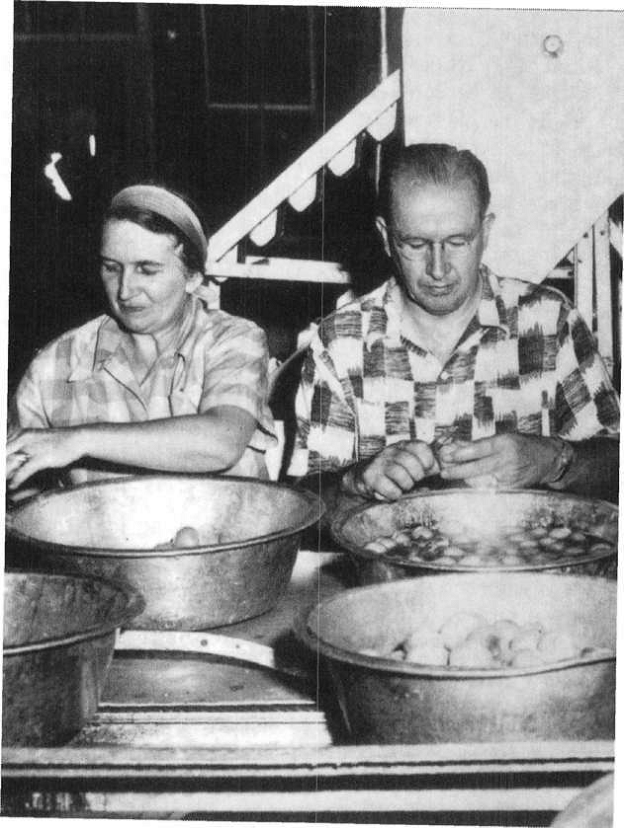 Elder Ezra Taft Benson and his wife, Flora Benson, at a welfare cannery
Cooperative Council and later, the executive secretary of the National Council of Farmer Cooperatives, a position that resulted in the Bensons moving to Washington, D.C. In both Boise and Washington, he served as stake president. Not wishing to abandon his calling as stake president in Washington, he hesitated to take the next position offered to him, which would have tripled his salary but necessitated moving to California. In trying to make this difficult decision, President Benson went to Salt Lake to seek counsel from the Brethren. Before he could even obtain their advice, he was informed that the ailing president of the Church, Heber J. Grant, wished to see him. As the young stake president approached the bedside of the prophet, President Grant clasped Ezra's hand with both of his. "Brother Benson," he said, "I congratulate you and pray God's blessings to attend you. You have been chosen as the youngest apostle of the Church." [4] Elder Benson's dilemma was permanently solved, as he had no hesitation about giving his entire life to the service of the cause he espoused so openly and vigorously.
In 1946, just three years after being called to the apostleship, Elder Benson was assigned as president of the European Mission and undertook the prodigious task of reopening that war-torn area to missionary work and of feeding and clothing the battered and impoverished Saints. He observed, "The aftermath of war is usually worse than the actual physical combat. Everywhere there is the suffering of old people, innocent women and children. Economies are broken down, the spirits of people crushed, men and women bewildered." [5] Hundreds of tons of food, clothing, and bedding—ninety-two boxcars full—arrived from the Church to be distributed among the suffering Saints. He was there for ten months and traveled 61,236 miles by plane, train, ship, automobile, bus, and jeep to accomplish this mission of mercy. [6]
In 1953, with permission of the First Presidency, he took a leave of his duties as an apostle to serve on U.S. President Dwight D. Eisenhower's cabinet as Secretary of Agriculture. At the first meeting of the new cabinet, President Eisenhower, knowing that Ezra T. Benson was a "clergyman," asked him to offer a prayer on the new administration. Not long afterward, Elder Benson wrote to President Eisenhower: "May I make bold to suggest that each of our weekly Cabinet meetings be opened with a word of prayer I know that without God's help we cannot succeed. With His help we cannot fail." [7] They prayed weekly thereafter.
Many of President Benson's agricultural policies were controversial. "Taking his post, he found himself in the 'hot seat'—advocating unpopular but later proven sound farm policies and programs." [8] He took all of this criticism in stride, saying, "Personally, I don't feel any fears. I try to do the right thing and let the chips fall where they will." [9] At one time when he felt that his own political party considered him a liability, he offered to step down: "President Eisenhower, responding to the Secretary's offer, declared: 'If you quit, I'll quit.'" [10] He served with President Eisenhower from beginning to end during both of the president's terms in office, one of only two cabinet members to do so.
Because of their strong family values, the Bensons were often in the limelight in Washington. Even if they had important dinner guests, they still knelt around the dining room table to say their family prayer. One such guest, John D. Miller, president of the National Council of Farm Cooperatives, told of his visit to the Benson home several months later at a meeting of business executives. "He mentioned particularly the family prayer and our little girl who had led the group that evening. Then he said, 'Gentlemen, I have never had a sweeter experience in my life.'" [11] In 1954, while they were living in Washington, Edward R. Murrow of CBS asked the Bensons if they would be willing to televise their family home evening. Though reluctant to draw publicity to their daughters, they were convinced by their missionary sons that this telecast could be a missionary endeavor, and they agreed to the request. "There was no rehearsing. It was very informal. . . . The Lord blessed our efforts. All of the children responded beautifully, including little Beth, who did a song and dance with an umbrella, using the mat from my office to dance on as she sang, 'It's a Lovely Day Today.'" [12] Later, Murrow commented that he received more fan mail from that program than from any other program he had ever conducted. [13]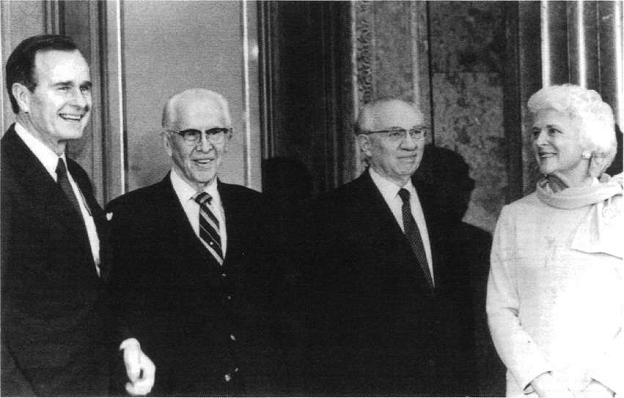 Presidents Ezra Taft Benson and Gordon B. Hinckley with U.S. President George Bush and Barbara Bush
Returning to full activity in the Quorum of the Twelve in 1961, Elder Benson became known for his patriotism. From a perspective gained during eight years in one of the highest councils of government, he declared: "It is my firm belief that the God of heaven raised up the founding fathers and inspired them to establish the Constitution of this land. Freedom is a God-given eternal principle, a heritage more precious than life itself." [14]
When President Harold B. Lee died in December 1973, Elder Benson was shocked. "We were born in the same year. I've known him since we were boys in high school together. He seemed vigorous, and I assumed he would be the last president I would know in mortal life." [15] When Spencer W. Kimball was sustained the new president of the Church, Elder Benson became the president of the Twelve. He was ordained an apostle just a few minutes after President Kimball (who was four years his senior) and was therefore next in seniority to him. When President Kimball died eleven years later, Ezra Taft Benson became president of the Church.
During President Benson's presidency, from November 1985 to May 1994, Church membership grew to nearly nine million members. The missionary force expanded from about twenty-nine thousand to about forty-nine thousand, and the number of temples went from thirty-six to forty-five. There were over four hundred new stakes formed—many of which were the first in the country where they were established. New missions were formed—116 of them. [16] Several innovations of profound significance also took place. The seventies quorums in the stakes were disbanded and the Second Quorum of the Seventy with worldwide responsibilities was formed. Worthy spouses of nonmembers or inactive members, could now for the first time receive their temple endowments. A new budget program was started in which almost all expenses in the wards would now be paid out of the general funds of the Church. [17]
But what President Benson may be remembered for most is his strong plea to all the Saints to make the Book of Mormon the center of their lives. He felt that "God was not well pleased with the neglect of the Book of Mormon by the Saints and they could not please Him until [it] was used more in missionary work, teaching, preaching, and private study." [18] In the April 1986 general conference he said, "Unless we read the Book of Mormon and give heed to its teachings, the Lord has stated in section 84 of the Doctrine and Covenants that the whole Church is under condemnation." [19] He admonished everyone to use the Book of Mormon to come unto Christ: "The honest seeker after truth can gain the testimony that Jesus is the Christ as he prayerfully ponders the inspired words of the Book of Mormon." [20] President Benson will also be remembered for his classic discourse on pride. Given at the first conference after he became Church president, his address has become widely known throughout the Church. He said that "pride is the universal sin, the great vice . . . the great stumbling block to Zion. We must cleanse the inner vessel by conquering pride." [21]
Starting in about 1990, President Benson's health began to fail. The April 1992 general conference was the final one he attended; his last public appearance was in August 1992 when he attended the funeral of his beloved wife, Flora. He died 30 May 1994 of congestive heart failure. Eulogized by members and nonmembers alike, President Benson was known for being a man who had risen from being a simple farm boy to mingle with the highest government officials and, more important, with men who held the highest callings in Christ's Church on earth. President Howard W. Hunter, who succeeded him as president of the Church, spoke these words at his funeral:" [He] was a strong and a mighty man . . . a man whose soul did joy in the liberty and the freedom of his country. . . . A man whose heart did swell with thanksgiving to his God, for the many privileges and blessings which he bestowed upon his people; a man who did labor exceedingly for the welfare and safety of his people. . . . A man who was firm in the faith of Christ." [22]
Notes
[1] David Croft, "President Benson Accepts New Call," Church News, 5 January 1974, 7.
[2] Francis M. Gibbons, Ezra Taft Benson: Statesman, Patriot, Prophet of God (Salt Lake City: Deseret Book, 1996).
[3] John L. Hart, "Will to Do Best Prepared Prophet," Church News, 4 June 1994, 13.
[4] Merlo J. Pusey, "Ezra Taft Benson: A Living Witness for Christ," Improvement Era, April 1956, 270.
[5] Sheri L. Dew, Ezra Taft Benson: A Biography (Salt Lake City: Deseret Book, 1987), 227.
[6] Dew, Ezara Taft Benson, 226.
[7] Ezra Taft Benson, Cross Fire: The Eight Years with Eisenhower (Garden City, NY: Doubleday, 1962), 59.
[8] Gerry Avant, "Eight Years in 'Crossfire' of U.S. Politics," Church News, 4 June 1994, 17.
[9] Avant, "Eight years in 'Crossfire,'" 17.
[10] Avant, "Eight years in 'Crossfire,'" 17.
[11] "Make a Home . . . a Little Bit of Heaven," Church News, 4 June 1994, 14.
[12] "Experiences Left Lasting Impressions," Church News, 4 June 1994, 19.
[13] "Experiences Left Lasting Impressions," 19.
[14] "Ezra Taft Benson of the Council of the Twelve," Improvement Era, November 1966, 994.
[15] Croft, "President Benson Accepts New Call," 7.
[16] "Church Growth Pervasive, Steady," Church News, 4 June 1994, 4.
[17] "Church Growth Pervasive, Steady," 12.
[18] "Heed Book of Mormon, Prophet Urged," Church News, 4 June 1994, 6.
[19] Conference Report, April 1984, 4.
[20] "Prophet Urged Members to 'Come Unto Christ,'" Church News, 4 June 1994, 5.
[21] Conference Report, April 1986, 5–6.
[22] Gerry Avant, "President Benson Eulogized," Church News, 11 June 1994, 6.