David Oman McKay
Lawrence R. Flake, Prophets and Apostles of the Last Dispensation (Provo, UT: Religious Studies Center, Brigham Young University, 2001), 85–94.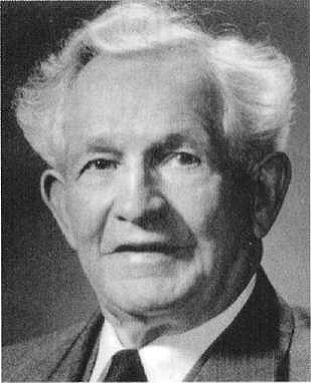 Born: 8 September 1873, Huntsville, Utah
Quorum of the Twelve Apostles: 9 April 1906 (age 32)
Second counselor to President Heber J. Grant: 6 October 1934
Second counselor to President George Albert Smith: 21 May 1945
President of the Quorum of the Twelve and second counselor to President George Albert Smith: 30 September 1950
President of the Church: 9 April 1951 (77)
Died: 18 January 1970 (age 96), Salt Lake City, Utah
Two foreshadowings of David O. McKay's great destiny occurred when he was a young man. One of these was an inspired promise given in his patriarchal blessing, which he received when he was thirteen: "The eye of the Lord is upon thee . . . . The Lord has a work for thee to do, in which thou shalt see much of the world, assist in gathering scattered Israel and also labor in the ministry. It shall be thy lot to sit in council with thy brethren and preside among the people." [1] The second promise was given in 1897 when he was serving a mission in Great Britain. In a meeting in Glasgow, a distinct and marvelous spirit pervaded the room and many of the missionaries were weeping. The mission president, James L. McMurrin, confirmed that there were angels in the room. He pointed out two elders specifically and stated that their guardian angels were there. Then President McMurrin turned to Elder McKay and declared: "Let me say to you, Brother David, Satan has desired you that he may sift you as wheat, but God is mindful of you . . . . If you will keep the faith, you will yet sit in the leading councils of the Church." [2]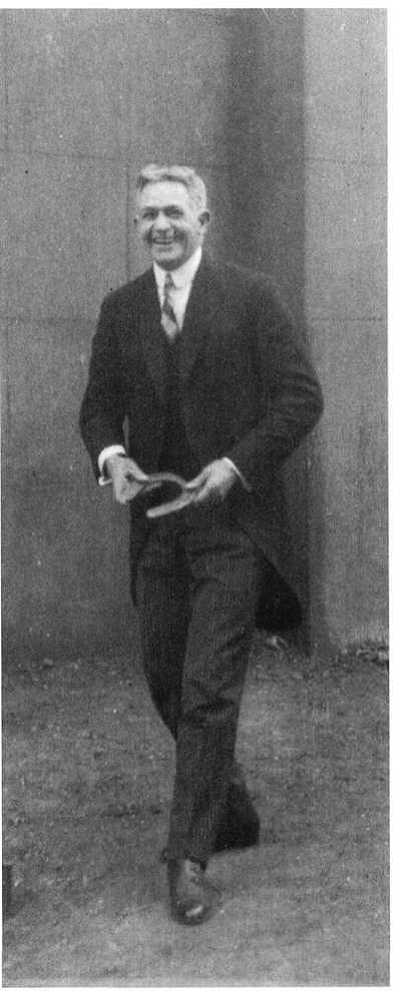 Elder David O. McKay pitching horseshoes
Born 8 September 1873 in Huntsville, Utah, David O. McKay grew to manhood with a profound love and respect for his parents. When asked whom he considered to be the greatest man he had ever known, he answered unhesitatingly, "My father." Of his mother he said, "I cannot think of a womanly virtue that my mother did not possess. . . . In tenderness, watchful care, loving patience, loyalty to home and to right, she seemed to me in boyhood, and she seems to me now after these years, to have been supreme." [3] At the age of eight David was charged by his father, who was departing on a mission, to take care of his mother. David took this very much to heart. The family had experienced the recent sad loss of two older daughters to pneumonia and rheumatic fever, and a newborn child arrived just ten days after the father's departure. The responsibilities of the family fell on David, giving him a maturity beyond his years.
In spite of many difficulties, the McKays provided a college education for each of their children. One morning in 1894 an old farm wagon loaded with flour, bottled fruit, and vegetables, and followed by a trailer carrying the family cow, rattled down Ogden Canyon arid on to Salt Lake City. Four of the McKay children, including David, were moving to Salt Lake to attend the University of Utah. David played on the football team, became president of his class, and was valedictorian at the time of his graduation in 1897. During his college years he boarded at the house of the Riggs family and eventually married one of their daughters, Emma Ray. In 1897, shortly after graduating from the university, he received his mission call to Scotland and departed, leaving behind his fiancée.
Upon his return he married Emma Ray, pursued his chosen career as an educator, and became principal of Weber Stake Academy in Ogden for four years until 1906, when at the age of only thirty-two he was called to the Quorum of the Twelve Apostles. Among his duties as an apostle was serving in the general superintendency of the Sunday School for twenty-eight years. His background in education gave rise to the idea of teaching with an aim, an illustration, and an application; this method revolutionized instruction in the Church. He also served as Church commissioner of education, lending strength and promoting organization and expansion to Church schools and seminaries throughout the world. [4] On 4 December 1920 he received one of the most unusual assignments given to a general authority. President Grant called him on a year-long tour of the missions of the world, which began with dedicating China for missionary work, continued to the South Sea Islands, Australia, and Europe, and ended with the United States. This was only the beginning of the worldwide travel that characterized the administration of David O. McKay when he became president of the Church in 1951. He traveled over two million miles, seeing the Church become, in the true sense of the word, an international organization.
The growth of the Church under his able and inspired leadership was phenomenal—nearly four thousand Church buildings were constructed. This number included eight temples, three of which were built outside the United States. The number of stakes grew from one hundred eighty-four to five hundred, and at his death in 1970 more than one half of the nearly three million members of the Church had never known any other president. His concept and slogan "Every member a missionary!" was in large measure responsible for this tremendous outpouring of the spirit of missionary work.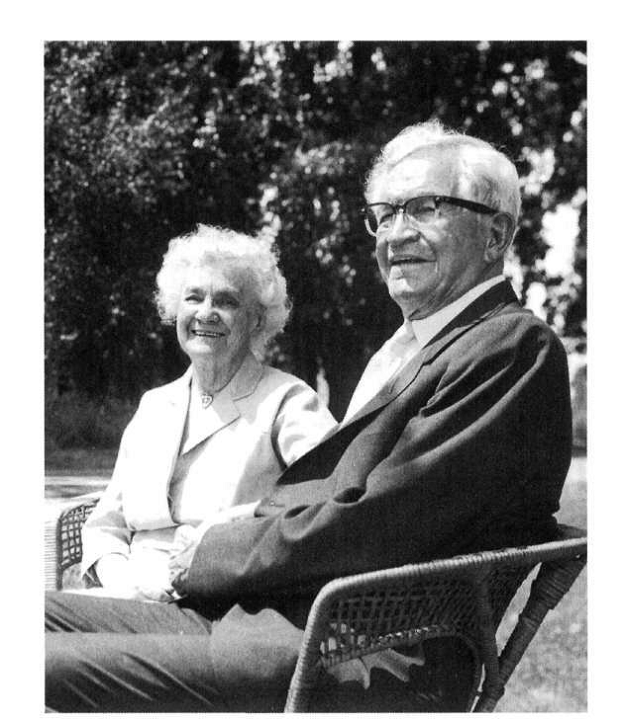 Another hallmark of President McKay's administration was his timely emphasis on the importance of the family. He often said, "No other success can compensate for failure in the home." This philosophy upheld and glorified the family unit in a world that was attempting to degrade and defile it. His own example of eternal love for his wife was an inspiration to all. To his children he wrote: "Never to this day have you heard your mother say a cross or disrespectful word. This can be said truthfully, I think, of but few women in the world. Under all conditions and circumstances, she has been the perfect lady." [5]
One of President McKay's most outstanding characteristics was his prophet-like appearance. An Oregon newspaper editor wrote, "President David O. McKay . . . really looks like a prophet. He looks like he might have stepped out of the Old Testament. . . . He is large in stature, vigorous and extremely well-preserved. His massive, well-groomed mane of white hair tops a handsome face that shines with strong character. Extremely expressive, it displays inspiration, firmness, understanding, humor, in rapid succession as he talks." [6]
Though the leader of nearly three million people, President McKay understood the meaning of this scripture: "The worth of souls is great in the sight of God" (D&C 18:10). Every person with whom he came in contact was recognized for his or her individual importance. Once a little girl in a blue dress asked President McKay for his autograph. He jokingly commented to her, "Do you think I can write plainly enough so you can read it?" Before he could write his name, he was interrupted, and when he looked down, the little girl had gone. His son reported, "I have never seen Father more upset." The Prophet asked him to find the little girl, stating, "I'm sure she has the impression that I didn't want to sign her book. She misinterpreted my remarks. You must find her." [7] The local leaders were then requested to locate the girl and mail the prophet her book. They did so and, true to his word, President McKay signed the book and sent it back.
He also had great respect for all life—he loved the outdoors and was tender toward animals. He once risked leaving open the window of a saddle shed where a theft had recently been committed because, he said, "There is a bird's nest inside, and that is the only entrance the parent birds have to carry food to their babies." [8]
The members of the Church whom President McKay visited often displayed their deep love for him. Once during his world tour he was bidden farewell with a beautiful song rendered by the natives of Sauniatu, Samoa, as they lined the pathway of the departing general authority and his traveling companion, Hugh J. Cannon. President McKay wrote: "I came last, shaking hands with everyone. . . . I felt a pretty tender feeling . . . which was well defined when their sobbing interrupted their singing. . . . Staunch old Papo, the head man of the village, sobbed like a child, and clung to us as though we were his sons . . . . We had gained, perhaps, a quarter of a mile ahead of them, when I felt impressed to say: 'I think we should return and leave our blessing with them here in this beautiful grove.'" [9] The apostle of the Lord did turn back and bless the people with a powerful and inspired prayer. The Saints of the islands had "prayed for the privilege of seeing with their own eyes an Apostle of the Lord. This plea had been granted. They had seen him, had pressed his hand, not a few had kissed it and bathed it in their tears, had listened to his inspired words and had received additional confirmation of their faith that the Almighty does have divinely chosen men to lead his people." [10]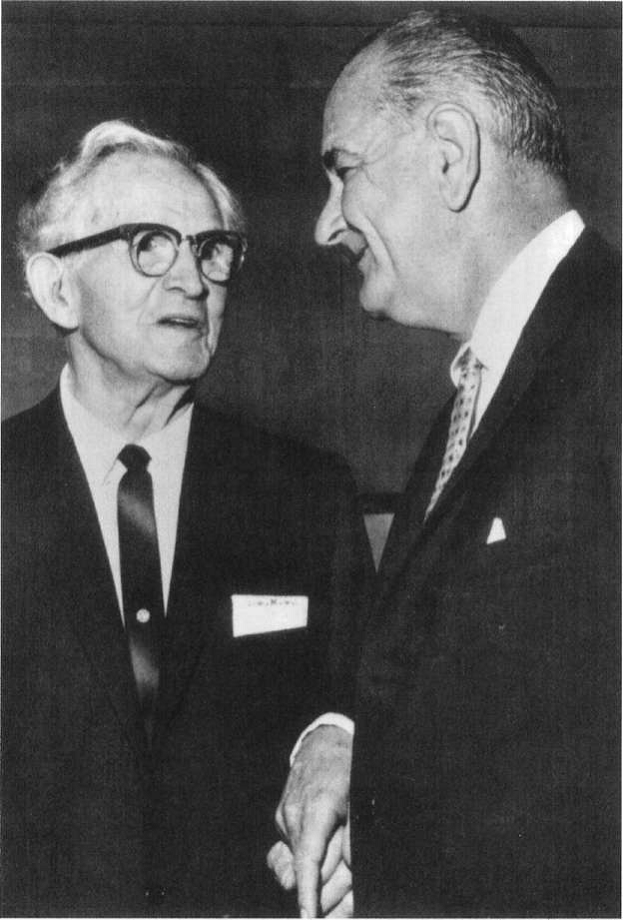 President David O. McKay with U.S. President Lyndon B. Johnson
These humble people of the islands were not the only ones to admire and love this great prophet. President McKay was recognized as a world leader by great and famous people of many nations. Presidents Truman, Eisenhower, Kennedy, Johnson, and Nixon called on David O. McKay. Famous authors such as James Joyce, Drew Pearson, and Norman Vincent Peale crossed his doorstep. Delegations with distinguished guests from India, Germany, Japan, England, the Soviet Union, and other countries were sent to greet him. President McKay extended the Church's influence to the nation's capital by endorsing apostle Ezra Taft Benson's appointment as Secretary of Agriculture. Because of this connection, President McKay was invited to attend Dwight D. Eisenhower's inauguration and also was asked to attend a national conference on U.S. foreign policy. President Johnson hosted President and Sister McKay for a day at the White House. [11]
President McKay had a different challenge than the physical hardships and criminal outrage that former presidents of the Church faced. His was the challenge of taking the gospel to a farflung world, of building a stronghold against wickedness in the nations of the earth. A true prophet in every sense of the word, President McKay left his indelible mark on the Church and on the world. "He was a Prophet of God who knew that he was on the Lord's errand and that nothing could stay the hand of the Lord in the onrush of his kingdom on earth." [12]
When David O. McKay died on 18 January 1970, he had lived only three and a half years less than a century. His life was rich with outpourings of the Spirit that brought him close to the Master. Once while touring the islands of the South Pacific, President McKay received a beautiful vision of the Savior and the life hereafter, which gave a foreshadowing of what was in store for him upon his departure from this life. Of this manifestation he wrote:
I then fell asleep, and beheld in vision . . . a beautiful white city. . . . I then saw a great concourse of people approaching the city. . . . Instantly my attention seemed centered upon their Leader, and though I could see only the profile of his features and his body, I recognized him at once as my Savior! The tint and radiance of his countenance were glorious to behold! There was a peace about him which seemed sublime—it was divine!

The city, I understood, was his. It was the City Eternal; and the people following him were to abide there in peace and eternal happiness.

But who were they?

As if the Savior read my thoughts, he answered by pointing to a semicircle that then appeared above them, and on which were written in gold the words: 'These Are They Who Have Overcome the World—Who Have Truly Been Born Again!'

When I awoke, it was breaking day over Apia harbor. [13]
Notes
[1] Jeanette McKay Morrell, Highlights in the Life of President David O. McKay (Salt Lake City: Deseret Book, 1976), 26.
[2] Clare Middlemiss, comp., Cherished Experiences from the Writings of President David O. McKay (Salt Lake City: Deseret Book, 1976), 14.
[3] Bryant S. Hinckley, "David O. McKay," Improvement Era, May 1932, 391.
[4] Llewelyn R. McKay, Home Memories of President David O. McKay (Salt Lake City: Deseret Book, 1956), 31.
[5] Jay M. Todd, Albert L. Zobell Jr., "David O. McKay, 1873–1970," Improvement Era, February 1970, 5–6.
[6] Henry A. Smith, "Portrait of a Prophet at 90," Deseret News Supplement, 7 September 1963, 2.
[7] "David O. McKay: The Worth of a Soul," New Era, January 1972, 59.
[8] "David O. McKay: The Worth of a Soul," 59.
[9] David O. McKay, World Tour Scrapbook, comp. Clare Middlemiss, 31 May 1921, LDS Church Archives, 152.
[10] Todd and Zobell, "David O. McKay," 15.
[11] Francis M. Gibbons, David O. McKay: Apostle to the World, Prophet of God (Salt Lake City: Deseret Book, 1986), 316–17, 375–78.
[12] Todd and Zobell, "David O. McKay," 19.
[13] Middlemiss, Cherished Experiences, 102.