Daniel Hanmer Wells
Lawrence R. Flake, Prophets and Apostles of the Last Dispensation (Provo, UT: Religious Studies Center, Brigham Young University, 2001), 255–57.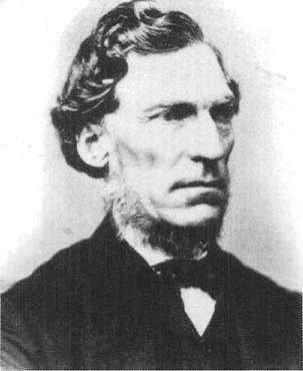 Born: 27 October 1814, Trenton, New Jersey
Second counselor to President Brigham Young: 4 January 1857 (age 42)
Ordained an apostle (not in the Quorum): 4 January 1857
Counselor to the Twelve Apostles: 6 October 1877
Died: 24 March 1891 (age 76), Salt Lake City, Utah
Among the city councilmen of Nauvoo was a sympathetic non-Mormon, Daniel H. Wells, who, as a landowner in Commerce, Illinois, had divided eighty acres of his property into lots that he sold to the homeless refugees from Missouri at low prices and with easy terms. "Squire Wells," as he was called, was active in public affairs in Nauvoo for years before joining the Church. When his friends Joseph and Hyrum Smith were martyred, this good man's sense of justice was outraged. Two years later, in 1846, Squire Wells's anger was kindled again when lawless mobs, in direct violation of a pact, fired upon the Saints who remained in Nauvoo. At this time he decided to ally himself with what he felt to be right, and he was baptized on 9 August 1846. His wife opposed this decision so firmly that she refused to leave Nauvoo with him, and there he bade her and his only child farewell.
Daniel was a descendent of two prominent early American families. His father's family included Connecticut's fourth governor, Thomas Wells, and his mother's family included David Chapin, a soldier of the Revolution who served under George Washington. His father died when Daniel was only twelve, and his mother moved west with her children from New York. [1]
When the Saints were driven from Nauvoo, Squire Wells made a strenuous buggy ride to get wagons for the last six hundred of them who had left the city under fire and were stranded on the Iowa side of the Mississippi. The cannons of the enemy fired at him as he fled. Brother Wells continued to play a prominent part in public life after reaching the Salt Lake Valley in 1848, where he served as lieutenant general of the militia, mayor of Salt Lake City for ten years, and a territorial legislator for many terms. In 1857 President Brigham Young chose Elder Wells as his second counselor and ordained him an apostle.
Elder Wells served faithfully in the First Presidency for twenty years until the death of Brigham Young. Then for the next fourteen years, until his own death, he was sustained as counselor to the Twelve Apostles. During his service as a general authority, Elder Wells suffered a great deal of persecution, all of which he met with an uncanny coolness and dignity. While mayor of Salt Lake City, he encountered an unruly mob, including some armed United States marshals, who attempted to interfere with the election of 1874. They attacked Elder Wells, tore his coat, and shouted, "Shoot him! Shoot him!" During these insults he calmly stood on the balcony of City Hall and read the official order to disperse.
While serving as president of the British Mission, President Wells was once almost trampled to death by an anti-Mormon mob and was saved only by the intervention of a strong young missionary who pulled him to safety. Three times he was imprisoned by enemies of the Church—once on a trumped-up murder charge for the death of a man who had been killed in Echo Canyon when Brother Wells was in charge of a military encampment there; once on his own volition when he accompanied Brigham Young to prison (the prophet was unjustly held in contempt of court); and the third time on a charge of contempt of court for refusing to disclose the details of the temple ceremony in connection with a polygamy trial. When Daniel H. Wells emerged from the prison after his two-day sentence for the latter charge, a crowd of ten thousand greeted him with flags and cheers, showing their respect for the much-loved leader. President Gordon B. Hinckley's father observed, "No mistreatment or disappointment could harden his heart, and he knew something of both. His hospitality was boundless—it impoverished him. His welcome was warm and sincere, and was often imposed upon." [2]
Elder Wells's character is well demonstrated by a response he gave in court when asked to break the secrecy oath of his temple covenants. He declined to answer the question because of his sacred obligations and stated: "It has been and is a principle of my life never to betray a friend, my religion, my country or my God." [3] No greater tribute could be paid him than to say that he lived up to this affirmation of loyalty.
Notes
[1] Matthias F. Cowley, Prophets and Patriarchs of the Church of Jesus Christ of Latter-day Saints (Chattanooga, TN: Ben E. Rich, 1902), 147–51; "Daniel Wells Came West, Sacrificed All for the Church," Church News, 14 April 1962, 20.
[2] Bryant S. Hinckley, Daniel Hanmer Wells and Events of His Time (Salt Lake City: Deseret News Press, 1942), 438.
[3] Bryant S. Hinckley, Faith of Our Pioneer Fathers (Salt Lake City: Deseret News Press, 1956), 149.