Lawrence R. Flake, Prophets and Apostles of the Last Dispensation (Provo, UT: Religious Studies Center, Brigham Young University, 2001), 535–38.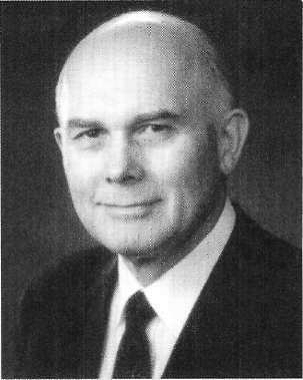 Born: 12 August 1932, Provo, Utah
Quorum of the Twelve Apostles: 3 May 1984 (age 51)
On a warm summer night in 1970, Dallin Oaks, a law professor and member of a Chicago-area stake presidency, had a frightening encounter with an armed robber on the city's south side as he returned to where his wife was waiting in their parked car. "Give me your money," the mugger demanded. "I don't have any," Brother Oaks replied, showing him his empty wallet. "Give me your car keys," he ordered. The keys were locked in the car with Sister Oaks. "Tell her to open the car," the robber insisted. Brother Oaks said no. The robber threatened, "Do it, or I'll kill you." "I won't do it," Brother Oaks said firmly. While the robber repeated his demands and threats, Brother Oaks saw an opportunity to wrestle the gun away from the young man. "Just as I was about to make my move, I had a unique experience. I did not see anything or hear anything, but I knew something. I knew what would happen if I grabbed that gun. We would struggle, and I would turn the gun into that young man's chest. It would fire, and he would die. I also understood that I must not have the blood of that young man on my conscience for the rest of my life." [1] The threat was made again, but Brother Oaks's courage and steadfast refusal to comply unnerved the young man and he fled. Within a year of the experience, Dallin Oaks was chosen as president of BYU, and fourteen years later he became an apostle of the Lord, who had inspired and protected him that summer night.
Born in Provo, Utah, 12 August 1932, Dallin Oaks was seven years old when his father, Lloyd E. Oaks, a medical doctor, died of tuberculosis at the age of only thirty-six. He was buried on the eleventh anniversary of his marriage to Elder Oaks's mother, Stella Harris Oaks. She remained single for the rest of her life and raised their three children. Elder Oaks, the oldest, obtained his first paying job at the age of twelve in a radio repair shop. Although he was hired to sweep the floor, his natural appetite for learning led him to a serious interest in radio. By age fifteen, he met the requirements to obtain a Federal Communications Commission operator's license. He began work as a transmitter engineer and soon also became an announcer for radio stations in Vernal and Provo, Utah. Although his schooling and career as a lawyer took him away from this earliest employment, many years later he revisited the field by serving as the chairman of the board of the Public Broadcasting Service (PBS).
While a freshman at BYU, Elder Oaks met June Dixon of Spanish Fork, Utah, and they were married in the Salt Lake Temple a year later. Over the next twenty-three years they became the parents of six children. The Korean War was on at the time of their wedding, and Elder Oaks was in the Utah National Guard. His unit was on alert for active duty. Although the unit was never called up, he went through his entire undergraduate career with that possibility hanging over him. In 1954 he graduated with high honors and went on to the University of Chicago Law School, where he graduated with honors in 1957.
Because of his record at the University of Chicago, Elder Oaks was able to obtain a coveted position as law clerk to Earl Warren, chief justice of the United States Supreme Court. Returning to Chicago, he practiced corporate law for three years and then became a professor at the prestigious law school from which he had received his degree. Over the next ten years he distinguished himself as a teacher and scholar and also served as associate and acting dean and as executive director of the American Bar Foundation. In 1971, Elder Oaks was appointed president of Brigham Young University. At the conclusion of nine years of notable service in that capacity, he returned to the field of law, this time as a justice of the Utah Supreme Court. His name was often mentioned as a potential nominee to the U.S. Supreme Court, but before that possibility could materialize, he received a far more significant call to become a member of the Quorum of the Twelve Apostles.
Elder Oaks's wife of forty-six years, June D. Oaks, died in July 1998. In August 2000, he married Kristen M. McMain in the Salt Lake Temple.
At the April 1984 general conference when Elder Oaks was sustained to the Quorum of the Twelve, Russell M. Nelson, who had become world renowned in the field of medicine, also became a member of the Twelve. President Gordon B. Hinckley, in his conference address, spoke of the calling of these two prominent men:
I want to give you my testimony that they were chosen and called by the spirit of prophecy and revelation. There was much of prayer concerning this matter. There was discussion with President Kimball, the prophet of the Lord in our day, and a clear statement from him, for his is the prerogative in these matters. . . . These who have been called are men of experience in the world and in the Church. They are men of learning and achievement in their respective professions, who have received the accolades of praise from their peers and from many who have admired them from near and far. But this is not why they were chosen. . . . Some will ask, why has the Church taken such competent men out of public service in their professions when they are doing so much good where they now are? I do not know. The Church has not done it. Rather, the Lord has made clear that these are they who should serve as his witnesses. [2]
Notes
[1] Conference Report, October 1992, 55.
[2] Gordon B. Hinckley, "Special Witnesses for Christ," Ensign, May 1984, 49;see also Don L. Searle, "Elder Dallin H. Oaks: 'It Begins by Following the Other Apostles,'" Ensign, June 1984, 14–19.