Brigham Young Jr.
Lawrence R. Flake, Prophets and Apostles of the Last Dispensation (Provo, UT: Religious Studies Center, Brigham Young University, 2001), 289–91.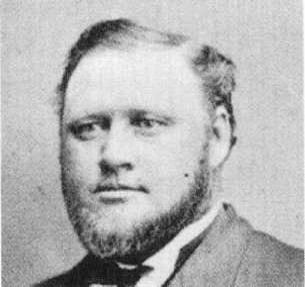 Born: 18 December 1836, Kirtland, Ohio
Ordained an apostle (not in the Quorum of the Twelve): 4 February 1864 (age 27)
Quorum of the Twelve Apostles: 9 October 1868
Additional counselor to President Brigham Young: 8 April 1873
Assistant counselor to President Brigham Young: 9 May 1874
Quorum of the Twelve Apostles: 29 August 1877
President of the Quorum of the Twelve: 17 October 1901
Died: 11 April 1903 (age 66), Salt Lake City, Utah
Brigham Young Jr. was named after one of the most valiant men in modern Israel. His mother was a courageous woman of great faith. His parents met at a fast and testimony meeting in Kirtland in 1833, where Brigham Young, a widower and father of two small children, spoke with the gift of tongues. When one of the brethren gave the interpretation, the message was that Brother Young and Miss Mary Ann Angell should be married. The Spirit bore witness to Mary Ann, and soon thereafter she became Brigham's wife and the mother of his two children. Within three years three more children were born, including twins, a son and daughter, who were given the names of Brigham and Mary. During the trying exodus of the Saints from Missouri, Brigham Jr.'s two-year-old twin sister, Mary, was run over by the wheels of a loaded wagon. Her mother molded the child's crushed skull back into shape and with great faith begged God to spare her life. Mary recovered completely.
Brigham Young Jr., as a boy in Nauvoo, Winter Quarters, and Salt Lake City, gained a lifelong reputation of having "an indomitable spirit, a merriment which was as infectious as June sunshine." [1] The rigors of crossing the plains were lessened for many by the happy spirit radiating from this twelve-year-old boy who drove two yoke of oxen for his father. At the age of nineteen Brigham married Catherine Spencer, daughter of Orson Spencer, and two years later Jane Carrington, daughter of Albert Carrington. Susa Young Gates recorded that Brigham had "a love of sport and adventure and a courage which nothing could daunt." [2] He participated in Indian battles, the Echo Canyon War, and the gallant rescue of the snowbound Willie and Martin handcart companies. He helped in colonizing Cache Valley, Southern Utah, New Mexico, Arizona, and Mexico. His missionary service included four assignments in Great Britain, two of them as mission president. Traveling extensively, he visited many countries, including Russia.
During one of his Atlantic crossings, a terrible storm badly damaged the ship and washed a man overboard. A burly Irish seaman was convinced that the Mormon leader was, like Jonah, responsible for the gale, and would have tried to throw Elder Young into the sea had the captain not intervened. In 1864 Elder Young began nearly forty years of service as an apostle of the Lord. Four and a half of these years he labored as a counselor to the noble father whose name he bore with honor. [3]
Notes
[1] Andrew Jenson, Latter-day Saint Biographical Encyclopedia (Salt Lake City: Andrew Jenson History, 1901), 1:122.
[2] Jenson, Latter-day Biographical Encyclopedia, 122–23.
[3] See also Matthias F. Cowley, Prophets and Patriarchs of the Church of Jesus Christ of Latter-day Saints (Chattanooga, TN: Ben E. Rich, 1902), 238–43.