Lawrence R. Flake, Prophets and Apostles of the Last Dispensation (Provo, UT: Religious Studies Center, Brigham Young University, 2001), 505–8.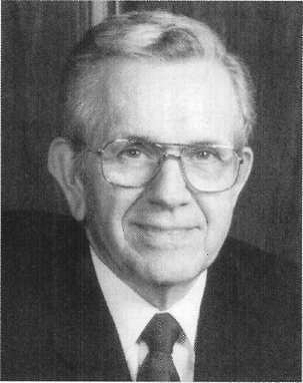 Born: 10 September 1924, Brigham City, Utah
Assistant to the Quorum of the Twelve: 30 September 1961
Quorum of the Twelve Apostles: 5 April 1970 (age 45)
Acting President of the Twelve: 5 June 1994
In the countryside of South Salt Lake a family of ten children grew up on a few acres. All the elements of farm life were present on a small scale—animals, fruit trees, and a vegetable garden. The parents were Elder Boyd K. Packer, apostle in The Church of Jesus Christ of Latter-day Saints, and his wife, Donna. His most important goal in life was to be a good father. Teaching his children to work hard—feeding the animals, picking and canning fruit, and raising crops—was his idea of the kind of background they needed in order to develop strong character. Elder Packer also believed that living in a large family helped children learn the lessons of life, having had the experience himself.
Born 10 September 1924, he was the tenth of the eleven children of Ira W. and Emma Jensen Packer and the first one to be born in a hospital. He was reared in Brigham City, Utah, under very modest financial circumstances but with a rich spiritual heritage. "Sometimes in my growing years I thought we were poor. . . . I later learned that that was not true. We just didn't have any money. We were always rich in the things most significant in our lives." [1]
During World War II Elder Packer became a bomber pilot in the Pacific theater. Although the war deprived him of the opportunity of serving a mission, it did not keep him from doing missionary work. While stationed in Japan after the war, he worked diligently to help teach the gospel to the Japanese people. He participated in the baptism of Brother Tatsui Sato and his wife, Chio, the first Japanese converts. Years later as a general authority, Elder Packer finally realized his desire to serve a full-time mission when he, with his family, moved to Cambridge, Massachusetts, where he presided over the New England States Mission.
Upon his return from military service, Elder Packer attended Weber College and there met Donna Smith, whom he married in 1947. He received his bachelor's and master's degrees from Utah State University. In 1962 he earned a doctorate of education from Brigham Young University.
An educator by profession, he entered the seminary and institute program. He pioneered the Book of Mormon class as part of the seminary curriculum. He started the seminary program that served the Intermountain Indian School at Brigham City. His work with the Indian School later brought him to the attention of the Indian Committee of the Church, where he would eventually serve after his call as a general authority. Elder Packer was appointed assistant administrator of seminaries and institutes and later served on the board of education and the board of trustees of Brigham Young University.
In September 1961, Elder Packer was called as an Assistant to the Twelve Apostles and, nine years later, as a member of the Quorum of the Twelve Apostles. Among his many contributions to the kingdom while in the Twelve was his service on the committee that produced the monumental publication of the LDS editions of the scriptures. At the death of President Howard W. Hunter in June 1994, Elder Packer became acting president of the Quorum of the Twelve Apostles. In this new responsibility, "he determined to read the standard works carefully and draw from them every reference to the Twelve, to revelation, and to several other subjects. He set up his 'summer office' under the shade trees at the pond [on his little farm] and spent his days in quiet study." [2]
President Packer is blessed with many gifts. He is the consummate teacher. President James E. Faust observed: "Elder Packer is very much a teacher. . . . While all of the Twelve are teachers, he's the teacher in the Twelve." [3] His several publications include a widely read book The Holy Temple and an insightful work entitled Teach Ye Diligently. In the latter work he not only demonstrates his gift for teaching but also displays his notable talent for drawing, painting, and carving.
He has become a successful Church leader by following his own advice to others. He said, "It seems to me that there is a great power in the Church—in all of us—that is untapped because we are always setting about to do things in our way, when the Lord's way would accomplish much greater returns." [4]
One year after his ordination as an apostle, Elder Packer gave this witness to the Church:
It was on that April morning that I heard my name read as one presented for your sustaining vote as a member of the Quorum of the Twelve Apostles. It became my obligation to stand with those other living men who have been called as special witnesses of the Lord Jesus Christ upon the earth. . . .
Occasionally during the past year I have been asked a question. Usually it comes as a curious, almost an idle, question about the qualifications to stand as a witness for Christ. The question they ask is, "Have you seen Him?"
That is a question that I have never asked of another. I have not asked that question of my brethren in the Quorum, thinking that it would be so sacred and so personal that one would have to have some special inspiration, indeed, some authorization, even to ask it. . . .
. . . I have not asked that question of others, but I have heard them answer it—but not when they were asked. They have answered it under the prompting of the Spirit, on sacred occasions, when "the Spirit beareth record." (D&C 1:39) . . .
I declare to you that I know that Jesus is the Christ. I know that He lives. He was born in the meridian of time. He taught His gospel, was tried, was crucified. He rose on the third day. He was the first fruits of the resurrection. He has a body of flesh and bone. Of this I bear testimony. Of Him I am a witness." [5]
Notes
[1] Don L. Searle, "Elder Boyd K. Packer: Disciple of the Master Teacher," Ensign, June 1986, 9.
[2] Lucile C. Tate, Boyd K. Packer: A Watchman on the Tower (Salt Lake City: Bookcraft, 1995), 291.
[3] Searle, "Elder Boyd K. Packer," 13.
[4] Jay M. Todd, "Boyd K. Packer of the Council of the Twelve," Improvement Era, May 1970, 5.
[5] See Conference Report, 6 April 1971, 123–25.