Alonzo Arza Hinckley
Lawrence R. Flake, Prophets and Apostles of the Last Dispensation (Provo, UT: Religious Studies Center, Brigham Young University, 2001), 465–67.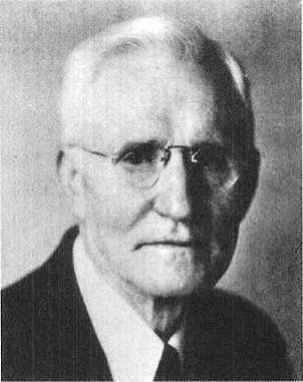 Born: 23 April 1870, Cove Fort, Utah
Quorum of the Twelve Apostles: 11 October 1934 (age 64)
Died: 22 December 1936 (age 66), Salt Lake City, Utah
On 3 October 1934, Alonzo A. Hinckley was called to be a member of the Quorum of the Twelve Apostles. At this time he took from his private papers his patriarchal blessing, which he shared with his family: "Your spirit is a noble spirit of the House of Abraham, and Prince of the Tribe of Ephraim. If you continue faithful in this calling, wherein you are called to labor, you will . . . be numbered with the Twelve Apostles of The Church of Jesus Christ of Latter-day Saints." [1] This prophetic blessing, given thirty-one years earlier, was pronounced on Elder Hinckley shortly after his call as president of the Millard Stake, a position he held for twenty-seven years. He had never told anyone of this promise—only the patriarch and the scribe knew of Brother Hinckley's great destiny.
In 1867 Brigham Young called Ira Hinckley, Alonzo's pioneer father, to Cove Creek to supervise the building of a fort. There Alonzo was born and lived until the age of seven, when the family moved to Fillmore, Utah. The boy was educated in the Fillmore schools and attended Brigham Young Academy and the Millard Stake Academy.
After marrying Rose May Robinson in 1892, he left her behind for three years to serve a mission to the Netherlands. The second child of their fourteen was born while he was on this mission. His missionary labors were replete with manifestations of the Lord's great love and blessings to him. He received the gift of tongues after struggling hopelessly with the Dutch language for many weeks. He performed miracles: he healed a lame boy and promised a very sick woman that if she would be baptized and have faith, she would be healed. Accordingly, in the dead of winter a hole was cut in the ice and the ordinance was performed. She regained her health, traveled to Utah, and became the mother of eleven children.
In the area of public service, Brother Hinckley made outstanding contributions. He represented Millard County as a Utah state legislator and served as the state commissioner of agriculture, performing such valuable services as reclaiming large tracts of arid land in Millard County and thereby stabilizing the economic situation of the people there. One who knew his labors in this trying time recorded: "Clear thinking, applied to the solution of practical problems, and his finaljudgment was logically and forcefully expressed with a dignity that made him pre-eminently the outstanding figure at meetings of boards of directors, stockholders, as well as public gatherings." [2]
Not long after being released from the stake presidency, Brother Hinckley was asked to preside over the California Mission, and while serving in that position, he received his call to the Quorum of the Twelve. He lived just over two years longer and was in failing health much of that time. Knowing that his life would soon end, he wrote: "I assure you I am not deeply disturbed over the final results. I am reconciled and I reach my hands to take what my Father has for me, be it life or death." [3] His death, like his life, was surrounded with the closeness of the spirit world. Three times he talked face-to-face with his deceased father, Ira, who told him that he was needed on the other side. He died 22 December 1936 at the age of sixty-six, shortly after writing the above words.
Thousands grieved at this great soul's departure from the earth. The eulogies given at his funeral contained the loftiest of language and highest of compliments. The First Presidency paid him this tribute: "As a husband and father he was ideal; as a community builder, outstanding; as a man, noble and gracious, pure in soul; as a leader, able and exemplary; as a friend, loyal and true; as an Apostle of the Lord, unwavering in his testimony of the Living Christ. Truly a prince and a great man has fallen this day." [4]
Notes
[1] Bryant S. Hinckley, The Faith of Our Pioneer Fathers (Salt Lake City: Deseret Book, 1956), 234–35.
[2] Bryant S. Hinckley," Alonzo Arza Hinckley," Improvement Era, June 1935, 350.
[3] Deseret News, 27 March 1949, 24.
[4] James H. Wallis, "Alonzo A. Hinckley," Improvement Era, February 1937, 76.