Thoughts on a New Year
John S. Tanner, Notes from an Ameteur: A Disciple's Life in the Academy (Provo, UT: Religious Studies Center; Salt Lake City: Deseret Book, 2011), 91–3.
The soil of the soul needs fallow as well as fertile seasons. We all need Sabbaths. Our minds as well as our muscles are toned and strengthened as they are contracted and relaxed.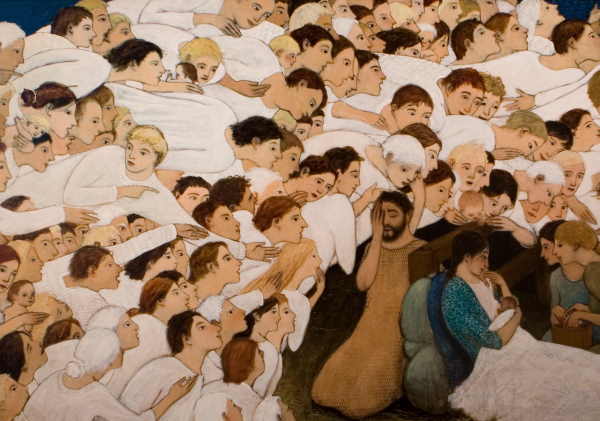 Nativity. Brian Kershisnik. Gratefully, God sends a cheerful day in which to be merry every year. Christmas reminds us that we embrace a gospel of good cheer. From the angels' exultant chorus to the simple greeting "Merry Christmas" by a friend, Christmas conjoins the holy and the jolly. It reminds us that jollity, merriment, mirth, and cheer have an honored place in heaven and on earth. © 2011 by Brian Kershisnik. All rights reserved.
We recently crossed the threshold to a new year. I am not a fan of the carnivalesque traditions of New Year's Eve. Nor am I able to gin up much midnight merriment over the mere turning of the clock. But I do like the occasion provided by a new year to look backward and forward and to resolve to change. January is well named after the Roman god Janus, deity of doorways, who had two faces: one looking forward, the other backward. On New Year's morning, my wife and I have a tradition of looking back on the challenges and blessings of the past year and forward to the prospects and possibilities of the coming year.
As I look back on the past academic year at BYU, I am grateful for the way faculty and students have embraced learning outcomes. This has required huge effort, undertaken out of necessity but with the desire to make a virtue of necessity. The institutional change begun last year will bless those who teach and learn at BYU for many years to come as we resolve to continue to improve. There are preliminary indications that this effort may already have begun to improve students' satisfaction with their BYU education. We saw for the first time a discernible bump across campus in course and instructor ratings, which we surmise is attributable to this institutional effort to focus on student learning outcomes. The task for the coming year is to make this effort sustainable and cost-effective.
I was also touched by the gift we received from the First Presidency: a handsome set of scriptures, elegantly bound in red Moroccan leather. Many of you have expressed gratitude for this gift and asked how you could convey your appreciation. I suspect that the First Presidency would feel sufficiently thanked if we not only admired the scripture set but actually read them. This gift suggests a possible New Year's resolution for us as faculty: to read the Book of Mor­mon daily.
What would happen if every faculty member read the Book of Mormon this year, every day without fail? President Marion G. Romney frequently gave this challenge to the Church and on occasion to BYU faculty. [1]
His challenge changed the life of one of my former teachers. At a preschool meeting, she heard President Romney promise the faculty enlarged capacity to inspire and lift their students if they would read the Book of Mormon a half hour a day. Desiring this blessing, my professor accepted the challenge. She made a new school-year resolution. At the end of her life, she wrote that for over forty years she had never missed a day. I was a beneficiary of her resolution and am a witness to the fulfillment of President Romney's promise.
I was touched to learn that some years ago President Cecil O. Samuelson made a similar commitment to President Ezra Taft Benson to read the Book of Mormon every year. He too has never failed to keep this resolution.
A new year reminds us that such transformative change is possible, for institutions and individuals. We can start afresh and enjoy what the Young Women organization calls "New Beginnings." The passage of time without the possibility of change would be hellish. Ancient Greeks imagined damnation in precisely this way. Hades was populated with tragic figures trapped in cyclical time, repeating the same acts over and over: Sisyphus rolling the same rock up the hill, Tantalus bending forever to drink. During some new years, I confess to feeling like Sisyphus. I find myself needing to lose the same ten pounds I tried to lose last year or mend the same bad habit. But the gospel gives me hope that time can truly begin again, that permanent change is possible for me and for all of us through Christ. When resolution deepens into repentance, then through the Redeemer we can experience new beginnings. Then can the past become truly past, and we can become new men and women in Christ.
The Christian calendar pays quiet homage to this pro­found truth. As Christ bisected history so that time had to be numbered anew, our individual lives can begin afresh in him through the power of the Atonement. Saul can become Paul. Alma can be reborn. And any day can become New Year's Day for you and me.
Notes
[1] Nan Osmond Grass, The Radiance of the Morning (self-published), v.