Richard Neitzel Holzapfel and David M. Whitchurch, "Letters," in My Dear Sister: Letters Between Joseph F. Smith and His Sister Martha Ann Smith Harris, ed. Richard Neitzel Holzapfel and David M. Whitchurch (Religious Studies Center, Brigham Young University; Salt Lake City: Deseret Book, 2019), 339–384.
Joseph F. to Martha Ann and William
Apr. 17th 1890.[1]
Mr. & Mrs. Wm J. Harris
Provo, Utah Co.[2]
Dear Brother and Sister:—
Your card of invitation to the wedding Reception of Hyrum S. and Miss Delia Tweedie,[3] held on the 11th inst. reached me on the 12th—the day following the Reception; Thus being a day too late and not having heard of the event before, will be sufficient excuse for my not having been present, if no other were to be given.
I sincerely wish Hyrum and his Bride a prosperous, peaceful, long and happy voyage thro' life.
As a small token of good will please find enclosed $500 toward the expenses of the Reception, from your brother Jos. F.
Martha Ann to Joseph F.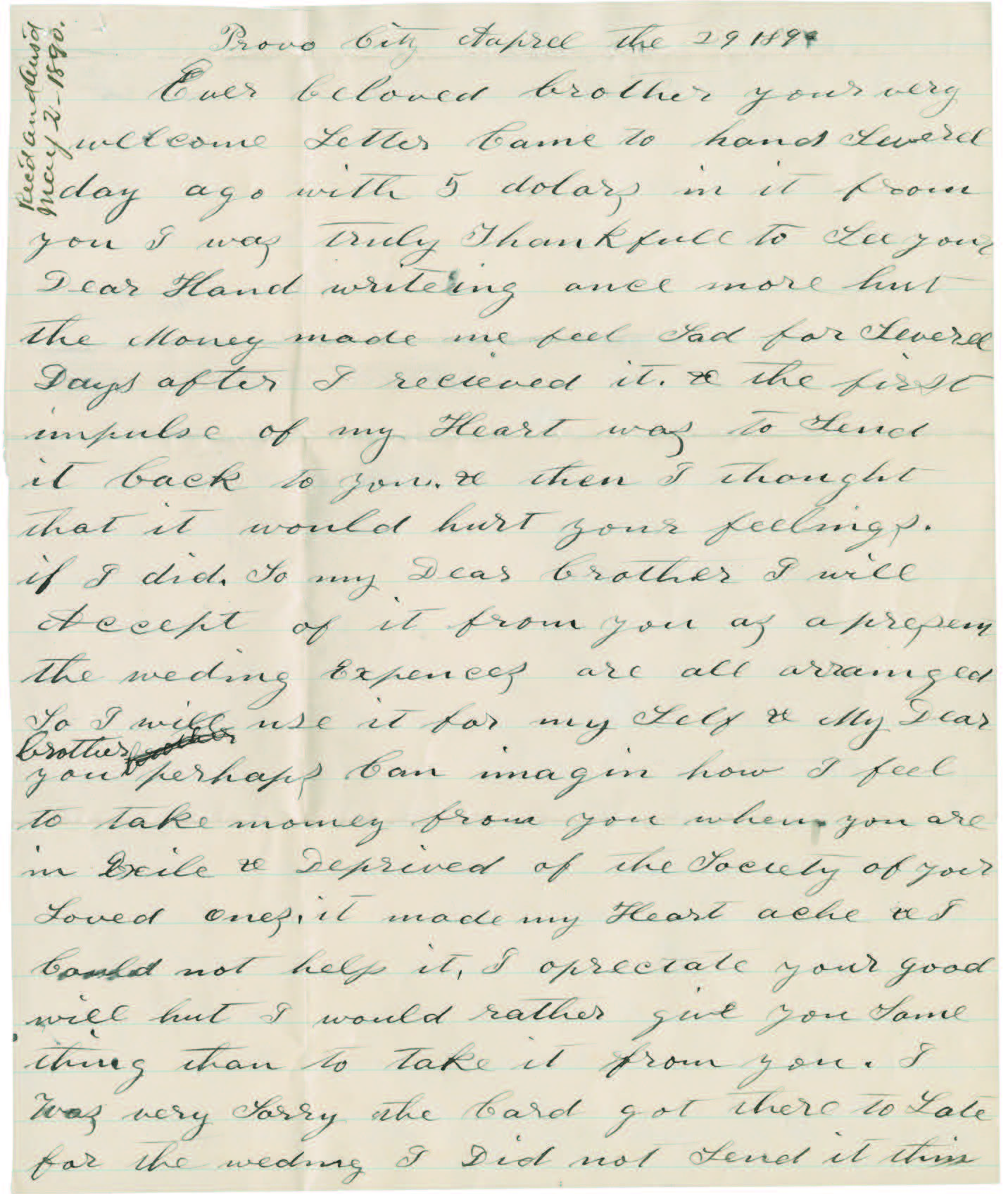 Martha Ann to Joseph F., 29 April 1890 (p. 1)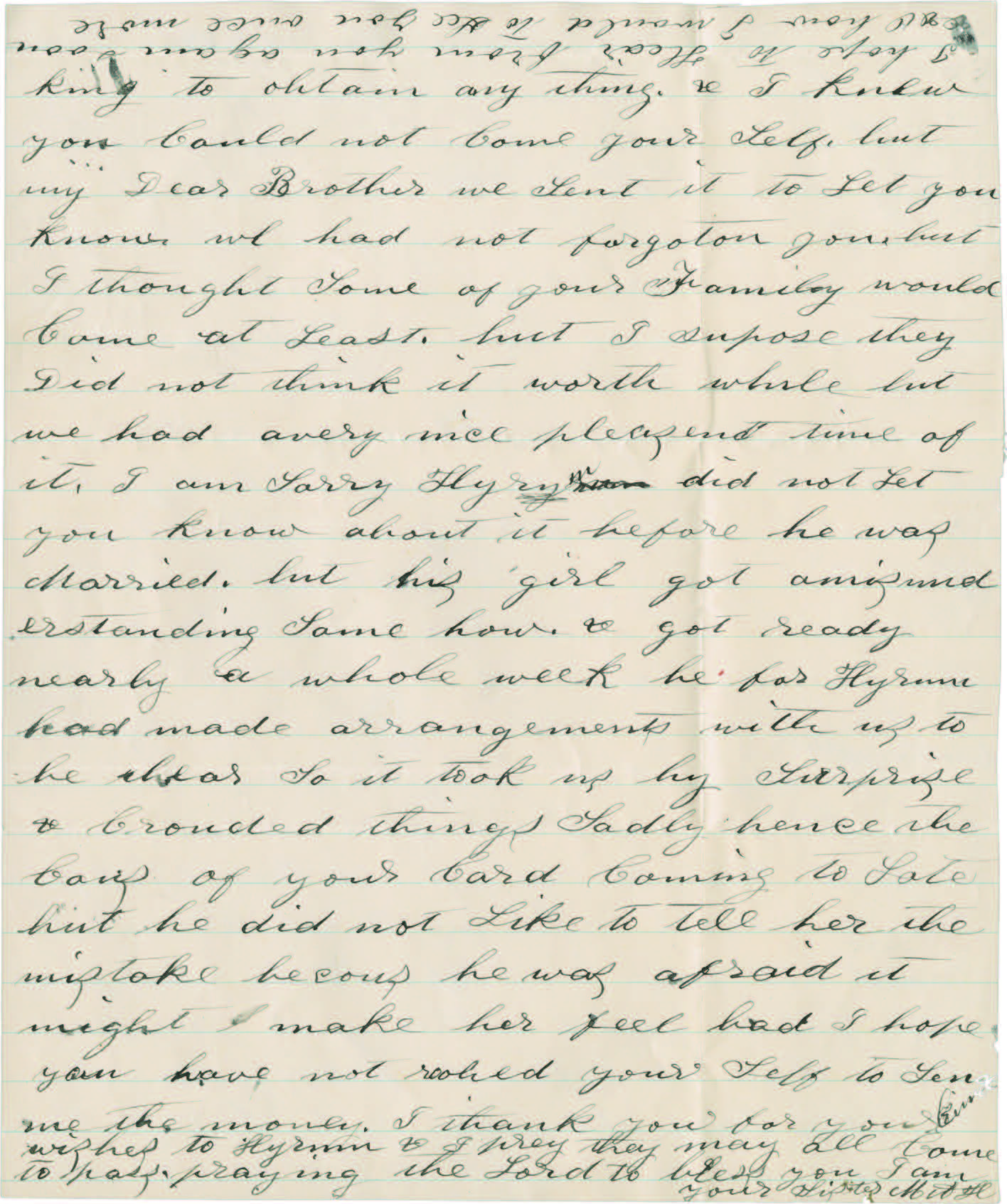 Martha Ann to Joseph F., 29 April 1890 (p. 2)
Rec'd and Ans'd
May 2—1890[4]
Provo City Aaprel the 29 1890[5]
Ever beloved brother your very welcome letter came to hand severel day ago with 5 dolars in it from you I was truly thankfull to see your dear hand writeing once more but the money made me feel sad for severel days after I recieved it. & the first impulse of my heart was to send it back to you. & then I thought that it would hurt your feelings. if I did. So my dear brother I will accept of it from you as a present the weding expences are all arrainged so I will use it for my self & my dear <brother> you <brother> perhaps can imagin how I feel to take money from you when you are in exile & deprived of the society of your loved ones. it made my heart ache & I could not help it. I opreciate your good will but I would rather give you some thing than to take it from you. I was very sorry the card got there to late for the weding I did not send it thin[p. 2]king to obtain any thing. & I knew you could not come your self. but my dear brother we sent it to let you know we had not forgoton you. but I thought some of your family would come at least. but I supose they did not think it worth while but we had a very nice pleasent time of it. I am sorry Hyrum[6] [illegible strike-through] did not let you know about it before he was married. but his girl[7] got a misunderstanding some how. & got ready nearly a whole week be for Hyrum had made arrangements with us to be thear so it took us by surprise & crouded things sadly hence the caus of your card coming to late but he did not like to tell her the mistake becous he was afraid it might make her feel bad I hope you have not roobed your self to send me the money. I thank you for your <kind> wishes to Hyrum & I prey they may all come to pass. praying the Lord to bless you I am your sister M A H
I hope to hear from you again soon & & O how I would to see you once more[8]
Joseph F. to Martha Ann
Salt Lake City, U.T. May 2d 1890[9]
Mrs. Martha A. Harris,
Provo.
My Dear Sister Martha:— Your letter of the 29th ult. is received. I am glad to hear from you.
The little matter of $500 in honor of the wedding supper of Hyrum[10] is nothing here nor there, unless you feel like ridiculing me because it was not more.[11] This is a day of small things with me and I cannot reach the high and mighty ideas some people entertain. But I and mine are much blessed and lack for no absolutely needful thing. I am glad to hear a good report about Hyrums wife,[12] they say she is a neat, tidy housekeeper, and a good housewife, I certainly wish them every prosperity. I wrote [p. 2] to Hyrum a short time before his marriage but have not heard whether he received it or not.[13]
I was thankful when Frank was called to home missionary[14] duties, and I hope he will strive to honor the calling.[15] It will be much better for him to get his hand in here among the saints than to go out into the world, raw and unprepared. I would like it if Hyrum could also engage in home missionary work. Or Willie or John.[16] The family are all as well as usual. They all work hard and have but very little leisure to visit, or go any where. I have no doubt several of them would have enjoyed a visit to Provo, could they have spared the time to go. Sarah[17] has had three children down with Scarlet fever but they have got over it nicely—she has had a hard time of it, nevertheless.
They are all pretty well now. I am in very good health— Hoping You and William are well, and all the children, & childrens children, I am Your brother Joseph
Martha Ann to Joseph F.
Rec'd May 20/90
Ans'd 5/22/90.[18]
Provo City May the
18th 1890
Mr Joseph F Smith beloved brother your very welcome favor[19] came to hand some time sence, but this is the first time I have had a chance to answer. I have been very busy waiting on the sick & making temple cloths for one & another. I was pleased to hear from you that your health was good & that the children had recouverd from the dreaded diseas scarlet feeever I sincerly hope that there will no more take <it>. we are all tolerable well Williams[20] is feeble but he keeps round & [p. 2] does all he can you spoke about me rideciling[21] you, my dear brother I, think my dear brother you know me better than to think such a thing of me I do not wish to ridicule you nor any one else I have always ben thankfull for small favors & did not expect large ones & as far as high idars[22] are consirned I never did entertain very high idars my self. I have allways been very humble in my idars I have never expected mutch & I do not wish to do any thing rong you spoke about the boys going on home misions but I [p. 3] am afraid that the work that they are ingaged in that it will bee awkward for them to do mutch at it I wish thir work was different. I should like very mutch to have them ingaged in the good work. I feel greeved to the heart that my boys are so backward in theese things. I am thinking very strongly of trying to go to the Temple[23] before long to bee baptised for my health[24] & doing the work for some of my kindred Aunt Louisa Lovina mack they were[25] [p. 4] good folks and cousin Joulya[26] who died not long ago in the City[27] now will you tell me who else you think of O yes Aunt Ann Mathues[28] & I want to do all I can. pleas write & tell me what you think about my going if you think of any one else pleas put me in mind of them. pleas give my love to all your family & take a large share your self & may my Father in heaven bless you is my prayr allways from your loving sister Martha Harris
William & the children all join me in love to you[29]
Joseph F. to Martha Ann
Salt Lake City, U.T. May 22d 1890[30]
To Mrs. M. A. Harris
Provo—
My Dear Sister Martha:—
Your letter of the 18th came to hand on the 20th inst. How you can "wait on the sick", "make Temple clothing for one and another" and take care of your own family is almost a mystery. I am thankful, however that the Lord gives you the strength to do it.
There seems but little leisure or pleasure in this world for some of us, but we may stand a chance for a more liberal share in the next, provided we can endure to the end in this. I am in no degree impressed with the beauties of the world by the knowledge I have gained of it—nor of its glories either. I am satisfied it is but a probation at best.
There is always satisfaction, however in trying to [p. 2][31] do good, and there is a degree of joy in the accomplishment thereof, but the good we do seems infinetisimel in comparison to what is needed to be done. What a comfort it is to know that all will be rewarded, eventually, according to their works, and the intents of their hearts. The noblest, and therefore in the true sense, the highest ideas that men can entertain are those of "faith, hope and charity,"[32] and in all these I award you credit of being superior to most women, else you would have succumbed to your misfortunes long ago. but your hope, your charity for others, and your faith in providence have sustained you. In temporal things God has dealt more mercifully with me than with you, as it now seems, but who can tell what the end may be? I have buried 8 of my children, you, not one of yours. Yours are mostly grown, and should be able to take care of themselves—and look after their parents—mine are mostly young and dependent still. [p. 3] I think your children all love you—and will do all they can for your comfort in your coming days— Your boys are tall, strong men—and if they feel toward their mother as I have always felt, and still feel, towards mine—(and I see no reason why they should not—) then they will see to it that you will not lack if it is in their power to prevent it. When I see young men—or hear of them—spending their means for pleasure and amusement, and to gratify a taste for appearances, and pride, or any such things, while mother is toiling at home and lacking home comforts, I cannot help but think there is something wrong. Boys should think of Mother first—and self afterwards, is the way it looks to me. No doubt your boys do so. [p. 4]
In regard to doing Temple work for our Kindred, when it comes to Mothers folks[33] it would be well for you to consult with Aunt Mercy R. Thompson.[34] I do not know whether any thing has been done for Grand Mother Lucy Mack Smith's[35] Sisters or Kindred or not. Until very recently—Solomon Mack, Grand Mothers brother was living—and a member of the church—but never came to Utah.[36] He may be living yet for ought I know. But our Grand Aunts and Unkles should be looked after. Did you ever say any thing to John[37] about them. He should lead out in such matters. I donot know who you mean by "Cousin Julia, who died not long ago in the City". Whoever she was, the question arises in my mind is this, if she "died in the city" why was she not baptised for herself? I would like you to go to the Temple and do all you can for our departed Kindred, and I will help you all I can. Before you go, consult with brother John and with Aunt Thompson. I am your brother Joseph
Martha Ann to Joseph F.
[38]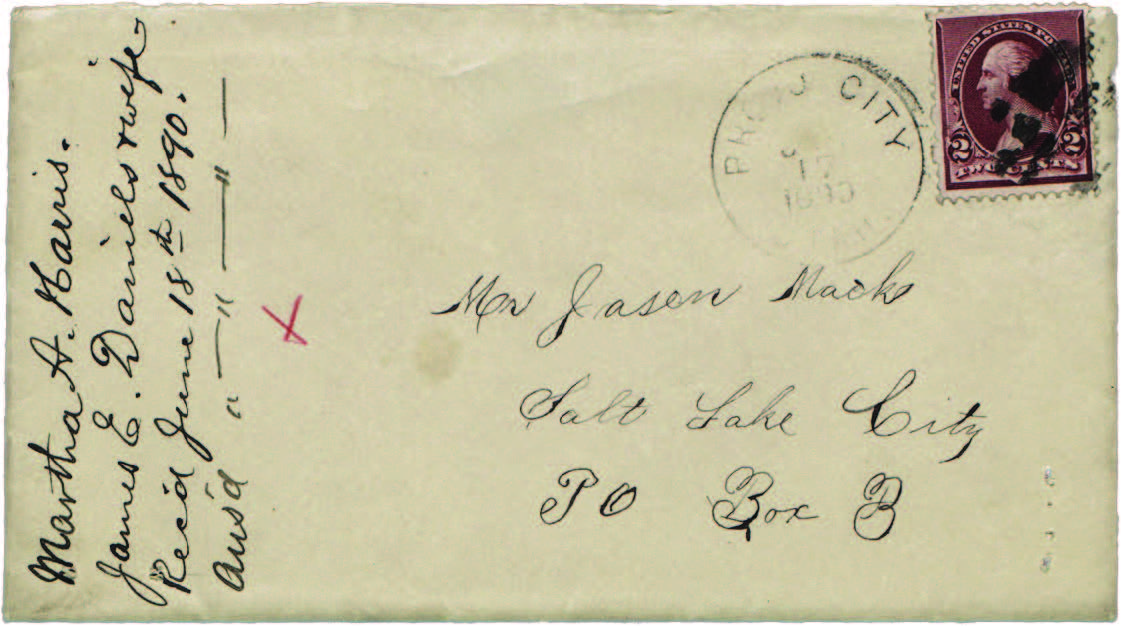 Martha Ann to Joseph F.,
16 June 1890 (envelope)
Recd̅ June 18.1890[39]
Ans d̅ "— "— "—[40]
Provo City June
the 16 1890
Ever Dear & mutch beloved brother Joseph Sister Danelly[41] wished me to Send this Letter to you She is avery Dear friend to me & has been very kind to me in deed Sence I have been in provo & I Can Can recommend them to you as good faithfull Latter day Saints worthy any blissing. I Sincerly hope you are all well. I am Coming to the City before many days & I would like very mutch to see you when I Come I hope I Can have that privlige we are all [p. 2] tolerable well I have been very poorly so I got adminsterd to & I have felt better ever Sence I recieved your kind & very welcome favor of may the 27 I was thankfull to hear you were all well the when I Come I will go & See brother John[42] & I thank you for your kind advice the folks have just come in to spend the Day Mary & Charley Smiths wife so I will draw my letter to aclose The children all join me in love to you & yours ever truly your Loving Sister Martha A Harris
Joseph F. to Martha Ann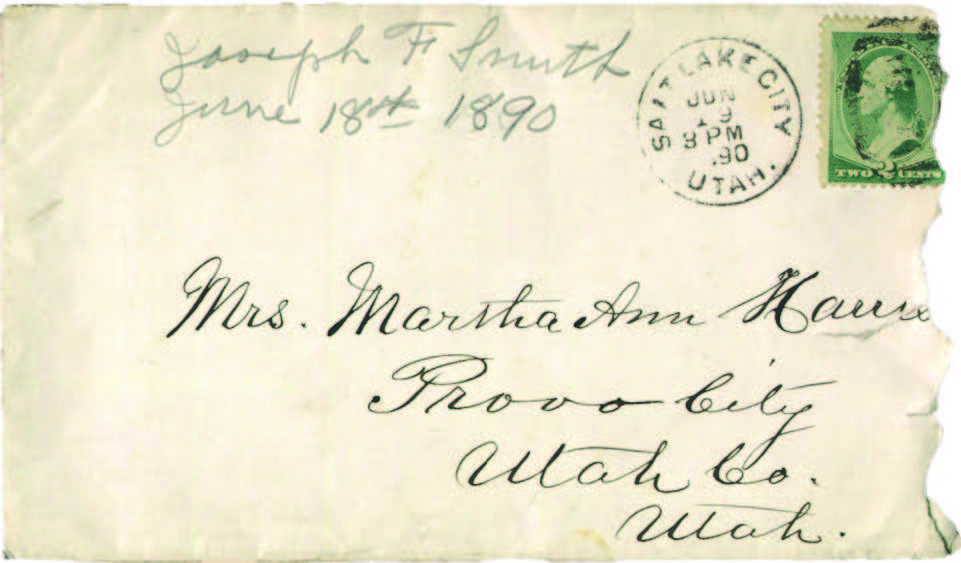 Salt Lake City, U.T. June 18th 1890[43]
My Dear Sister,[44]
Martha Ann Harris—
Your favor of the 16th inst. with inclosure from James E. Daniels and wife,[45] have come to hand. I have answered bro. Daniels, which you will find herewith, and will please forward, with the caution that my name is not to be used except in the Temple. and that my letter is not to be shown to any one except the proper authorities.
I shall be able to see you, I think, when you come. This is Julinas 41st birth day.[46] She is better than gold, more precious than diamonds. She is a jewel of the first water, and of the greatest value—judged by the standard of the companionship of quarter of a century![47] God has blessed me with good wives, and my children [p. 2] with good mothers; and O, how I feel to bless them, and to thank God. How all hell would grin <with delight> and the Devils laugh to see me "go back" on them![48] And well they might! but I have not the remotest idea of gratifying them in that regard. Exilement for the remainder of my life, or imprisonment till death, would be meat and drink to my soul, if necessity compelled me to suffer it for their sakes. They have been true to me, by Gods help I will be true to them in time and throughout all eternity!
John[49] has got some work to do for Father,[50] with our old friend Lizzie Hawkins (Wilcox)[51] She has been divorced from Wilcox, and has permission to be sealed, with her children, to Father.[52] John is slow about such matters. I wrote to Jerusha[53] a few days ago, but have never heard from her for 5 years.
Hoping you and yours are well, and with kind love to all, I am your affectionate brother.
Joseph——
Martha Ann to Joseph F.
Rec'd & Ans'd—
Aug. 9. 1890.[54]
Provo City Augest[55]
the 4th 1890
beloved brother.
Joseph it is with pleasure that I take my seat to write you a few lines hoping it may find you all well as it leaves us at this time to day thirty one years ago my willey[56] waas born he came home yester day from the railroad & went back to day he sais he has got a good job & I hope he has but he looks very thin in flesh & worn out he is not very strong & can not stand very mutch hardships [p. 2] he suffers very severly at times with the cramping in his sthomack but he keeps at work all the time poor boy. I hope he will bee able to wether it threw. brother meechem[57] is very low I went in to day & set down on the side of his bed he can not speak above his breath only in a whisper he looked at me & said O how I would love to see your dear brother once more be fore you I go for said he I shall not bee hear with you long I wish he could [p. 3] come & see me O if he could wouldent I ask him for an interest in his faith & prayrs in my behalf so I thaught I would write & tell you what he said he said if I ever seen you to pleas tell you that he loved you dearly & he hoped to soon meet our dear Father & Uncle[58] & many more that had gon before I hate to see him go & leave us but he may raley yet but I think it will bee a hard matter if he ever does he is 80 7 years [p. 4] old he cryed like a child I tried to comfort him all I could he seems to cling to life so hard pleas give my love to all your dear ones & do not forget to take a big share for your self Frank[59] was home to make us a short visit came monday night went back Tuesday morning bless his soal he is a dear good boy if he is myne [illegible strike-through] pleas excuse this scroll for my <pen> is poor & you know I cannot write worth tupence[60] I will write again soon ever truly your loving sister Martha A Harris I would copy this if I had time
Joseph F. to Martha Ann
Aug. 9th 1890[61]
My beloved Sister:
Martha Ann:— Your welcome favor of the 7th inst. is just rec'd, and I hasten to reply. I congratulate Willie[62] on his attainment of 31 years. and I deeply sympathise with him in his lack of sound health. Let me here say—that for some time Julina[63] was sorely afflicted with severe cramps suddenly attacking her in the stomache. Dr. Jos—S. Richards[64] recommended, and gave to her, in one of her bad spells, a common tumbler two thirds full of the best olive oil, (consecrated) at one dose; from which she realized the very best results.[65] I believe her cramps arose from the abnormal condition of the liver and gall. She was relieved entirely by this treatment. Some time after wards, when attacked, she treated [p. 2] herself in the same way with the same good results. but she has never suffered since anything like what she did before, either in the severity or the frequency of the attacks. It might be worth Willie's while to try the remedy when again attacked.
I want you to say to Brother Meecham[66] for me, God Bless him, and that I bless him with all my heart. And I feel assured that he is and shall be blessd whether in this life or the better life to come. His integrity, his sincerity, his love for God and his truth, his unwavoring fidelity to the Cause of Zion, his goodness of heart and soul and all his faithfulness, throughout, are all established and known and acknowledged by those who know him, and are accepted of God— He has made his calling and his election sure[67] and whether in time or in eternity all is and will be well and glorious with father Meecham. God bless him now and forever, is the prayer of your affectionate brother, (with all the faithful—) Joseph——
P.S. I expect to leave here tomorrow or monday, on a mission to be gone some little time.[68] My family are all well so far as I know. Sarah[69] and family are out in the canyon[70]— Joseph—[71]
Martha Ann to Joseph F.
Rec'd & Ans'd Jan. 16—1891[72]
Provo City
January the 15th
1891[73]
My dear beloved brother Joseph I take pleasure in setting down to write you a few lines to let you know how we are at the present time we are all well as useuel but I have been away from home taking care of the sick. was absent when your pcture came to hand. I <was> very mutch pleased with it & I thank you ever so mutch for [p. 2] <your> kind rememberance of me it seems so nice to think that one has a dear beloved brother who thinks once in a while of thuem it helps to lighten the heavy burden that I carry. I love to look on your dear fase it is better than gold to me. I am not ashamed to own that I love my brothers & sisters & kindred they are all dear to me but there are onely a feew that seems to care for me you are about the onely <one> that [p. 3] cares to answer a letter from me <only my children> when I write to them. it some times makes me feel sad but then if they do not care for me I can not help, it I sincerly wish you a hapy new year in return for your kind wish to me & many of them & my prayr is that you may soon have your freedom to mingle with your loved ones once more I never for get to prey for my brothers <sisier> & my kindred I have not been able to go to the temple yet [p. 4] for want of means & I do not think I will now untill spring & then I shall make a big effort to go. I am botherd very mutch with a lame back & side when I over do. I supose you have hird we lost Willeys little baby[74] too months old it died Christmas night or rather the morning after Chiristmas half past 5 it threw a gloom over us all it had lung feever & it turned to congestion I hope this will find you
<all> well & in the enjoyment of good health there is lots of sickness[75]
May the Lord bless you all with kind love. I am your affectionate sister
M A H[76]
I should be pleased to hear from you when convenient[77]
Joseph F. to Martha Ann
Salt Lake City, U.T. Jan. 16th 1891[78]
Mrs. Martha A. Harris.
Provo.
My Dear Sister Martha Ann. Your favor of the 15th is rec'd, and read with pleasure. I am glad you received the Photo. all right. not having heard for so long I began to doubt its safe arrival. I sent one to Jerusha[79] at the same time but have heard nothing from her. I also wrote her a letter several months ago but she has never deigned a reply. I heard however that she called to see some of my folks when last in the city, some three weeks ago. John[80] also called with Jerusha, but he seldom calls on my folks—and never comes to see me. I cannot go to see him. I hear that Helen is up north somewhere with [p. 2] Lucy,[81] and John is "batching it[82]." I would rather be in exile than that. I have often thought that my own kindred, that is our own family, except you alone, care nothing for me. I wrote a kind spirited letter to Hyrum Walker,[83] nearly two years ago, but he never, replied to it. I have written several times to Hyrum and Frank,[84] but they have never penned a line to me in return, and I have heard that you made unfavorable comments on one of my letters to the boys.[85] Condemning my advice and approving their course.[86] I am quite sure you would not have taken that view if you had properly understood my motive.
Next to my own children, I hold yours in esteeme and love. I would not advise your children other than I would my own. And I would as gladly see them prosperous and happy.[87] We are all usually well, so far as I know. God bless you my Sister, and all your children, and William.[88] With love to you and them I am as ever your affectionate brother. J. F. Smith
Martha Ann to Joseph F.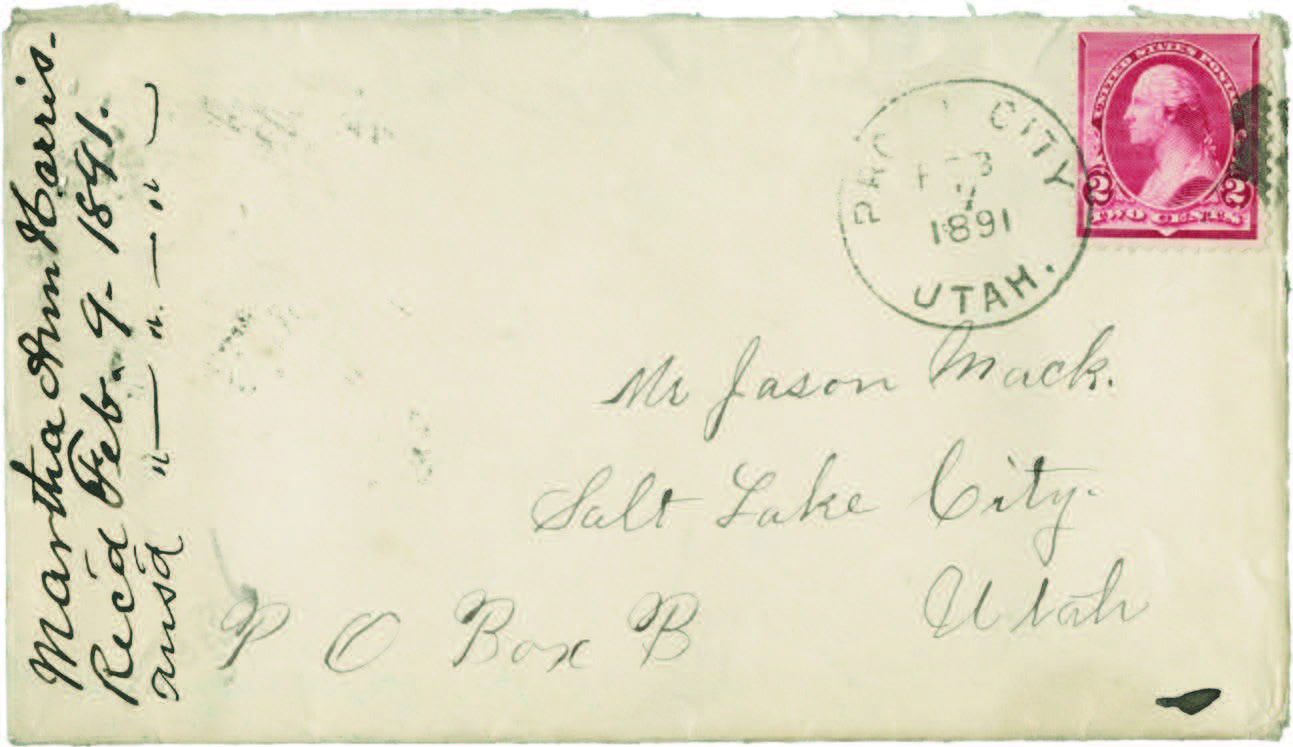 Martha Ann to Joseph F., 1 February 1891 (envelope)
Rec'd and Ans'd Feb. 9. 1891.[89]
Provo City Feb
the first
1891
Mr Joseph F Smith
My very dear brother your welcome favor of 16th <in> came safly to hand I was pleased to hear from you that you ware all useuely well & I hope you will forgive me for not answering before now I was called away to see a sick child was gon from home for three days & when I returned I was sick in bed [p. 2] two days more, then I had to make a suit of grave clothes for brother Holbrooks little soon 5 years old[90] as soon as that was done I had to make a suit for another little one[91] that died on the bench.[92] Last Saturday <Fryday> Mary sent for me to come in hast that her little walter[93] had got the croop very bad I went & stayd too days & nights & worked faithfully with him came home yester day he was some better [p. 3] but he is very bad yet but we hope he is over the worst of it. so you see how my time is taken up. I have seen so mutch sickness & death this winter that it has been auffull to contemplate it gives me the blues & makes me feel sad. you said you had hird that I had ignord your council to my boys[94] that is not so for I have always been willing to lisson to your counsil & to obey it as far as it layd in my pour & I also thank [p. 4] you for any advise you might give to my children for I know you would not give them advise that would doo them harm, but what I did say was this I thaught that every thing considerd the way it came about & you was a littl severe in some things you wrote in your letter & I thaught when you hird both sides of the question you would see things in a different light I told the boys not to have any thing to do with that younion if they had lssoned to me they would hav saved [p. 5][95] saved all that trouble but perhaps the hand of the Lord was in it we must acknolege his hand in all things & I do not think Hyrum[96] would have stud it very long, to have worked on those cars. I am sorry Hyrum is out of work just now it is very unfortunate for him just at the present time.[97] John has a job with his brother Joseph[98] they git along fine to geather & he helps us & is very kind he is a dear good boy to us [p. 6] all. Hyrum was home last week he is thinking some of mooveing to provo & gitting working here I do not know how it will bee yet Williams[99] health is improving & I sincerly hope he will bee able to do something to help his family with before long. The reason the boys shuns writing to you I think is they do not feel compitent to write to you that is Franklin[100] & John. I can not speak for Hyrum but I do not think he has any thing against you my dear brother I am very [p. 7] sorry that any of my children should slight my beloved brother. I am sure they all love you or they seem to as far as I know. we are having some very coald weather now hear winter in irnest. I mus tell you I have just got a nice new milch cow & I feel very thankfull for I had now milk all last summer only what I baught. I baught a pig with my work about three months old, it is doing nicely now I am very comfortable [p. 8] this winter more so than I have been for a long time or I may say I have never have been so comfortable in my maried life the Lord has truly been good to me though my health is poor some of the time but I hope to weather the storm & out live my weeknesses well I must fetch my letter to a close or you will wery of reading it the children all join me in love to you & may all bee well with you ever is the humble prayr of your loing sisier M A H
I had such a sweet dreem the other night I thaught uncle Joseph[101] the prophet came to see me & he spoke & looked so kindly to me he said God bless you you have done the best[102]
you could it made me feel so hapy[103]
Joseph F. to Martha Ann
Salt Lake City, U.T. Feb. 9th 1891[104]
Mrs. Martha Ann Harris[105]
Provo, Utah Co.
My Dear Sister Martha Ann:— Your letter of 1st inst. (so headed) came to hand this morning, and I hasten to acknowledge its receipt, and to make a brief response. I am much pleased to hear that you are so comfortable as you represent yourself to be, and that after the great strain upon your physical endurence, <which> you mention, through waiting upon the sick, that you are in as good health and bodily condition as your are. I deeply sympathise with you in the mental sorrow you feel for the afflicted and suffering ones. If you are going to follow nursing, as a profession, I would advise you to take a leaf from the book of the average physician—that is—[p. 2][106] never to allow your sympathy for the afflicted, to cause you any mental anguish. Doctors never borrow trouble, nor grieve except at "funerals" of their own. You will have to take this "leaf from their book", in order to make a successful nurse, as to enduring long at the trade.
You need never borrow any trouble over delaying to answer my letters. Write to me when you want to, or need to, and not because I write to you. Take your own time about this matter. And don't worry.
I sincerely hope that Mary's little boy[107] will soon be better. I hope it is not Croup. I don't know that I ever heard of a genuine case of croup ever being cured. That which is mostly called croup, is not croup, but only resembles it in some respects. A bad cold, with hoarseness, and the apparent closing of the bronchial tubes with phlegm, is often taken for croup. The latter <i. e. hoarseness &c—> is not always dangerous, if taken in time. it may easily be remidied. But croupe proper, is a fatal disease. True, or membraneous croup, is inflamation of the larynx, with fiberous exudations which form a <false> mem[108]
Joseph F. to Martha Ann
Salt Lake City, U.T. Feb. 11th 1891[109]
Mrs. Martha Ann Harris,
Provo.
My Dear Sister Martha:— I feel impressed to write you this morning, not that I have any thing out lined in my mind to say, not because I have nothing else to do, for I have no time to be idle, and none to spare, indeed my time is not sufficient for the duties required.
I feel interested in the welfare of your family, for their welfare is yours. You cannot feel prosperous nor happy unless they are prospered and are moving in the line of duty, and faithful to their callings and true to their principles, to their religion and to God and man. neither can they be happy and successful unless they are walking in these pathes.
First and foremost we owe allegience to Him [p. 2] who is the giver of life, and all other good things. No Latter day Saint can enjoy the spirit of God without sincerely acknowledging Him, remembering him, honoring him in their lives and in the first fruits of all their increase. Merely living, or living only for the present life, to make money, to accumulate riches, and to be admired, is not true prosperity, is not the part of wisdom, is not true inteligence, is not manly great nor good, but it is sordid, carnal, groveling and contemptible in the sight of God. Nor is it the true way to ordinary prosperity for a good Latter-day Saint.
Those who have never saught riches in this Church, but have been faithful to their callings, have realized most fully the injunction of the Redeemer:—"Seek ye first the Kingdom of God and His righteousness and all other things shall be added unto you."[110]
While those who have not lived their religion, while they may have succeeded in gathering means to some extent, in some cases, they are destitute of the of the riches of eternal truth and of the love of God, and have [p. 3] only a little of the dross and reffuse of the world which at best can only serve a temporary purpose, and cannot possibly avail them anything on the death bed, nor in the great eternity before them. Then, Oh! then they will be poor indeed! The poverty you have suffered all your life would not be a drop in the Ocean, not a single atom in the limitless world of matter, compared with the destitution—the abject poverty of him who has made—or will make worldly gain his God, and the goal of his ambition.
God has said, "I will be enquired of by my people."[111] "If ye seek me early, ye shall find me."[112] "Seek and ye shall find, knock and it shall be opened unto you, ask and ye shall receive."[113] But he that asketh, must do so in faith—or he will ask amiss— He that doubteth will not receive. To ask right—one must be right—to receive one must be worthy to receive; therefore "first seek the Kingdom of God and His righteousness", obtaining that we shall "find"—if we "seek",—"receive" if we "ask", and the door will be opened to us when we knock. And not other wise. [p. 4] I do not want to weary you, but I want—or would like you to let the boys read this letter, and for you to impress upon them these principles. of cours I can only slightly touch upon them in a letter. But these truths lie at the root of the matter. I like firmness to purpose, provided the purpose is right and good. firmness in wrong, is only obstinasy and wickedness. I like integrity to the truth, in all men; integrity to business depends upon a mans integrity to good principles, but integrity to any purpose is essential to success therein. My understanding of Joseph's[114] course, gives me confidence in him. I like his continuity and steadiness and persistance in his purpose, I like the spirit and disposition I have seen of John,[115] I believe them both to be good boys. and I feel in my heart to bless them. Willie and Hyrum and Frank[116] have my love and my most earnest faith and prayer, I love them because they are my sisters boys, because they are my Nephews, and because I feel in my heart that [p. 5] they are good boys, but we have all much to learn. Sometimes young men, and sometimes old ones too, think they know a great deal, and are much mistaken.
In last nights "News" there is an editorial on the silent force of truth, which I commend to all the boys, and wish they would study it well.[117] It bears upon the subject of my letters to the boys. And for fear you may not see it, I will quote an extract, taken from a Gentile Paper[118]. which seems to be waking up in dead earnest to the great necessities of men. It says:—"Freedom will not come until the people unite; but the people will never unite until they know what they unite for, and they can never know that until they fully learn certain grand truthes: Political parties cannot unite them—old parties nor new parties. Trades unions cannot unite them, Knights of labor[119] cannot unite them. Alliances and confederations can not unite them, for parties and organizations have power only as they have truth. It is the power of truth, and that only, that can ever unite the people nothing else. Yet few men really understand this [p. 6] Good men who will really spend days and dollars to organize, to build and to make a noise and a show, will very grudgingly spend minutes and cents to quietly spread—(or even learn)[120] the truth. As yet men know little of the silent, irresistable power of truth, and in their ignorance make little use of it."[121]
The above is a key to the whole situation. The world has not got "the truth", therefore how can they unite? and when will liberty come to them, for they have rejected "the truth", and prefer to believe a lie, and to depend upon` man rather than upon God. that is why we have "strikes", and "lock outs" in the world, and why the working people are distracted, poor and comparatively helpless. God has revealed the truth, and the Spirit of it—he has organized the most perfect system of union ever known to men on earth. A system of perfect union, of perfect liberty—and what we need is to study it, learn it, and live by it—then we will have no need for "Trades unions," or combinations of any kind, other than that which God has established— With love, I am your affictionate brother Joseph
Joseph F. to Martha Ann
June 7th 1891
Mrs. Martha Ann Harris—
My Dear Sister Martha:—
I hope you and yours are enjoying good health.
Our little Franklin R.[122] was the last to come down with measles, and is the 8th one of the children who have taken the desease this spring. And in order that it might last longer, not more than two have had it at once;—generally only one at a time! Two of the little ones have had whooping cough, and nearly all—old and young have had a turn—more or less heavy of la grippe.[123] We are all in pretty good health now, except Frankie who commenced yesterday with measles. none of them have had it very severely, and all—so far—have got over it nicely—for which we feel exceedingly thankful. We now have only four more liable to take the desease. Having not heard from you for some time, I thought I would just drop you a line or two to say we have not forgotten you, and we hope you are all well and comfortable.
By the way—I heard lately that Lucy[124] was going—or had gone to Provo on a visit and that Zina[125] was here taking care of her boarders. You may think it is "none of my business", to worry over your affairs, but, I cannot help it—all the same. I think it is bad enough for Lucy to have to keep gentile boarders [p. 2] in Salt Lake City, as I am informed she does; but I consider it still worse for Zina to do so.
Lucy is older than Zina, and I have confidence in her as a sensible, good girl. She also hase some experience. Zina may be just as good and true as Lucy, but she is younger and less experienced. The history of boarding gentiles, from the beginning in this Territory, has no variations from its natural results. Circumstances have varied but the result has been invariable—and it has been evil. The nature, character and extent of the evil have varied—but Evil has been and is the common result—whatever the character, extent or nature of that result might be. It can only be a question of time—when the results—bad or worse—never good—will be apparent. I sincerely hope your girls will quit the business in time. And I think it is exceedingly unwise for Zina to be left alone with boarders—whether gentiles or not. If one of the boys was with her, I should not see the same cause for fear—either for Zina or Lucy. You may not thank me for my suggestions, counsel or interference in your children's affairs, but I must sound a note of warning, and leave the result with you and providence. If the girls must keep a boarding house—let one of the boys be near, and if possible chose their lodgers. Your brother Joseph.
Joseph F. to Martha Ann
June 17th 1891—
My Dear Sister,
Martha Ann Harris:—
Your favor of the 14th inst. came to hand yesterday, and has been read with much interest, for I can realize, to some extent at least, the trying circumstances under which you are placed.
I feel sorry for Adelia,[126] and for Hyrum.[127] I do not know what the trouble is with Adelia, or what the nature of her desease, which you speak of, but it is hard for any one to be sick, and confined to bed. I sincerely hope she will soon be better, so that she can take care of her baby[128] and relieve you. What is Hyrum doing at "Fish Creek"?[129] Has he tried to get a position again on the street car line? Would not a position there if steady—be better than his work at "Fish Creek"? My motto has always been that steady work with moderate wages are better than unsteady Jobs, altho' the latter might make better short returns.
If a man can get steady work and regular wages he knows what to depend upon and can make honest calculations for the present and future. Not so with unsteady and uncertain jobs. I think if Hyrum could get employ [p. 2]ment here on the street-care line,[130] or in some store or other steady business it would be the best thing he could do, unless he took up some land some where and went to fruit raising, market gardening,—farming and stock raising—or something of that kind. Of course, I do not know what his natural inclinations are, nor what his tastes and talants are best adapted to. I am satisfied that it is well for young men to start at something good—or reasonably so—and stick to it.
How is Joseph[131] getting along? What is he doing now? I sincerely hope he is prospering. Also John, and Willie, I sometimes hear of Frank.[132]
I cannot but regret that the Girls[133] are compelled to keep boarders—but if they must, may God preserve them from harm and keep them from all evil.
I have great confidence in the natural intigrity of your girls, as I also have in my own, yet I would keep them all as far away from the precipice of ruin as I possibly could, until, at least, they were old enough to understand and know for themselves. There is one good safe-guard against evil for our girls, and that is prayer and trust in God! no girl with that Spirit thoroughly in her heart, can easily be over come. May God bless, and preserve our children from harm. With love to all, I am, as ever, your brother Joseph.
Joseph F. to Martha Ann
Salt Lake City, U.T. Aug. 13th 1891[134]
My Dear Sister
Martha Ann Harris:— Your favor of June 27th came duly to hand. It needed no immediate answer, so I have not hurried to reply. You did not say how old Arta was on June 27?[135] nor was I aware that she was born on that ever memorable day. How well I remember the early morning of June 28th, 47 years ago. When D. B. Huntington announced at Mothers bed-room window that sad news of the murder's, the day before![136] While memory holds its sway, that day can never be forgotten by me. But let that pass. I hope our children may never have an experience such as we have had. Since I received your letter, Hyrums baby[137] has passed away. In life we are in the midst of death. I hope the mother is doing better.
I happened to be where I saw Lucy[138] last sunday morning. I learned that Frank[139] was going to leave Clark, Eldridge &c.[140] and go to work on the Rail Road [p. 2] some where. This surprised me, for I supposed he had steady work, and was doing well. I am afraid the change will not result in great good to him, altho' for Lucys sake I am not sorry for it.[141]
We have had lots of sickness since last winter.[142] We commenced with the grip[143]—filled in with the measles and I hope we can end off—for a few years, at least, with the whooping Cough which we are having now. Eight of the children at the same time are having it—some light—some very severe. We have had them all up in the Canyon[144] for about a month, when they came home much improved, but some of them soon took the summer complaint,[145] and to day, Edna[146] and little ones had to return to the Canyon.
My own health is very good, but I do not relish the extreme heat as well as I would like.
Edna had her house broken into on Wednesday the 5th inst. and rummaged by thieves. Her <gold> watch, locket, finger ring, sleeve buttons, ear-rings, and other things were taken away. No trace of the burglar.
Hoping this will find you and yours well and that the future may smile upon you more abundently than in the past. I remain as ever your affectionate brother Joseph.
Joseph F. to Martha Ann
June 20—1892[147]
Martha Ann Harris
Provo—
My Dear Sister Martha:— Your letter of June, came to hand yesterday—Sunday and I could not then answer it. Little Zina[148] passed the fatal turning point on the eleventh or twelfth day of her fever and since then has been slowly recovering. but she is still a very sick child and needs constant care—night and day. Her mother[149] and others have been almost worn out with watching. Several others have been ailing, with slight attacks of bronchitis, bad colds, teething &c. Little Emily[150] is quite poorly just now—but not seriously so, we trust.
I am sorry for your continued weakness and sincerely hope you will soon get well.
I am willing for bro. "John Leathy"[151] to be adopted to Father[152] and will send him an authorization— In haste I am your brother Jos. F. Smith
Joseph F. to Martha Ann
May 16th 1893[153]
Mrs. Martha A. Harris
Provo—
My Dear Sister:—
John[154] sends you 6$ and Lucy[155] 4$—making $1000 which please find herewith, and on receipt of this please drop me the enclosed card and oblige.
We are all well, and hope you are all the same.
Your brother,
Jos. F. Smith
Joseph F. to Martha Ann
Mar. 7th 1894[156]
Mrs. Martha Ann Harris,
Provo—&c.
My Dear Sister Martha:— I did not see Lucy[157] until last evening when I gave her your letter—and thinking it would relieve her for me to attend to the Exponent matter,[158] I said nothing to her about it, but when I came up Town saw to it myself, and herewith send you the receipt, which I trust will be all right. I have before me two letters from you, neither of which have been answered; one was received Oct. 8th 1892—a year ago last Oct. and the other on the 7thult—or a month ago. In yours of Oct. 92—you speak of a matrass & [p. 2] syringe and your broken knee—those things are now of the past, and I am glad you are able to walk to the Depot[159] and back again without crutches, as you did on Monday last.[160] I am also glad you did not have to over-draw your a/c—at the T. O.[161] more than $250 I hope to live to see the day when your noble sons can provide for their Mother and sisters at home so that they will be comfortable. In the mean-time if you or the children should need more than you have or can get please let me know, and if in my power I will help you. My own burdens are pretty heavey for me—these hard times. I have 35 Souls[162] to feed, clothe, and educate, and it keeps me busy.
We are all usually well—Lucy[163] seems all right. We had a pleasant visit at Roberts[164] last evening—I wish you had been there. God bless you my sister—is the prayer of your brother Jos. F.——
[illegible strike-through] not fail to look at the Deseret news of tonight— It contains a statement of the Martyrdom at Carthage.[165] Jos F. Smith[166]
Joseph F. to Martha Ann
Dec. 24th 1894[167]
My Dear Sister—
Martha Ann Harris—
Provo—Utah Co.—
Your letter of the 22d inst. came to hand this afternoon. I regret that the necessities of my own family, which now numbers 36 souls[168]—including myself—and excluding Leonora,[169] not one of them in employment—and many of them going to school—make it impossible for me to render such help as I would like to do to my sister and her dear good girls. I would gladly provide for you and them if I could. If it were in my power to make you all, and my own family also, perfectly happy and comfortable, nothing would give me greater pleasure.
As it is, the little I can do—or have done, is not worth an expression of thanks, much less that of gratitude. However I send you here with my cheque for 10$ with my best wishes and the complements of the Season. With love—I am your brother
Jos. F. Smith
Joseph F. to Martha Ann
Jan. 28th 1895[170]
Mrs. Martha Ann Harris
Provo—
My Dear Sister Martha Ann.
I passed Provo on Saturday morning[171] on my way to Nephi to attend the Juab stake conference, and I returned last evening.
While at Nephi I called at Zinas place[172] expecting to see her there, but the paths were un-swept and trackless, almost, and in response to my repeated loud rapps at the door there came back only the echo's of the empty hall.
I hope you are all well— I heard you had been suffering again from your injured knee.[173] but I hope it is better.
I write now, more particularly, to say to you that we are thinking of having a family gathering at Julinas[174] on the 9th February next, in memory of Father's birth day,[175] and to invite you and William[176] to attend it if possible.
Hoping to hear from you soon, and favorably on this matter, I am as ever affectionately your brother
Jos. F. Smith.
On Friday last Ina[177] fell on the ice and broke her arm.)[178]
Joseph F. to Martha Ann
Feb. 20th 1895[179]
"Aunt Martha",
My Dear Sister Martha Ann:— Your favor of the 15th inst. announcing the birth of Zinas baby[180] on the 14 th came duly to hand. Now if Zina had written it I would not have been surprised at the omission of a statement indicating the gender of her "Valentine", but for you to write and not tell us it was a "boy"—I am surprised. unless it was a "girl"!
Well I hope the little stranger—(boy or girl) as the case may be—will meet a hearty welcome from all sides, and enjoy a prosperous voyage through life. I am thankful the Mother and baby were well—and happy.
God bless them now and for ever—is the earnest prayer of Uncle
Jos. F Smith
Joseph F. to Martha Ann
Remember me most kindly to Sister Meacham[181] and any of the family who may know me. May the Lord bless and comfort her as only the merciful Father of us all can do ­­_ is my prayer. Joseph.
Aug 6 1895[182]
Mrs. Martha Ann Harris
Provo_
My Dear Sister Martha. On looking through the Provo Enquire[183] of this date, I saw the notice of the funeral in Friday, Aug 2d inst. of our dear old friend and brother, Edward Meacham[184] This is the first word I had received of his demise. And it is a mere accident or incidences that I saw the notice of his funeral. I do not much time to read the papers and am kept so busy otherwise. I cannot mourn that Father Meachams earthly part is finally at rest for a little season. He was aged and had been infirm and helpless for such a long time that to him, at least, death must have been a happy release. I regret I did not know of his funeral in time to have been present. But it is just as well, no doubt as I am sure all was said and some that could have been comfort of his wife and relatives. God blessed them! All is well with that good man, bro. Meacham. Hoping you and family are well. I am as ever Your affectionate Brother Jos F. Smith
Joseph F. to Martha Ann
Sept. 27th 1895[185]
My Dear Sister Martha Ann
Your favor of the 22d inst. Came to hand on the 23d inst. I did not expect an answer to my letter, therefore to hear from you was an unexpected surprise. In former years we corresponded once in a while, but of late this practice seems to have gone into disuse. The same with Jerusha;[186] I have written her once or twice, but without response. In the days of our youth it would have been a hard task to have convinced me that time or circumstance <would> would or ever could bring about so great a change. However strange it seems, or however impossible we at one time would have thought it to be, the spell has come, and has caught us in its grasp. On my part I find no fault nor cast any blame. I am perhaps the cause of the change and yet if this is true, I have not been conscious of it. True, my life has been a busy one, my time has been consumed by public duties and [p. 2] foreign missions until in some degree I am a stranger to many of my former, best of friends. I have no time to visit, as a rule, or to be sociable eve in the midst of my own family. With me it is almost a constant round of work, from day to day, and very little play. Our recent trip to the north[187] was a rest and as change, such as I seldom get <but> which was a gracious boon to me both physical and mental. and I am very thankful for it. John[188] and I live with in a short distance of each other, yet neither of us ever darken the others doors. Still we are on the best of terms, so far as I know. His children and mine are perfectly strangers to each other. And why I cannot tell. My children are good home loving children my boys[189] neither drink nor smoke, nor swear. and they have faith in the gospel and in the divine mission of Joseph Smith[190]. My daughters[191] are as good as gold but lovers of home and earnest toilers in domestic life. It is true we are poor in this world's goods- and yet we do not lack for the necessaries of life and are blessed above many of our fellow beings. I feed, clothe, house, warm lodge, and educate. So far as I can. with my own hands and efforts. 36 souls now at home. besides many callers and friends. and occasionally keep others besides. and would do more if I could. Well. Excuse this scribble. Your brother, J. F. Smith
Joseph F. to Martha Ann
1895[192]
My Dear Sister
Martha Ann Harris:
Provo.
Your letter of yesterday, conveying to us the sad news of the death of Mary's[193] little son, Franklin Nephi Corbett,[194] reached me to day; The unwelcome tidings not only filled my heart with deep sympathy for the bereaved parents,[195] grand parents and immediate kindred, but is awakened sorrowful memories of the past <of similar scenes> within my own house hold, and the sweet faces and cherished names of my own loved children came to tr[◊◊]ping up before me till I counted eight of them laid away in the silent grave. My first sweet little one claimed by death was Sarah Ella[196] then followed all the brightness and heaven of our home, our Mercy Josephine,[197] then our little heros Heber[198] and Alfred,[199] both beautiful, lovely boys then followed our precious little Rhoda,[200] next were Albert J[201] and Robert.[202] and then John,[203] all of them most lovely, bright and fair. They were perfect [p.2] in their day, and they each one brought and left with us joyous hopes and precious memories, with which we would not part for all this world. They are ours still![204] both they and all their sweetness and the joyous hopes they brought us; for they are not lost! nor can they fail! They rest with God and await our coming unto them when faithfully we shall have finished our earthly work, and are prepared to meet them. This beyond <a> doubt is true, and I wish I could say as much for all the rest who have been left to battle with the ills and dangerous of this world. I would be but doing my duty to go to you tomorrow, and mingle my tears and sorrows with yours, and add what consolation my presence might bring; but I am not well. I have a cold and cough, and am not in a condition to use my voice or lungs. besides important duties require my presence here tomorrow and next day I will have to go north. So— God bless and comfort you and heal the broken hearts. Affectionately [◊◊] Jos. F. Smith.
P.S. The folks all joine in deepest sympathy for the parents— and children— and you all— Again, May the Merciful Father of us all, bless and comfort you. Joseph
Joseph F. to Martha Ann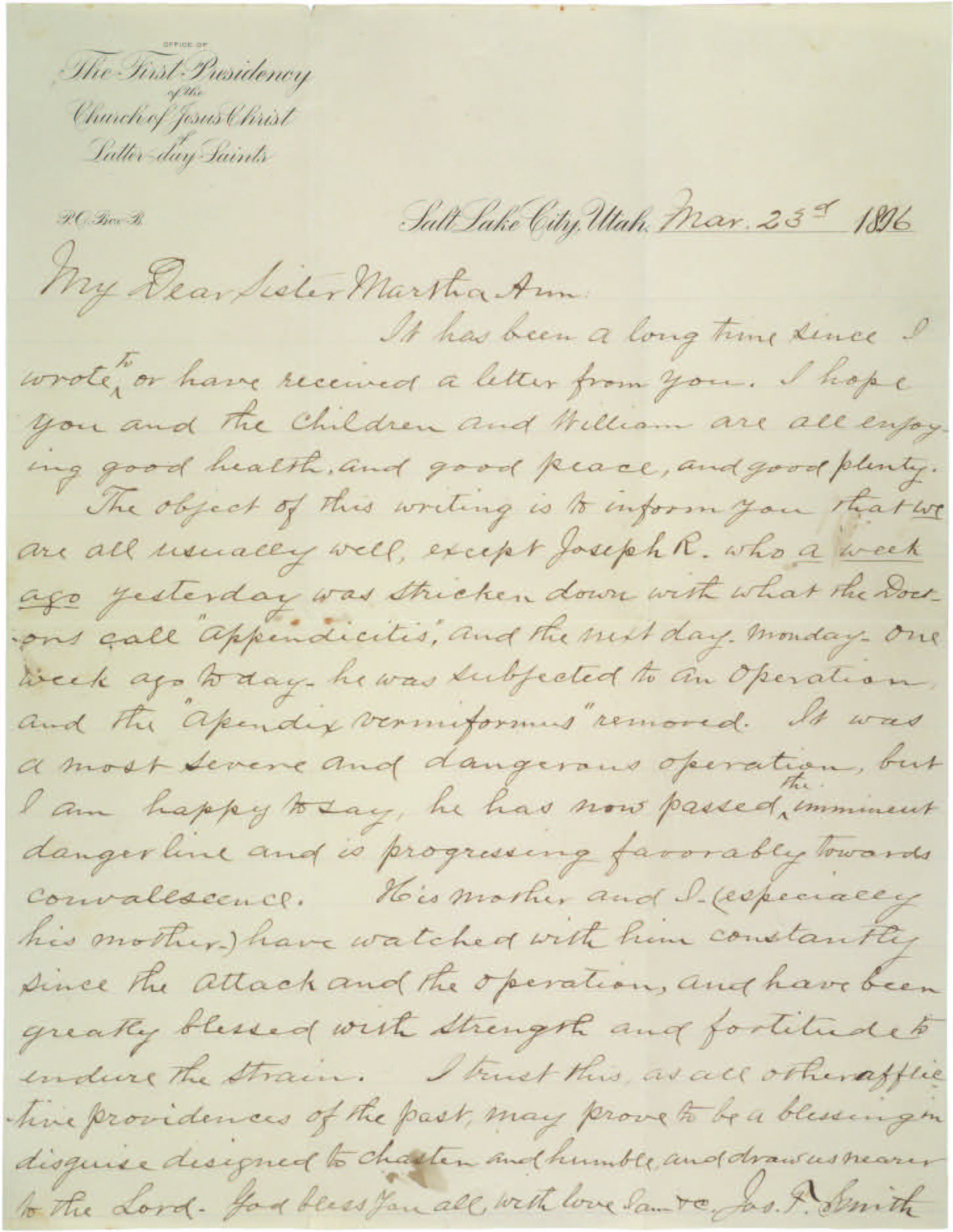 Joseph F. to Martha Ann, 23 March 1896 (p. 1)
Salt Lake City, Utah. Mar. 23d 1896[205]
My Dear Sister Martha Ann:
It has been a long time since I wrote <to> or have received a letter from you. I hope you and the children and William[206] are all enjoying good health, and good peace, and good plenty.
The object of this writing is to inform you that we are all usually well, except Joseph R.[207] who a week ago yesterday was stricken down with what the Doctors call "appendicitis", and the next day—Monday—one week ago to day—he was subjected to an operation, and the "appendix vermiformus" removed.[208] It was a most severe and dangerous operation, but I am happy to say, he has now passed <the> imminent danger line and is progressing favorably towards convalescence.[209] His mother[210] and I—(especially his mother—) have watched with him constantly since the attack and the operation, and have been greatly blessed with strength and fortitude to endure the strain. I trust this, as all other afflictive providences of the past, may prove to be a blessing in disguise designed to chasten and humble, and draw us nearer to the Lord. God bless you all, with love I am &c. Jos. F. Smith
Joseph F. to Martha Ann
Mar. 28th 1896[211]
My Dear Sister
Martha Ann Harris.
Your welcome favor of the 25th inst. came to hand the following day. I write you hurriedly now, to say that Joseph R[212]. is progressing nicely, and will, with the blessing of the Lord, in answer to our prayers, be on his feet again a few weeks. He is beginning to take some food now, the wound is healing slowly but surely from appearances and everything looks encouraging & hopeful. Mamie[213] and Donnie[214] as I suppose you know are going to the Pratt Institute[215] in Brooklyn, N.Y. our last from them was not so cheerful. as Donnie had a severe cold and was feeling poorly. We hope better new will come next mail. Hyrum M.[216] was doing well in England when he last wrote. The rest of our family are usually well. Hoping this will find you & yours in good hope and spirits. I am as ever affectionately your brother Jos. F. Smith.
Joseph F. to Martha Ann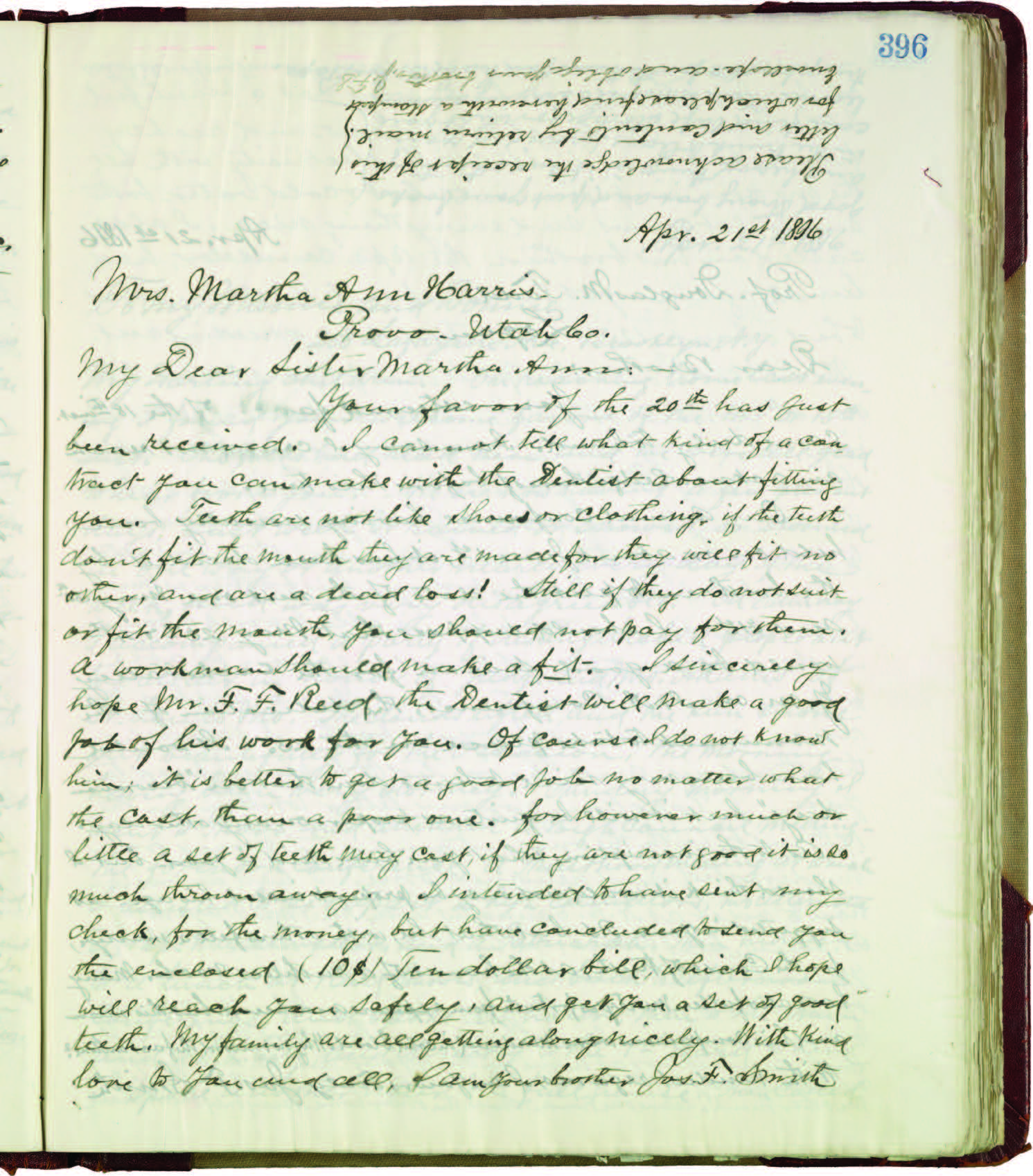 Joseph F. to Martha Ann, 21 April 1896 (p. 1), copy found in Joseph F.'s letterpress copybooks under that date.
Apr. 21st 1896[217]
Mrs. Martha Ann Harris—
Provo. Utah Co.
My Dear Sister Martha Ann: —
Your favor of the 20th has just been received. I cannot tell what kind of a contract you have made with the Dentist about fitting you. Teeth are not like shoes or clothing. if the teeth don't fit the mouth they are made for they will fit no other, and are a dead loss! Still they do not suit— or fit the mouth, you should not pay for them. A workman should make a fit. I sincerely hope Mr. F.F. Reed[218] the Dentist will make a good job of his work for you. Of course I do not know him; it is better to get a good job no matter what the cost than a poor one. for however much or little a set of teeth may cost, if they are not good it is so much thrown away. I intended to have sent my check, for the money, but have concluded to send you the enclosed (10$) Ten dollar bill, which I hope will reach you safely, and get you a set of good teeth. My family are all getting along nicely. With kind love to you and all, I am your brother Jos. F. Smith
Please acknowledge the receipt of this letter and contents by return mail. for which please find herewith a stamped Envelope. and oblige your brother. Joseph F.
Joseph F. to Martha Ann
Nov. 18th 1896[219]
My Dear Sister—
Martha Ann Harris—
I have obtained transportation for yourself and one—from Provo to Mamoth[220] and return.[221] I got one ticket good for four persons—and Julina[222] and one of the children will go which with you and William[223] will make the four. Frank[224] has written to aunt Julina Saying they—the boys—would send you a ticket—or the means to get one. If they do you might let one or more of the girls use it—as the case may be. They—the boys expected you to start on Friday next—but we cannot go until Saturday. Should you & William get ticks from the boys—in time to go on Saturday <Friday>, you might go right on, and leave word for a coupel of the girls to go with us on our ticket on Saturday. On account of getting transportation at special cheap rates, they made the ticket for 4 persons on the one ticket. We are all usually well— With kind love yours Joseph F.
Excuse haste, I have written in a great hurry. Joseph.[225]
Joseph F. to Martha Ann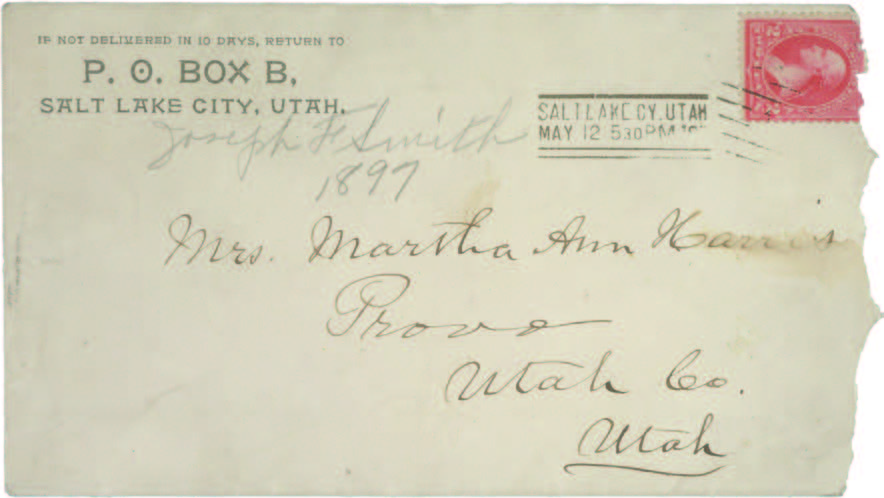 Joseph F. to Martha Ann,
12 May 1897 (envelope)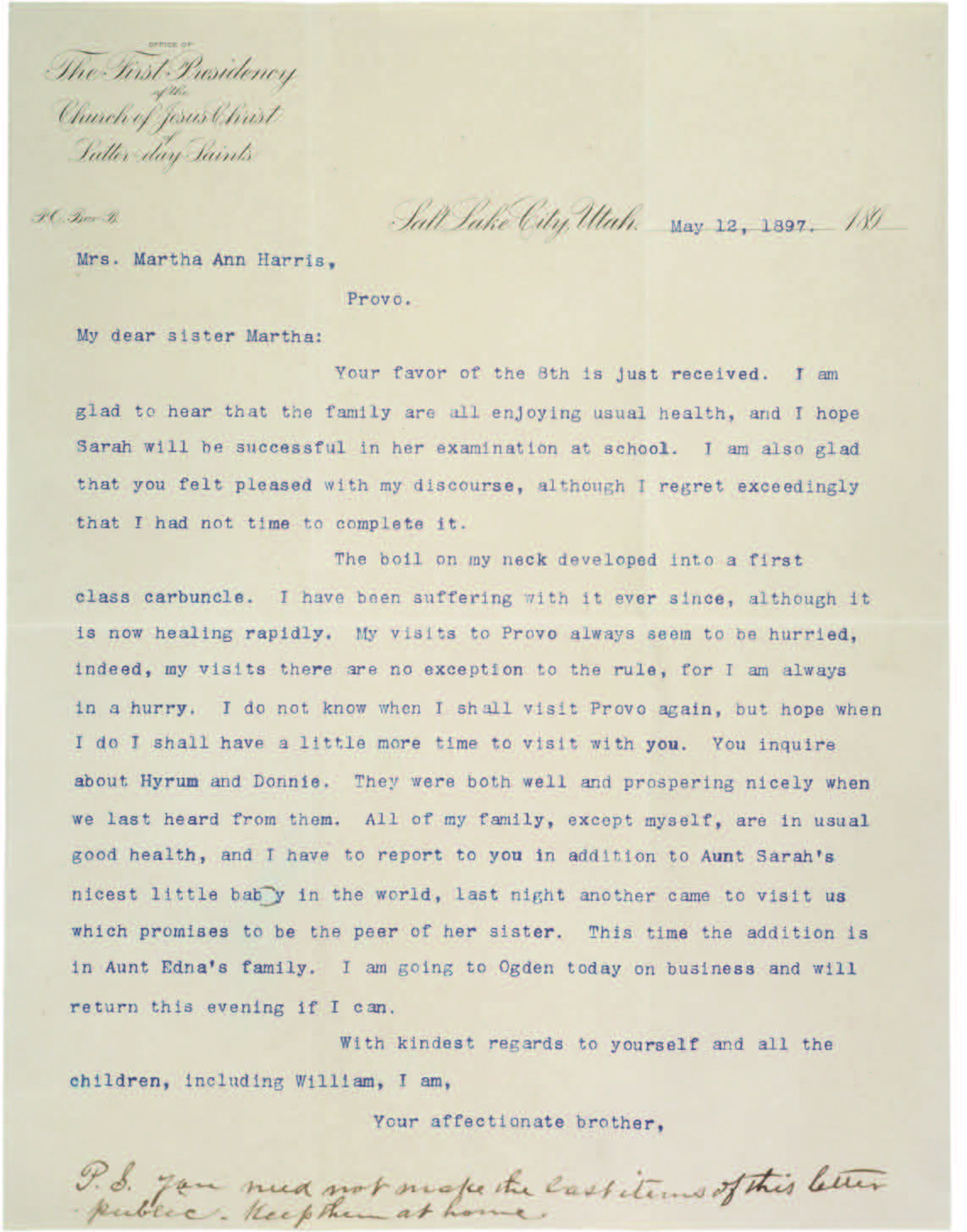 Joseph F. to Martha Ann, 12 May 1897 (p. 1)
Salt Lake City, Utah. May 12, 1897.[226]
Mrs. Martha Ann Harris,
Provo.
My dear sister Martha:
Your favor of the 8th is just received. I am glad to hear that the family are all enjoying usual health, and I hope Sarah will be successful in her examination at school.[227] I am also glad that you felt pleased with my discourse, although I regret exceedingly that I had not time to complete it.
The boil on my neck developed in to a first class carbuncle.[228] I have been suffering with it ever since, although it is now healing rapidly. My visits to Provo always seem to be hurried, indeed, my visits there are no exception to the rule, for I am always in a hurry. I do not know when I shall visit Provo again, but hope when I do I shall have a little more time to visit with you. You inquire about Hyrum and Donnie.[229] They were both well and prospering nicely when we last heard from them. All of my family, except myself, are in usual good health, and I have to report to you in addition to Aunt Sarah's nicest little baby[230] in the world, last night another came to visit us which promises to be the peer of her sister.[231] This time the addition is in Aunt Edna's family. I am going to Ogden today on business and will return this evening if I can.[232]
With kindest regards to yourself and all the children, including William,[233] I am,
Your affectionate brother,
P.S. You need not make the last items of this letter public— Keep them at home.[234]
Joseph F. to Martha Ann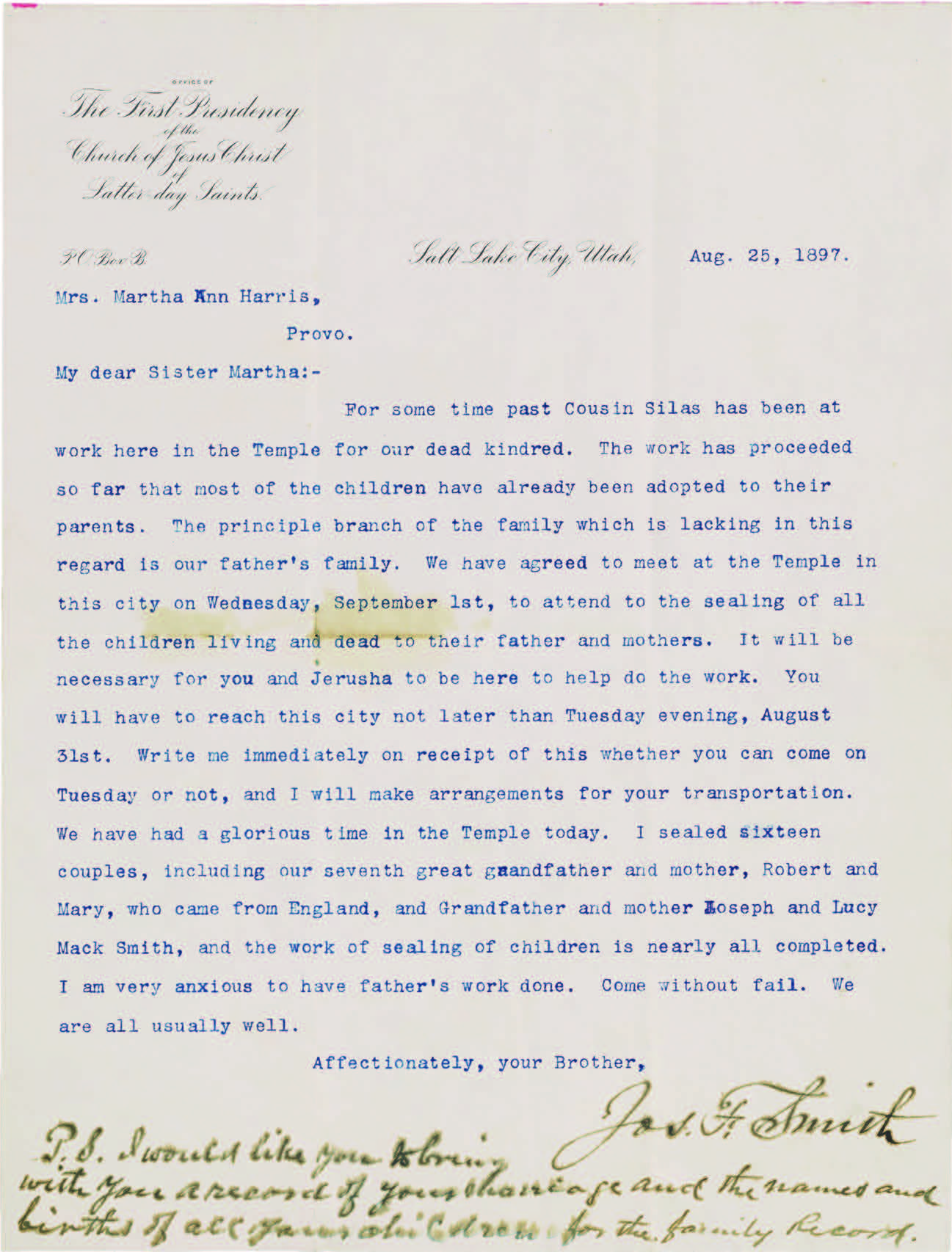 Joseph F. to Martha Ann, 25 August 1897 (p. 1)
Salt Lake City, Utah, Aug. 25, 1897.[235]
Mrs. Martha Ann Harris,
Provo.
My dear Sister Martha:—
For some time past Cousin Silas[236] has been at work here in the Temple[237] for our dead kindred. The work has proceeded so far that most of the children have already been adopted to their parents.[238] The principle branch of the family which is lacking in this regard is our father's[239] family. We have agreed to meet at the Temple in this city on Wednesday, September 1st, to attend to the sealing of all the children living and dead to their father and mothers. It will be necessary for you and Jerusha[240] to be here to help do the work. You will have to reach this city not later than Tuesday evening, August 31st. Write me immediately on receipt of this whether you can come on Tuesday or not, and I will make arrangements for your transportation. We have had a glorious time in the Temple today. I sealed sixteen couples, including our seventh great grandfather and mother, Robert and Mary,[241] who came from England, and Grandfather and mother Joseph[242] and Lucy Mack Smith, and the work of sealing of children is nearly all completed. I am very anxious to have father's work done. Come without fail. We are all usually well.
Affectionately, your Brother,
Jos. F. Smith
P.S. I would like you to bring with you a record of your marriage and the names and births of all your children for the family Record.[243]
Joseph F. to Martha Ann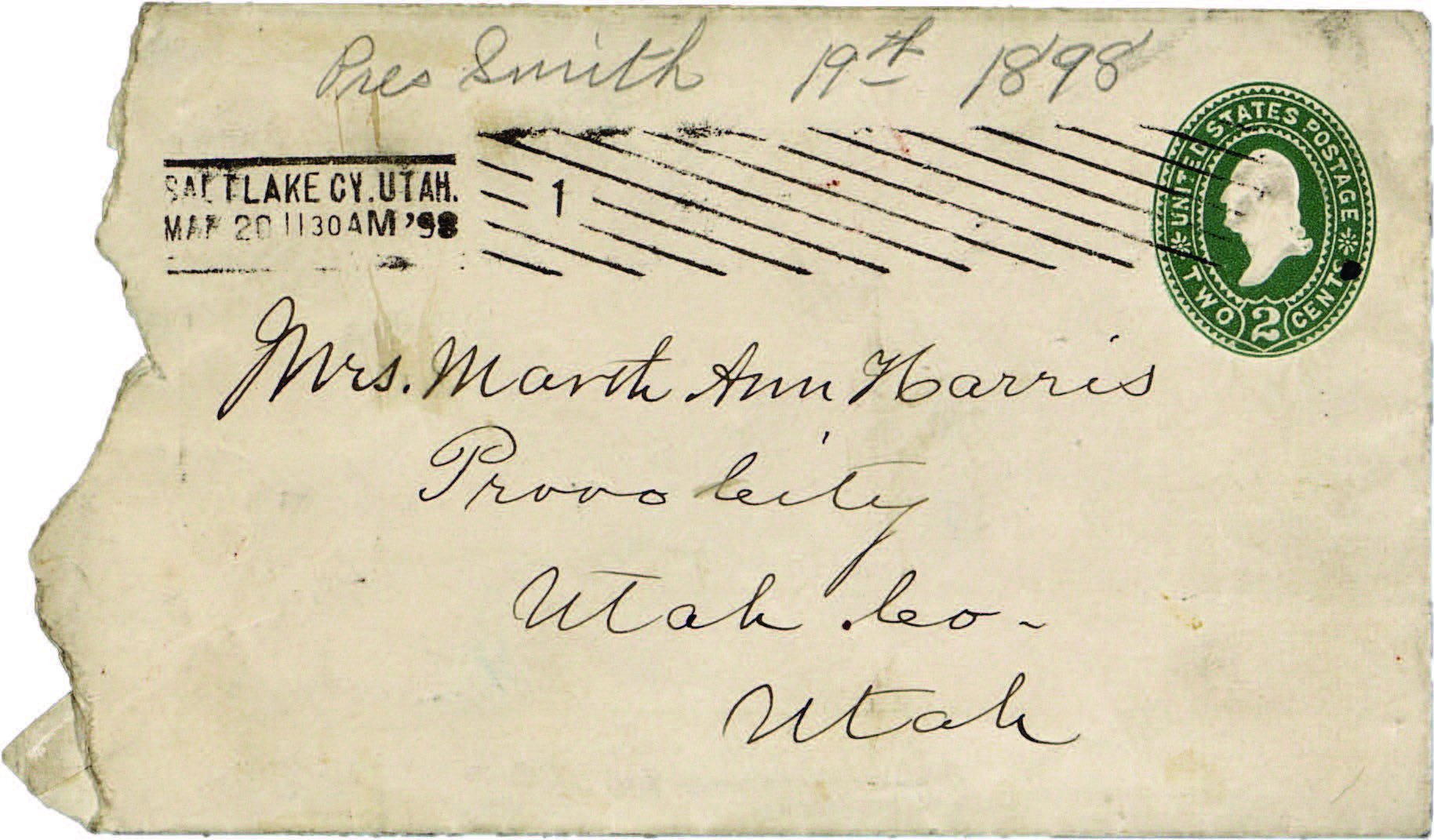 Joseph F. to Martha Ann, 19 March 1898 (envelope)
143 North 2d West St—
Salt Lake City
Mar. 19th 1898.[244]
My Dear Sister
Martha Ann Harris:—
We have, as you perhaps know, for a long time been passing under most trying ordeals of sickness. Aunt Sarah E.[245] was taken with Typhoid fever—then Emily,[246] with Scarlet fever, then Alice M.[247] with Typhoid fever, then Rachel[248] with scarlet fever—then Edith,[249] and next our Dear little Ruth—who—in spite of all we could do by faith and prayer and skill, on the 17th inst—passed away—leaving us heart-broken and bowed down to the dust in grief & sorrow for [p. 2] our irreparable temporal loss.[250] You will no doubt remember our sweet little Ruth—to be loved—she needed only to be seen. To be admired she had but to be heard—for she was one of the brightest little Souls I ever saw. But O! my Soul, we have had to yield her spirit up to God who gave her, and her sweet little body to the grave. She was buried to day. I should have written you sooner but to tell the truth my poor heart has been in the icey chamber with the cherished lovely form of my darling babe! I could not write.
Aunt Sarah and Alice M. are slowly improving in health—Julinas[251] children [p. 3] are well and convellescing, and now our little Zina[252] is down with the scarlet fever, and the yellow flag[253] is nailed to our front wall. But we hope soon to be free from all these troubles. Little Andrew and Jesse[254] have got the whooping cough—and so, you see, we are not without our troubles.
Little Nettie[255] has also been quite poorly for a week but she is better now. We thought she was coming down with the fever—but if she did she had it so light, we did not know it was scarlet fever.
Our sweet little Ruth took bronchitis on the top of her Scarlet fever—and the darling could not resist them both. Oh! [p. 4] She was such a lovely—intelegent little child— She possessed a wit and wisdom far beyond her years—and far beyond all her little playmates. "The glory of God is intelligence", therefore she must have been a part of His glory! for she was indeed inteligent!
Inscrutible are the ways of providence. But one thing we know—She was sinless—pure, redeemed by the Savior of the world from before the foundations thereof— And she will not have to feel the pangs that we have felt in losing her for time. God help us to bow to His will—and to see his providence in all things. We all send you our love—and remain as ever your brother Jos. F. Smith
P.S. I suppose you know that our Hyrum M.[256] got home from his mission on the 7th inst. in good health and spirits. We are thankful he found us all well when he came.[257]
Joseph F. to Martha Ann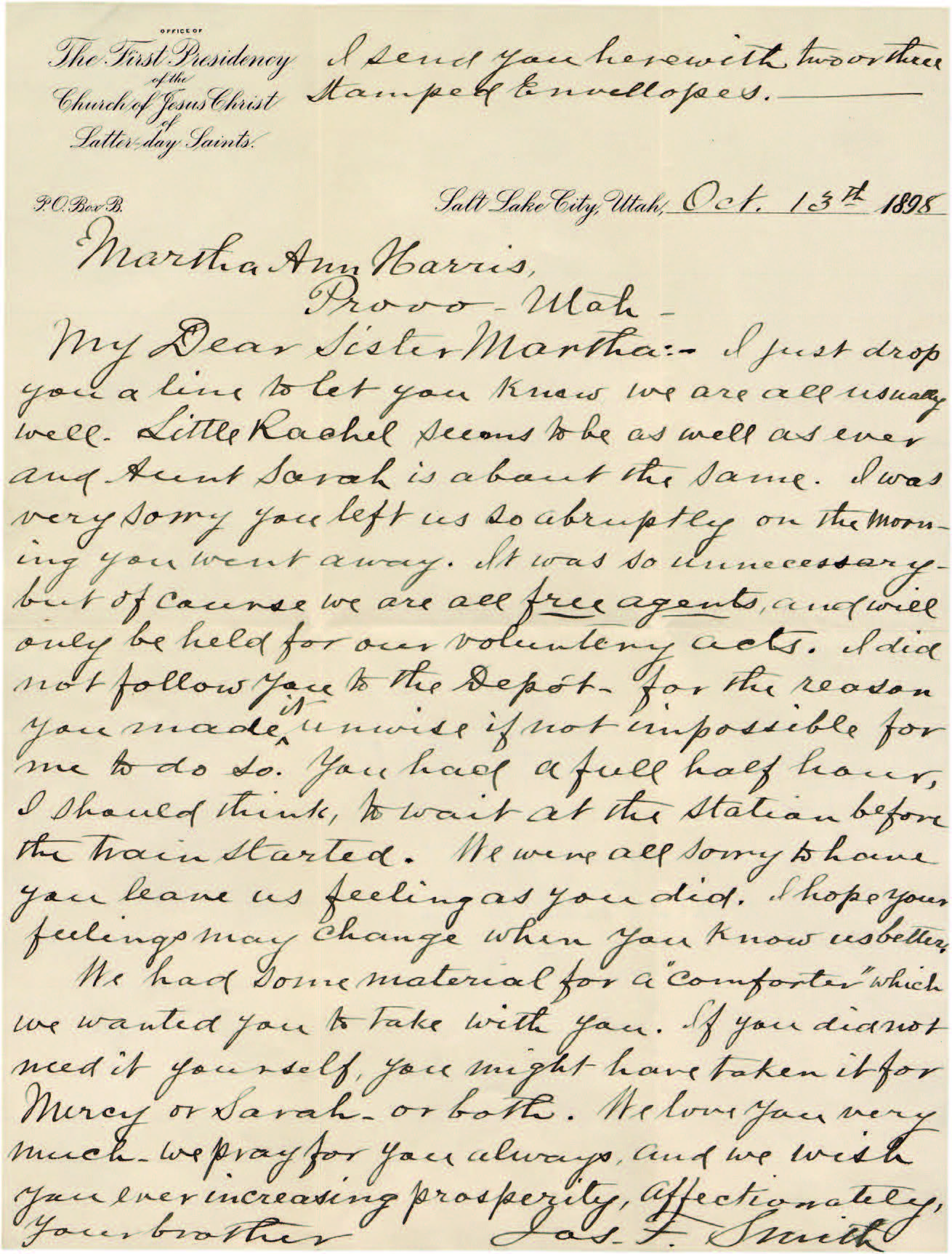 Joseph F. to Martha Ann, 13 October 1898 (p. 1)
Salt Lake City, Utah, Oct. 13th 1898[258]
Martha Ann Harris,
Provo—Utah—
My Dear Sister Martha:— I just drop you a line to let you know we are all usually well. Little Rachel[259] seems to be as well as ever and Aunt Sarah[260] is about the same. I was very sorry you left us so abruptly on the morning you went away. It was so unnecessary—but of course we are all free agents, and will only be held for our voluntery acts. I did not follow you to the Depot—for the reason you made <it> unwise if not impossible for me to do so. You had a full half hour, I should think, to wait at the station before the train started. We were all sorry to have you leave us feeling as you did. I hope your feelings may change when you know us better.
We had some material for a "comforter" which we wanted you to take with you. If you did not need it yourself, you might have taken it for Mercy or Sarah[261]—or both. We love you very much—we pray for you always, and we wish you ever increasing prosperity, affectionately, your brother Jos. F. Smith
I send you herewith two or three Stamped Envellopes.——[262]
Joseph F. to Martha Ann
Oct. 25, 1898.[263]
Mrs. Martha Ann Harris,[264]
Provo.
My dear Sister Martha:—
I have been absent from the city for a week.[265] On returning this morning to the office I find awaiting me your favor of the 18th inst. which I hasten to acknowledge, although with some regret that you are still troubling your mind, somewhat, over matters which should be received and considered as valuable lessons in experience, which if properly heeded will lead to very great improvement in habits and conscience, and especially in matters of conversation and friendly associations. However, I will not attempt to reply <to> that [illegible strike-through] portion of your letter now, may do so at some other time in person when I have an opportunity to converse with you.
I am very glad to hear that you reached home in safety, and that "Artie"[266] was at the depot to meet you with the buggy to take you home, and I hope, too, that your health continues to be good, and that William's[267] health is better than when you reached home, and I also very sincerely hope that the health of the children generally is good. We are all about the same as when you were here. Little Rachel[268] has had two or three days of stomach trouble since you left, but is now going to school again. Leonora has a beautiful little boy, born on the 20th inst.[269] Both she and the baby are progressing nicely, and we are all very happy for her success. Being pressed for time at present, I will write you at greater length at some time in the future. With love to all.
Affectionately your brother,
Jos. F. Smith
Joseph F. to Martha Ann
Salt Lake City, Utah, Dec. 23d 1898[270]
Martha Ann Harris:
Provo—
My Dear Sister Martha:—
This is the 83 anniversary of the Birth of the Prophet Joseph Smith.[271] We expect to have a little gathering in the 16th ward this evening in his honor. I have been thinking of you, and concluded, altho' my needs are great and my resources comparitively few—that I would divide a little with you— I send you therefore my check for five dollars, in hope it will reach you in time for you to get a Christmas Turkey for your Christmas dinner.
I wish you all the compliments of the season. And pray God to bless you, heal you, and prosper you and yours.
We are not all of us well—but we are gaining. With love in which all would joine if they could, I am sincerely, lovingly and truly your Brother,
Jos. F. Smith
Joseph F. to Martha Ann
June 16th 1899[272]
Mrs. Martha Ann Harris
Provo Utah Co.
Want to do Temple-work next week for the Fieldings. Expect Rachel Burton[273] down next Monday. Can you come? Let me know by Deseret wire.[274]
All well here.
Jos. F. Smith
Joseph F. to Martha Ann
Sept. 6th [ ]9[275]
Mrs. Martha Ann Harris
Provo.
We are anxious to hear how Sarah[276] is? Please answer by the mes[◊◊]nger—on my order.[277] Aunt Alice[278] is quite poorley, also Melissa,[279] all others about as usual.
Jos F. Smith
Joseph F. to Martha Ann
October 4th, 1899,[280]
Mrs. Martha Ann Harris,
Provo.
My Dear Sister Martha:
Finding that the railroad people are averse to selling tickets at this end of the Line for places at a distance, I came to the conclusion I would send you money to pay your fares from Provo to Salt lake and return at regular conference rates which is $1.90 each.[281] I will be able I think to get them extended at this end to any length of time you may desire to remain with us. Simply call for the regular conference ticket and come and see us as soon as you feel like it. I hope Sarah[282] is gradually gaining her strength and that all of you are well. I am happy to say that our sick ones are improving slowly so far as we can discern.
With kindest regards, I remain,
Affectionately your Brother,
Jos. F. Smith[283]
I send you herein[284]
$500 green back.
Joseph F. to Martha Ann
Oct. 5th 1[◊◊]9[285]
Martha Ann Harris:
Provo—Utah.
Hope Sarah[286] is rapidly improving, and will accompany you & Mercy[287] to Conference.[288] Wrote you yesterday Let us know when you will arrive here by O. S. L.[289]
Jos. F. Smith
Joseph F. to Martha Ann
Oct. 16th 1899[290]—
Martha Ann Harris
Provo—
Girls start home by five-thirty train, Oregon Short-Line. Meet them with conveyance. Melissa[291] accompanies them. All usually well.
Jos. F. Smith
Joseph F. to Martha Ann
Dec. 23d 1899[292]—
Martha Ann Harris—
Provo.
Look out for letter to morrow. We are all usually well—
Jos. F. Smith
Joseph F. to Martha Ann
Dec. 23d 1899[293]
My Own Dear Sister[294]
Martha A. Harris—
Provo.—
This is the anniversary of Uncle Joseph's[295] Birth—94 years to day since he was born. We celebrate the occasion to night in the 16th ward. I wish you and all of yours a merry Christmas and a happy New Year—and many—of them. I send you a small token of my devoted love— I wish it was a hundred—instead of only $500/100. But I can only do what I can. The Lord has been merciful to me and mine all through the years until now, and although my family is large—and my cares many and my responsibilities great—Father[296] has so far fitted my back to my burdens, and has made me what I am.
God bless my sisters—my brother—and their families—With love to you all, I am your brother, Joseph F.——
Notes