Richard Neitzel Holzapfel and David M. Whitchurch, "Letters," in My Dear Sister: Letters Between Joseph F. Smith and His Sister Martha Ann Smith Harris, ed. Richard Neitzel Holzapfel and David M. Whitchurch (Religious Studies Center, Brigham Young University; Salt Lake City: Deseret Book, 2019), 319–320.
Joseph F. to Martha Ann
May 21st 1880[1]—
S. L. City—
Martha Ann Harris—[2]
My Dear Sister:—
It has been a long time since I wrote to you, and I have received several letters for which I am indebted to you. I hope however you will pardon me when I assure you it is not from any forgetfulness or lack of brotherly and friendly regard that I have neglected so long to write; but I have been waiting for a favorable opportunity to accomplish some other matters before I should write. I have never been able, as yet, to present your T. O.[3] accounts to the Council, because of the multitude of other matters which have occupied their attention. Besides I desire to present them at a time when I think nothing will prevent favorable action.
Perhaps I should have done it sooner [p. 2][4] but to the best of my understanding I have had no right favorable chance. I now think I begin to see the way opening and am in hopes soon to be able to report to you favorably, which I will do as soon as I possibly can.
I suppose you are aware that Sarah has another little girl. Mary Jane[5] informed us that you had been notified. They are both doing exceedingly well. The baby—whom we call Minerva[6]—is growing nicely and as usual is a very pretty, sweet little one. The rest of the family are well. Aunt Thompson[7] and Mary Jane, ditto, so far as I have heard. Aunt T.[8] was here this morning. She is never real happy unless she can make herself uncomfortable for the welfare of somebody else. She is now trudging every where with a subscription list; soliciting subscriptions to help a poor family out from England She has raised nearly 100 $[9]
Joseph F. to Martha Ann
S. L. City
June 4th 1880
My Dear Sister
Martha Ann.
Yours of May 31st came duly to hand. Pleased as ever to hear from you, and that you are all well. Sorry that Joseph's baby is not well, but hope he will be ere this.[10]
Little Willie Pierce,[11] died on Friday May 21st and was buried on the 22d John[12] went up to see them last Monday, and was also going but I could not well leave. Lucy[13] came and stayed with us several days—but she got very homesick for her grand mother, and went to Zinas[14] on Tuesday last. I have not seen Mother Smoot since she called with Lucy[15]—but heard she was going to Cottenwood[16] yesterday.
We are all well—and the children are growing nicely & going to school.
Your affectionate brother Jos. F. Smith
Joseph F. to Martha Ann and William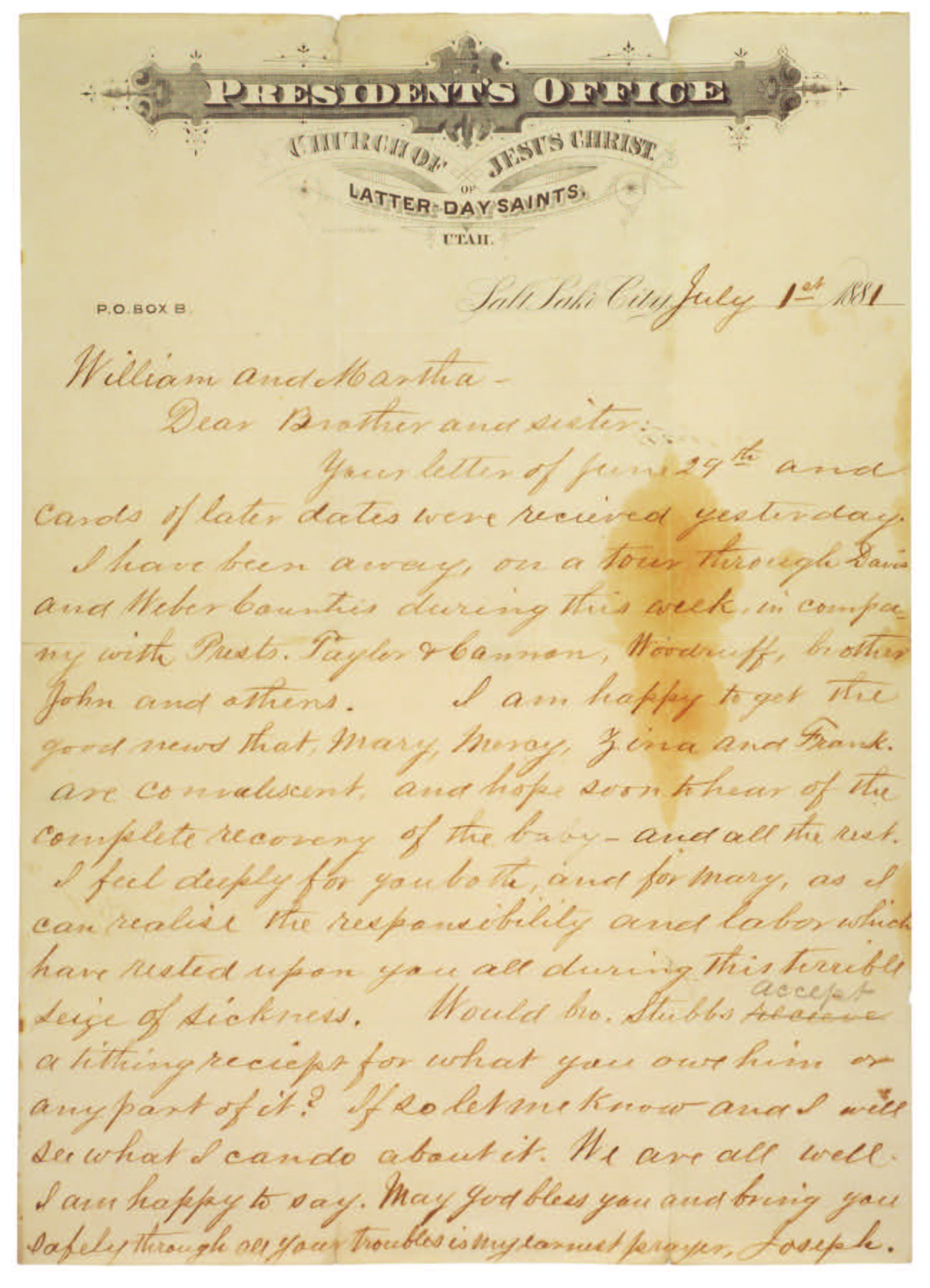 Joseph F. to Martha Ann and William, 1 July 1881
Salt Lake City July 1st 1881[17]
William and Martha—
Dear Brother and sister:—
Your letter of June 29th and cards of later dates were recieved yesterday.
I have been away, on a tour through Davis and Weber Counties[18] during this week, in company with Prests. Taylor & Cannon, Woodruff, brother John and others.[19] I am happy to get the good news that, Mary, Mercy, Zina and Frank.[20] are convalescent,[21] and hope soon to hear of the complete recovery of the baby—and all the rest.
I feel deeply for you both, and for Mary, as I can realise the responsibility and labor which have rested upon you all during this terrible seige of sickness.[22] Would bro. Stubbs[23] receive <accept>[24] a tithing reciept for what you owe him or any part of it? If so let me know and I will see what I can do about it. We are all well. I am happy to say. May god bless you and bring you safely through all your troubles is my earnest prayer, Joseph.
Joseph F. to Martha Ann
July 28th[25]
My Dear Sister, Martha Ann
Your favor of yester day and Williams[26] Telegram, are duly recd
I am indeed sorry for Joseph,[27] and was greatly surprised when recd Wms Telegram yester day announcing the fact.
We do hope and pray that he may soon recover his health. The good spirit, I trust, suggests to me that he will get over it all right. I would give him freely of the iron we sent you, if you have not already exhausted it. Alcohol taken freely I believe to be an excellent remidy for that desease.[28] Still depricate works without faith, for I believe faith and the ordinance of anointing and laying on hands, of faithful men to be one of the most powerful agencies for the healing of the sick. Gods promise is that the prayer of faith shall save the [p. 2] sick, and the Lord shall raise them up."[29] You have been wonderfully blessed through all your afflictions, in losing none of your children. Still you have had a hard "row to hoe"[30] Some are blessed in one thing and some in another. Johns little "Birdie"[31] has had another attack of the desease, but is now thought <to> be slowly recovering. I am happy to say that at present we are all well, which is a great deal to say for one with such a family as I have. I pray God to continue his mercies unto all of us. I have not been able to send you an order as you desired, as yet, for the reason that the girls have been drawing heavily on me of late for sewing machines and one thing and another, which has draned me very closely. I hope soon to be able to send it. We will surely remember Joseph in our prayers. and all the rest of you I had Joseph prayed for yesterday in our prayer circle,[32] and I beseech God to hear our prayers. Remember me kindly to all. If M[◊◊]i[◊]h Holt[33] gets a divorce she can marry again. Affectionately Joseph
Joseph F. to Martha Ann
Sept. 18, 1881[34]
Dear Sister Martha Ann,
On Friday, 16th inst. Edna gave birth to a fine boy,[35] weighing 8lbs and 4 ounces. They are both, up to date doing very nicely. We are all usually well, and sincerely hope you and all ditto.
I am very sorry to have to report that Robert B.[36] has got the Typhus or Typhoid fever, and is very sick. Mary Jane is still very feeble and poor Aunt Thompson is nearly worn out. I sat up with them till 2 o'clock this morning. Edna is in bed. Julina getting ready for the same,[37] Sarah with nursing baby,[38] and no help—so we [illegible] do much [illegible] from home. [illegible] With love, Joseph
Joseph F. to Martha Ann
Nov. 23d 81[39]
My Dear Sister Martha A. Harris
I herewith send you an order, (No. 1497) on the Provo Woollen factory[40] for $50.00 I send you this on condition that you will get with it such things as you may need to clothe yourself and the little children, as far as possible, for the winter. And this is all I ask. I also send you order No. 775: for $10.00 for shoes for yourself and little ones, so far as it will go. and as every little helps, if wisely used this may do you a little good in the face of the present and future cold weather.
We are all well, Julinas baby[41] is fretful, and cries a great deal, but seemes strong and healthy, and grows "like a weed." Edna has got the best baby she ever had.[42] Hoping this with the inclosed orders, may find you and yours all well and as happy as possible. I am as ever your your <affectionate> brother and friend in the bonds of kindred love, in which my family joine.
Jos. F. Smith
Joseph F. to Martha Ann
Salt Lake City, U.T. Mar. 13th 1883[43]
My Dear Sister
Martha Ann
I meant to have written you on monday 5th inst. after returning from Provo,[44] but so many duties, cares and responsibilities have been pressing upon me of late that I could not, it seemed, get a chance. My little folks—that is, George C., Albert J. and Melissa,[45] were taken, about the time I was at Provo, with alarming symptoms of the croup, one after another, and little Albert is still in a very dangerous condition and none of them fully recovered. At the same time both of Sarahs babies[46] are suffering with colds, teathing and general uneasiness. So you see I have had enought to worry my mind with about home.
I had to attend the Davis Conference on Saturday and sunday last.[47] and on my return, I received word from William W. Burton, Ogden that they buried their little Parley[48] on Saturday last—who died the day previously with croup. Aunt Thompson and Mary Jane[49] are in the same feeble condition and without help. They are so peculiar in their fancies and notions that it is with difficulty that they can get any [p. 2] help to remain long with them. They seeme to think their work is light, that any little girl, half smart could do it. but when it comes to waiting on two invalids, very peculiar in their notions, and hard to please, and do house work, and a hundrid and one other things required by a family, it is no small or triffling matter. I felt very much grieved at not being able to call on you on sunday, the 4th inst. Sarahs baby[50] not having had the measles—and as we already had so much sickness—and of a kind that we have had so much cause to dread, I did not think it wise for the little girls[51] to call—and as I had no time myself I could not. between meetings we were occupied every moment in council, except bearly time to get dinner,[52] and the conference meetings occupied the rest of the time. As you know I am a public servant, and absolutely have no time of my own. My folks feel this as much as any body, and my own children get as little of my company as many strangers. or in otherwords, I am so much from home, engaged in public duties, that comparative strangers get about as much of my compay as my own family, yet I am sure it is no where more welcome than at home. I cannot tell you my feelings about your circumstances. I often upbraid myself for my inability to make you as comfortable as my own family. Your life has been a hard one as was that of our ever dear and precious Mother.[53] Surely there is a noble reward awaiting you after your trials. Cheer up. If I live and prosper I shall not forget you. My heart is full, my eyes moist. I am ever truly Joseph F.——
Joseph F. to Martha Ann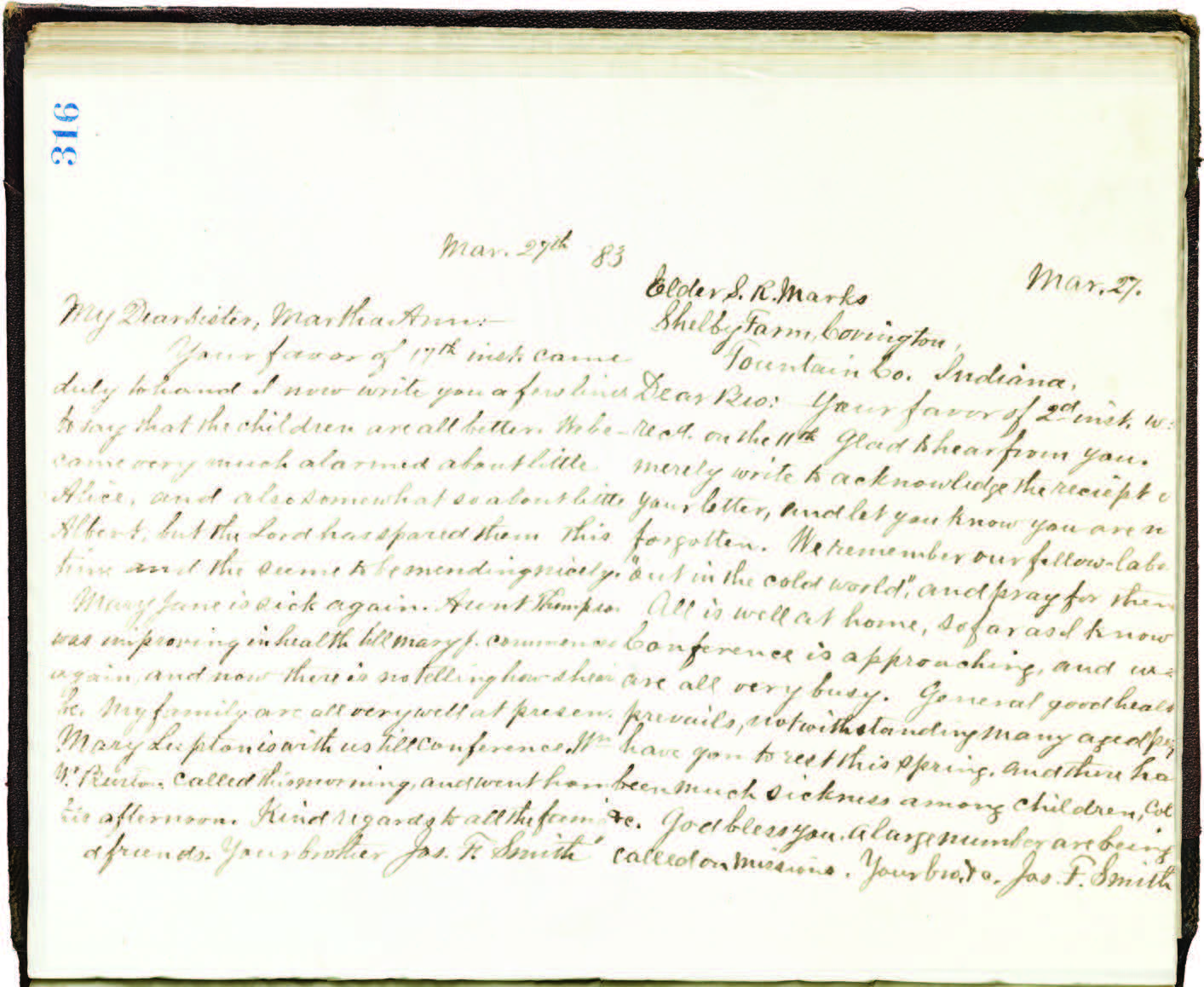 Joseph F. to Martha Ann, 27 March 1883, copy found in Joseph F.'s letterpress copybooks under that date.
Mar. 27th 83[54]
My Dear Sister, Martha Ann:—
Your favor of 17th inst. came duly to hand I now write you a few lines to say that the children are all better. We became very much alarmed about little Alice,[55] and also somewhat so about little Albert,[56] but the Lord has spared them this time and the seeme to be mending nicely.[57]
Mary Jane is sick again. Aunt Thompson[58] was improving in health till Mary J. commenced again, and now there is no telling how she wi[◊◊] be. My family are all very well at present Mary Lupton[59] is with us till conference. Wm W. Burton[60] called this morning, and went hom[◊◊] this afternoon.[61] Kind regards to all the fam[◊◊] [◊◊]d friends. Your brother Jos. F. Smith
Joseph F. to Martha Ann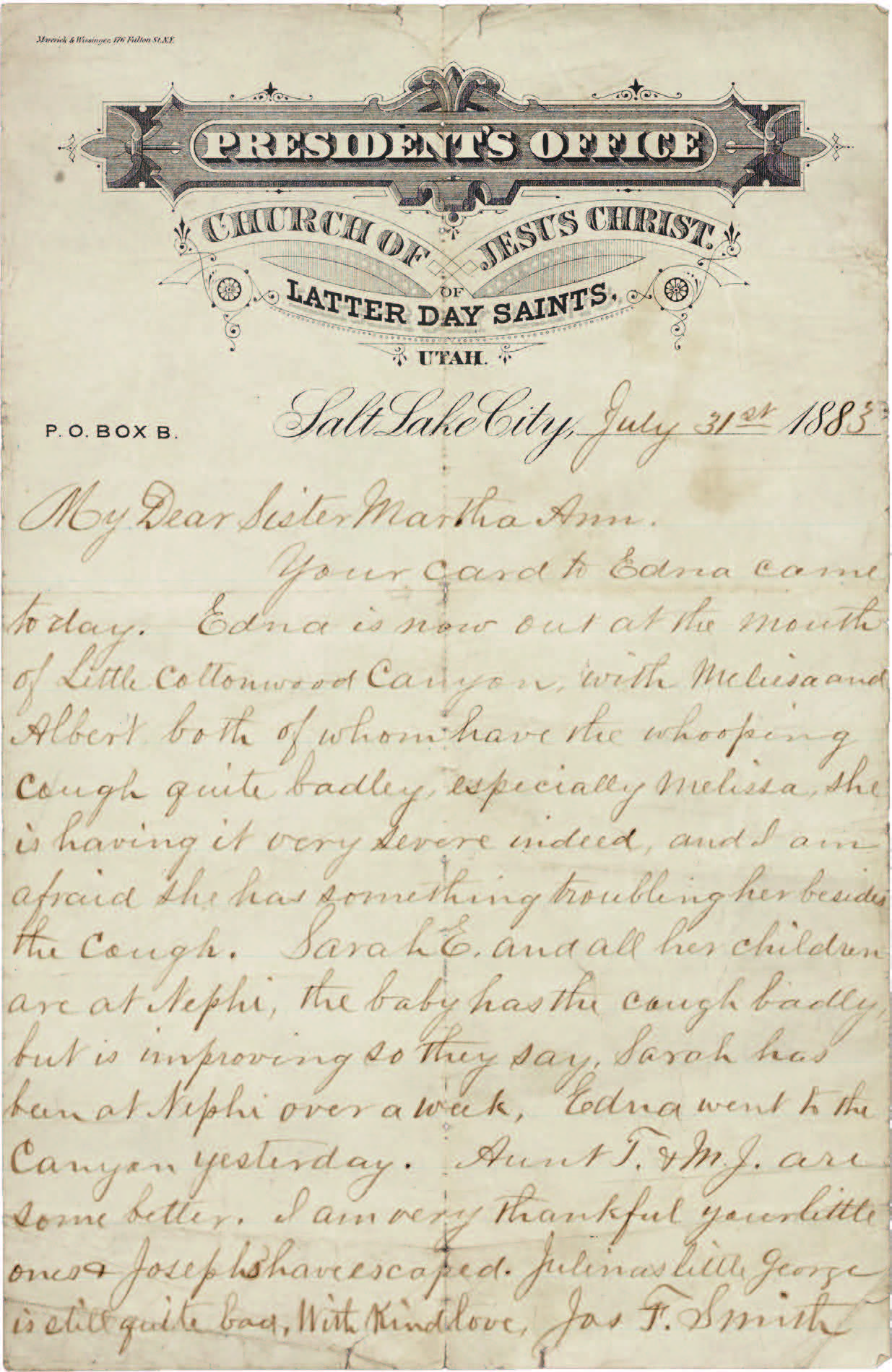 Joseph F. to Martha Ann, 31 July 1883
Salt Lake City July 31st 1883[62]
My Dear Sister Martha Ann.
Your card to Edna[63] came to day. Edna is now out at the mouth of Little Cottonwood Canyon,[64] with Melissa and Albert[65] both of whom have the whooping cough quite badley, especially Melissa, she is having it very severe indeed, and I am afraid she has something troubling her besides the cough. Sarah E. and all her children[66] are at Nephi,[67] the baby[68] has the cough badly but is improving so they say, Sarah has been at Nephi over a week,[69] Edna went to the Canyon yesterday. Aunt T. & M. J. are some better.[70] I am very thankful your little ones & Josephs'[71] have escaped. Julinas little George[72] is still quite bad. With Kind love, Jos F. Smith
Joseph F. to Martha Ann
Salt Lake City U.T. Aug. 26th 1883[73]
My Dear sister Martha Ann,
Once more, and now for the sixth time, by the inexorable will of an inscrutible providence we have been called upon to part with one of our dearest, most preacious treasures.[74]
This time the pitiless monster, death, has chosen for his "shining mark" our beautiful, inteligent, bright and lovely little Albert Jesse. His death occurred yesterday at 11.35 a.m. after an illness of about 13 days, most of which time I was absent from home, travelling thro' the settlements north with Pres. Taylor. I arrived home on thursday morning having been sent for, and being honorably released by the President. I had the [p. 2] sorrowful pleasure of watching and waiting upon him, my darling boy, for 52 hours, with heart-felt prayers and scalding tears not a few, but the heavens were brass over our heads.[75] our crys and tears fell alike to the earth and all were buried this day with the lifeless, beautious form of our hearts' treasure in the grave! and yet not all were buried, for still our cry would assend, why is it so? O. God why had it to be? and still our tears seak the earth to releave if not to bury our heart-aches in its feelingless bosom.
If for the sorrows of parting with our little, innocent ones in this world, we are to be rewarded with joy in the near or distant future, then may I not hope for a rich reward hereafter! Have I not laid up treasures in heaven? Sarah Ella, Mercy Josephine, Heber John, Alfred Jason, Rhoda Ann, and now Albert Jesse, all hold out their loving arms to "Papa," from the other side.[76] What a happy meeting awaits me! and I trust, that in that ransomed [p. 3] throng no hearts nor hands will welcome me more warmly than those of Father, Mother, Hyrum, Mary, (whom we knew not) and Sarah, and Lovina,[77] and hosts of Kindred dead who being "dead yet live", they having tasted of the living waters of christ, and died in Him. By far the greatest number are beyond the vail, the ties which draw us thither are fast becoming stronger than those which bind us here. Yet I look upon my little flocks now drawing upon me for their daily food, and none in store, but trusting in providence, and depending upon my mortal life for <their> help and protection and I breathe the earnest prayor, O! let me stay to battle with the ills and ups and downs of life yet a little longer in the world for their dear sakes. Were it not for this, now while my soul is cleansed by poignant grief I would rather go than stay. and yet I half feel that I am neither good enough to go or stay. It seemes not [p. 4][78] always an easy task to acknowledge the hand of God in All things. yet I will do it. and my heart says, "tho' He slay me yet will I trust in Him,"[79] for "The Lord giveth and the Lord taketh away, blessed be the name of the Lord".[80] I would rather have to pass through the the scenes of the past few days, harrowing as they have been, to the heart and soul, time and time again than never to have had my precious boy. Our aim can be no higher or nobler than to aspire to be worthy of an eternal union with, and possession of the pure, innocent trusting and loving little souls, such as those with whom God has blessed me only for so such short and happy periods of time. God help us to be worthy of them. Joseph[81]
Joseph F. to Martha Ann
Nov. 12th 1883[82]
My Dear Sister Martha Ann.
Your favor of the 11th is received I am pleased to hear of the improvement of your children, and those of Joan,[83] and I hope all of you will pull through safely.
My family are generally well, some of the children have slight colds, but nothing serious I trust. Tomorrow I shall be 45 if I live, nearly a year older than father was when taken home.[84]
Cousin Ina[85] is very high-toned, highly educated, well read and talented, she has out grown her fathers religion, and surpassed all her kindred, especially those in Utah. She is tal gifted in music [p. 2] and poetry, is a good writer, and resides in Oakland, California. I think a letter addressed Miss. Ina Pickett,
Oakland Library
Oakland, California
would find her. If you write take paines with your hand and spelling, for she is somewhat critical. I think she would like to hear from you, but she will not answer my letters, I have written several times. I send you herewith General Tithing office order #701 on Provo Coôp-store for my birth day present, to get shoes and other necessary articles for you and the children. It calls for 25$ in merchandise.[86]
You must excuse haste and give my love to the children There is a letter at my house for William[87] Your affectionate brother Joseph
Joseph F. to Martha Ann
Nov. 22 83[88]
Dear Sister Martha Ann—
Provo, Utah Co.
Dear Sister:—
Yours of the 14th reached me on tuesday 20th inst. on my return from San Pete.[89] I have failed to notify you that on Monday Nov. 12th at 8.30p.m. my ninet[◊]enth child and tenth son was born. both mother and boy have done well so far, for which I am very thankful. We have named him Robert, after our first american ancestor, Robert Smith.[90] He is a fine healthy little fellow, and weighed just 8lbs and 14oz. Hoping this will find you and yours well I am in haste Joseph
Joseph F. to Martha Ann
Feb. 11st 1884[91]
My Dear Sister
Martha Ann Harris.
I write to inform you that our tenth daughter[92] and twentieth child was born yesterday at 20 minutes to 2, O'clock—a.m. Julina and baby are comfortable and we are all once more happy. Of course mothers always think their babies are the prettiest, sweetest and best, but we all think we have never had a prettier one than this one <is> at the beginning.
Ednas last boy[93] is a regular bouncer, and a fine, noble little fellow, but he means to be taken notice of in this world, at least while he is or will be an attachee of the "brest-works", he therefore manages to keep his mother busy, and sometimes all that branch of the family are not too many for him!
I think he (Robert)[94] is one of the very finest infantile specimens of the genus-homo.[95] With love, Your brother Joseph F.——
Joseph F. to Martha Ann
S. L. City Aug. 1st 1884[96]
My Dear Sister
Yours of 16th ult. was duly recd Should have answered it right-away but as you desired to know who was coming to conference, I thought I would wait until I could send you word. And not until yesterday did I learn the conclusions reached. I learn that Pres. Taylor, and Cannon, F. M. Lyman, L. J. Nuttall[97] and some of their women folks and a few others, names not remembered—are going to take a trip into the north country, calling at Paris to attend the "Bear Lake" Conference on their way.[98] I was in hopes another of your friends would be invited, but other duties have been enjoined, so it will not be. Yours of 30th is just recd Very sorry you were disappointed at the P. O.[99]— Hope it will not occur again—but you will see the reason. Was pleased to hear of the pleasant rec[◊◊] [illegible word] [ ][100] [p. 2] by you on every hand. You must have enjoyed the company of Sr. Priscindia & Co. from Cache. Look out for Z. Y. W[101]—some folks' tongues run at both ends, loose very active and rattling. I have no fears on this head, for where "nothing is concealed nothing can pop out"[102]—as "Margery" told her "cousin Joe".[103] The best way to retain ones thoughts is to lock them up and lose the key—where it cannot be found, then one can treat friends and foes alike without exception.
In the fire is a good place to lose certain kinds of keys. Your friend has not seen your aunt Amanda[104] since her return, so I am informed. which is rather singular. You ask what would be thought of your stopping till Oct. I do not think there can be any objections, provided you feel like doing so. You are safe out there among your relatives, and I am sure your friend-s would be pleased to have you enjoy yourself however pleasing it would be to see you safe home again. Bp. L. W. Hardy died yesterday,[105] & Elder W. W. Taylor died today,[106] also Orson Whitney.[107] poor fellow, with him it is good ridance.[108] Your neighbors are all well. Sister Ed.[109] and children are in the canyon. God bless you & yours. With sincere regards I am truly [ ][110]
Joseph F. to Martha Ann
S. L. City, Aug. 15—1884[111]
My Ever Dear Sister,
Your favor the 9th is just recd and I hasten to drop you a line in return.
We are very sorry for your affliction with rheumatism, but hope sincerely that you are wholly relieved from it before now. We do pray for you and remember you and yours constantly before the Lord. Any thing in reason that we can do to help you or to comfort you you may confidently expect if you will only let us know, so far as we may fail to see. The Lord bless and heal you and preserve both you & yours and all who are dear to you we humbly pray.
The family and your friend's are all well. S. E.[112] with six of the family are in the Canyon.[113] The weather has been much cooler for a week, since the showers a week ago. The nights are very pleasant but the days are warm. It is perhaps as well your friends was not there at the Con. [p. 2] as it could have been little more or less than an agravation. We cannot say any thing against your remaining till cooler weather, altho' we would be pleased to see you safely and soundly in our midst once more. When you get ready to come to the city if you will let us know we will assist you on your journey. We send herein (10$) ten dollars for you which you can credit up on a/c. as you may need a little money for present necessities or for travelling expenses. Bro. E. Snow,[114] and others expect to leave the city about the latter part of this month for a visit to Colorado and the Sanjuan country[115] to be gon nearly a month, will return in time for conference all being well.[116] The Presidency are expected to return to Salt Lake about the 27th of this month.[117] You will have heard the sad news of the assassination of two Elders & two or more Saints in Tennessee.[118] It is too horrible to contemplate.[119] Excuse brevity, and believe me ever— [ ][120]
Joseph F. to Martha Ann
Salt Lake U.T. Aug. 23d 1884[121]
My Dear Sister
Martha Ann Harris:—
Yours of the 18,th was duly received. I am sorry you do not enjoy good health. and that the boys are so often out of work, I hope things will change with them for the better, and permanently so.
We are all usually well. Aunt T. and M. J.[122] have just returned from Logan[123] where they have been doing Temple work for some of their dead Kindred.[124] M. J. is not very well.
I send you a list of names &c. for sister Beesley,[125] Son and daughter; which I hope will prove satisfactory.
You must excuse haste as I am sorely pressed for time. Your affectionate brother
Jos. F. Smith
Joseph F. to Martha Ann
Sacramento, Jan 26. 85[126]
My Dear Sister
Martha Ann:—
Months have come and gon since I saw or heard from you. I trust that time is dealing with you with a friendly hand. I am pleased to say that I am well, but too far from home to be entirely comfortable.[127] My lot seemes to be somewhat peculiar. I am apparently doomed to wander upon the earth for a season as a missionary, having the word of life, and the light of the Comforter only as my companion and guide. Still I might be more dependent upon the cold charity of the world, as yet my lot has fallen among friends good and true, and I have not lacked for any thing needful. When I write to you again I may be able to send you some good news. At least I hope so. Twenty one years ago next March, I first visited this city, I was then on my way to the Sandwich Islands for the 2d time.[128] I returned a little less than a year later, and met Levira[129] [page 2] in San francisco, She returned with me to the Sierie Nevadas some 60 miles further east where we got snowed in for two or three days and she went back to San Francisco and I went home. This was the first break and downward move she made from which she never recovered.[130] And now, poor creature <I believe> she is an object of pitty. I expect to visit San Francisco in a few days, and will if possible call and see if Ina[131] has returned. I rather think she has not or I should have heard of it. I have been travelling since Aug. 29th when I left home with E. Snow and J. Morgan[132] to visit the Saints in Colorado New Mexico, Arizona and S. E. Utah.[133] Since then I have been to Oregon in the north and Mexico in the south and the Golden gate[134] in the west_ and east almost to the Missouri.[135] I cannot boast of having <done> much good either to the world or myself still I am confident neither is any the worse for it. I heard thro' the folks that Mary was married.[136] I wish her present and eternal happiness. I regret my absence from home at the time. Give my best love to her & to all the children and friends. I will write again & send you my address. Your Brother.
Joseph F. to Martha Ann
Private.
P.O. 410 Honolulu, Oahu, S. I.[137]
Mar. 18th 1885[138]
My Dear Sister Martha Ann,
I wrote you last at Sacramento,[139] you will not therefore be surprised to hear from me from these distant lands.[140] What I write you I shall expect will be kept to yourself. Also as to my whereabouts. It seemes I am in some demand in certain quarters.[141] I heard that Ray Davis, Johns precious son in law,[142] has been trying to get me indicted for living with and supporting my family, and has succeeded but not satisfied with that he has been trying to bring me into further trouble upon a rumor of my having married somebody—goodness only knows who—and for this purpose he gave to the Grand Inquisition the name of my niece Mary E.[143] in hopes they could wring something out of her, as he knew she had been for some time living with us. I am of the opinion that Rays Mother-in-law[144] is but little better than he, as Mary informed the "girls"[145] that she had quizz'd her very carefully about my family matters while she (Mary) was stopping with us. I say this much to you to put you on your guard, and that you may put others on their guard against associations with Ray Davis or his aforesaid Mother-in-law. I do not blame John—but I sympathise with him in his unfortunate associations and relations.
I am aware that the children sometimes visit at Johns & hence with his family whom I, at least, cannot trust. They do not have good feelings for me or mine, because they do not feel as I do, nor have they the same faith,[146] besides I have been kind to Melissa,[147] and it was thro' me that she has been able to get a little support from John. For this some of them—and I do not know but John himself has feelings towards me. But I have only done my duty in this matter and I know it is right therefore I do not fear the consequences, nor would I change it if I could.
We have heard that Mary had been before the Inquisition (fallsly called a "Grant Jury",) where she had been quizzed in relation to my family affairs. I have no fears that she would intentionally give any evidence against me, but her inexperiance and the natural timidity one feels who is unacquainted with such matters, when brought in contact with such an infernal Machine as this inquisition is, makes possible results very uncertain. I am [p. 2] very sorry that she was put to the annoyance of such an unsaught and unwelcome interview, and I hope also they had only their trouble for their pains, and that Mary came out first best. And tell her she has my confidence and love and blessing, that she will always remain true and faithful to her kindred and friends and to the Kingdom of God. I am sorry for Lucy[148] and for John and their unfortunate connection with that miserable, "cussed" little traitor Ray Davis. And if he does not get his deserts it will not be because of a lack of faith on my part.
I arrived in these lands on Feb—9th and and the following day came out here—where I met our boy, Hyrum,[149] looking and feeling well, and seemingly as happy as he could be so far from home, and surrounded by so many circumstances foreign to his customs of youth. He is making very good progress in the study of the language, but feels the lack of early training in study. I am sure he will urge his brothers, and especialy the younger ones to apply their minds to study, every moment they can, so that when any of them are called to fill a mission they will be better prepared, and in a measure quallified to apply their minds to study. Hyrum is doing well and will improve himself—and be able to do good to others while on his mission. Altho' he is not quite so young as I was when I first started out, he is in quite as good a position to learn. Robert[150] is also here, and is doing first rate so far. He has more confidence in himself than Hyrum has in himself, and therfore makes a little better showing in his study of the language. But when Hyrum gets down to study, and gains self relians he will not be far behind.
Aunt J.[151] is here with me, she takes great interest in the boys—and will look after their mending and making so far as needed while she remains. But we hope that our release may come soon, for we are needed at home.
When I heard that S. & E[152]—and all my little ones had been forced to leave home, in the dead of winter, to seek shelter among friends and neighbors, from the venum and bigotry of a mob of deputy marshals, and U. S. office-holders, I felt that somebody was about ready for the wrath of God.[153] Not that it is any worse for me and my [p. 3] family to suffer than for others, but of course it came nearer home and I could not but feel it all the keener.
It is no triffling matter for Mothers who are nursing babis and who have a number of other little helpless ones clinging to their skirts besides, to be driven from their comfortable homes in the most inclement season of the year—with no certain shelter or convenience for their protection and comfort to become a burden upon others. And as I live I will hold somebody responsible for this act of cruelty and barbarism before the judgement seat of God. And among the guilty ones I shall not forget that damnable little pup, Ray Davis, as one of the principals in this fiendish move. The least spark of manliness on their part would at least have suggested the propriety of waiting for my return home, before making a raid upon my defensless family. I might not have been so healthy for some one—even if it had been only for myself, if I had been nearby. It is perhaps well that I was not.
But this is only vain talk—and I am getting sick of talk. I would like to see some lighning from the other side soon. I had the pleasure of reading Joseph A.'s[154] letter of Feb. 15th to Hyrum, and was pleased with the spirit of it. I would write to him and to Willie[155] and Mary, but I do not care to make myself so conspicuous just now. You can tell them all, that you have heard from me, and that I am well and as usual engaged in the duties of my calling as a messenger of the Gospel to the people of the Earth. I am as useful here at present as I could be any where. And when my labors will be more useful somewhere else I hope to be found there. With me it is the Kingdom of God or nothing. My only course is onward and, I trust, upward. I can yeald to nothing but the will and pleasure of the Almighty. It is my delight to serve the Lord and the people of God. The Lord has made me instrumental in bringing at least two souls into the church by baptism since my arrival on this Island. I hope others will follow. The language is coming back to me rapidly and I can speak quite fluently again in the native tongue, but not as I could once, and perhaps never can again as I could and did in my youth. But adding my experiance [p. 4] to or in the place of what I have forgotten in the language I do not know but I can do as much good now as I could when I was here before.
I have often thought of you and your children in the last six or seven months. It has been that long practically since I have been absent from home. My little Willard is now about four month old and I have scarcely seen him or his mother in that time.[156] And yet it is for no offence or crime that I have committed that I have been thus, in a manner, banished from my home and little ones.
Edna accompanied me from home in August and traveled with me for a month[157]—since then she and her little ones have been separated from me, so that I have scarcely seen them. And now my family have been scattered I hardly know where and I am thousands of miles away from them with out power to look after them. I look and long for my liberty once more, not but what I should be and am content to labor where I am sent and do all I can for good where ever I may be. Give my love to William and all the children. I pray for you all—and I trust I am remembered by them and you. Remember me kindly to bro. and sister Mecham. Tell them I am on a mission, preaching the Gospel, but you need not say where, for I am here to day, there tomorrow—and elsewhere the next day, and I may be in the Southern States or England, or Mexico next month, and you do not know where I am. Except that I maybe somewhere in the South.
J. sends love to you. Baby is well, and we would all be happy and enjoy ourselves if we only knew that our loved ones at home were safe and well. Hyrum will send this to you, and should you write send it to him, you know his address. It is at the top of this letter. I trust you can read this. I have scribbled hurridly. I saw your last letter to Hyrum, but you did not mention any thing about Mary being dragged before the Inquisition.
I hope all is well with you and the family and that God will bless you all. Tell Willie & Jos. and Frank, and John[158] that their Uncle expects them to be Men of honor and of truth, and faithful to the Cause of Zion[159] always. Hoping to see you all again some day I am your affectionate brother.
Joseph F. to Martha Ann
Apr. 13th 1885[160]
My Dear Sister
Martha Ann.
I had the pleasure of reading a letter from you and some of the rest of the folks lately, in which mention was mad of Marys[161] appearance before the Grand Jury in Salt Lake City, I was somewhat worried about the matter for fear that she said something which could be used against me. I would like to know what she did say so that I could prepare myself before hand to meet my accusers. I do not suppose for a moment that she would intentionally "give me away". But knowing her inexperience in such matters I am fearful she has unwittingly told about all they wanted to know— Of course what is done cannot be helped. And perhaps she is not aware of the fact that when she is again brought upon the witness stand she will have to face everything she has said to the Jury. and what she did say will be brought out in open court. I do not know whether you knew this or not, or if you did, whether you thought of it. Now I am going to ask you some questions—which were no doubt put to Mary in the Jury room—and I would like you to get her answers and [p. 2] let me know—sending your letter to H.[162] so that I can get it from him. In the first place they would ask her name and relationship. Then they would ask about as follows.
Did you ever live at your uncles?
1 How long did you live there?
2 How many wives has he?
3 What are their names?
4 How many children have they?
5 What are the ages of the youngest ones?
6 Did he stay with them all, eat & sleep &c. &c?
7 Did you ever hear him call them his wives?
8 Did you ever hear him call the children his?
9 Is he the father of these children?
10 Does he support them?
11 What are the names of his children?
Now what I want to know is—what answers did M. make to each and all of these questions? It is very importent to me to know just what answers were given for on the answers given the whole matter depends. and what other questions were asked her, and what her answers were. All that she did say was taken down by a reporter, and when she is brought into court, which she will be—should when I am obliged, to meet the indictment against me, she will have it to [p. 3] face, and unless she meets it squarely—she will be liable to prossecution for perjury. Therefore I would like you to get the exact truth so far as possible. Again, when she went to the city did she not go to Johns?[163] Did she go to our house? Please tell me where she stopped while in the city and as far as possible who she talked with while there. How many days was she in the city? and any other particulars you can get. I am afraid I am asking of you something that will be quite a task, but it is very important that I should know, my liberty is at stake. I prefer not to go to the Pen.[164] if I can help it, and if I can learn what the evidence is upon which an indictment was found it may be in my power to advise M. for her good and mine too. But unless I can get the streight of these matters, I can do nothing but await the issue. I think it was Ray Davis who gave Ms—name to the Jury—and I think too that he got his information from Helen, at least in part.[165] Ray himself knows nothing only what he has heard. His testimony is worthless, no matter how bitter the little Villain may be, but M. was an inmate of my house, saw and knew for herself, and what they got out of her would be evidence, and will be used in the trial. Therefore she will be to them a very imp[p. 4]ortant witness in the case. I am very sorry to trouble you, with these matters— I do not want you to feel worried or get nervous about it. nor feel bad. I do not censure, M. nor blame her. I believe she would not intentionally do anything to hurt me, but she is the only witness they had in my case that knew anything personally. Hence my anxiety about what she did say.
I know you will do all you can for me, you might get Joseph A.[166] to assist you. My whereabouts must be kept to yourself— The enemy is on the alert they want to find somebody very badly, but so far they have failed. Do not trust any body—or they will trust somebody else, and so on, from one to another. These are serious matters. And in this instance they come home to yourself as well as to me. I have written twice to you and the same to John, but so far have received not a line from either of you. I am sorry for John—he has been nursing a viper[167] in his confidence who has struck at hime thro' me—but I doubt if he can see it. If I had a creature about me that would betray him, I would feel like wringing its miserable neck— I may not be as good as I ought to be, but I am not a traitor to my kindred or friends. We are all well, and send love, We hope you are also well. From your Brother
Joseph F. to Martha Ann
Lanihuli,[168]
May 22d 1885
My Dear Sister Martha Ann
I am pleased to acknowledge the receipt on the 8th inst. of yours of Apr. 19th, which was the first I have received from you since I left home. You are aware that I left home on the 29th of Aug. 1884. and, practically, I have not been home since.[169] And you are also no doubt aware that my folks also left home in the fore part of Feb. '84, and were absent, knocking about, from pillar to post, for over eleven weeks, with their little ones, the mother of part of them being thousands of miles away and unable to do one thing to help them in their wanderings, and all on account of persecutions and some of our friendly (?) neighbors, and pretended friends.[170]
You may depend upon it I do not feel very lamb-like towards some of them for the officious part they have taken in some of these matters. But I can afford to wait the due course of God's Judgement when just compensation shall be meted out to each, according to the intents and purposes of the heart and the acts performed. I do not censure Mary for I am satisfied that she would not intentionally do me a wrong, or injure me or mind.[171] I do not believe I have a <blood> relative in Utah who is so unnatural or heartless as to desire me evil, but I am [p. 2] sure the grand "inquisition" would get all they could out of her, and make the most possible of it. In my last I sent you some questions, which I supposed, had been put to her, which I desired you to return with the answers she gave so that I might see and judge for myself the extent of facts or information elicited from her. For, as you are aware, they will depend upon her as a witness in court, and will compell her to substantiate her evidence before the "inquisition".
I have not seen anything in Hyrums letters,[172] which give any light on this subject, and I think he has shown me all his letters from you, and from Joseph and Mary.[173] But if you succeed in answering my last I shall be satisfied. I am sorry you have to continue in such straitened circumstances, but I hope and pray with all my heart that it will not be for always. I am also sorry that Willie has to work under-ground,[174] I hope he will be able to find—or "turn up" something better before long. I am very thankful that Mary has got so good a husband,[175] and they both have my blessing and my earnest prayers for their present and future prosperity and happiness.
I have received one letter from Hyrum, since we parted and have written to him twice. He was doing well. You must not mention where I have been. I expect to leave here soon, but I do not want my friends (?) who are so much interested in my whereabouts to be put to the trouble of keeping track of me. A hint to the wise is sufficient. We are are all well, except Ina,[176] she is troubled with 8 big teeth all at once. She is some better. I called on Cousin Ina at her home in Cal.[177] but did not let her know my lodgings or my destination. She thought it very strange but I knew it was for the best. Remember me kindly to Wm[178] & believe me, yours,[179]
Joseph F. to Martha Ann
Lanihuli Retreat[180]
Nov. 30th 1885
My Dear Sister,
Your welcome favor of Oct. 6th came to hand Nov. 25th. It was a long time on the way, I received it from Hyrum.[181] He is on Hawaii the farthest Island to the South-east from here.[182] He wrote me quite a letter in "Native", accompanying yours, and I see that he is improving very nicely in the language. I regret very much that he has not had better opportunities at School before coming on a mission, he feels the need of it now, and it would be a help to him beyond every other consideration. I hope the other boys—and girls too—may have greater advantages than he has had. I wish I could help you in regard to this matter. Your children should have a chance to go to School. Why should my poor—dear sister and her family ever be bound down by the strong cords of poverty and want? Perhaps it is all right, but it seemes to me there is a screw loose some where. I do not think it is your fault. surely you have ever worked hard enough and have deserved better fare. I am sorry to say that I notice in Hyrum a lack of carefulness in regard to his clothes and means. but I hope as he gets older he will be more prudent. I was [p. 2] careful and economical to a fault, I never liked to make a bad trade—hence I never did much trading—preferring to stick to what I had—and make the best of it to risking the possibility of getting something worse in a trade. And I cannot bear wastefulness nor untidiness— Hyrum is not untidy in his appearance, but very much so in putting away and taking care of what he has. I have talked to him like a Father on the subject, and will do all I can to help him. He is a good boy—and my interest is no less for him because he is your son, I can assure you. I would be as proud of his success, as I could be if he was my own son. His beginning, altho' a little older than I was, is as good as mine was, when I first came to these lands in my childhood. I hope he will improve his opportunities better than I did, and make a wiser and a better man of himself—by the help of the Lord. There seemes to be no reason why he should not. I shall be as happy and pleased to see it, if my life is spared, as you will yourself, or any one else could. I was greatly pleased with one of Joseph A's.[183] letters to Hyrum. The spirit of it was good and the mechanical part was almost faultless. I should have said that the Spirit of his letter was faultless, indeed excellent, and the chirography[184] was good. He might have improved it a little, grammatically, but otherwise
Dec. 11th 1885. We wish you a merry christmas and a happy new year. This leaves us all well—and in very good spirits. J[185] joines me in love to you all.[186]
Joseph F. to Martha Ann
Joseph F. to Martha Ann, 11 February 1887 (p. 1)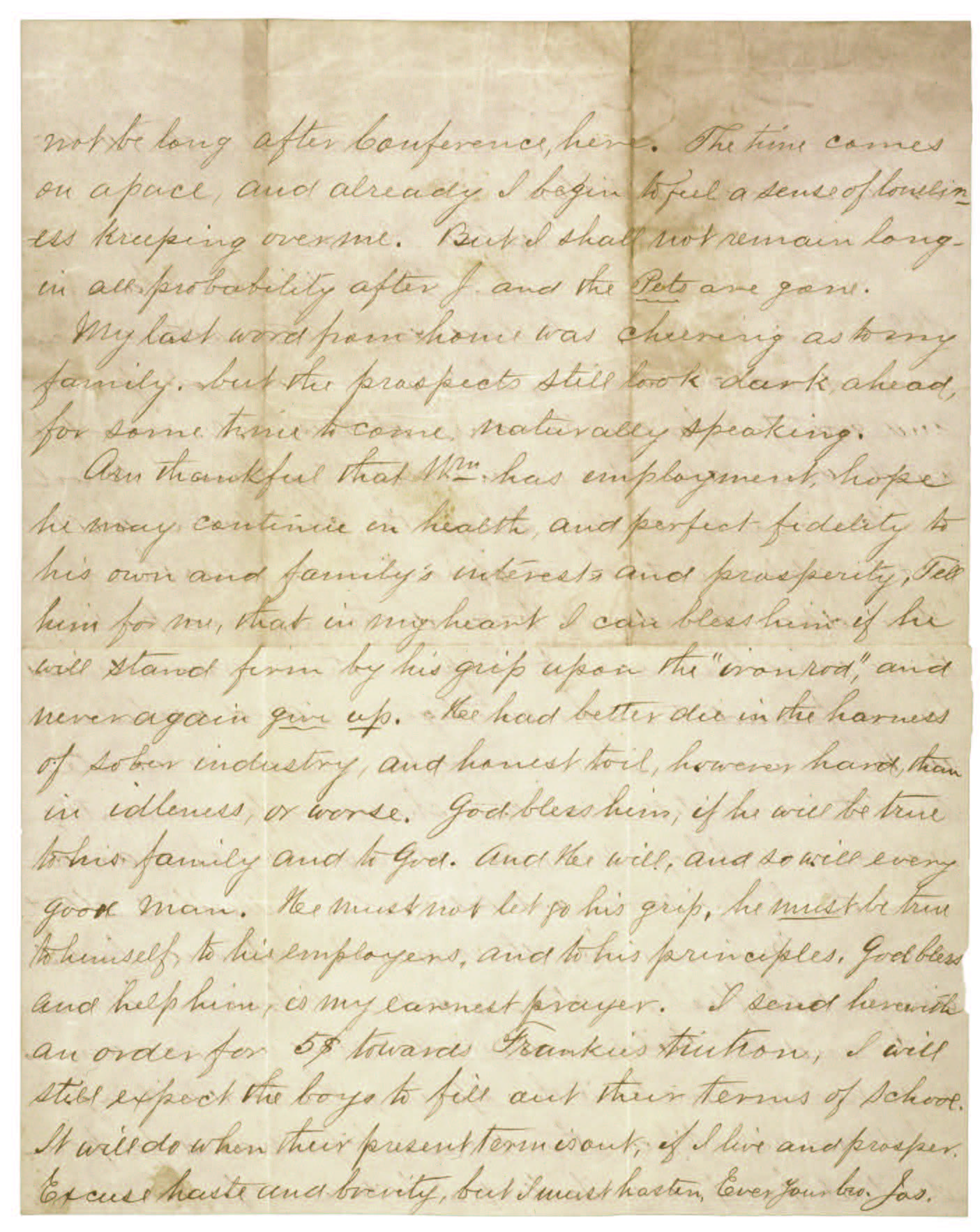 Joseph F. to Martha Ann, 11 February 1887 (p. 2)
In Exile, Feb. 11th 1887[187]
My Very Dear Sister
Martha Ann.
Your welcome favor of Jan. 9th is rec'd. I read your letter with more than ordinary interest, being exceedingly pleased and grateful for the kindness of Pres. A. O. Smoot[188] towards your children, in assisting them to school.
I scarcely need say I hope the children will fully appreciate their opportunity and their "Grandpa's"[189] kindness towards them, and put in their very best licks to improve their minds, and lay a foundation for inteligence and usefulness in the future. I am sorry for Lucys[190] delicate health, and still pray that she may permainently recover. I hope Mary is all right by this, and that the baby soon got better of his ill-effects of teething.[191] My own health is much improved, but I am not so fleshy or strong yet as before my illness.
J. and the children[192] are well, and are now aiming to go home, some time this spring, the Lord willing. I do not care to have this known before hand, for prudential purposes. So keep it to yourself. They may [p. 2] not be long after Conference, here. The time comes on apace, and already I begin to feel a sense of loneliness kreeping over me. But I shall not remain long—in all probability after J. and the Pets are gone.
My last word from home was cheering as to my family, but the prospects still look dark, ahead, for some time to come, naturally speaking.
Am thankful that Wm[193] has employment, hope he may continue in health, and perfect fidelity to his own and family's interests and prosperity. Tell him for me, that in my heart I can bless him if he will stand firm by his grip upon the "iron rod," and never again give up.[194] He had better die in the harness of sober industry, and honest toil, however hard, than in idleness, or worse. God bless him, if he will be true to his family and to God. And He will, and so will every good man. He must not let go his grip, he must be true to himself, to his employers, and to his principles, God bless and help him, is my earnest prayer. I send herewith an order for 5$ towards Frankies[195] tiution, I will still expect the boys to fill out their terms of school. It will do when their present term is out, if I live and prosper. Excuse haste and brevity, but I must hasten, Ever Your bro. Jos.
Martha Ann to Joseph F.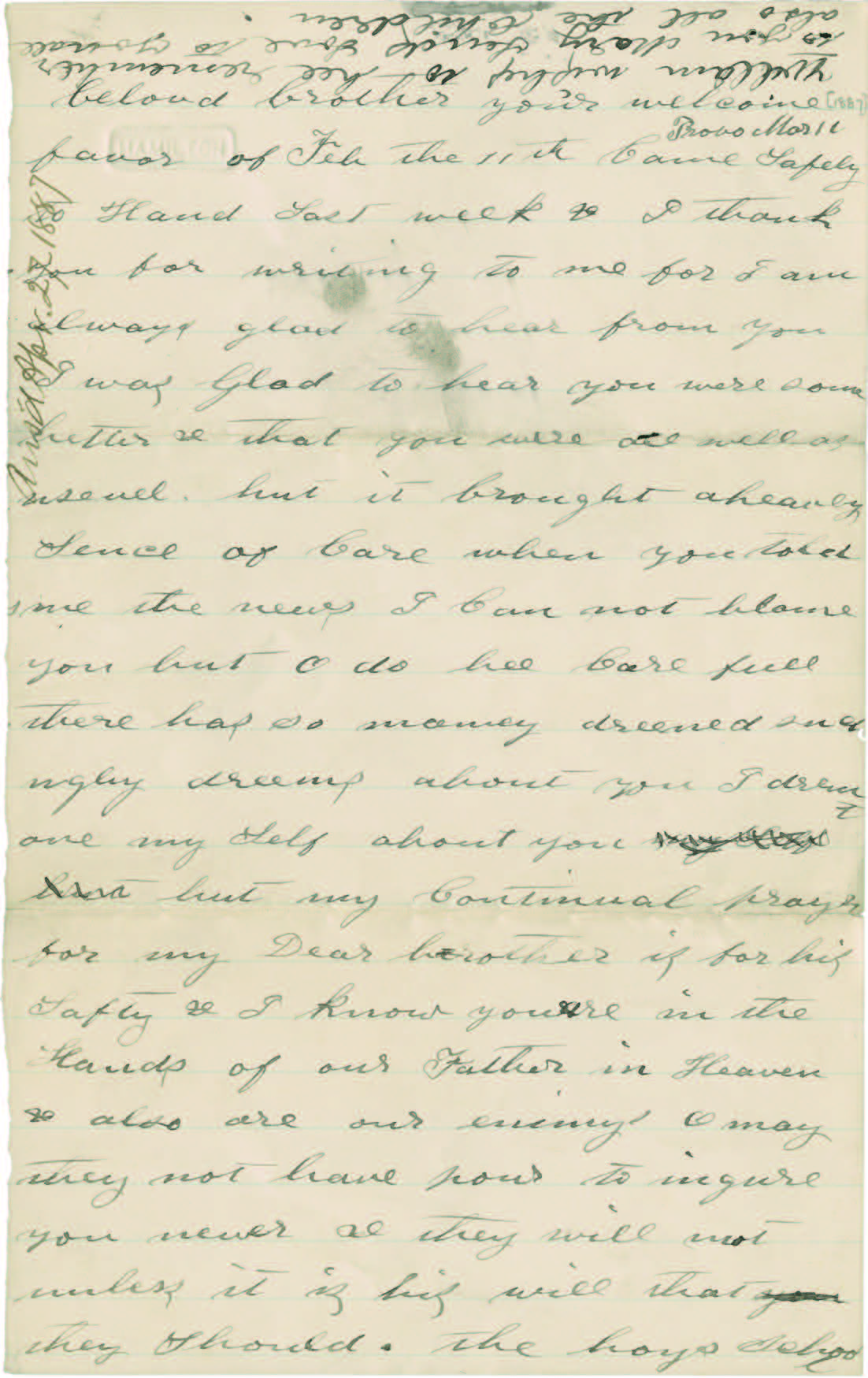 Martha Ann to Joseph F., 11 March 1887 (p. 1)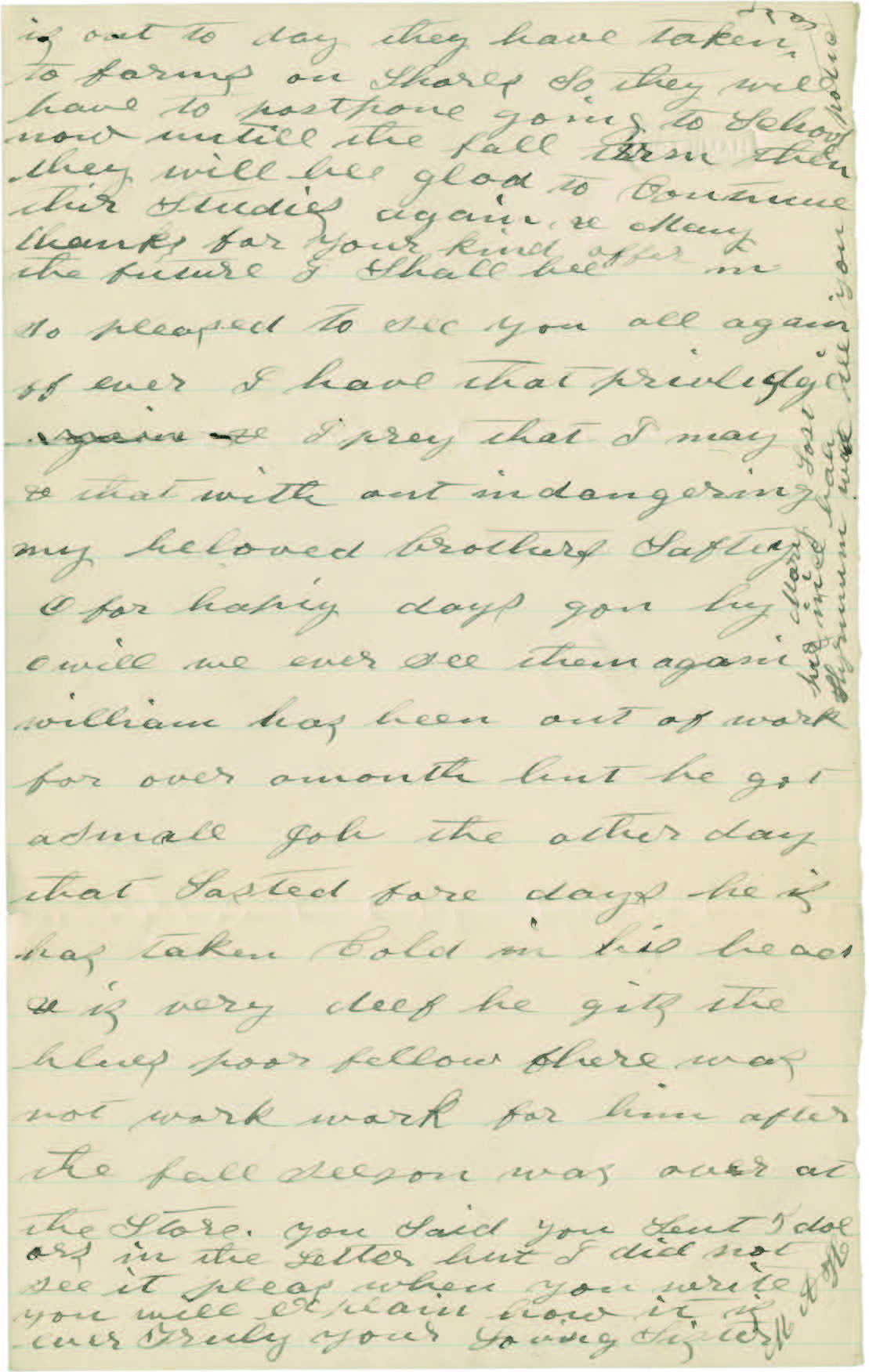 Martha Ann to Joseph F., 11 March 1887 (p. 2)
Ans'd Apr. 27 1887[196]
Provo Mar 11[197]
belovd brother your welcome favor of Feb the 11th came safely to hand last week & I thank you for writing to me for I am always glad to hear from you I was glad to hear you were some better & that you were all well as useuel. but it brought a heavey sence of care when you told me the news I can not blame you but O do bee care full there has so maney dreemed such ugly dreems about you I dremt one my self about you [illegible strike-through] but but my continual prayr for my dear berother is for his safty & I know youare in the hands of our Father in Heaven & also are our enimys O may they not have pour to ingure you never & they will not unless it is his will that you they should. the boys school [p. 2] is out to day they have taken to farms on shares so they will have to postpone going to school now untill the fall term then they will bee glad to continue thir studies again & many thanks for your kind offer in the future I shall bee so pleased to see you all again if ever I have that privledge again & I prey that I may & that with out indangering my beloved brothers saftey O for hopiy days gon by O will we ever see them again william[198] has been out of work for over a month but he got a small job the other day that lasted fore days he is has taken cold in his head & is very deef he gits the blues poor fellow there was not work work for him after the fall seeson was over at the store. you said you sent 5 dolors in the letter but I did not see it pleas when you write you will explain how it is ever truly your loving sister M A H
Mary lost her nice baby[199] Hyruum ["will see"][200] you poticlars[201]
Willam wishes to bee remember to you Mary sends love to you all also all the children.[202]
Martha Ann to Joseph F.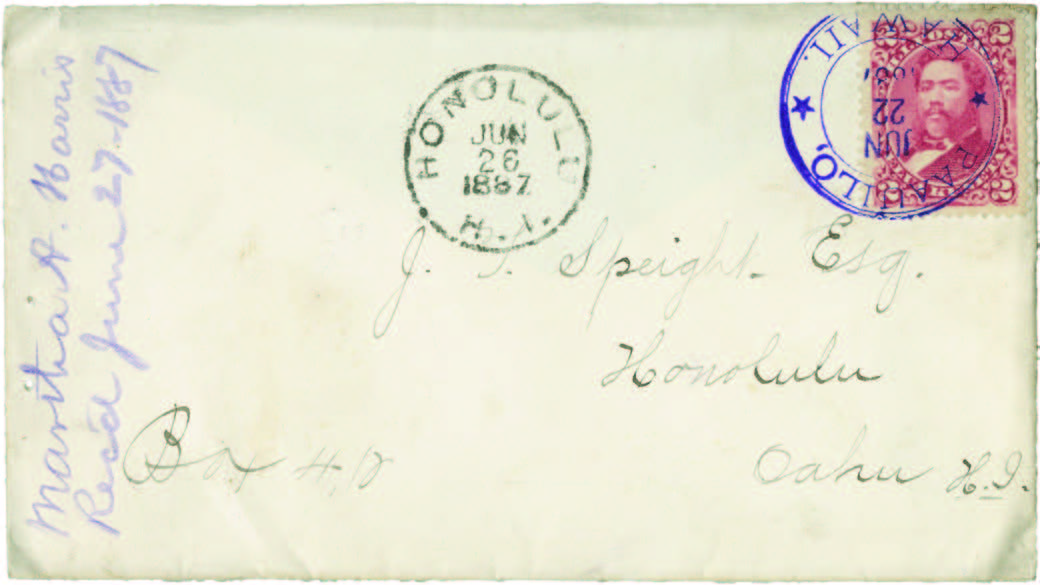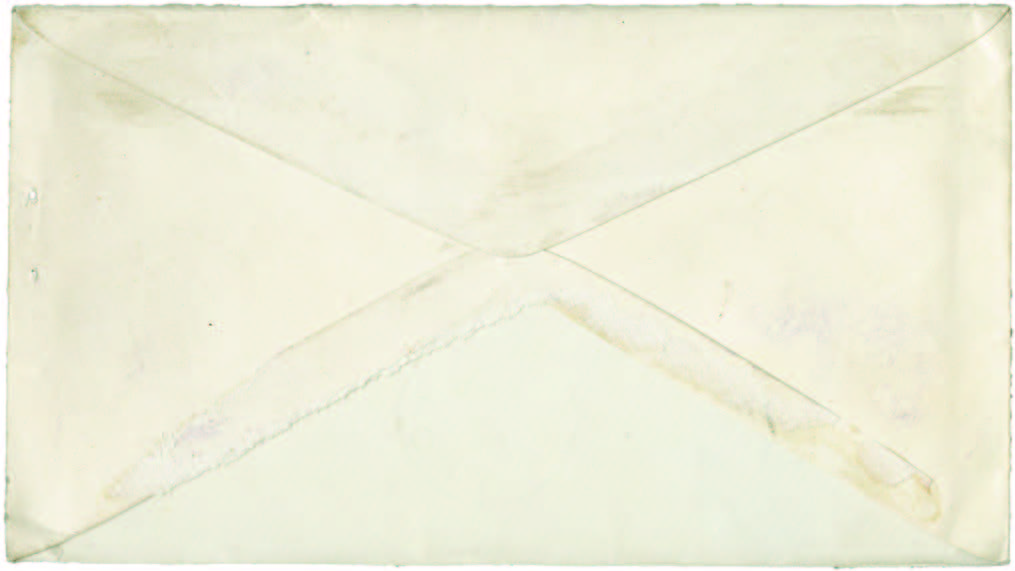 Martha Ann to Joseph F., ca. May–June 1887 (envelope front and back)
[Ca. May–June 1887][203]
My dear brother[204] your wecome favor of <march> the 11 came to hand on the 20 of may it was detained some how I was so thankfull to hear from my my dear brother it always gives me pleasure to hear from you. I did not know whether to write to you any more or not until I hird from you again. I am thankfull to hear that you are as well as you say you are. I know your anxiety must be intence the mind being worried is wors than bodily suffering I find it so in my experience at least, & I know or at least I can imagin some little how you must feel away from your loved ones so long as you have been[205] I do not know whether I could bee as brave as Julina[206] was or not she sirtenly is brave to do what she done I have not seen her yet but William went to the City[207] not long ago & he seen her also frank[208] called there they [p. 2] were better of thir coalds I recieved a short note from hir yester evning with the five dolars in it you sent for the school bill I will take it to brothir Maiser[209] to day & I cincerly thank you for it untill I can do somethng more substancial for your kindness Franklin started to the park yester day to run the brick mashiene for brother Cook[210] of this town he is a good man & an honest one & will pay his hands Hyrum has worked for him he will tell you what kind of a man he is he sais he wishes he had Hyrum to run it for him he youst to run it for him when he was here he sais he never had nor would ask for any better boys to work for him than Hyrum & Frank was. he will give him too dolars & 50 <a> day & bourd for all sumer if he wants it. the boys hear at home will have thir hands full to keep things moving [p. 3] they have thirty achers f lucern[211] to tend to. & fore achors of wheet in three achors oats thre achors potatos one of squashes one corn thre of cain & some melons he sids[212] the lots here at home we will not have any fruit this year so we will have to b<u>y all we have of that. there is one or to trees that have aples on if the worms can bee kept of them the peaches & pears ar all killed, with the frost the worms are very bad this year but not quite as bad as they were last year. William is not in work but he tends to the gardin & helps the boys all he can he is not very strong but he keeps doing all the time & if nothing hapens to any of us & if all is well I think we will have enough to live on next winter & make is comfortable the boys have got the rock & land halled towards building they are going to hall the clay & make the adobys [p. 4] on the place Joseph A[213] says he will help us some but he is buying him a place & his hands are some what tied at the present time the reason I mencioned the five dolars was becaus I feerd it might bee lost or you mad some mistake about it I hope you have not made to great a sacrifise to let me have it our family is all useley well Jessie[214] is gainning her helth & strength her baby is a month old now he is a large fine bright looking fellow with nose like his Father lots of hair & so hungry. they hav named him John [illegible strike-through] Earnest[215] Joseph to oldest boys have had the mumps Albert is better but little Frank[216] is still under the weather I hope I will get to go to the City this summer I want to see Julina & the little strang baby she fetched home with hir[217] & all the rest of the Dear ones Aunt Thompson[218] sent me a nice dress on my birth day for a present Joseph A gave me a jursy[219] & mary[220] gave me a book a black kneck tie & I a box of paper & env[◊◊] the children all join me in love to you & may the Lord bless you my dear broth[◊◊] is the constant prayr of your loving sister M A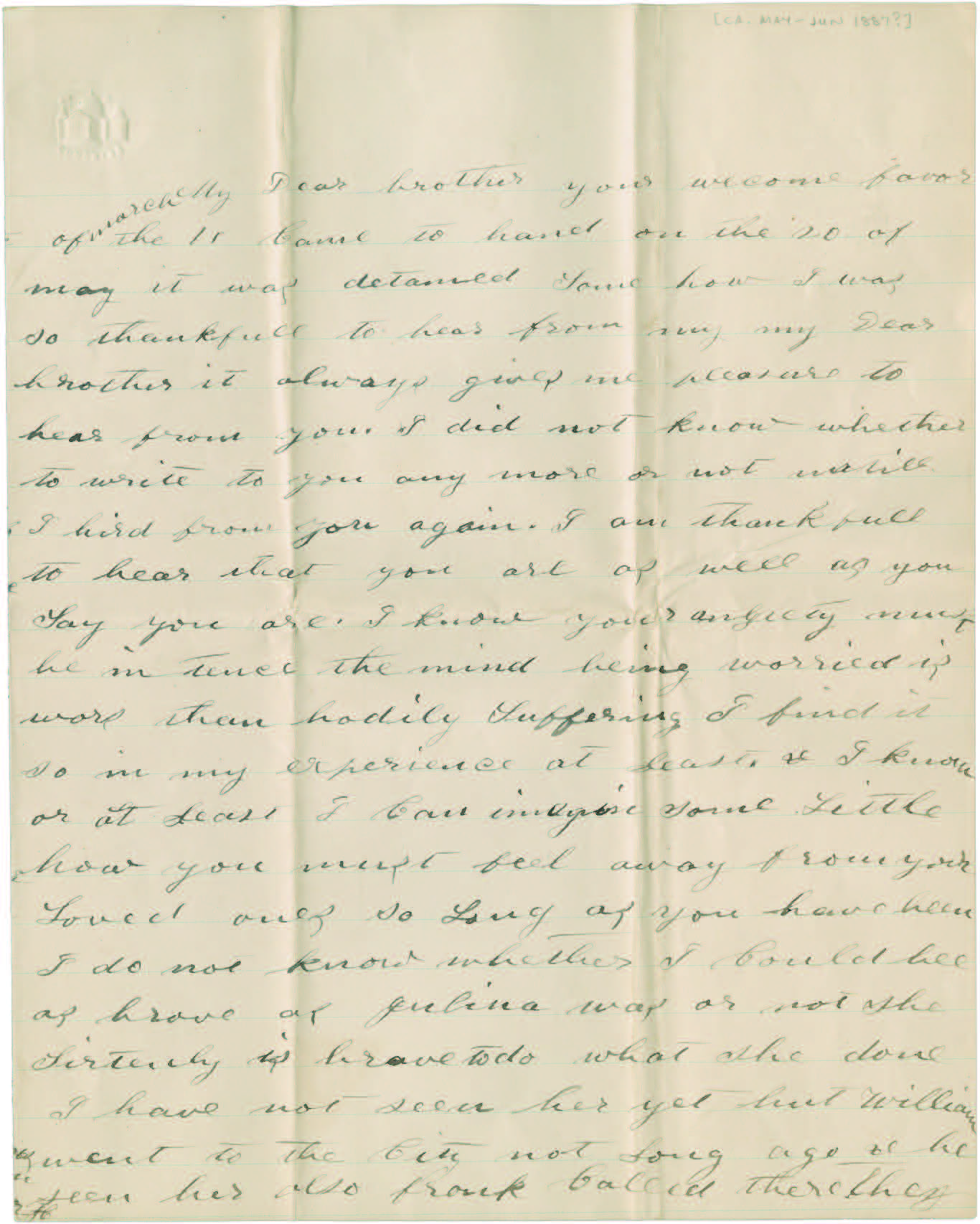 Martha Ann to Joseph F., ca. May–June 1887 (p. 1)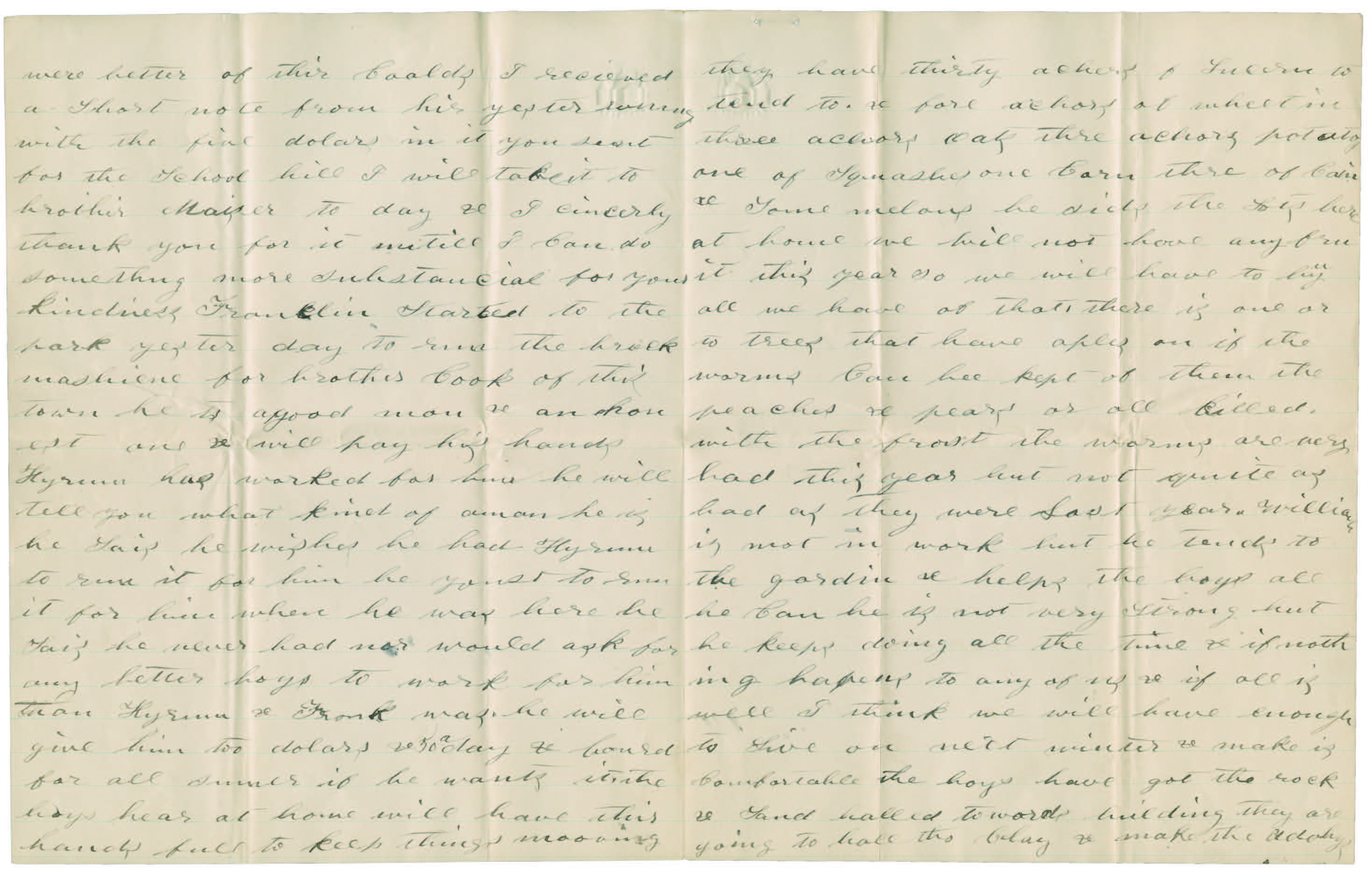 Martha Ann to Joseph F., ca. May–June 1887 (p. 2 and 3)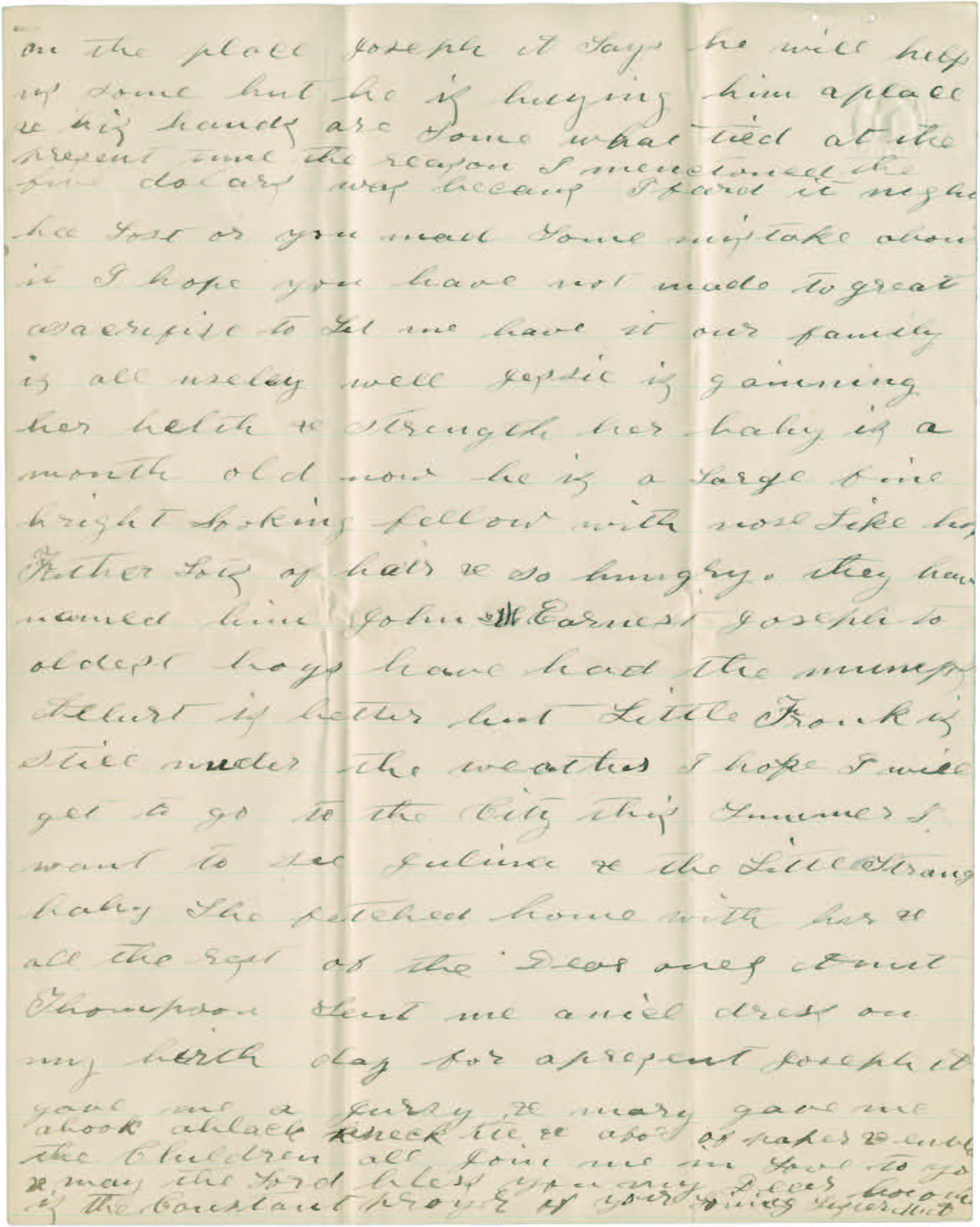 Martha Ann to Joseph F., ca. May–June 1887 (p. 4)
Notes