Richard Neitzel Holzapfel and David M. Whitchurch, "Letters," in My Dear Sister: Letters Between Joseph F. Smith and His Sister Martha Ann Smith Harris, ed. Richard Neitzel Holzapfel and David M. Whitchurch (Religious Studies Center, Brigham Young University; Salt Lake City: Deseret Book, 2019), 111–166.
Joseph F. to Martha Ann and William
William Harris[1]
42 Islington Liverpool England[2]
July 28th 1860[3]
Dear Bro. & Sister:—
William & Martha.— You must excuse me for writing to boath at once. and upon the same sheet,—but you know ye "twane one,"[4] so I shall address you as such. I shall not be able to write much, but you must make allowances for time distance, the number I have to write to &c &c. I would like to write to every one of my filks, and am going to some time, just to get them to write to me, in return.—
I expect that "Ould England" is about the same as it was when you were here,[5] this place is fully as nice a place as I had expected it to be. I like it better than I do N. Y.— I expect to start tomorrow for Leeds, Sheffield pasterate,[6] with Samuel,[7] we have recieved no deffinate appointments, and will not I suppose, till Conferance. I calculate to visit all I can till then. I want to see my folks,[8] the Country, the Brethren all feel well. [p. 2] I am glad to hear that you have got the sheep togather. I hope they will be prospered and you too, and I believe you will be. keep up good courage any how. our good times may perhaps come yet.
I hope you may have go good luck in trading Fanny[9] to advantage.[10] I told John[11] if you did not—or could not trad her—he could have the use of her when he needed her if you, were not useing her. but trade her if you can, to advantage. tell, William Freeman[12] to try and finde my Cowss and I will see that the Cows shall pay him for his trouble.[13] keep an eye out for them yoursilf. who ever finds them shall be entitled to Calvs enough to well pay them for their trouble, you may set that down.
Give my love to your Mother Bro. and Sister Smoot,[14] to all enquireing friends, John Vance[15] and kiss little Willie,[16]—bless him—for me. I am ever faithfully & affectionately your brother Joseph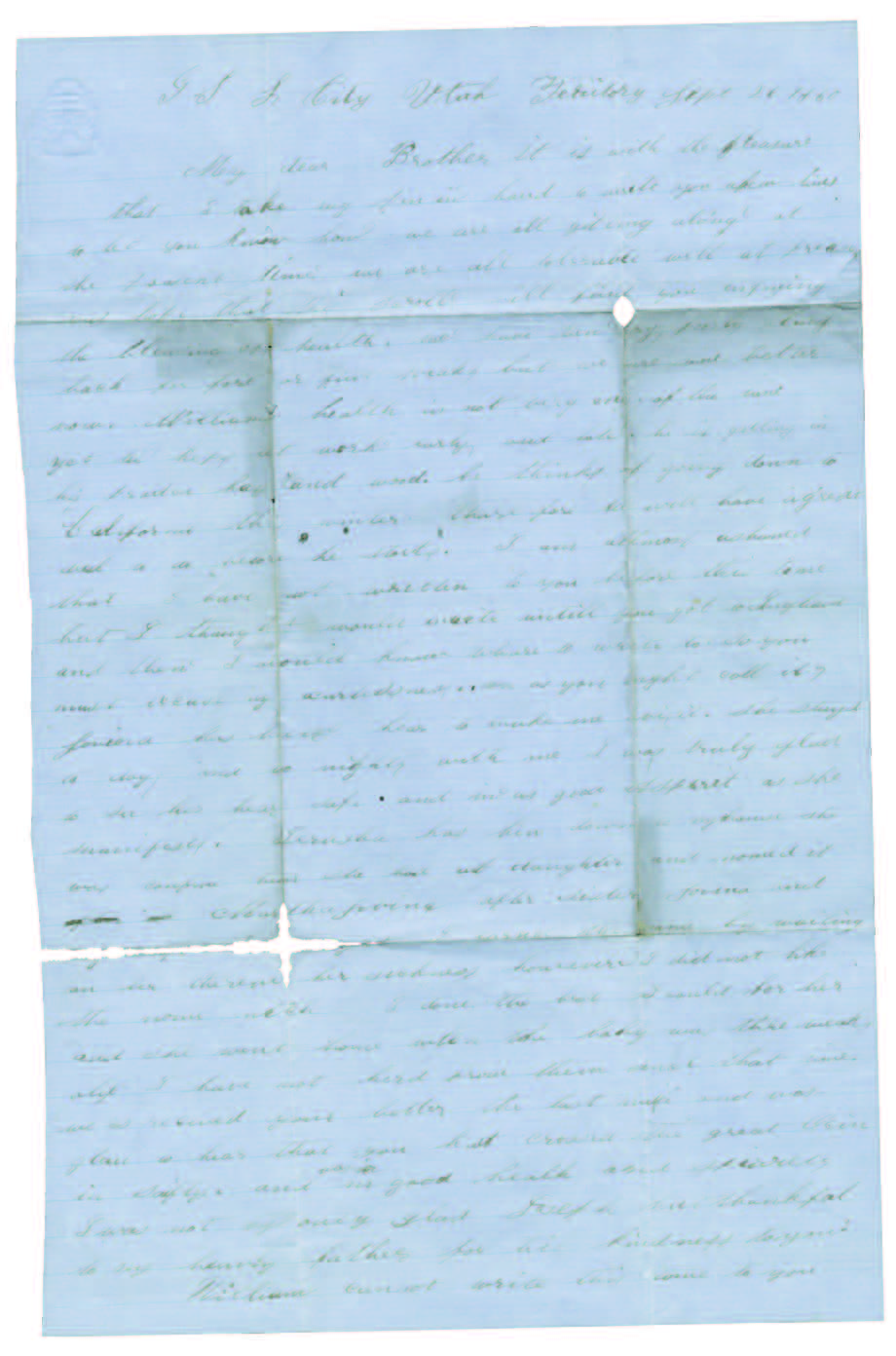 Martha Ann to Joseph F.,
26 September 1860 (p. 1)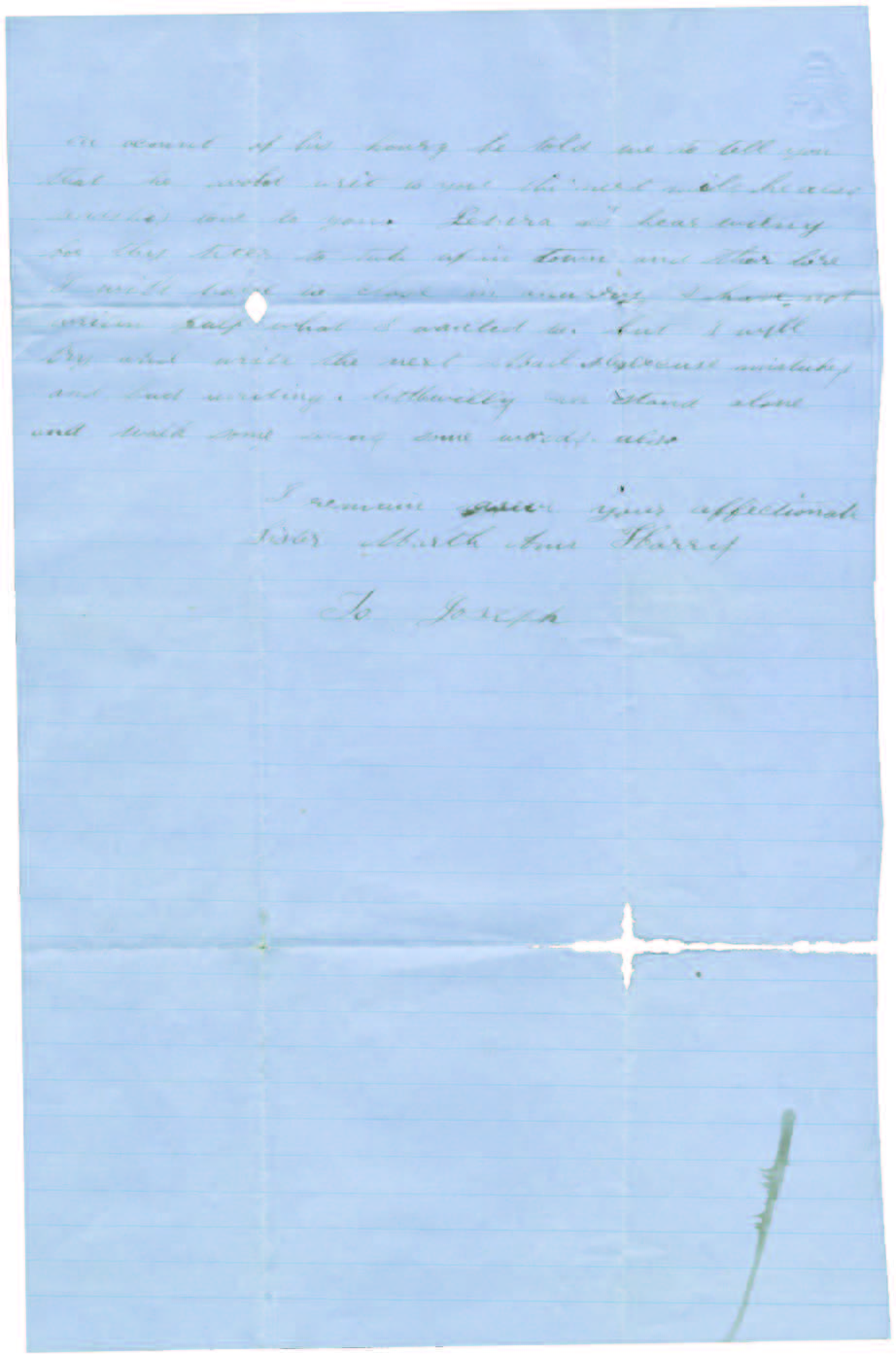 Martha Ann to Joseph F.,
26 September 1860 (p. 2)
Martha Ann to Joseph F.
G S L City Utah Teritory Sept 26 1860[17]
My dear brother it is with the pleasure that I take my pen in hand to write you a few lines to let you know how we are all gitting along at the preasent time we are all tolerable well at preasant and hope that this scroll will find you enjoying the bleasing of health. we have been vry poorly along back for fore or five weaks but we are some better now. Williams[18] health is not very any of the time[19] yet he keps at work early and lately he is getting in his pradce hay and wood. he thinks of going down to Californa this winter. thare fore he will have a great deal to do before he starts. I am allmost ashamed that I have not written to you before this time but I thaught would write untill you got to Ingland and then I would know whare to write to. so you must excuse my carlessness on as you mght coll it, Lovina[20] has been hear to make me a visit. She stayd to days and too nights with me I was truly glad to see her hear safe and in a good as spirit as she manifests. Jerusha[21] has ben down to my house she was confine hear she had a daughter and named it after me Martha Lovina[22] after sister Lovina and [16.5 x 3.2 cm tear along fold] yet I earnd the name by waiting on her there in [16.5 x 3.2 cm tear along fold] her sicknes however I did not like the nome wich I done the best I could for her and she went home when the baby was thre weaks old. I have not herd from them sence that time we [illegible strike-through] recived your letter[23] the last maile and was glad to hear that you had crossed the great ocin in saifly. and <was in> in good healh and spirrets I was not oy only glad Joseph but thankfol to my heavly father for his kindness to you.
William cannot write this time to you [p. 2] on acount of his houry he told me to tell you that he wold writ to you the next male he also sends his love to you. Levira[24] is hear witng for this letter to take up in town and thar fore I will have to close in a hurry I have not writen half what I wanted to. but I will try and write the next mail. ples excuse mistakes and bad writing. little willy[25] can stand alone and walk some sesas some words also
I remain as eve your affectionate Sister Marth Ann Harris
To Joseph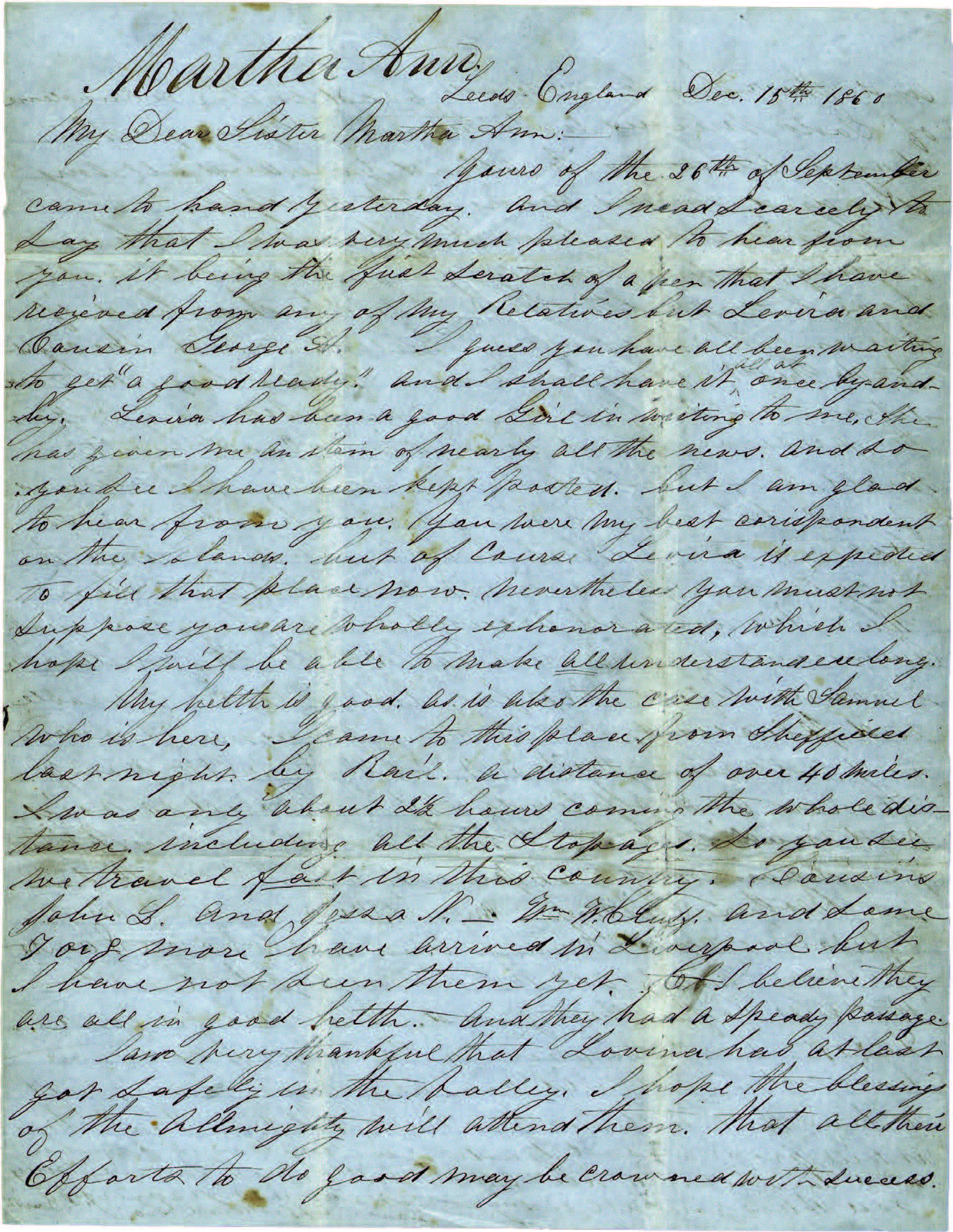 Joseph F. to Martha Ann, 15 December 1860 (p. 1)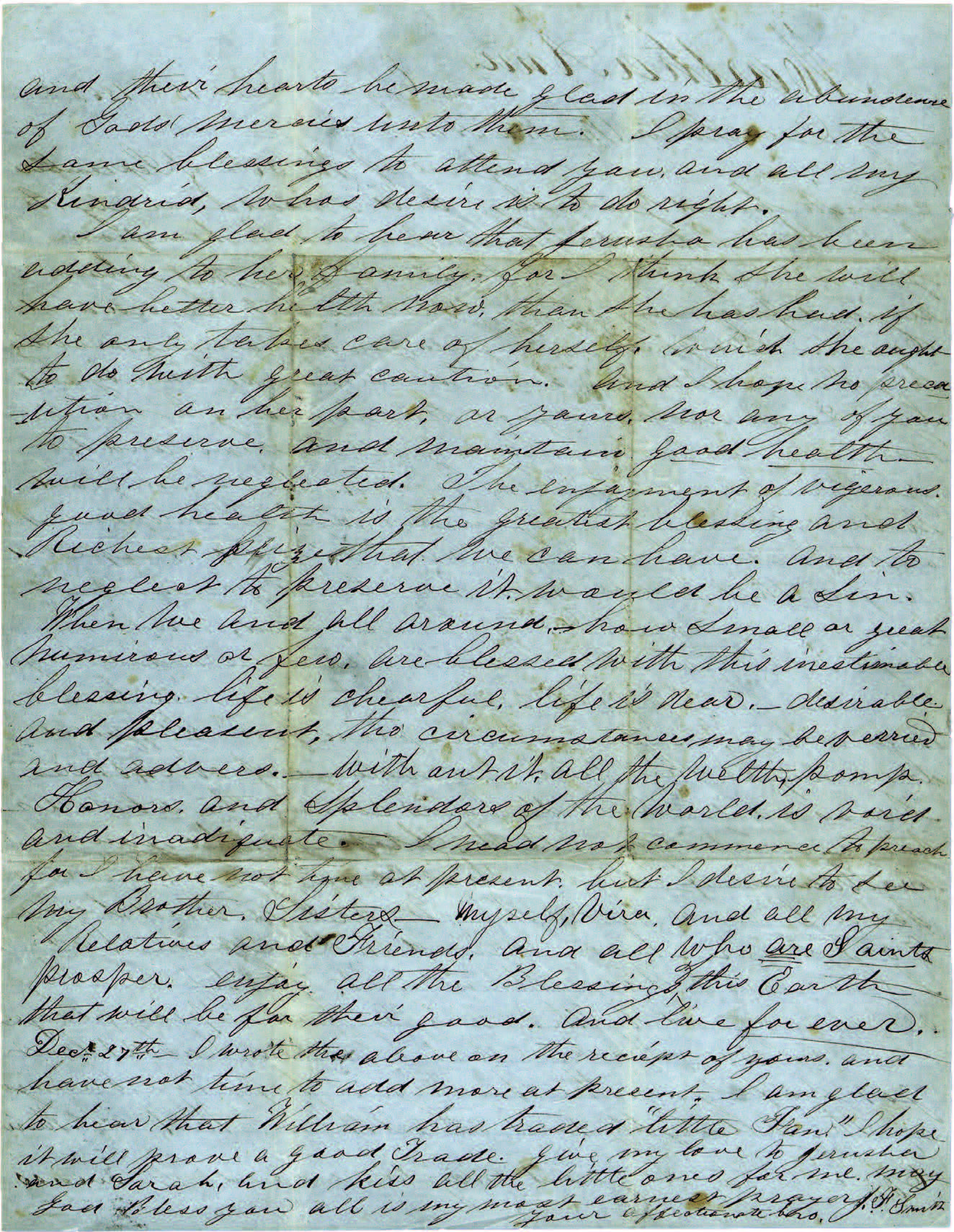 Joseph F. to Martha Ann
Martha Ann.[26]
Leeds[27] England Dec. 15th 1860
My Dear Sister Martha Ann:—
Yours of the 26th of September came to hand yesterday. and I nead scarcely to say that I was very much pleased to hear from you. it being the first scratch of a pen that I have recieved from any of my Relatives but Levira[28] and Cousin George A.[29] I guess you have all been waiting to get "a good ready". and I shall have it <all at> once by-and-by. Levira has been a good Girl in writing to me. She has given me an item of nearly all the news. and so you see I have been kept posted. but I am glad to hear from you. You were my best corispondent on the Islands. but of course Levira is expected to fill that place now. nevertheless you must not suppose you are wholly exhonorated, which I hope I will be able to make all understand ere long.
My helth is good, as is also the case with Samuel[30] who is here. I came to this place from Sheffield[31] last night by Rail, a distance of over 40 miles. I was only about 2½ hours coming the whole distance, including all the stopages. so you see we travel fast in this country. Cousins John L.[32] and Jessa N.[33]—Wm W. Cluff,[34] and some 7 or 8 more have arrived in Liverpool but I have not seen them yet. [illegible strike-through] I believe they are all in good helth. and they had a speady passage.
I am very thankful that Lovina[35] had at last got safely in the Valley. I hope the blessings of the Allmighty will attend them. that all their Efforts to do good may be crowned with success. [p. 2] and their hearts be made glad in the abundence of Gods' mercies unto them. I pray for the same blessings to attend you, and all my Kindrid, whos desire is to do right.
I am glad to hear that Jerusha[36] has been adding to her family, for I think she will have better helth now, than she has had. if she only takes care of herself, which she ought to do with great caution. and I hope no precaution on her part, or yours, nor any of you to preserve, and maintain good health—will be neglected. The enjoyment of vigerous, good health is the greatest blessing and Richest Prize that we can have. and to neglect to preserve it would be a sin.
When we and all around,—how small or great numirous or few, are blessed with this inestimable blessing, life is chearful, life is dear,—desirable and pleasent, tho' circumstances may be verried and advers.— with out it, all the welth, pomp, Honors, and Splendors of the world, is void and inadiquate. I nead not commence to preach for I have not time at present, but I desire to see my Brother, Sisters—myself, Vira[37] and all my Relatives and Friends, and all who are[38] Saints prosper. enjoy all the Blessings <of> this Earth that will be for their good. and live for ever. Decr 27th— I wrote the above on the reciept of yours, and have not time to add more at present. I am glad to hear that William has traded "little Fan."[39] I hope it will prove a good Trade. give my love to Jerusha and Sarah,[40] and kiss all the little ones for me.[41] may God Bless you all is my most earnest prayer J. F. Smith
your affectionate bro.
Martha Ann to Joseph F.
G S L City Utah Dec 20 1860
My Dear brother Joseph
it is with [illegible strike-through] pleasure that I take my pen in han to write you a few lines to let you know how we are giting along. wer are all toolerable well at preasent and I hope that this may find you enjoying the same blessing. your letter came to hand the other day. and I can asure you that I was glad to hear from you for I had been very oneasy, about you on acont of a dream <that> I had. you said you had been sick but that you was some better when you <wrote> our letter. I feel to say Joseph, thank God that it was no worse with you than it was. I have been troubeld with the [illegible strike-through] wih the Disppey[42] this fall but I am better now
I am at home all alone to day with the exceptuon of little Willy[43] he has ben runing about the floor playing for the last to or thre ours he does not give me a chance to be lonesome. never. he is so good naturede and playfull that he would amuse alloste any pirson in the world. William[44] has gon to Richards Maxfields[45] on buisness to day if it is Sondays we all have to be governd by sircumstances you knowe. I have wrote to letters to you and we have recived to from you. William has not written any to you yet but he calculates to this mail I believe he will tell you all the patic<u>lars when he wrtes. Jerusha[46] has just gon home fom hear she has been down on visit [p. 2] <she was well> when she started home with the exception of a bad cold she has a sweet little girl[47] it is growing finely. Jerusha and her children Sarah[48] and her children, and sister Griffin.[49] Richard and Artimissa.[50] and allso Charles[51] ware all hear last weak agoe last Siturday on a visit they all happy hear at once. that was the day we got your letter I have not had a chance to writ to you sence untill to day I have been so busy I have fore [illegible word] famoly to do for now besides [illegible strike-through] and considerable company and so I hav enough to do to keep me out of mischief you see. I have been to see Levira twice Sarah twice Aunt fieldng[52] once Aunt Tompson[53] to or three times sence you have been gon. I think I have staiyd at home tolerable well and minded my own business I have not written to you very ofton I have but it is not becaus I do not think of you Joseph. for I do think of you both night and day and prey that my heavnly father may [illegible strike-through] gard and proptect you from all harm and danger and help you as it ware in the hollw of his hand. I do calculate to write more ofton when I git my hury over a little I have been a making up my winter clothng and knittng my stockings and gitting ready for winter. Levira has been to me sister and a friend in your absence both in sicness and in helth she has never for saken me and the more I git acqainted with her the better I like [p. 3] her. I am some like an i[◊]nden I do not forgit kindnesses. nor mean treatment. rather, I have had three real sick sick spels during the fall a summer Levira was with me twice andone <the> best she could for me, so i ced to say whare thare is good mettle the more you <rub it> the briter it will shine
But I fear that I am growing tedious and not writing any thing that will eddefy you eather but you must do like the man did just consider from whence it came. O Joseph I do miss you so, I had no idear how much I would mis you untill you was gon. I can not help hinking of the good times that we had when you ware hear in the midst of us. but the time will slip away and we will <meet> again [illegible strike-through]
I sappoe you will have hird of the cruil death of little Gorge A[54] before this letter reaches you I could not posable believe it at first but was obliged to at last. I do pitty his poor mother she took it so very haar at first but she is more recacled now.[55]
I do not know that I have any thing more to write to you at preasent so and so I will bring my letter to a close please excuse all mistakes and ba wr writing. give <my> love to Samueel and tell him that I have not forgoten him and that I will write to him the first chance I git
May God bless you is the prayr of yor
Affectionate <sister> Martha Ann Harris [p. 4]
Recd & Ansdpo
Joseph F. to Martha Ann and William
Jan. 29th 1861
Leads.[56]
William Harris / Leeds Yorkshire England[57]
Marha Ann / January 29th 1861[58]
My Dear Brother And Sister
William and Martha:—
I am happy to say that your kinde favors of December 20th has just come to hand, and to say I was glad to hear from you would not express the feeling, nor do I expect to finde the word that will suffice to say I am now going to write you a long letter in return. In the first-place I am glad to hear that you are well.
God Bless you, and may you ever pro[0.3 x 0.3 cm tear]per, is the prayer of my heart.
I am happy to say that I am well, and I am getting along first-rate, for me. I am very thankful to get the desired information of my folks,[59] and shall not be long before I learn something of them. although at present I shall not be able to visit them, in conciquence of a scarcity of means. it It is hard times in England, and especially for the saints, and the encouraging (?)[60] fact is, there is no prospects of times brightening. The Difficulties of the U. S. only tends to increas the darkness, and the Blackness of the cloud of Trouble that hangs over England.[61] The intrests of the Two "worlds" are so closly connected, and so interwoven, that Sickness to one is pain to the other. and they can but feel <too> keenly the sorrows of each-other[62] [p. 2] I am rejoiced to hear that Cattle and Horse Thieves, are growing scarse in.[63] It is high time that they were gon where they belong.—[64]
I am glad that you have got along as well as you have, but sorry that you have lost your Mule, I hope you will find him again. It seems too Bad that animels are so un-safe on the range, but so it is, and I see no way of remidying the thing, unless, we can get pastures, and keep things constantly under our Eyes,—that you know requires a great deal of Means and Laber, or in other words, it wants "Capital"! I wish we had it, William, but the fact is, we have not, and if we ever do have it, we have got to make it. There is on[0.2 x 0.4 cm tear along fold] consolation William, if we ever do Make it we will know how to appreciate it, and enjoy it, I hope. There is no telling what Latter day saints will have to do; if they stick to the ship all will be right whether we have much or little.[65] If we can only learn to feel reconsiled to the will of the Almight, and do as we are told I do not fear but all will come out right.
My little experiance has proven this Latter day work, to be of good material, and I am now content, let what will come, and I trust I shall for ever be able to keep my ground and be found among the faithful and the doing, of Gods People. I have partly learned one thing, i.e. I am mighty small, and don't know much—if anything. [p. 3] and I see a great deal more to learn every day and still experiance is such a slow-and-sure School Teacher that I do not seem to make scarcely any proggress in my lessons, but I hope—"in patience to possess my soul"[66] and struggle unceasingly t[0.6 x 2.7 cm vertical tear along fold] the end.
It is but an easy matter to make good resolutions, the duce[67] of it is to carry them out.
Well, I'll quit preaching, and talk about something els— I have been writing to cousin Silas S.[68] and George Gee,[69] till I recieved your letter, and I am getting tired of writing, but I will try and weary your patience before I quit. You say that you were having a little snow for Christmas. That sounds encouraging, for there will be a chance to have a sleigh-ride any how! something that I have not seen in the country.
The people here are very industrious, they never have a chance of enjoying the pleasure of a sleigh-ride. The Rich can find scar[4.1 x 0.9 cm tear along folds] [4.1 x 0.9 cm tear along folds]nough time to lay plan[1.7 x 1.3 cm tear along folds] to amass their glit[4.1 x 0.9 cm tear along folds]ring pile, and count their dust, and reccon up the results of pending evils, and bind beneath their iron yoke of Tyrany, their less fortunate, but equally as noble; fellow man, and compell them to li[◊]e from "hand to mouth," and utterly dependant upon them, without the value of a foituites' food to call their own! O! land of liberty! "Enlightened," "Christian England!" Give me the free air of our mountain Home, to all the musty [p. 4] glories of this christian Land! I had rather roam the Hill tops—breath the pure air, and associate with the Loved ones at—mountains, than roal in "Englands clover" and enjoy (?) all the luxuries of this free (?) and easy (?) world. I mean England, of course we are apt to have peculiar notions of our own, about things.
Martha speakes of little Willie,[70] sais he is a little busy fellow, no one could get lonesome where he was; I am glad of that I would like to see him, and all the rest of you, but "yet a little" longer, "and th[0.3 x 0.3 cm tear on fold]n"! I hope you will enjoy your selves a little for me, as I have none here only such as are congenial to older and more sober heads.— Tho' I get along first-rate.
William, pleas give my love to all enquiring friends, you must excuse prolixity,[71] and bad writing, and mistakes, and all that sort of thing. I hardly know what I have said, as I have written extempore,—without much re[2.5 x 1 cm tear along fold]tion. Any thing to fill up the paper and tire you out, [1.6 x 1.3 cm tear along fold] matter whether it is interresting or not. Kiss little Will, for me, and the rest of the little ones and take care of yourselves. My kinde love to your Mother, Sister Smoot,[72] and all the family. God Bless you all,—and you William in particular to enable you to read this! Well, my heart is good, my Desire is good, if I am not always Sane. no more this time, I am ever your Bro. J. F. Smith
Martha Ann to Joseph F.
G S L City Utah Teritory March the 12 <1861>
My dear Brother Joseph I take my
Onse again I take the pen in hand to write you a few lines but I hardly know what will bee the most intersting to you. however we are all to begin with, and doing the best we can under the circumstancs that we are placed. we are [illegible strike-through] living in the same place we ware when you left home. and we do not know whare we shahall move to yet cirton. but we shall have to moove some whare and that before long. for the folks wants to moove in. they are now wating to come in.[73] I am gitting tierd of renting houses for it is like throwing mo<n>ey away we will try to bye us a place the next time.[74] he talks of byeing a little house of brother Houtses[75] but that is not setled yet. I was to leviras one day last weak I spent the day with her and enjoyd my self first rate came home in the evnig. William is one of the poliece and has been for over 2 months he has onley been home to git his meals threw the day. so you see that I have spend spent the winter alone with the exption of little Willey he is so [illegible word] mischevioses that he does not give me mutch chance to be lonesom for as fast as he git out off one peace of mischief he is in to another. he is as quick as a flash. that is some of his writing above I was writing and I got up to turn a lof of bread in the oven and he was in my [p. 2] chair in a moment and had the pen[76] he is so fat and harty now <with> red cheaks but he does not talk mutch yet I think the will before long though. he trys hard enoug at eny rate.
William has not got cows yet for the stove yet but he is trying to all the time now he will <he> as you wish as he can William is is honnest Joseph do not think he would is cheat you. it has been a very hard winter on cattle and he thaught it best not to git cows to kep over I do hope that you will not loose any thing by letting us have the stove for he wil eather git cows that have calvs or those that are that way.
John[77] has moved in town I sapose E Levira has told you though she wrote last weak Aunt T[78] to I was to have written but I did not git ink enor pen in time to git it in the mail in time and now I have got it it is all most imposable to write wih it. it is to poor how ever you must excuse it this time as fine paper is scarse. and I can not wat to git another pen. we have been to 5 partys this winter and enjoyd our selves first rate Vira[79] has been to 2 with us one to the Seventys hall[80] and one to your Corum[81] party at the court house[82] we had a very nice party thare [p. 3]
We also have been to one in the Asembly rooms the 13th Ward Schooll House[83] and 2 too <the> Social Hall.[84] We had a party[85] for the handcart boyz[86] those that drew the Cart back you know. this was in the Socal Hall we had a splended party Bro Brigham and Bro Cimbol[87] ware thare to chear the hand carts they said. I had the privlag of dancng with them both. they feel first now. they are very lvly and chearfull Bro Weells[88] was thare but he did not join in the dance. he has been very sick all all winter but he is better now. so Bro B gave us a breaf discourse but every word came to the point it was sirtinly very good O how I have longed to see you my brother in our social partys this past winter. but that was not to be. but I do hope and prey that the time will not be long eare we can meat in such places and by the fire side allo. but the will of the lord be done in all things and I have all confidence in you Josseph that you will do wrigh so near as you can. if we of all do as near wrin rite as we know how we are prity shure of salvation but I fear that I do not do that all the time allthough it is yay my desire to do so but humane nature is prone to go astray from the paths truth and virtue [p. 4]
The trials of the present day re
Require the saints to watch and prey
That they may keep the narrow way
To the Selestuel glory[89]
this is verley so
William traided of that larg span of horses for a yoak ch cattle and a horse last fal and turned them out on the range and one of the cattle died in the cold weather. and the has never found his mule yet so you see we have some bad luck with the rest of our fellow creatures however we must not complain for God is good and knnd
William sends his best respects to you well I do not
I am ashamed to send this scroll to you Joseph. you must not show it to any boddy I will try and do better next time. we have received 3 letters from you one to W[90] and 2 to mee
May G [illegible strike-through] God bles you for ever is the prair of your Sister M Martha Ann Harris
give my love to Samuel[91] <and tell him to me>
Joseph F. to Martha Ann
[Spring 1861?][92]
Well Marth[93]_ about "flitting" so much [edge of fragment] I do not like the [◊uoi], and I wish thare was some way of avoiding the necessity of it. O! I wish but wishing is vain. Well do the best we can and then be satisfied, that is the best way to secure happiness, that I know. The old woman thought so that labored hard for years for a conten[◊◊◊◊] [p. 2] [back side of fragment] she to write to me I have hath receive a letter from, Sarah[94] nor John[95] since I left home, and only one from Charlie.[96] I can hardly tell what has come over them but I suppose it's all right— if so— why— all right— it is— kiss Willie[97] for me, give my love to William,[98] to Sarah Jerusha, Lovina[99] and everybody— God bless you, Your Bro. J. F. Smith
Martha Ann to Joseph F.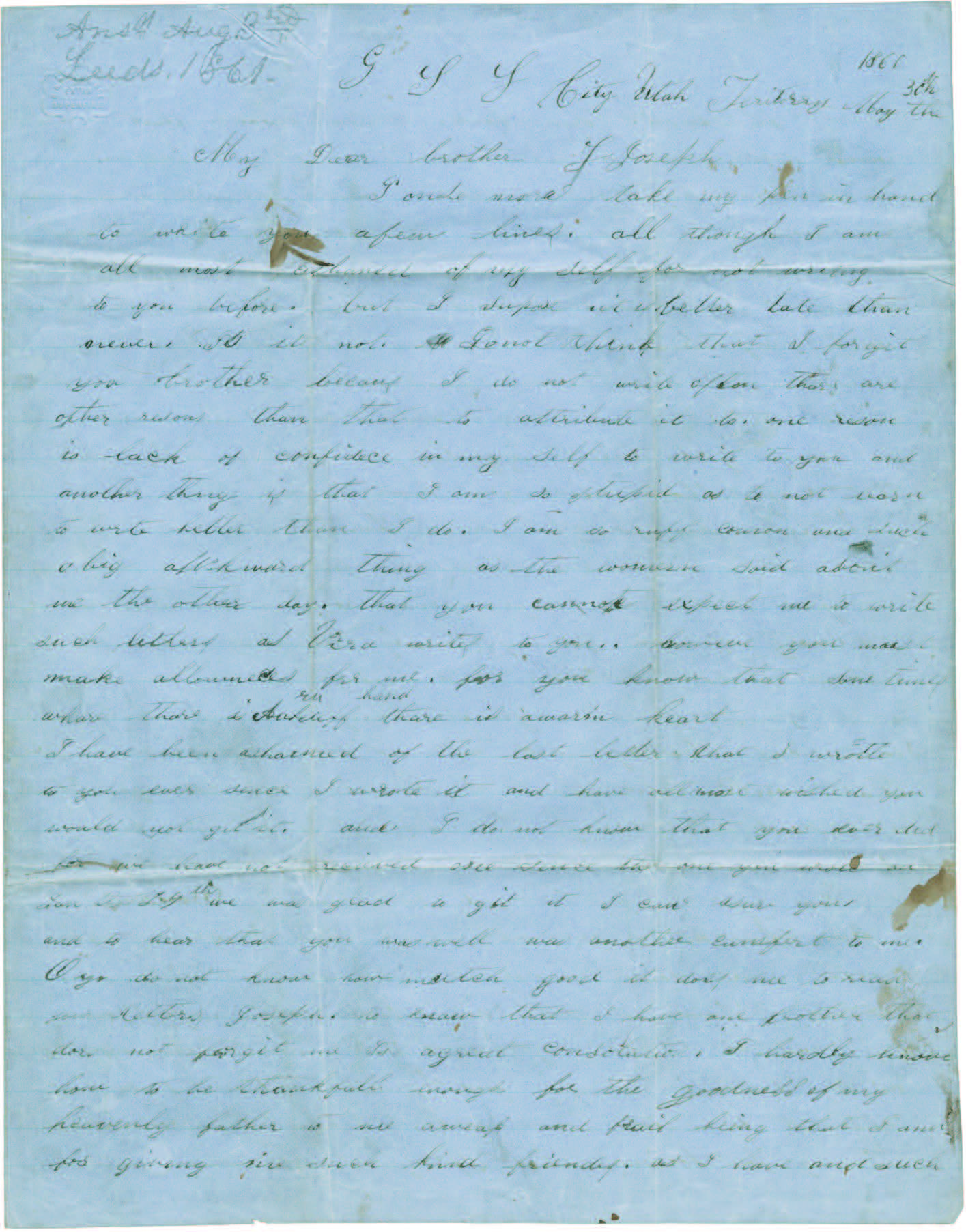 Martha Ann to Joseph F., 30 May 1861 (p. 1)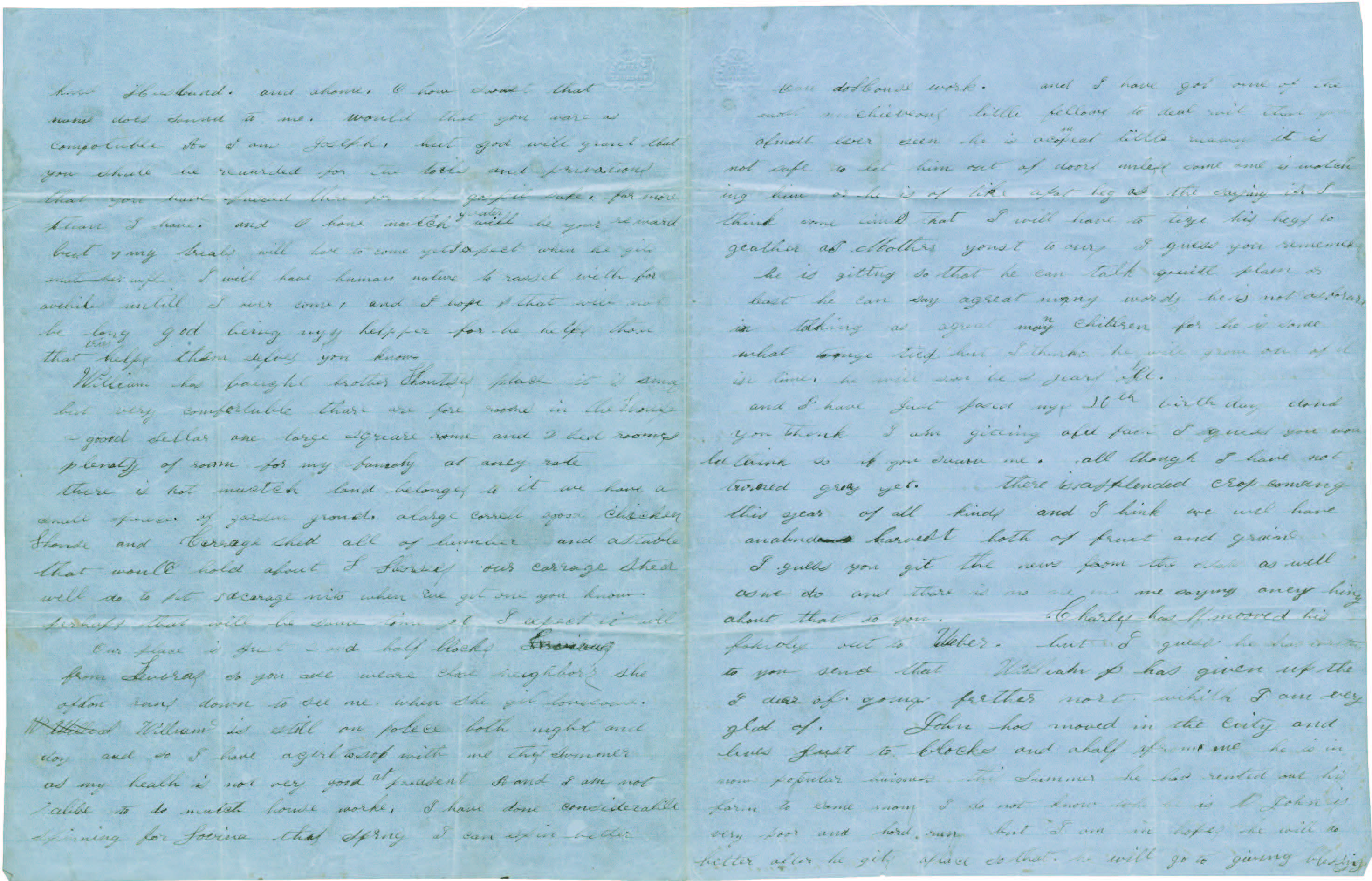 Martha Ann to Joseph F., 30 May 1861 (p. 2 and 3)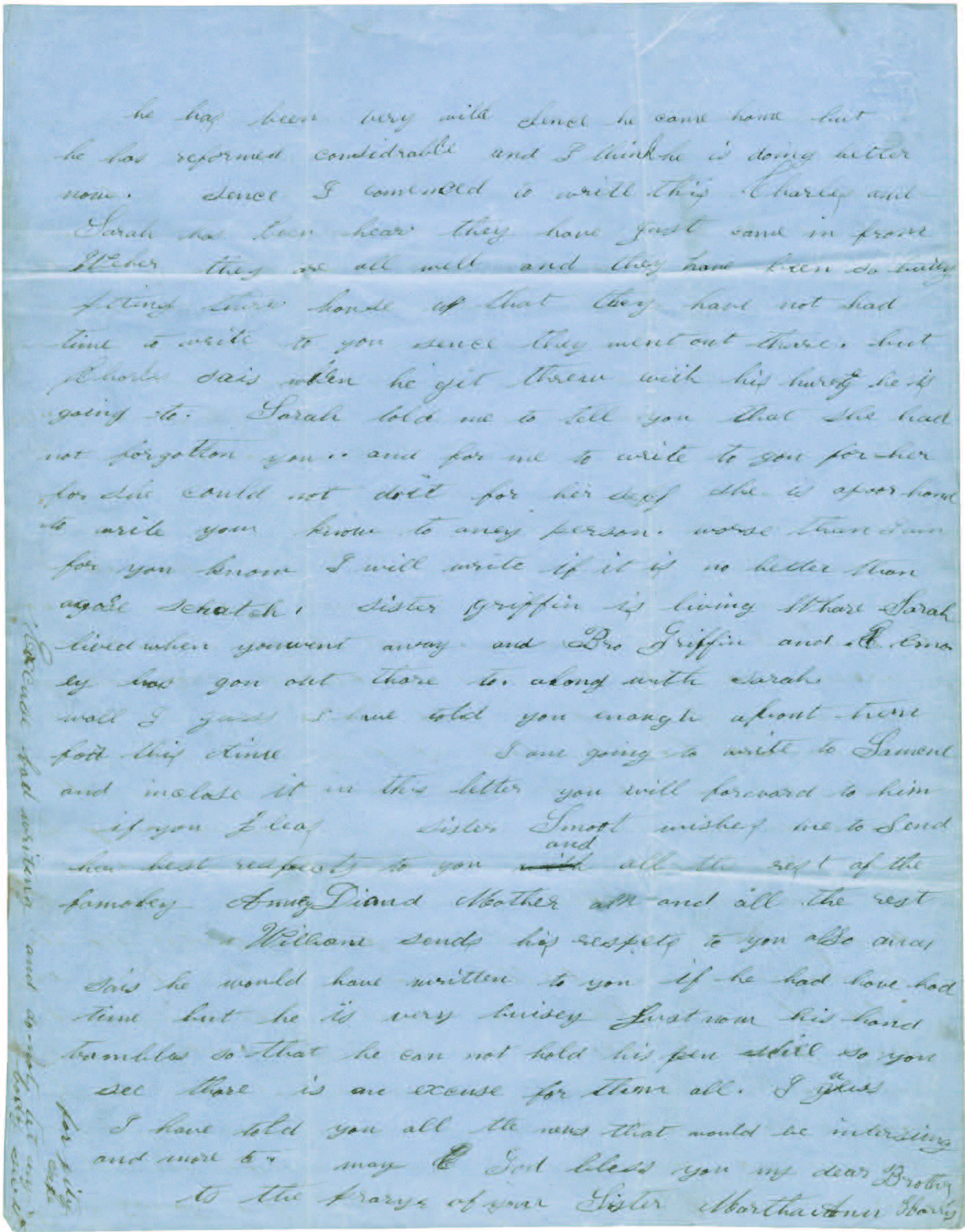 Martha Ann to Joseph F., 30 May 1861 (p. 4)
Ansd Aug. 3rd[100]
Leeds, 1861.
G S L City Utah Teritorry May the <30th 1861>
My Dear brother L Joseph
I onse more take my pen in hand to write you a few lines. all though I am all most ashamed of my self for not writng to you before. but I supose it is better late than never. Is it not. [illegible strike-through] Do not think that I forgit you brother becaus I do not write ofton thare are other resons than that to attribute it to. one reson is lack of confidece in my self to write to you and another thng is that I am so stupid as to not learn to wrte better than I do. I am so ruff cowon[101] and such a big awkward thing as the women said about me the other day. that you cannot expect me to write such letters as Vira[102] writes to you. howeve you must make allowneces for me. for you know that some times whare thare is a a ruff <hand> thare is a warm heart
I have been ashamed of the last letter that I wrotte to you ever sence I wrote it and have all most wished you would not git it. and I do not know that you ever did for we have not recieved one sence the one you wrote on Jan the 29th we was glad to git it I can asure you, and to hear that you was well was another cumfert to me. O yo do not know how mutch good it does me to read your letters Joseph. to know that I have one brother that does not forgit me is a great consolation. I hardly knowe how to be thankfull enough for the goodness of my heavenly father to me a weak and frail being that I am for giving me such kind friendes. as I have and such [p. 2] kind husband. and a home. O how sweet that name does sound to me. would that you ware as comfotuble as I am Joseph, but god will grant that you shall be rewarded for the toils and privations that you have passed thre for the gospil sake. far more than I have. and O how mutch <greater> will be your reward but my trials will have to come yet I expect when he gits another wfe I will have human nature to rassel with for a while untill I over come, and I hope that will not be long god being my helpper for he helps those that <tries> helps them selves you know.
William has baught brother Houtses[103] place it is smal but very comfortuble thare are fore rooms in the house a good sellar one large square roome and 2 bed roomes plenty of room for my famoly at aney rate there is not muctch land belonges to it we have a small peace of garden grond, a large correll a good chicken house and carrage shed all of lumber and a stable that would hold about 8 horsees our carrage shed will do to put a carage into when we git one you know. perhaps that will be some time yet I expect it will
Our place is just 2 and half blocks Leviras from Leviras so you see we are close neighbors she ofton runs down to see me when she git lonesome. W Willial William is still on polece[104] both night and day and so I have a girl to sop with me this summer as my healh is not very good <at> preasent aand I am not able to do mutch house worke. I have done considerable spinning for Lovina this spring I can spin better [p. 3] can do House work. and I have got one of the most mischieveous little fellows to deal wit that you almost ever seen[105] he is a co<m>peat little ruaway it is not safe to let him out of doors unless some one is watching him or he is of like a pot leg as the saying is.[106] I think some times that I will have to tiye his legs to geather as Mothrs youst to ours I guess you rememebr he is gittng so that he can talk quite plain or least he can say a great many words he is not as forard in talking as a great ma<n>y children for he is some what to[◊]nge tied but I thnke he will grow out of it in time. he will soon be 2 years old.
and I have just pased my 20th birth day[107] dont you think I am gitting old fast I guess you would think so if you saaw me. all though I have not turned grey yet. there is a splended crop comeing this year of all kinds and I hink we wil have an abundence harvest both of fruit and grain
I guess you git the news from the states as well as we do and thare is no [illegible word] me saying aney hing about that to you. Charles[108] has mooved his famoly out to Weber.[109] but I guess he has writen to you sence that William P[110] has given up the idear of going frrther nort wihith I am very glad of. John[111] has moved in the city and lives just to blocks and a half frome me he is in now popular buisness this summer he has rented out his farm to some man I do not know who he is John is very poor and hard run but I am in hopes he will do better after he gits a place so that he will go to giving blessings[112] [p. 4] he has been very wild sence he come home but he has reformed cosidrable and I think he is doing better now. sence I comenced to write this Charles and Sarah[113] has been hear they have just came in from Weber they are all well and they have been so buiey ptting thirn house up that they have not had time to write to you sence they went out thare. But Charles sais when he git threw with his hurry he is going to. Sarah told me to tell you that she had not forgotton you. and for me to write to you for her for she could not do it for her self she is a poor hand to write you know to aney person. worse than I am for you know I will write if it is no better than a go<o>se scratch. sister griffin[114] is living whare Sarah lived when you went away and Bro Griffin and E emoly[115] has gon out thare to. along with sarah. wall I guess I have told you enough about here for this time I am going to write to Sameul[116] and inclose it in this letter you will foreward to him if you pleas sister Smoot wishes me to send her best respects to you with<and> all the rest of the famoley Anney Diana Mother[117] [illegible erasure] and all the rest
William sends his respcts to you also and sais he would have written to you if he had have had time but he is very buisey just now his hand trembles so that he can not hold his pen still so you see thare is an excuse for them all. I g<u>ess I have told you all the news that would be intersing and more to. may [illegible strike-through] God bless you my dear brothr to the praryr of your Sister Martha Ann Harris
Excuse bad writing and do not let any body see it <for pity sake>[118]
Martha Ann to Joseph F.
Ansd March 1st
Hul[◊][119]
G S L, City Utah T <Decembr the 8 1861>
My dear brother it so a long time sence wrote to you I am allmost ashamed of my self if not quite. for not writing to you before, this time but you will ex<c>use me I think when I tell you the resons. sence I last wrote to you which I think was in May last God has intrusted to my care one more little charge,[120] which I hope may some day become a man of God and do mutch good in his generation in helping to build up the kingdom of our heavenly Father may he give me wisdome to trane them up in truth honesty and virtue is my prair from day to day. if they are trained in this way while young they will not depart from it whin older [p. 2] we receivd your kind letter of ast October 24th last evning and was glad to hear from you you may depend upon it. we also recieved to bunches of papers I am very thankfull to you for beeing so thaughtfull in sending me those papers they are very interesting and allso very edefying and I am alone so mutch they keep me from beeing lonesom they are a great comfert to me all though I do not git mutch time to read them for I have been so buisey this fall makng up my winter clothing and spining, I have spun 24 pounds of roles since the first of september, knit 5 pare of stockings and done lots of sewing besides taking care off my babys[121] so you see I have not been idle now my helth is good with the exc<e>ption of a lame back it is so bad some times that I can [p. 3] scarcly raise up when I stoop down but I am in hopes it will git better before long [illegible strike-through] the children are well and groing fine my dear little Joseph[122] is such a fine little fellow I wish you could see him you would give him shuch a shaking I know he is not very littler eather I can asure you of that for when he was 2 munthes old he wayd 18 pounds he is nearly 6 muths old now and when I write again I I will tell you how much he wayd then. they say he looks like you his I <eyes> are so dark theyr are blue but very dark his hare parts on the same side that yours does. well I guess you will think I have writen enough about that at enny rate. Willey[123] sais he would like to see his un Uncle Joseph he is a very m<i>sceiveous boy but he does not mean any [illegible strike-through] <[illegible strike-through] harme> by it [p. 4]
You spoke of Christimas and of us enjoying our selvs so mutch togther I hope we m[◊]ay but we would enjoy our selvs <mutch better> better iff you ware hear to enjoy it with us and Jerusha and Sarah[124] they are so far off that I scarcly ever git to see them now they ware all well when I hird from them last all but Jerushas little Martha[125] she had the canker and was cutting her teeth. but I hope that next year at this time we will have the pleasure of s<p>ending the Christimas togeather if it pleases Good that we should. our dear brother John has at last comensed to perform his duty which I feel very thankfull for.[126] they ware all all very well when I saw them last Vira was very sick the last time I saw her but I have hird sence that she is better. Aunt levira[127] has allso ben <very> sick but I hope she is better now I have not been up thare sence weak be fore last for it has been such bad weather that I could not take the baby out. good by for the preasent may God bless [illegible word] <you> for ever Martha
Martha Ann Harris pleas write to me as often as you can.[128]
William[129] sends his love to you and sais he will write be fore long[130]
give my love to Samuel[131] and tell him to write to me[132]
Martha Ann to Joseph F.
Ansd March 1st
Hull—[133]
G S L city Jan. the 12 1862[134]
My Dear and beloved Brother
as no one was sendng a letter when I wrote I I thaught that I would wait untill I could have some thing more to write that would be worth your notice. Christimas and new years <day> is over and we are all alive yet thank the Lord and as far as my my fameoly is consirned we are all well and your famoly I think is on the mend they have had a long seige of it Aunt Levira[135] has been very low for a long time and she is very low yet but she is mut<c>h better than she has been I was thare yesterday to see them Vira[136] has been passing threw a very severe trial for her to endure with her weak consteution. she is very poorly nearly worn out with the caare that she has had on her mind with regard to her mothers[137] safety and comfort she has had hardly thaught of her own wellfare. she has been low pirrited some of the time but she has done excedingly well considering the stuation she hase been placed in. she has got a strong nerve and I think her nerve is stronger than her than her boddy is able to bare. M N An<e>y[138] has been so mean to them he grows worse and & worse Vira sais she does not know but he will go crasey if he keps on as he has been he sais that [p. 2] Aunt Levira is not sick. that it is nothig but damd d d laisenes and that she is just as able to work as he is and that is the way that he gows and he will scarcly let them have what they want to eat he is so stingy and he will scarslly let them have any one to waite on her. he is afraid he will come to want and I am afraid he will unless he does nearer right. but do not wory Joseph perhaps it will all turn out for the best if Levira would [illegible strike-through] allthough we cannot se how that can bee now. perhaps we may some time. I would like to have Levira come and live with me when her mother git better iff she would have her. Mother but I do not expect she will I have made her the offer and she can do ashe[139] likes about comeing you know. William[140] is still on polise duty he has been very buis<e>y for the last few weaks both knight and day. John[141] is in the Legeslature this winter.[142] he all so gives blessings on Mondays and Satturd[143]
I was up to M N Smoots[144] on Saturday last to see the new comers thare Dians has got a girl five weaks old and Anna had a sun born last thursday.[145] Sister Smoot[146] send her best respectes to you with the rest of the famoly. they all so thank you for your kind rememberence to them all. I must bring my scroll to a close as my paper is fooll. I have not hird from Sarah nor Jerusha[147] sence I wrote. Considder from whense ths comes may the Lord bless you for ever and bring you safe home is <ever> my prayr I remain as ever your sister
Martha Ann H[148]
Martha Ann to Joseph F.
G S L City Utah Teritory Jan the 29 1862
Joseph F Smith
my dear brother as I had an appernity of sending of sending you a few lines I thaught I would improv it Charles[149] has just been hear and he told me that he was going to send a letter to you and that I could put a few lines inn with him. we are all better than we have been William[150] has had a very bad cold and I have had a large boil on my brest which has been very painfull for the last weak but it broke day before yester day and it is gitting better. the children are better well and groing fine. Aunt Thompson and Mary J & David[151] was hear one day this weak and spent the after noon with me they ware all tolerable well. you told Charls you had only recieved 3 letters from me. but I think I have writen <more> oftener than that to you if I mistake not perhaps [p. 2] you have not recieved all off them.[152]
you say in your litter to Charles that you are better of your cold for which I feel very thankfull for I have been very uneasy about you. dear brother I often think of you when set down to a good meal of vitules and wonder if my dear brother has enough to eat and when I lay me down to rest on my comforttable bed I allso wonder what kind of a bed that he has is so near and derr to me has to lie down upon to rest his weary boddy. I some times think that I am not worthy of of all Gods kindness to me for I feel my smallness more and more every day of my life I feel more and more the nessaty of prayr for I feel that thare is a great responcability resting upon me that is in trainng up my children in the right way you must pray for the lord to give me wisdom and that I may be found worthy at the last day to meet those that are gone before us this is my prayr for you and for me and for all that is honnest in hart may God bless you forever I remain as ever
your sister Martha A Harris[153]
Martha Ann to Joseph F.
G S L City Feb the 3 1862
My dear Brother
I went to see Leviras[154] yesterday and she requested me to write and tell you how she is and whare she is she is at Brother Brigham Youngs[155] in the care of Aunt Aunt Zina Young[156] she has been very sick but she was some better yesterdy she thaught she would be more comfortable thare than at my house and I supose she will Aunt Zina knows what to do for her better than I do you know she is older and more experenced than I am you know and understands her disease better. she has been with her mother so long that she has pertaken of her complaint care and an<y>xity of mind has helped to bring it on. but B Br Brigham[157] layd hands on her last fryday and comanded [p. 2] helth to return to her boddy.[158] and wih good care and nursing I think she will soon regain her strength again she told me to tell you that she would write to you just as soonn as she was able. and for you not to be uneasy about you her for she was in trusty hands. I feel so thankful she is whare she is. her mot mother is a great deal better she can set up for some time in a chare. William pe[◊]rce[159] was hear the other day and he wanted me to write for him I told him he had better write him self but he was going home the next morning and he coud not he said he sends his love and says they are all in all well. Jerusha[160] did not come down with him I supose that some of the folks have told you in their letters of the death of Lot hntington A <r>one Clawson & a John Smith which was done weak before last.[161] and also about the M man that has been robing the dead[162] this is the no all the news that I know of I could say more but my paper is fool excuse bad writing and mistakes for the a baby[163] is crying on my lap & I am in a hury
Martha Ann Harris[164]
Joseph F. to Martha Ann
[10.8 x 6.4 cm diagonal tear][165] oline Street[166] Hull, Yorkshire England
March 1st 1862.—
[diagonal tear]ter Martha Ann:—
I am happy to have the privilige of answering [diagonal tear]lcome letters of Dec. 8th and Jan. 12th—[diagonal tear]d.[167] I am always glad to hear from you [diagonal tear] family who take the panes to write. [diagonal tear]end this enclosed in a letter to Levira,[168] instead of sending it in John's,[169] as I at first intended, the reason I did not send it in John's's, was because his was full.
I am glad to hear that you are getting along so well, and before I go any farther, let me thank you Martha for your kinde offer to Levira. I am sorry to hear of her Illness— But that does not express my feeling, but I have weighed the matter up and down and I can only see how vain any attempts of mine would be to administer the necessary relief unaided by some higher Power.[170] I feel my weakness, and dependance upon God as much in this thing as any that has come across me, and am reconciled to my fate. I can but excersise my faith, in prayer and supplication, for my own, and the welfair of my friends while so far away from them. My faith is:—all is right!
I have not heard a word from Levira for a long time If she is so Ill that she cannot write I want you to tell me so!—for I want to know.—
My health is very good at present, although I am never free from cold, and cough, altogether.—
I was glad to hear from about the little ones, my blessing upon them.[171] May the Lord bless them, and preserve them from Death, axident, disease, and sin. May they live, and grow, and prosper, and become, noble and great—and always remain good—may the foundation and the whole fabric of their greatness be, wisdom and their Honor Truth—may they possess meakness and humility forever [p. 2] May they become shining lig[diagonal tear] of Eternal Truth, may they be [diagonal tear]iant in the Armies of Zion, and [diagonal tear] and them that fight against God [diagonal tear] Peace watch over them, and the j[diagonal tear] and intelligence, never be close [diagonal tear] May they be the Joy of their Mother, an[diagonal tear] happiness of their Father, and the comfort [diagonal tear] of their declining years, may Thousands call them Blessed, and Isreal speak their Praize,—amen.
You must not forget me to Jerusha and Sarah and their little ones[172]—my prayer is for them, and my blessing is upon them,—I remember them always—
I will say here for William's[173] benifit—or rather information, that the first ship, with emigrating saints, this season will sail on or about, the 20th of April.— I am not sure but, the Danish Saints will sail from Denmark direct—instead of coming thro' England—which will be a saving, I think, but I am not sure of this—there has been some talk of it, but it has never before been tryed.—[174]
Please remember me kindly to Sisters Smoot, Harris—Annie, Diena,—Bro. Smoot and all enquiring friend.[175] I remember them all with kindly feelings, always.
Take care of yourselves. I am trying do the same,—tho' I am very careless, or neglectful of my own good sometimes. But one must take Care of one's self—or suffer the conciquences.
I would like to hear from you when ever you have time to write. Glad that William gets on so well.
I think Prest Rich, (C. C. Rich) will return to the valley this year, and Perhaps Prest. Amasy M. Lyman[176] as well,—of this I am not sure. Several of the Brethren are expecting to return Home on account of Illness, and some because business requires, or they think so—we are very short of help.— May God Bless you all— I am as ever faithfully your Brother, well-wishes
J. F. Smith
Joseph F. to Martha Ann
[10 April 1862][177]
Page, 9 I do not wish to impase an good nature, So I will prescribe the limits of your portion to this remaining half sheet. Which I hope you will have patiance to read. I visited London:[178]— Well. I went to the Great International Exhibition,[179] again. (for I was thare once before) and also to the Crystle Palace.[180] London Tower,[181] Saw the Queen's Crown, worth a Milion Pounds Sterling. And other juelry and Gold plates and Ceptor valued at 3 Millions More. And all under an glass case! Saw the Block and ax which Severed the heads of Ann Bolyn[182] and Several others from their bodies. also the dungon where many notable individuals have been confined to await the Block, Guillitine, or Scaffold.[183] Visited Hampton Court built by Cardenal Woosy and presented to a Jealous King to tame his head.[184] This palace is magnificent. Also The House of Parliament, or as it is called The New Westminister Palace, it is the finest building in London.[185] At least I think so. Saw the House of Lords and the house of commons and the identical [p. 2] Table on Which Cromwell Stood and dismissed the "Mock Parliament." The House of Lords is concidered the finest Specimen of architecture in Europe. It is certainly Grand. Visited the Thames Tunnell. Dr. Kahn's Anotomical Museum, Madam Truesaus and Sons' Bazar. or Wax Works.[186] Sat in two of Napolians Carriages. Saw the Duke of Wellington's funeral Car. Weighing [illegible erasure or fading] and [illegible erasure or fading] 20 Thousand Pounds Sterling. Been on the Tower of St. Pauls Cathedral. In West Minister Abby. And a hoste of other places.[187] Visited Covent Garden opara House,[188] the finest I ever saw, but, her Magesties Theatre is concidered the Second best in the World. The best known is a new Theatre in Russia.[189] Went to the Hay Market Theatre.[190] Witnessed Some Scenes in London life at mid-night in the Streats and Lanes. Which you can better immagin than I can discribe. Visited the British Museum.[191] Where there is one of the largest libraries in the World. Well I must Stop, O! for a peep at you all. But adieu, God Bless you. J.F. Smith
Martha Ann to Joseph F.
Recd and Ansd Nov. 12th 1862[192]
Sheffield—[193]
Great Salt Lake City Sep 30th 1862
My Dear Brother Joseph
after so long a silence I once more take my pen in hand to pay my debts. or to let you know how we are gitting along. your to kind letters came duley to hand and we was truley glad to hear from you to hear that you are well and doing well is allways a great comfort to me I can asure you. but I have not had an opportunity off answering them before this for severel reasons, I have had no paper sutable to write to you onn and I could not git any in town. this for one. and my baby[194] has ben very sick and I have had no one to help to <me> do any thing and William has been from home a great deal of the time and I have had every thing to atend to in his absence. my babey is better now or at least onn the mend for he is so cross that I scarcely know what to do with him the rest of us are all well at present and I sincerly hope this may find you enjoying the same blessings. I had pleasure of gitting dinner for Sister Jackson[195] day before yester day she arived in the citty last Thursday evning with all off her children and her self in good health and spirets she requested me to give her love to you and tell you she never felt better in her life. I was very mutch pleased to see some one that had been knd to you it done my sowl good you may dpend upon it.[196] I have ingaged her little girl to come and live with me this winter to help me take care of my children. I need some <one> to asist me very [illegible strike-through] <mutch> she is fifteen years old I forgit her name now I suppos you will know whch of them it is.[197] she is to come to morrow I have not seen her yet I hope she will bee agreable. I had intended to send you my babyes likeness[198] but he looks so poor and bad that I could not have it taken but he is very pritty [p. 2] iff he is my child, when he is well I wish you could see him he is a sweet little dear at least I think so perhaps I am saying to mutch in prais of my own but it is if you Joseph and to you is not to strangers you know I love my little ones dearley they are my dayly care. my comfort in my lonely hours. may God grant me wisdom to train them aright is my constant desire <and prayr> every day of my life. Willey[199] is growing very tall and slim he is not a very ruggd boy. he is very mutch like you was when you was little he loves milk dearly but he will not touch any kind of fruit no matter what it is he never would eat any candy nor sugar en untill latlly he eats a very little I hope he will out grow his pcular ways after I a while. I the baby is has just woke up and so good night
Dear brother it is just one weak to night sence I wrote the above it is is now Conference time[200] and and Mary Jane[201] was hear this evnng and she told me that Jerusha had just got in town to day she is at sister peirces,[202] now I have not seen her yet I have not seen her for some time it is never sence last March and I can scarcly wait to see her now that she is so near she is they are tolerable wll she sais. Charles[203] is going to moove inn from the Weber this weak I believe he was in with a lode of coal this <last> weak he said they was all well when he left them. the fair[204] came off last weak it lasted three [illegible strike-through] days. I do not know whethr it iis any youse for me to say any thing about Levira.[205] for I supose you have got all the news from her self she was well or at least better when she was hear last weak she has been very poorley for sometime back she has not come back to live with me and I do not know wheather she is going to or not. the girl that was going to come and stop with me could not come the reeson why I do not know I was very much disapointd about it but perhaps it is all for the best I must close for my paper is full <pleas excuse all mis>takes and dirty paper[206] it is the best I could git may God bless you for ever is my praryr
I remain as ever your Sister Martha Ann Harris[207]
brother Smoots folks[208] join in love to you with thanks for your kind rememberence to them Unchehel fielding folks[209] also send thir love to you thare is a letter for Samuel[210] pleas forward it to him[211]
Joseph F. to Martha Ann
[Fall 1862?][212]
my kind regards to her. I hope she will always love her Religion more and more so long as her Religion is the Gospel. Which I have every reason to believe in the case. I bilieve I apreciate the principles of the gospel more to day than I ever did before, and I hope to be able to appreciate them better tomorrow [end of page] paper I would not advise you to send them, as, Tin plates[213] are so liable to be bent and spoilled, as are I have of Levira.[214] besides they will cost as much as a better, that would contain several of the other kind, I have the promis of going home next spring,[215] if every thing moves right. [end of page] here, at most, is short. I am convinced the Lord has sent us here to do good. The longer, then, we live, the better we shall be able to fill the design of our creation. We require but little, to supply the real wants of life so that much else than the mear supplying of our wants may be done, by us, for our comfort and the good [end of page] Must, write again. And please give my love to William,[216] and the babies,[217] and To Jerusha and William and their family,[218] and to Aunt Thompson,[219] David,[220] Mary Jane,[221] Uncle Fielding,[222] and family, to Bro. Smoot and family.[223] And— Every body. May God bless you My Dear Sister, Marth William and all the faithful, I am truly, J. F. Smith[224] [end of page]
Martha Ann to Joseph F.
Ansd April 8th[225]
1863—
Sheffield[226]
G S L C
1863[227]
[illegible strike-through]
Feb the[◊] 22
My dear kind mutch beloved brother it would been hard matter to disscribe to you the feelings with whichich I read your kind letter of Nov the 12 itis is a great privelege to me to receive a lettr from you but perhaps you do no think this is so for I am so long in answering them but it is not ths that is the cause of my long silence but itis becus I could not git papr that was sutable to write to you on it is very scarce you can hardly git hold of fine paper atall. we are all tolerable well at present and hope hat this may find you [illegible strike-through] enjoyng the same blessing I do hope you have got <[illegible strike-through] that> hatefull caulf you spoke off cuerd ere this. I have ben very oneasy about you on acount of it I am verry ancious to hear how you are. I hope you wll git strong and well before you start home O Joseph I hardley know how to <wait> for the <time> to slip away for you to start [p. 2] home and then the time you are crossing the mighty deep O may our father in heave spare your life while crossing that dreade<d> Sea and then the wery miles you have to cross before we can again met with you it has been a long wery time to wait for your return but may it slip quickely an[0.6 x 2.5 cm tear] way that we may meet again and O what a happy metting it will be. so be ware of thy self and cake care of thy self, dear brother and you shall hav our united prayr from day to day for your safe return to <your> home.[228]
I do not know that I have anythng mutch to write to you that will be news to you warever I will do my best william[229] has been on poliece dutey for fore or five weaks back but has sence been relieved he is now garding a man in the coart house who had some words with anothr man by the name of Greenlief Gre<e>nlief[230] beat him over the head with hs pistol severly [p. 3] and the lef him he was arested and taken to th stasion house where he remained uder williams care and some others of the polices [illegible strike-through] william came home to git hs dnnr and while he was gon they took Holaday wihch was beten over head to the stacion house to have thir triel and when he got in they told him to take a chair which he refuesed to do Greenlief sat aparte hm in a chare and he drew out his pistole and shot him threw the heart before any one could hinder him he never spoke aftr it they ware both gentiles we do not know how it will torminate yit I must now stop to git the lit ones[231] thir dinnrs. I have satesfied thir litle wones and now they are quiet it is no little matter to to write where they are <near> one pulls me on one side and the other on the other Mothr I want a peace of bread and butter Mother look hear and the pritty Jody[232] sas Mah Mah Mah a lttle louder and a little <louder> untll he makes me hear him then I must look rownd at him and then he sais ba bur for bread and buter [p. 4] I have to git up and wait on them well perhapes this is not interesting so I will stop and tell somethng else the children in the valley have all had the hooping caugh[233] mine have escaped so far they have not had it a great many little ones have ded w[1.1 x 2.6 cm tear] it. Jerusha[234] was down hear a weak ago she left her too oldest ones at home and brought the too younges with her[235] she went to the <the> theater[236] saturday night and I kept the babey while they ware gon whle they were <while they ware> thear I took thir teem & Jerusha and I went down to Sarahs[237] she lives in Johs[238] house now they mooed in from waber last fall they ware all well I have not seen Levira sence we took her to the social hall[239] to a party she was well as comon there she has ben out severrel times thiss winter to the theater and to party she looks rather poor and thin she needs you at home to cumfort her up sadly O I wish you was hear as fervently as she does I am quite sure but we must wait with paciens untill you come & may God sppead you is my prayr Lovina Jerusha Sarah Brothr Sister Smoots[240] all send thir love and best respects to you. excuse this short scroll God bless you for ever
Martha Ann Ha
Martha Ann to Joseph F.
Ansd Apr. 3rd[241]
1863[242]
for Joseph
Dear brother excuse this little dirty peas of paper and alow me to say a few more things to you which I left out of my letter which will be sent with this. for there was not room in it it to write all that I wanted to I am realy ashamed to send what I have writen it looks so bad but I have no papr to coppy it on and so you must considder from whenhense it comes and make alouences acordingly. the children botherd me while writing and I had a dreadfull pain in my shouder which was very disagreable, in short I am not a very good writer which you are well aware off but what I write ill composed as it is comes from my heart and I mean it I may not not have the languege of some nor the talent for writing that this will ed<e>fye a preson say ferinstence <that> Levira[243] has but my life has been far differenty spent to what hrs has been I have [p. 2] had to earn my bred by hard labor ever sence my m<o>thr died[244] I have ben obliged to work hard and it does not have a tendencey to refine any ones mind to such things. onely in such things as we are awkupied in the most we lirn how to be usefull in some thngs and in others we are ig<no>ront [illegible strike-through] if you spoke of my arousing your desire to see the likenesses[245] of my little ones and I am very sorry that I cannot grattify your wish but we have not the means, to git them at present but you shall have them when you return iff I can git them for you I would like very mutch to have a likeness of you iff I could git one I have never had that privlege yet I have asked Levira to give me even the worst one she had off you severrel times but she refused to do so and so I have been obliged to look at you threugh my minds eye or beg the privolege off seeing it you I should like to have you git me one iff you can conveniently but do not rob your self to do so of any comfort to git it I would rather you would wait untill you git home an I would pay for it myself for I am viry ancious to have one I got one of Johns[246] be fore I let him go it is a very good one I am going to send a note to hi John in this will you pleas to forward it to him. and allso to Samuel.[247] William[248] sends his love to you and says he is so busy that he can not write hiss time so you will pleas to excuse him your cows are all alive and well all though it is very hard on them this winter there is lots of cattle dying of on the rang write to me be fore you start home and let us know when it will be may God bless you
Martha Ann Harris[249]
Joseph F. to Martha Ann
Page 1[250]
103 Hodgson St.[251] Sheffield
YorkshireEng. April 3rd 1863[252]
My Dear Sister MarthaAnn:—
Yours of Feb. 22nd, 23rd& 24th has come duly to hand.[253] I see by the marks on the Envellope that it was mailed on the 27th which made it a little over a month coming to hand. I am pleased that you have written to me. I had almost begun to think you did not intend to write to me again. and yet I could not tell what I had done amiss. but all is right.— This letter will be my last one to you—while I am in England, I hope. My—time is drawing rappidly to a Close.[254] before this reaches you I shall be on my way home if all goes on well. The first vessel—the "John J. Boyd"[255]—will Sail from Liverpool[256] on the 29th of this month, and vessels will continue to leave untill May the 20th or there abouts. when the Emigration will close[257] for this Season. very many intend Emigrating from this Country and from Scandinavia this Season, if the way continues open, which I hope may be the <case> [p. 2] I shall not be able to finish writing this letter for two or three day, as I am very busy just now. and shall have to leave the Town on Sunday. I shall therefor write a little now and then as I have oppertunity, untill it is done. I will send you a likeness by this letter,[258] and I will take one of the little Boys'[259] when I get home that is—"I will if I can—but if I can't—of course—how can I ?"—
I don't mean to say I will take one of them, because I expect you could not spare one—if you had a dozen. but a likeness of them both, now you can understand me. there's nothing like being plain, at a weding!
God Bless my little Strainger Relatives.[260] I think much of them, and I pray for them. Oh! may they each grow up in wisdomes pathes and their lives be crowned with long-years, and happiness. May they be equel to the days in which they shall live, and to the great work which lies before them. do your [p. 3] duty to your's. Walk in the foot-steps of our Mother, and be wiser and better if you can, and in the memory of your offspring, and posterity yet unborne,[261] your name shall be honoured and your memory reviered, as is hers.[262]
I believe you will teach your children to love, not fear you.
Inspire their youthful hearts to love virtue and dispise vice. Encourage and succor every noble and Godly aspiration of their Souls, and check with a kind and motherly affection, but with a firm, unwavering hand every tendancy to disobedience, or wrong. never praise them for doing right, nei[13.2 x 7 cm diagonal tear][263] them nor behind the[diagonal tear] they will do, to be [diagonal tear] them that, to d[diagonal tear] for which no[diagonal tear] is as easy [diagonal tear] thousan[diagonal tear] please[diagonal tear] [p. 4] will grow up in the nurture and admonition of God, disinterrestedly good, which is true nobility, & Godliness.
Never—No! Never!! Scold them. — It is the greatest folly in the world to Scold. if any thing needs to be said, it may be said calmly, and affectionatly, not in a passion. Scolding of any kind is usless, and worse, it is a folley, and a crime. reason, counsel, instruct, but never scold. Never box or Slap them, not even in calmness. if you need to whip, do as mother did to me. talk, and reason, till the quck[264] is thoroughly probed, then apply the healing balm of birch or raw-hide, & do it well. Mother has corrected [diagonal tear] I have looked forward [diagonal tear]ing, kind reproof [diagonal tear] far less pain[diagonal tear] can punish [diagonal tear]roof to the [diagonal tear] do not [diagonal tear]sel.—
Martha Ann to Joseph F.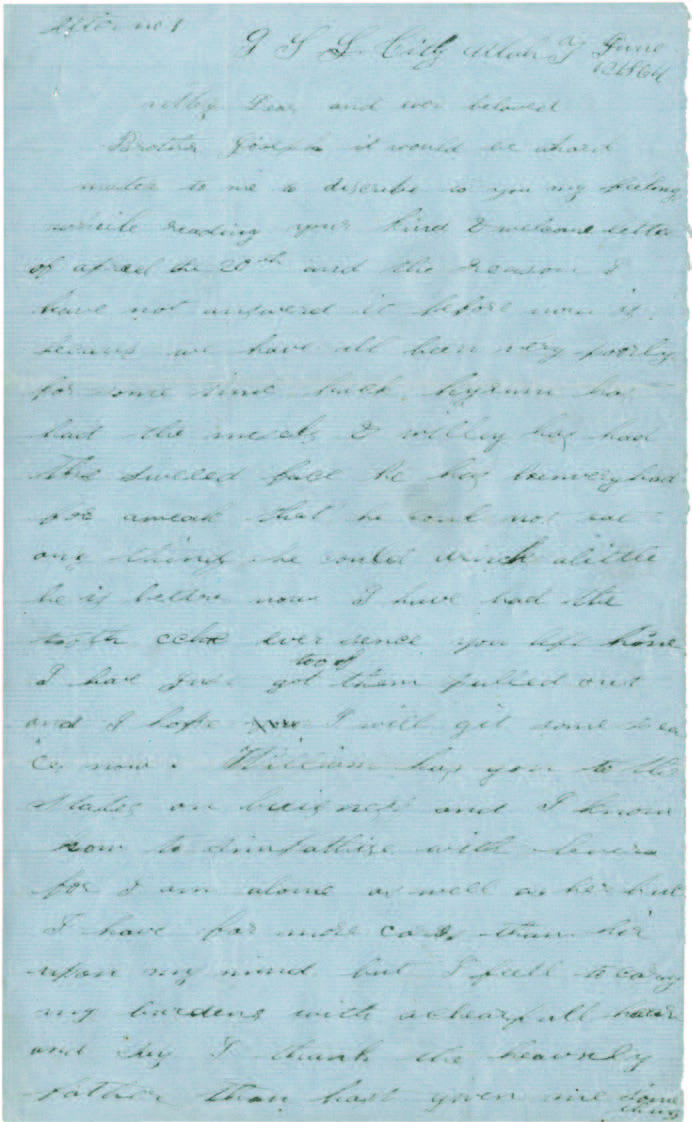 Martha Ann to Joseph F., 12 June 1864 (p. 1)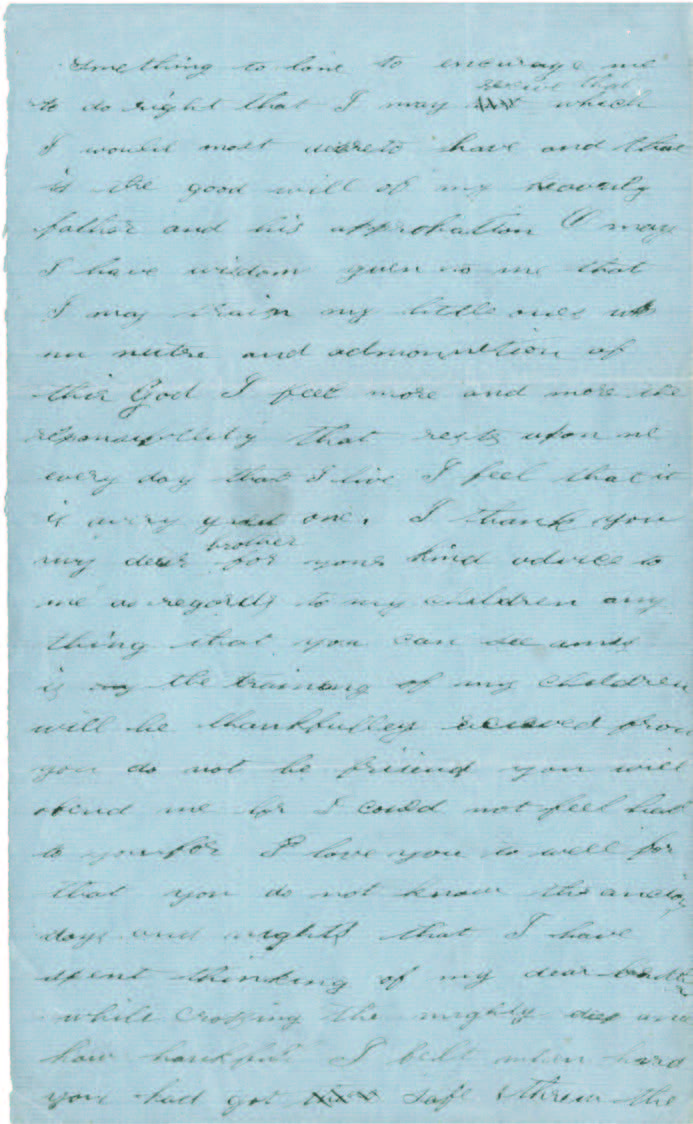 Martha Ann to Joseph F., 12 June 1864 (p. 2)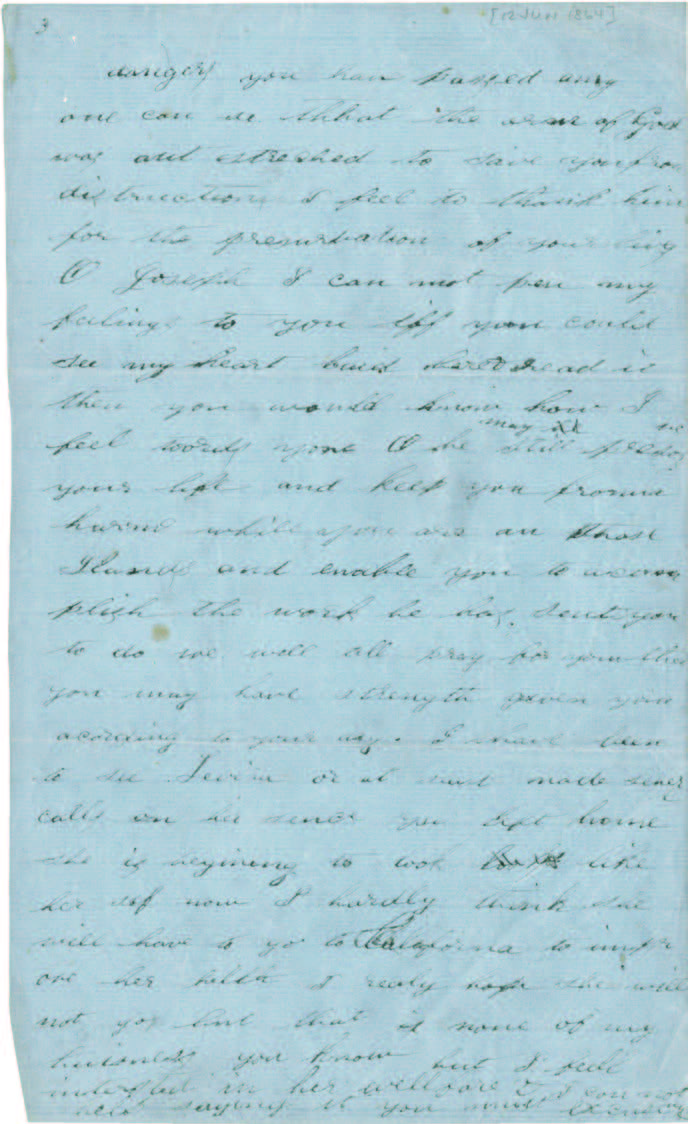 Martha Ann to Joseph F., 12 June 1864 (p. 3)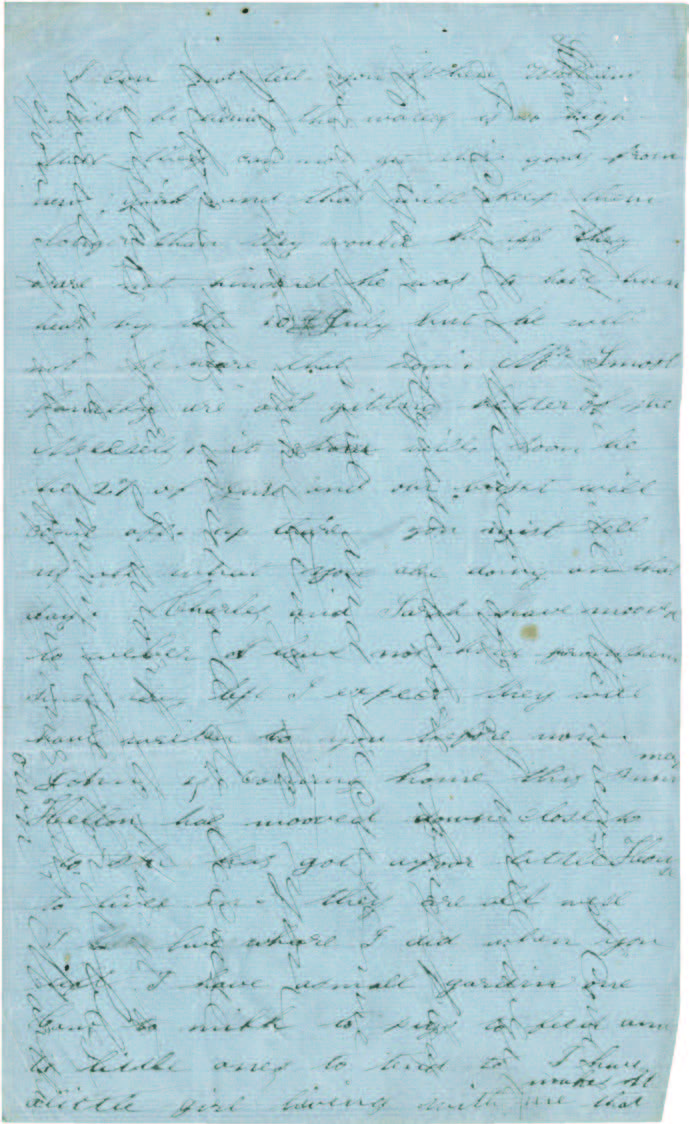 Martha Ann to Joseph F., 12 June 1864 (p. 4)
leter no 1
G S L City Utah T June 12 1864[265]
My dear and ever beloved brother Joseph it would be a hard mater to me to describe to you my feelings while reading your kind & welcome letter[266] of aprael the 20th and the reason I have not answerd it before now is becaus we have all been very poorly for some time back hyrum[267] has had the mesels & willey[268] has had the sweled face he has been very bad for a weak that he coul not eat any thing he could drink a little he is better now I have had the tooth ache ever sence you left home[269] I have just got <too of> them pulled out and I hope you I will git some peace now.[270] William[271] has gon to the States[272] on buisness and I know how to simpathise with levira[273] for I am alone as well as her but I have far more care than her upon my mind but I feell to cary my burdens with a chearfull heart and say I thank the heavnly father thou hast given me something [p. 2] smething to love to encurage me to do right that I may not <recive that> which I would most desre to have and that is the good will of my heavnly father and his approbation O may I have wisdom gven to me that I may train my little ones up in nutre and admonnetion of thir God I feel more and more the re<s>ponsibelity that rests upon me every day that I live I feel that it is a very great one. I thank you my dear <brother> for your kind advice to me as regards to my children any thing that you can see amis is my the training of my children will be thankfulley recieved from you[274] do not be friiend you will you will ofend me for I could not feel bad to you for I love you to well for that you do not know the ancious days and nights that I have spent thinking of my dear brothr while crossing the mighty deep and how hankfull I felt when herd you had got thire safe threw the [p. 3][275] dangers you have passed any one can se thhat the arm of God was out streched to save you from distruction I feel to thank him for the presurvation of your lives O Joseph I can not pen my feelings to you iff you could see my heart laid bare & read it then you would know how I feel toords you O he <may be> still preserve your life and keep you from harm while you are on those Ilands and enable you to acomplish the work he has sent you to do we will all pray for you tha you may have strength given you acording to your day. I have been to see Levira or at least made severl calls on her sence you left home she is begining to look look like her sef now I hardly think she will have to go to Californa to improve her helth I realy hope she will not go but that is none of my buisness you know but I feell intersted in her wellfare & I can not help saying it you must excuse me [p. 4]
I can not tell you when William will be home the waters[276] is so high that they can not git thir goods from new york and that will keep them longer than they would be iff they ware not hinderd he was to have been hear by the 10 J July but he will not be heare that soon. Mr Smoot[277] famely are all gittng better of the meesels, it [illegible word due to cross writing] will soon be be 27 of June and our visit will come off up thare you must tell us off what you are doing on that day.[278] Charles and Sarah[279] have mooved to weber[280] I have not herd from them sence they left I expect they will have writen to you before now. John[281] is coming home this summer Hellon[282] has mooved down close to to she has got a poor little house to livee in. they are well I [illegible erasure] live whare I did when you left I have a small gardin one cow to milk to pigs to feed and to little ones to tend to I have a little girl lving with me that makes [illegible word]
I have told you all the news I could I could think off I will write to you again before long pleas write to me and excuse me for not writing to you before this and all so excuse mistaks for I work to hard to write well may the lord bless you is the of your <own> sis Martha[283]
Joseph F. to Martha Ann
My address Box 54 Honolulu Oahu S. I.
June 22nd 1864
My Dear Sister Martha Ann:—
I have not heard from you since I left, only that Hyrum[284] was sick, but mending. And that William had gon to the States.[285] Well that is something to hear—away out here where news and friends, are like pearls—few and greatly prised.
I sincerely hope that little Hyrum is better. I can hardly bear to think of seeing him changed in any way from his little, picture in my minde. I can always see him, streight and portly, strung up to the highest point of nerve, full of animation and life—& in a commanding manner & tone issuing weighty orders, that cannot be regarded lightly—or slighted with impunity, by the most majestic of his small but growing Empire! As he stands—in photograph—upon the tablet of my memory—he "is monarch of all he surveys,"[286] he knows no fear, no equel, he commands and—is obeyed, or woe! befall us!!! well he is my ideal—of male baby perfection! of genuine infantile nobility, & magnanimity!!
You well know I love the babies, they are all interresting to me from two months old, and upward.[287] I wonder of Willie and Joseph[288] will forget me, I guess not. kiss all of them for me, & tell them that I think of & pray for them ofton. that they may grow up—worthy of the great mercies of Him whos Image they so nobly bear.[289] I think you have great cause to be proud of your boys. If they are not good men, it will not be their fault. The soil is your own, see that it lacks not cultivation.
I hope you are well, I have no doubt you will be very busy while William is gon. try to be cautious of your health, and that of the babies, theirs often depends much upon the state of your own. I hope you can spare a few moments once in a while to call upon Levira,[290] she complains that she is lonesome, and the folks do not call very ofton. I presume you are always far [p. 2] more home-tied, than she is. and perhaps she can finde strength & time to visit with her Aunt,[291] when the same fatigue could not be endured to visit you. Never minde such things, Martha Ann, if such things there be. Ofton the heart may be good when the head is wrong. We should always bear with each other, and ever try to remidy a wrong by a right, knowing, wrong is not righted by wrong, but by the oposite.
Inclosed is a letter to Charles E. & Sarah,[292] and another to William & Jerusha,[293] will you please <to> send them, as soon as you can. you can read them if you think they will be interresting enough. I should be pleased to write to Lovina[294] but I have not time nor space at present. I wrote you a few lines in a letter to Vira[295] a few weeks ago. You have doubtless recieved it before this time. I wrote to Vira, Aunt Thompson, David and Samuel,[296] and sent the letters by the last vessel. another vessel go's out in a few days. I have no news to write.
Gibson[297] is going down, every body that knew him begins to dispise him. some did so from the first. the natives have all left him, but 3 or 4—but he has the land, & the money he has gathered from the Natives, and intends to keep it—if he can![298] he is a firm believer in the—"good old rule & simple plan "That they shall take who have the power & they shall keep who can!"[299] The natives have entered a suit against him, but it is a slow opperation, and I do not know that they will succeed, but I sincerely hope they may.
You will see by Charlies' half sheet how we are getting along.[300] Please give my love to Brother Smoot and his family. and tell them I shall recollect my last visit for some time—if not longer,—and the 27th of June—neer at hand—I do not intend to forget.[301] give my love to Bro. Hoglend, & to sister Cannon[302] if you should see her. to Aunt Thompson, Mary Jane, Aunt Zina—Geo. A.—Elias[303] & families & every body—God bless you my dear sister—is my earnest prayer—yours—J. F. Smith.
P.S. I am going to write to Heber & Joseph Fielding[304]—Shall direct to Heber If you see any of them tell them to enquire at the office—very truly J. F. S.[305]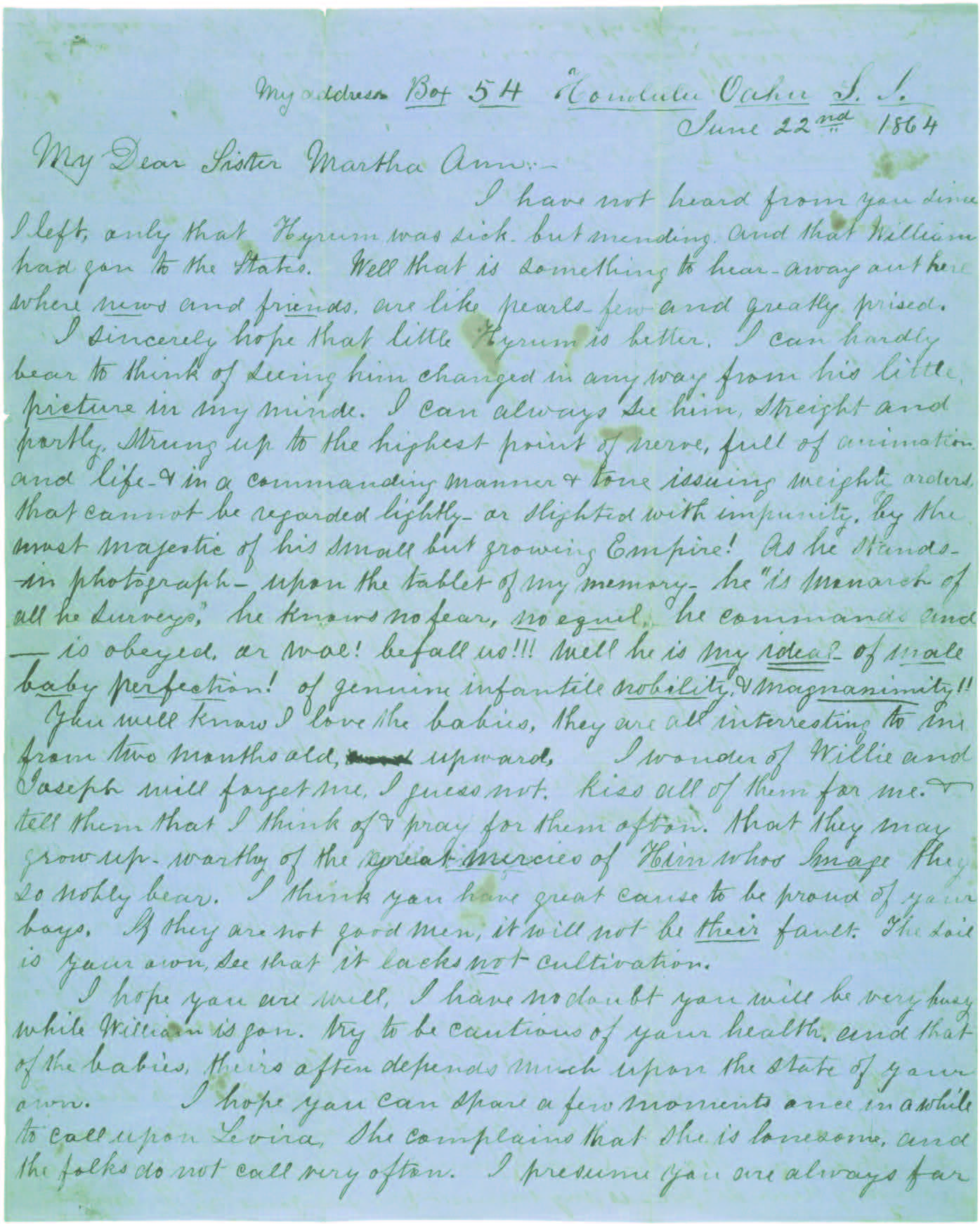 Joseph F. to Martha Ann, 22 June 1864 (p. 1)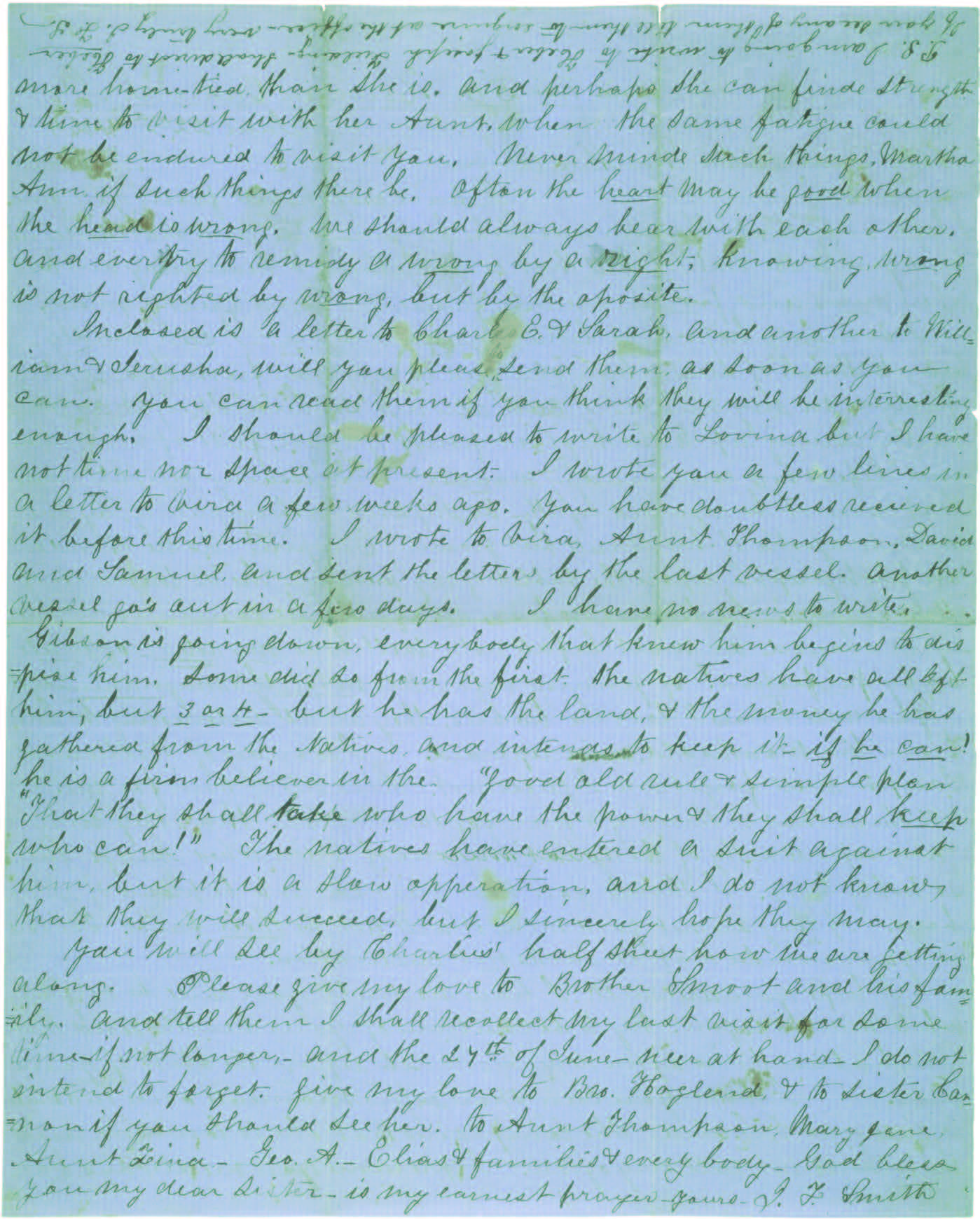 Joseph F. to Martha Ann, 22 June 1864 (p. 2)
Martha Ann to Joseph F.
letter no 2
G S L City Utah Ter 1864[306]
My own dear brother it is wih feelings of graitetude to my heavenly father that I seat my self down to write you a few lines in return for your very kind letter to me. I have read it over and over again for I love to hear or read your letters bettr than any thing I can think off they do me more good than you have any idear off. my health is is not muth to brag on this summer but I manage to keep joging and do my work nursing a gret big baby like mine pulls me down this hot weather and having the carrs all on my sholers and my work to do all help you know I do not git much time to gosop neether with friends nor neighbors but that keeps me out of mischief William[307] has not got home yet he sent a telacraph [p. 2] on fryday last that he was at Larina[308] he has been on the plains six weaks he has had very bad luck they have had very bad storms sense they started from th states they have had 3 three stampeeds one break down & one tip over & lost 2 yolk of cattle so you se has got his his hans full his helth is good and he will be hear in one month iff nothing happns more than we know of the Idens are very bad they have r<o>bed severel trains of emagrants this year[309] but they have not dis turbed our people yet & I hope they will not they are in the hans of the Lord he knows all things and does all things for the good off his saints.
I went up to Brothr Brigaham yesterday I thaught I would let him know how you was gitting along but I did not git to see him [illegible word] was [p. 3] went home with a heavy heart for it greaves me to the very hearts core to hear <w>hat my poor brothre has to pass threw Mother[310] sent for me to come up thare with the wagon I thaugh I would go and I am up hear to day they went to the Teatre last night black Eyed Susen was the name of the play[311] they come home at twelve O clock & what do you think they told me when they come—they said that you and all the rest ware released from that mishon[312] I can scarsley contain my self for joy O my you return home safe you shall have my prayrs at least I dread the great watters you have to cross but the hand that preserved you when you went can protect you when coming home. I have not been to Viras[313] to make a visit for some time for I have ben so buisey but I shall coll on her as soon as I can posable do so [p. 4] I do hope she will not go to C<a>liforna[314] for iff she goes it may detain you thare and I should not like that for I would like to see you come hom. Sister Smoot[315] sends her love and best wishis to you and sais she would write to you iff you was not coming home but she prays that the way my open up that you my have a speedy delivery from tohose landchs land she sends you one of her Roses in this letter pleas except of it. She has some butiful ones this year Anna. Mother Diana & Anna[316] sends ther lovee to you they all rember you in thir prayrs continualy Mr Smoot also sends his best respecs to you he just came in they hav thir new hous finnished it looks very nice Sister Smoot has the new part. It is not much [p. 5][317] like the one I live in I live whare I did wen you left I hope I will have a bettr one when you git home.
My children are all tolerable well hyrum is just lining to stand alone he is very trresum in to every thing he comes to up to his eyes he is even now tugging at my dress and squeling wih great forse I can not write very god under such sircumstances he looks just as he did onely he is 5 munth older than he was he will soon be a year old thir birh days all come off next month Wi 4 J A on th 19 H S on the 15 one 5 one 3 one 1 years old[318] I have had our likenesses[319] taken for you and one for me my famaly groupe [p. 6] So I fullfilled my promise at last[320] better late than never is it not Iff I was inclined to be vain you would help me to be so but iff my children are as good as thy ar good looking it will be all i ask it will be thir goodness that will make me proud and no thir looks I will send the girls thir letters I was hley interested with you thir letters
I have not ha<r>d from Jerusha for some time William is building her a house this sumer I am glad of that for her sake
Aunt Zina[321] sends her love to you she than you for your kind remembence to her. I have writen all I can at this time excuse mistakes I will write again iff I can you will have a hard job to read this may God Gog bless you is my prayer I remain Martha
Joseph F. To Martha Ann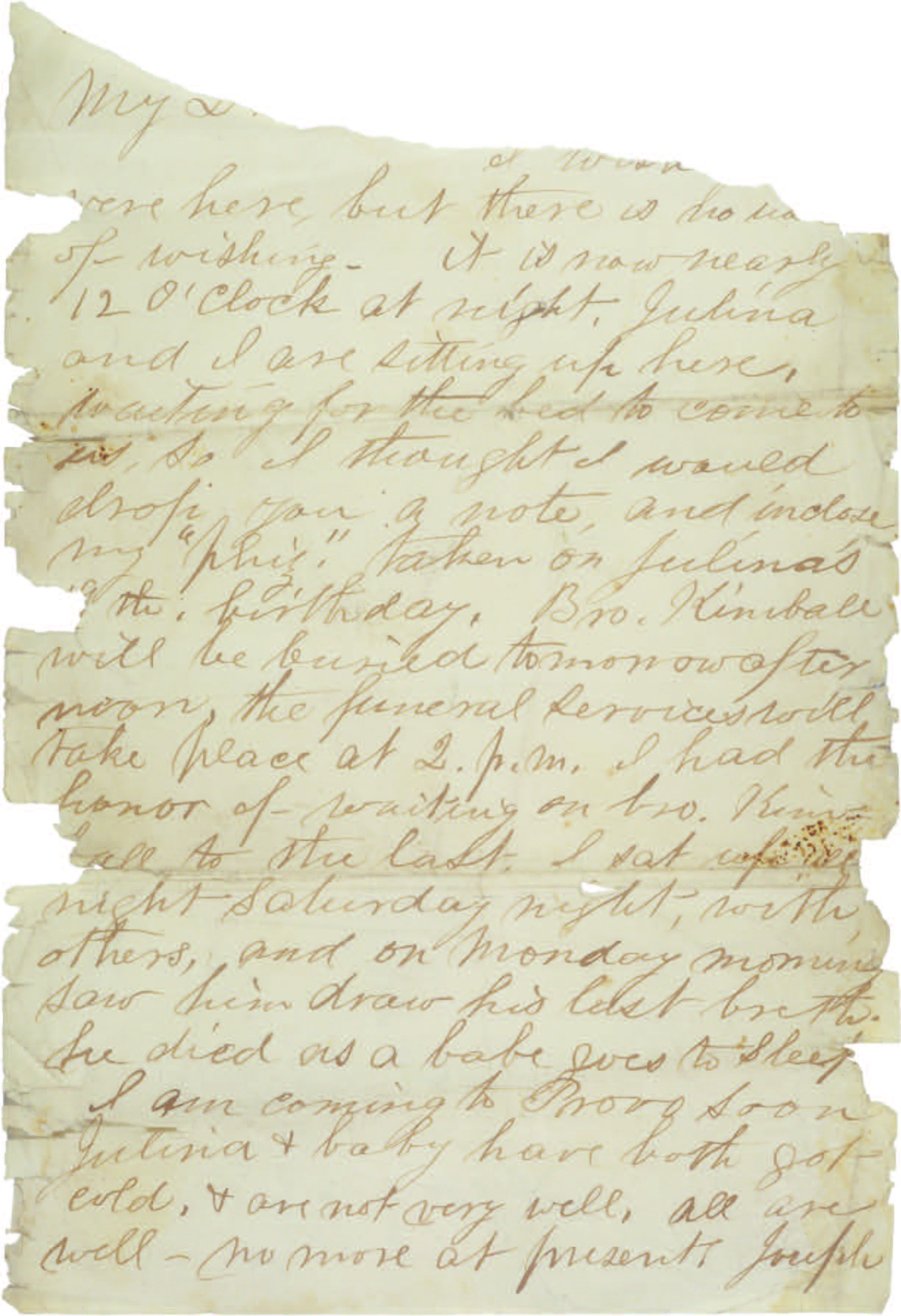 Joseph F. to Martha Ann, 23 June 1868
To Martha.[322]
Aug. 30. 1864
Honolulu
"Is there on this cold selfish earth
"One heart so cruel as to scold
"A roguish boy. brim-full of mirth
"And like my pet just one[323] year old?"[324]
Or should his little heart be grieved
And tears bedim his pretty eyes
Coldly pass him unperceived
Regardless of his pitious cries?
If such a heartless wretch could be
On earth produced. He'd have no <friend.>
No home, no peace nor sympathy,
And grief should haste his timely end![325]
[Place image 111 here]
Joseph F. to Martha Ann
[23 June 1868][326]
My D[12.7 x 3.4 cm tear][327]
I w[diagonal tear] were here, but there is no us[diagonal tear] of wishing— it is now nearly 12 o'clock at night, Julina[328] and I are sitting up here, waiting for the bed to come to us, so I thought I would drop you a note, and inclose my "phiz",[329] taken on Julina's [diagonal tear]9 th, birthday.[330] Bro. Kimball will be buried tomorrow after noon, the funeral services will take place at 2. p.m. I had the honor of waiting on bro. Kimball to the last. I sat up all night Saturday night, with others, and on Monday morning saw him draw his last breth. he died as a babe goes to sleep[331]
I am coming to Provo soon[332] Julina & baby[333] have both got cold, & are not very well. all are well—no more at present Joseph
Joseph F. to Martha Ann
Salt Lake City
Tues. Dec. 1st. 1868[334]
My Dear Sister:—
Your's of 19th. ult. came safely to hand I though I would just now—in the midst of labor and unperformed duties—stop a moment and drop you a line.
Julina, Sarah, Baby[335] and Edward[336] are all well, as usual, Edward is slowly recovering from a spell of sore eyes. Baby for some time has been a little restless of nights, and she is such a little talker! She will repeat almost any simple word after me or her mother, and say them plain too. She is as blessed as ever; I have comfort with my little one.
My birthday[337] present was a long law-document styled "Levira A. Smith vers. Joseph F. Smith", an action, brought before the 4th Judicial District Court of San Francisco for "divorce" and "Relief"—. for the "crime of adultery". in which Levira Swears that I have committed adultery with one "Julina Lambson" "Mary Ellen Richards"[338] and "other women,"[339] in Salt Lake City & Provo—in Utah Territory—and in San Francisco Cal. and other places"!! Aunt Thompson, Mary Jane & Robert[340] are usually well. Jones[341] moves out of your house this week and another family moves in, so I understand. please to forward the inclosed to bro. Jensen the Taylor,[342] and oblige me. with kind love to William & the Children[343] and all friends I am your affectionate Brother Joseph
The girls[344] send love— Edward sends love to the children. [p. 2]
P.S. The Juvenile[345] reaches you safely—it goes in my name. I hope you get it all right. I will send you a paper once in a while— Joseph
Joseph F. to Martha Ann
S. L. City, June 21st. 1869[346]
My Dear beloved Sister
Martha Ann:—
Your's of 19th inst. has this moment come to hand;[347] I have been very busy since the telegram come announcing the sickness of "Jodie",[348] the same day a letter came to Julina[349] informing us of your own poor health and also of the sickness of 'Jodie', I can assure you my Dear Sister, some earnest prayers assended from the Alter of our family circle,[350] from three kind hearts for you, your little ones and for William,[351] the night after the telegram came,—I felt sorry that I could not get to see William, I hunted all over town, but unfortunately I could not find him. Aunt Thompson[352] had a few dollars—rent-money, on hand and I advised her to send it to you, part of a t it at a time, for I thought perhaps you would need it. I hope you will g be able to get what you need for the children. I do not think it is wisdom to give a great deal of Medicine of any kind, make a little do. Wash often, keep the body, and clothes clean, and breath plenty of fresh air both night and day, do not sleep in closed [p. 2] rooms, but breath pleantifully and freely of the fresh, pure air.
Tell William, that Richard[353] called upon me and we made arrangements for him to lift that note. I think a trade can be made that will be satisfactory to William and all concerned, as far as possible.
The folks will be very thankful that Jodie is better. I cannot write much more. David and Alexander[354] are on their way out here to preach against polygamy and convert the Brighamit's.[355] John[356] is up north at Box Elder. Jerusha[357] was down on a visit a short time ago, but only came a few moments at <to> our house. We are all well, the Baby[358] has most excellent health, for which we are most thankful I assure you.
With kind love and prayer for your safety and health, and speady recovery from all sickness. I am your brother
Jos. F. Smith
If I can do any thing for you, be sure to let me know, and do not be backword or timid about telling us your necessities. I send this by bro. Smoot.[359] Joseph
Joseph F. to Martha Ann
S. L. City
July 13th. '69
My Dear Sister:—
Yours of 10th has just reached me.[360] I am always glad to hear from you, and more particularly so when your letters bring good tidings &c.—
My health is good, Julina and Baby[361] are well, Sarah is not well, nor has she been since baby died,[362] her health is poor all the time and now and again wors than ever. A few days since she put some concentrated lye[363] on the poarch floor to take out some greece spots, and then hastily stepped upon it and slipped down, bruising her some and causing quite a severe spell [p. 2] of sickness. And then women are so foolish to worrie and fret—and stew about little or nothing that it ofton times makes it worse for them, such an one is Sarah. She got out of bed the other day, and to day I suppose she did her washing—I remonstrated but to no effect, she must do out a few things—because she needed them!!!
Edward[364] is a good boy and keeps well.
Edwina Walker[365] has been stopping at our house for some time, the Docters have straightened her leg for her—but the Knee joint is so grown out of shape I fear she will not be able to use it. the foot and ankle [p. 3] is also very small and slender from long disuse—since she was a child—the lower part of the leg not growing in proportion to the rest of her body.
We give Endowments every Monday and every Wednesday—& sometimes two days a week we baptized for the dead, in the font.[366] the rest of the time I am very busy in the office. I am busy all the time; I want to come down <to Provo> the latter part of this month if I possibly can. Alexander and David Smith are expected in town daily—they are coming full of bitterness & hatered toward polygamy & the Utah Mormons.[367]
You must excuse haste if I had not written now, I might not have got another chance [p. 4] William I suppose is in town but he seems to avoid me for he does not come to the house[368] only when he cannot avoid it—I have never done any thing to injure William—I should not think he would shun us—I am sorry to see him part with his place—but I cannot help it—and it is all right with me—I suppose he feels bad.
Please give my love to the Children and to all friends. write again—
May god Bless you and yours—and William and his efforts to extricate himself from every embarrasment[369] is my prayer most cincerely— from your affectionate bro. Joseph
Joseph Joseph F. to Martha Ann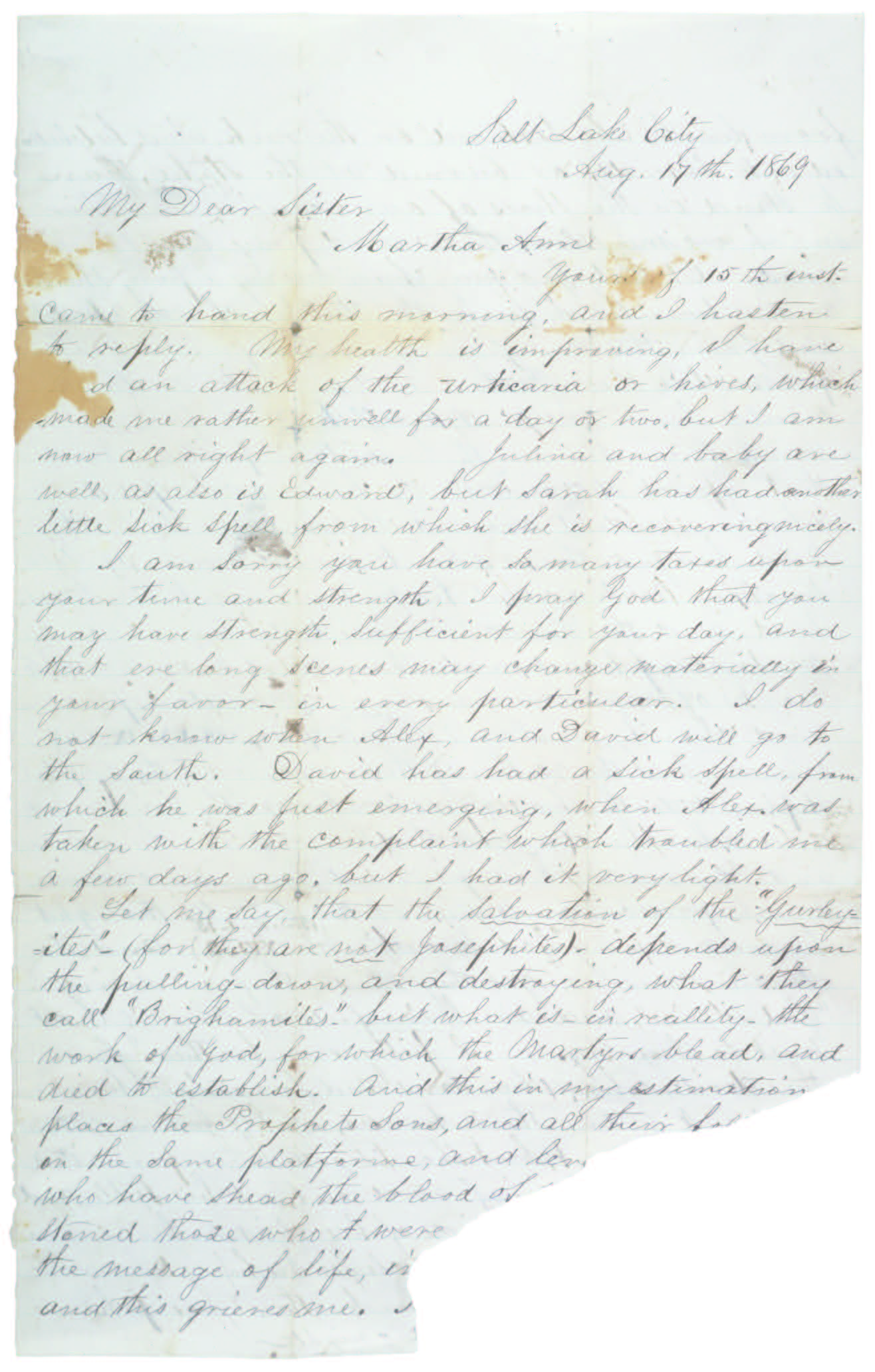 Joseph F. to Martha Ann,
17 August 1869 (p. 1)
Salt Lake City
Aug. 17th. 1869
My Dear Sister
Martha Ann
Yours of 15th inst. came to hand this morning, and I hasten to reply.[370] My health is improving, I have had an attack of the urticaria or hives, which made me rather unwell for a day or two, but I am now all right again. Julina and baby are well, as also is Edward, but Sarah[371] has had another little sick spell, from which she is recovering nicely.
I am sorry you have so many taxes upon your time and strength, I pray God that you may have strength sufficient for your day, and that ere long scenes may change materially in your favor—in every particular. I do not know when Alex, and David[372] will go to the South.[373] David has had a sick spell, from which he was just emerging, when Alex was taken with the complaint which troubled me a few days ago, but I had it very light.
Let me say, that the Salvation of the "Gurleyites"—(for they are not Josephites)—depends upon the pulling-down, and destroying, what they call "Brighamites,"[374] but what is—in reallity—the work of God, for which the Martyrs blead, and died to establish.[375] And this in my estimation places the Prophets Sons, and all their fo[15.9 x 10.2 cm diagonal tear][376] on the same platforme, and lev[diagonal tear] who have shead the blood of [diagonal tear] stoned those who l were [diagonal tear] the message of life, i[diagonal tear] and this grieves me. [diagonal tear] [p. 2] from limb, be tortured on the rack, and hetchelled[377] into shreads, or burned at the stake, than to stand in the shoes of our Cousins, <if they continue.> however much we may love them and pray for their good. O! that God may have mercy upon them and deliver them from the clutches of vile apostates and from the cumpass of that Spirit which persecuted their Father, and ours, to death, would have obliterated all trace of Gods holy work from the earth had it the power, and that Spirit still lives in the bosoms of apostates who have rallied around the Sons of the Martyr, and hedged them about, until works of destruction, malice, and hatred against the Priesthood, and the Lord's Annointed, have become metamorphosed unto them, and to many—into works of righteousness, love and compassion, and charity. Paul (Acts. 7–58—VIII–1–3—IX–1–4) when he held the clothes of those who stoned the Prophet Stephen to death, being associated with murderers, and when he dragged the Saints from their houses and sc<o>urged and imprisoned them, and wrought much persecution against the Saints, thought he was doing "God Service" (John. XVI–2 <1 Timothy.1–13.>) and so do our cousins, yet they think they are doing "God service",[378] and are brim full of charity (?) at least so they say. I pitty our brother, for the devil, whom her Sons and Son-in-law have [diagonal tear]t from their houses, is by John's[379] liberral [diagonal tear]t, but short-sightedness, permitted [diagonal tear]oof and eat at his table, and [diagonal tear]ds of his children her venom [diagonal tear] clense his house![380] no more [diagonal tear]ur brother Joseph
[5.2 x 9.5 cm diagonal tear on bottom left corner]ay night—
Joseph F. to Martha Ann
[23 December 1869][381]
City Dec. 24th. 1869[382]
Martha Ann
My Dear Sister:—
It has been some time if not more since we heard from you directly. I hope you all have good health, which is the greatest of blessings, provided there is something to eat—the drink is always sure—(unless frozen up—) in Provo. I am greatful for the many blessings which we all enjoy up here excepting Aunt Thompson[383] who has been for some time complaining of rheumatism: but she is getting over it.
Julina and Sarah[384] are both well, as usual, Sarah has a bad cold, so also had Julina, from which she has pretty much recovered. Edward[385] and my little ones are all well, the baby—Mary S.[386] is growing like a wead, she is a much stronger child than Mercy[387] was, but such a little thing! and shuch such a head of hair! Josephine[388] is a prefect box of chatter and grave questions she says, "mama what are you for?" mama cannot answer! and it is "papa what is that for—& this for? and soon. It is a great pitty she is so toung tongue-tied!! [p. 2] her eyes are still like two little Jets, while the baby has blew eyes. Julina has gon to the Theatree, I am tending babies.[389]
Sarah getting breakfast ready. I have dated this for tomorrow morning.[390] Sarah gets things ready over night, and in the morning gets breakfast in 3/4 of an hour. I wish you could come and see us, and that I know how you are getting along. I have felt considerable anxiety for you, but I have not known how to avoid it, or in other words how to change fate. I feel condemned sometimes when I see the comfortable situation of my family and know that my own sister does not enjoy as much. I wish it were otherwise, but who can change it? Cheer up my sister something whispers to me it will not always be thus with you, and it may not even with me. There is allways a bright hope for the good, and a sure promis of reward. God bless you and yours. I will send you some paper and pens the first chance.
Your brother Joseph
Happy Christmas[391]
All send you cincere love![392]
Notes