Richard Neitzel Holzapfel and David M. Whitchurch, "Letters," in My Dear Sister: Letters Between Joseph F. Smith and His Sister Martha Ann Smith Harris, ed. Richard Neitzel Holzapfel and David M. Whitchurch (Religious Studies Center, Brigham Young University; Salt Lake City: Deseret Book, 2019), 23–86.
Joseph F. to Martha Ann
Lani[1] [illegible strike-through] Mauwi[2]
Oct 17th
1854[3]
My dear Sister it is with plesure and with very peculiar feeling that I take my peen in hand to write a fuw lines to you. which I know that you will exept it with the gratest of plesure and you must not git angery with me because I that I did not write to you before this time[4] and this is what I [p. 2] call quite a present I came acrost this invelope which this letter is sent to you in. martha ann take good cair of this letter when you cut it. remember who sent it to you. I want you to write to me when you git so as you can for this letter if nothing elce. you must remember me in your prars day and night whare ever you are or what ever sircumstances you may be placed in [p. 3] I want you to [2.9 x 3.2 cm cut at top right corner] at home the gr[2.9 x 3.2 cm cut at top right corner] part of the tim[2.9 x 3.2 cm cut at top right corner] your books diligently so that I may find a well lirned girl when I git home in order to lirn your book you must stop in the house and go to school and stop running about keep your self jest as still and composed as you can se if you cannot bete enyboddy in the famely me espeshely for you have had a better [p. 4] [2.9 x 3.2 cm cut at top left corner]e then I hav had [2.9 x 3.2 cm cut at top left corner]m. exept of this [2.9 x 3.2 cm cut at top left corner] as a tokun of rememberance and take good cair of it untill I come back then let me se it. take good cair of the duks[5] and se that thay do not go hungery and take notice of my council and you will be blest
giv my love and best respects to all of the folks and exept the same to your self I remain your affectionate brother Joseph Smith may the lord bless you all.[6]
Martha ann Smith
Grate Salt Lake[7]
City Ut teritory[8]
[Place image 62 and 63 here]
Joseph F. to Martha Ann and Jerusha Smith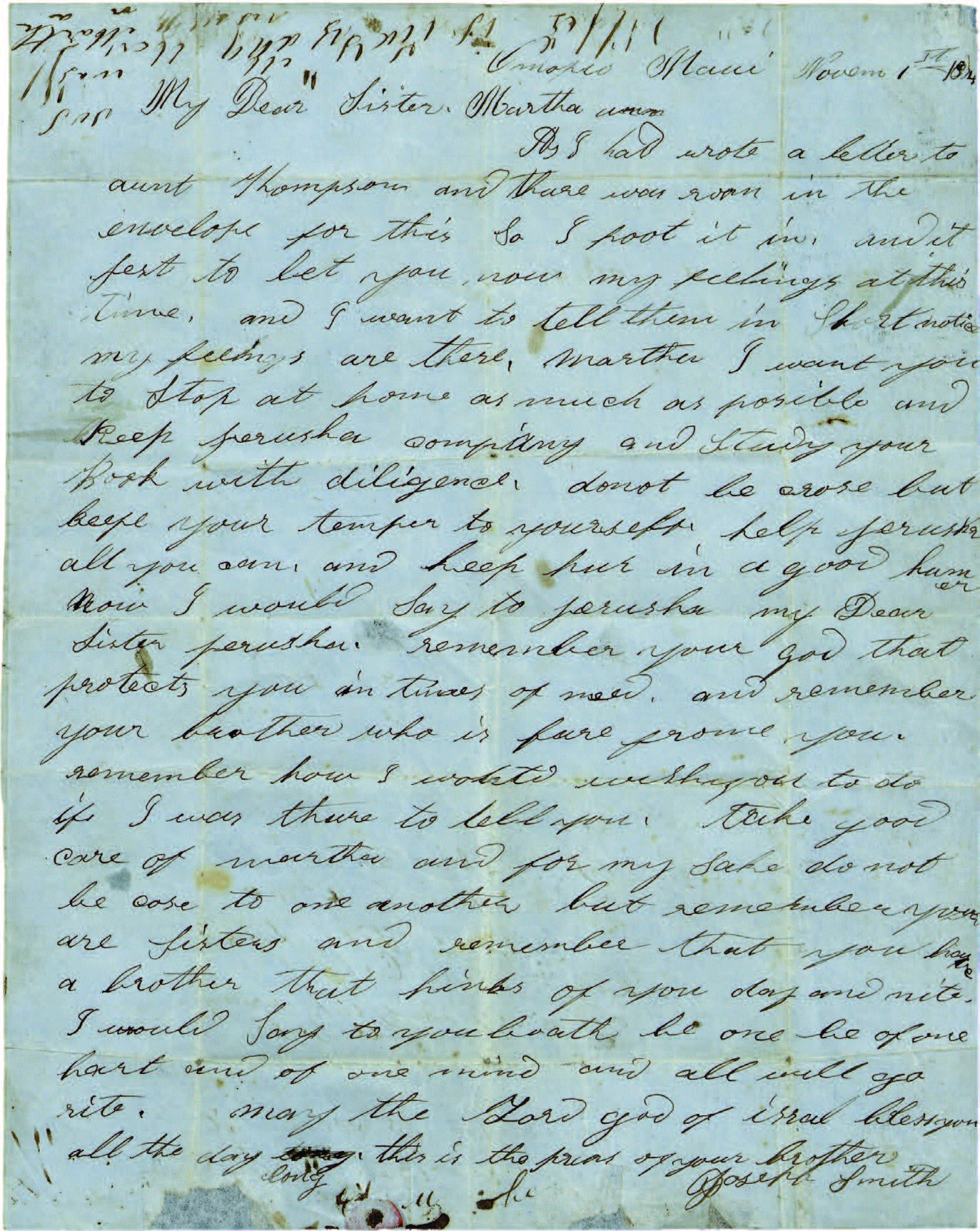 Joseph F. to Martha Ann, 1 November 1854 (p. 1)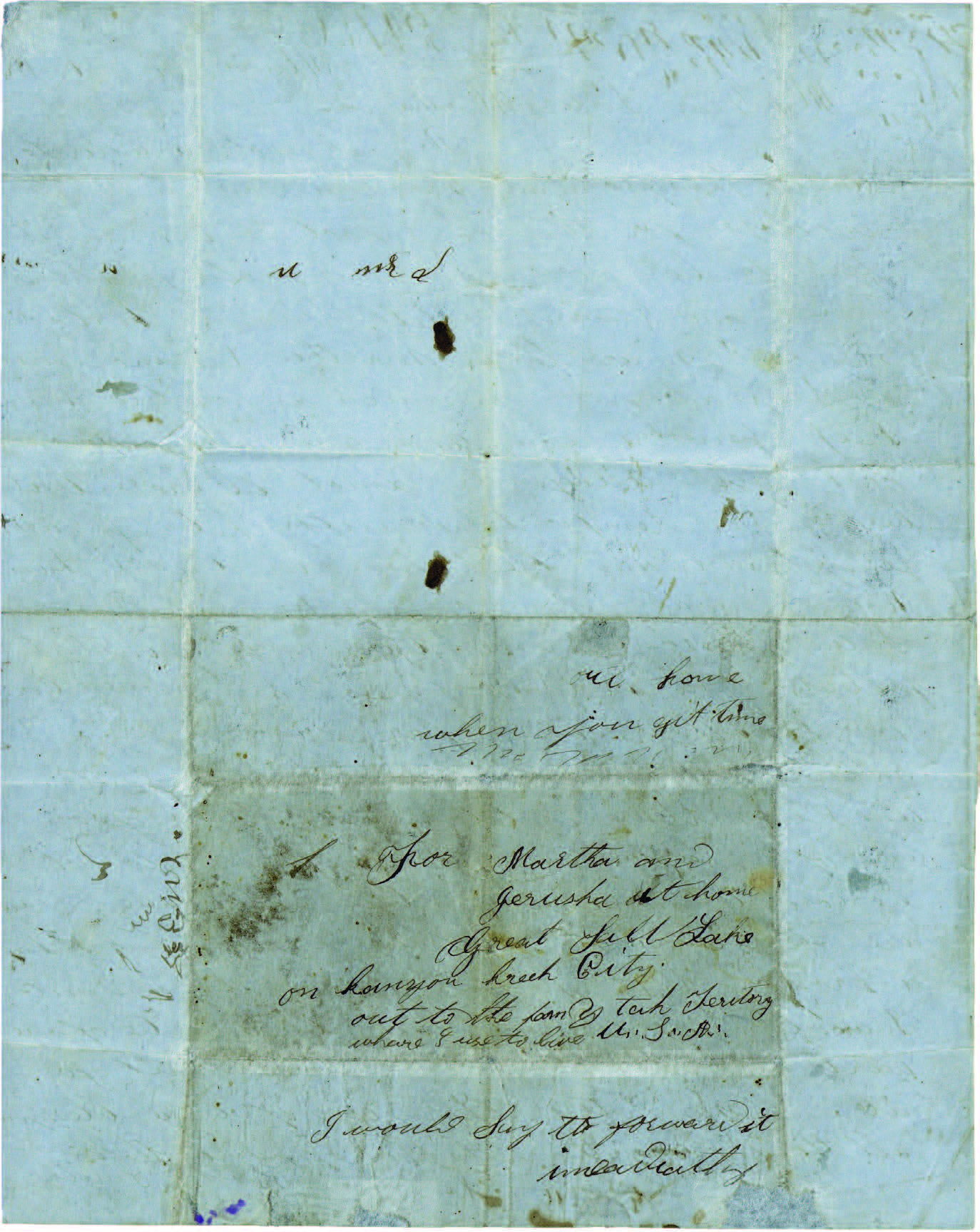 Joseph F. to Martha Ann, 1 November 1854 (p. 2)
Omopio[9] Maui Novem 1st 1854
My Dear Sister Martha ann[10]
As I had wrote a letter to aunt Thompson[11] and thare was room in the envelope for this so I poot it in, and it jest to let you now my feelings at this time, and I want to tell them in short notice my feelings are there. martha I want you to stop at home as much as posible and keep jerusha[12] company and study your Book with diligence. donot be crose but keepe your temper to yourself. help jerusha all you can, and keep hur in a good humer[13] Now I would say to jerusha my Dear Sister jerusha. remember your god that protects you in times of need. and remember your brother who is fare frome you. remember how I wo[◊]d wish you to do if I was thare to tell you. take good care of martha and for my sake do not be cose to one another but remember you are sisters and remember that you have a brother that hinks of you day and nite. I would say to you boath be one be of one hart and of one mind[14] and all will go rite. may the Lord god of isral bless you all the day long <long>. this is the prar of your brother Joseph Smith [p. 2]
out home
when you git time
For Martha and
Jerusha at home
Great Salt Lake
City
Utah Teritory
U. S. A.[15]
on kanyon kreek[16]
out to the farm
whare I use to live
I would say to forward it
imeadiatly
Joseph F. to Martha Ann
the 28,th 1855.
Omopio Kula, Maui S. I.[17] January.
My Dear and affectionate <Sister> Martha.
Haveing jest finished writing a letter to Jerusha. I thought that I would try and write one to you also thinking that a fiew lines from me would be acceptibal to you. I am well and Harty. and Have grew conciderable since you saw me last and I have no reasons to doubt but what you have grew much larger you ware when I last saw you. if you have you Have got to be quiet a woman and I supose that you have got so that you can look over the heds of your Sisters.[18] and now I would like to give you some little council, if you will take it and that is this. be Humbel and prayorful, and be kind to your connections and you will Have the Spirit of the Lord abiding with you at all times and the lord will bless you and you will give up in the footsteps of your Mother and you will be blessed with every thing even as your Mother was. and you will neve[0.5 x 1.8 cm tear] lack for the comferts of life if you will only growe up in the footstep[0.5 x 1.8 cm tear] of our Mother who has gon before us.[19] only be kind to your Sisters and mind what they say to you and never git above them for they are your older Sisters, and it is for them to give council and also for our oldest Brothers.[20] you be kind to them and do what they and donot get cross. and study your books. And stop at home as much as posible and do not think because you have not the priveliges of meny that you are slited but be sober and prayorful, and you will groe up in the footsteps of our Mother. and I would rather groe up in the ways of my Mother than to have all the riches in this world, and be wild and rude, and unprayorful. for if you groe up after your Mother you will never lack for the comferts of life. I will ask you a question. did you ever know the time when we were not provided for by the Hand of our Mother [p. 2] I answer, the time never was known. ask those who knows. I could give you much council Moty,[21] that would be benifissial to you as long as you live upon this earth. Only remember what I have alredy sed and se if it will not be good in days to come. I must now bring my letter to close. Preying the Lord to bless you and prosper you all the day long. and I want you to write to me as often as you can and let me know how you are giting along.
One thing more never feel down harted but be merry <in your hart,> and joyful. and keepe a prayorful hand and a thoughtful mind and the Lord will L Bless you. So this is all and may the lord bless you all the day long is the prayors of your affectionate Brother Joseph.
the Woman, of the house[22] sends Hur aloha[23] <love.> to little keiki.[24] <baby.>
N. B.[25] Marty ann write to me ofton. Pray for me ofton. and think of me ofton, and think more ofton of what I have sed in this letter. and think more of Joy in your Hart, than of sorrow in your mind, and keepe it all to your self, and tell it to no body. and you shall be blessed. Joseph Smith.
Miss. Jerush and Martha
Smith
Great Salt Lake City
Utah Te[◊◊]itory[26]
Joseph F. to Martha Ann
Lahaina Maui[27]
june the, 9th 1'55.
My Dear and affectionate
Sister, Martha Ann
you may be ashured that I recievd your kind and affectionate letter of March, 31,st with the greatest plesure in the world, Marty[28] I see that you are gaining fast. and I hope and pray that you may improve untill you become pirfect,
you said Marty that you went to Helens[29] to stop. and that things did not go rite so you left, well that is with you, but be kind and mind that you donot do any thing to hurt ot[◊◊] feelings, if they hurt yours, be shure and do that and then you will be blessed and no one can find falt with you make yourself contented whare ever you may be and put up with evry, thing that you can. if you have any triyals to put up with, you must remember that it is to try you and to see whether you are smith grit[30] or not, but sho your smith. and that good too when it comes to the pinch, but have patiance, and long suffering, [p. 2] be a Mormon out, and out, and you will be pl blessed, I find that thare is nothing that will try a person so as to tell this world that he is a mormon, but I feel first rate. I am fat, and stout, I feel like I could through all the hays down[31] that thare is in the valeys. (but I donot know how it would be if I should try it)
I am a Preaching (Marty) like a good one, (you had aught to here me) or (or my voys, (I suppose if you wase any whare nee the Islands you could) we had a good meeting this morning, and I was caled upon to Preach, I acordingly, made an attempt, I expect, to go on my third trip around the Island. and if you ask Bro Lawson[32] he will tell you, how fare it is, and how bad the roads is,[33] and what kind of houses we have to sleep in, and what kind of food to eat, &co,[34] and what kind of horses we have to ride also for we have to rid shanks horses[35] most of the time, he knows all about this and it will be interesting for him to tell, it [p. 3] to you. and through all these difficultyes I get along first rate, and feel well, but If I should tell you the bad side as well as the good I would say that once in a while I got rite down lonesome, and commence to think that I would like to see Marty and the (ducks). besides to see the (rest) of the folks, but it is little that my mind is trubled with these thoughts for I try and drive them away. be patiant and I will come back home some time (if I ever do) and then I will see Marty the ba Babyes and the ducks, and also the Pet lambs, take good care of them and when I come home if I am prosperd like I have been here to fare I will try and give you a Presant, see if I dont, that is if you tend to the books at the same time. and if thare is any differance in tending to those things, be shure and have the ducks in want, and not the book, well this is true but it is simple. and now I will go on to another subject and that is be a mormon <mormon>, but not [p. 4] Such a one ase our Cousins, Agnes and and Josephine,[36] for I know what kind they are. but they are not to blame, and I will see and if I can, I will better it some day, I wrote a letter to them yesterday and gave them a rite good mormon sirmon. and intimated strongly to them that California was not a sutible place for them, at present, &co,
Well my dear sister, be good, kind, and Prayerful, and you will be blessed and loved, and go to school, as much as you can, and be attentive to study, for I know what it is to be without it, and you donot, at the Presant but will, when you are cast out into the woarld like I have been, I have jest recievd letters from Charles,[37] Aunt, Thompson, and Mary J.[38] which I have to answer to day as I am a going around the Island. write ofton, and I will reciprocate the favors, give my love to Sarah,[39] and tell hur to write. and also to bro Lawson, and to John[40] and all of the folks, may god allmighty bless you[41] for everr. Joseph Smith
I have answard all of your letters that I have recievd. I also answard Sarahs last. J. S.[42]
I wrote this in a hurrey tharefore it is writtne poor, but I gues that you can read it,[43]
(next time I will take time if I have time and write planer, Joseph Smith)[44]
Joseph F. to Martha Ann
Wailuku[45] Maui, Sand, Isles,[46]
Oct. 18th 1855. a.[◊].d.
My dear and affectionate Sister Martha,
it is wit plesure that I seat myself at this time to answer the receipt of your kind letters, which came to hand on the 12th inst.[47] it gave me much joy to here from you, and read your writing. you was saying that you was not going to school, I am sorry, for I was in hopes that you would keepe going.[48] I hope that the school will soon start again that you can keepe going as much as posible. I want to see you improve in writing, and every thing els, when you write take pains and make the letters all plain and destinct, and be shure to spell all of the words right that you can, I suppose if you had a Dictionary it would be a great help, to you, in learning how to spell and what the meaning of the words are. I believe there is anough of the them about the primmisses so you had better get one and take good cair of it, and keepe it by you as much as you can, I wish I could send you a good little one that I have got, but it is to far. I wish I could send you a great many things that would be useful to you but I am so fare away from you at the presant, that it is imposible. I have sent you a great many letters, and some of them had small envellops[49] in side, but you have never said whether you have recievd them or not. I also sent you a small book with virses in it, but I forget the Title of it, it is read coverd, and verry small. I hope you have got it safe, long ear this, I want you to learn it all by heart, and take good cair of it and keepe it to remember me by. Cousin Iney, (Josephine)[50] has got one just like it that was given to her while I was at California, so you have boath [p. 2] got one apeas, and I would like to see who kept theirs the best, that is if you get yours.[51] now I must return upon the subject of learning, you know that it is good to have a good education, and you know that many are deprived of that privelige but many are not deprived of the prvelige, but do not improve their opertunities and therefore gro up in ignarance, now I donot believe that you are deprived of that privelige, therefore you must improve everry moment of time that you can, you are younger and have a better chance than any of the others, and so if you only knew the blessing of an ed<u>catione you could make a good schooler. now I would like to see you exceede all of us in learning, which you can easly do if you try when you have a chance. now donot think what a great many have thaught and that is, I can get anough learning to morrow for to day and to morrow too, and when tomorrow comes it will still be to morrow, and so on. improve everry moment as they fly by, for time is precious and it waits for no one, and time once past never returns again. so remember that to morrow wont acount for to day, and by thaus thinking, you may improve everry moment in it's right place and time. I want this letter to be a standerd for you to go by. and so, I say, when you go to school, look at your book and not at any thing els, seek for wisdome and it shall be given to you, by an allmighty pour if you cannot get it by your own power, do you not know that there is a God in heven, who has said he that asketh recievth and he that seeketh find'th and he that knocketh it shall be opened, unto him,[52] and again he said, If any one lacketh wisdome let him ask god who giveth liberally [p. 3] upbra abraideth none,[53] now I will worant that if you will go to school with a prayerful heart, and your mind on your studies, insted of being upon play and folly, that you will learn faster than ever you did in your life before. the thing of it is be prayerful, pray morning and night and not let your mind run upon foolishness and some little girl for a play mait, or something to that affect, but be stidy and kind to all about you, act wise act knowingly act as though you had been braught up as you ware <was>, by a good and rightous mother, donot take notice of every littl thing that tranpires, but let your mind be upon one subject untill it is proper to move it to nother, then you will not be whimsickle, and nonsensical, with your mind first on one thing and then on another, jumping and twiching about as tho' you was possessed with a leigon of spirits one trying to pull one wey and the other the other way. all these things, you aught to shun, and don't get nervous, nor let your mind be excited, by nothing, be calm, be easy, by quiat, say but little, and what you say have it come to the point, donot gab about nothing, and any thing, but shrude, and canties,[54] picking up exampls from those who are wise, and thaughtful, but take no notice of foolishess, shun all bad sosiety. be not wild, and gidy, when you travel wack[55] thaughtfully, and donot run, carry your body in a good shape but be shure to not be proud, and haughty, give everry their due, and be no respecter of person, but respect good manners and good <sence> actions, and tresure it up in your heart, now I want you to be carful and obsurve all that I have said, [p. 4] and you will some day become respected, and your example will be worth gold. and you will be loved and thaught conciderable of. a now I could say a great deal more if there was time and space but you can more fully learn and understand what I have allredy written. I donot write this for your disadvantage, but for your wellfair and prosperity, I want you to go to school and be carful to learn all that you can, you may be with out [illegible strike-through] means to pay your school bills, but if you can arange it any way to go to school, it may be that I can help you or settle it when I get home. remember Martha that I am not in a passion whilst writing this, but I am in ded earnest, and mean it all jest as I say it, so you can depend upon it all, for a fact. I hope that you will proffit by this and read it as ofton as once a Weak or oftoner, untill it is all wore out. I want you to be sharp and not dull of comprehentions, be prudent in all things, and I want you to be cool and not passionate, nor hasty in all things. I could say more but my paper is full and it is dark and so write to me ofton and take pains in writing, that it may be plain to be understood. be prayerful and wachful and god will bless you in all of your undertakeings I now close by saying God allmighty bless you all the day long. these are the prayers of your affectionate <Brother>
Joseph Smith
PS. I was pleas to hear your thaughts in regard to Jerusha and her husband,[56] Joseph Smith.
Joseph F. to Martha Ann
Milksop,
Waluku, Maui, S. I.[57]
Nov. 23rd 1'55.
My Dear Sister Martha. Ann.
As I recievd no letters from You the two last Mails I thought that I would write a fiew lines to you in bro. Lawsons[58] letter to let you know how I am geting along. and to remind you of what I want I want you to do and act, how I want you to act. Though you may think that I suppose you to be wild, and unprudant, but that is not the case, all that I want of you is to do right and act as neer right as you can. I know that you are large anough to take care of yourself and set good exanples before your young friends. but I think that good Counsul will not eretate an unerritatible mind, neither will good exanples lead one into disrespect, o bad habits, nor will it disaffect a good and stable mind if it is rightly apreciated, and duly conciderd, upon,
I wish you to understand that when I write to you I write as I would like to have John[59] or any of my older friends write to me who is younger, and more inexperianced in the things of this life. so you must duly consider from whence it comes, and remember that it is from one who looks after your intrests and who greatly desires and prays for your well fair.
I am well and feel first rate. though I have felt better or stronger in body than I do now.
The things of this world trubls me but litle.or I try to controle myself and be controled by the things of this life.
The Sandwich Island mission is rather weacker than it has been <for> sone time before, or since the rise of the church on the Lands, but I hope that it will soon take a chance for the better.[60] I am now stoping with Cousin Silas S. Smith.[61] and you know it is some plesure to be in company with our friends and relativs, [p. 2] all the Bretheren that came out when I did are well and are in the enjoyments of the spirit of god, I think.[62]
As for our Cousins in California I can say but little as I have written to them several times but have recievd no letters from them, but I hope that they are well and doing well. when I saw them last they had a great desire to see you all at home.[63] I have no more room so I must close. I want you to continue reading as much as you can, go to school as much as you can, and improve evry that is posible. give my love to all enquireing friends. I have sent you a little book that I hope you will recieve, as I wrote before, I have also writen to you severlal times, write ofton to me and I will do the same, may god bless you is the prayers of Joseph, <Smith>
Care of James Lawson, Deseret,[64]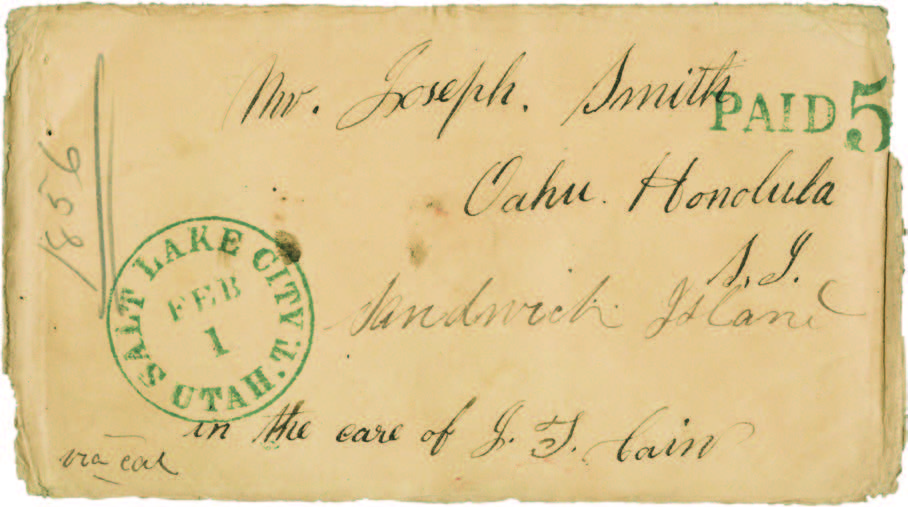 Martha Ann to Joseph F., 31 January 1856 (envelope)
Pleas foreward this and oblige
me; J. S.
For, Martha Ann. Smith,
Great Salt Lake. Co,
Utah Territory[65]
Martha Ann to Joseph F.
G. S. L County[66] Sugar House ward[67]<U T> Jan 31.st 1856[68]
My dear and affectionate Brother Joseph
it is with pleasure that I set down to write a few lines to you to answer your kind and and affectionate letter. I recieved it this evning with the gratest of pleasure and hapiness. to and to to hear from you. John[69] told me that you was sick and I was sorry to hear that for it will put you back a good <deal> I am aff<r>aid but I hope ere this letter reaches your you will be as well and harty as you ever was.[70] thank the lord for that I he<a>lth is a blessing that I enjoy I havnot been sick so as to be confined to my bed a day sence you left home. and I wish that it had been so wth you but the lord orders all things for the best. I hav been going to school[71] to months now and am learning midling fast and I intend to learn a good deal faster than I have, we have got one of the fineest school housees in salt lake vall<e>y and brother Eldredge[72] keeps school and he is a good school master. I hav got a d<i>ctionary and I am sorry that I hav made mistakes in writing to you and both<e>ring you in reading my letters but you must excuse me this <time> and I will try to do better [illegible strike-through] <this [illegible strike-through]> time. thare is plenty of dictionary about and thare if you hav got a good one I would advise you to keep it even if you cold send it for I psume that it is an artical that you need your self when you are writeing I hav written one letter to you befor that I gave to John to send and he sent another that I had witten in the hace of it I wrote it when I received the book that you sent me I have sent got all of the thngs you sent me [p. 3][73] and I am much oblgeed to you for them[74] I hope have learne severrel of the peases in the book I think that it is the prtteest thing I seen in my and I think as much of it as I [illegible strike-through] would of so much gold and a good deal more becaus it is a preasent from a brotherer tht I love and respect I intend to learn it all by heart as fast as I can and I intend to obey all that you counciled me to do iff it is in my pour. thank you dear brother for your good advice and if come up to the mark as you wish me to I wll be good enough for enny thing and I shall indever to by the help of the lord to do as you <w>ish me to do. I do not hav to pay for my schooling this wnter and I guess that John is not quite so poor as that he canot pay for my schooling I would not mind going wth out some other thing that I hav so as to git my schooling <a>lthough I donot menny I have enough to mke me comforttable and that <is> all I hav got to new worn desses this winter and am quite cofortubbele I hope that some tme I will be abol to give you as good advice as you give me in return for good the <good> advce you hav given me but I fear that wll never be, Jerusha[75] has moveed up north[76] and I hav not sees hir for a long time I hopeth she has got a girl and it is 5 five months old and they hav named hannah ea evalne[77] and it looks just like its mother or did the last time I saw her it racher and hellon[78] wrote some in the litter that I wrote be fore that John ddnot send My so I will write it in ths one [p. 4][79]
[80] I made amstake and got my pper rong socut it in <◊>to[81] I believe that I hav tol[d] you all the news at the present and it isis giting late thare fore I must bring my letter to a close good bye dear Brother at the present
May the lord god of isrel bless you in all your under takeings is the prar of your affectionate sister is the prar
Martha Ann Smith[82]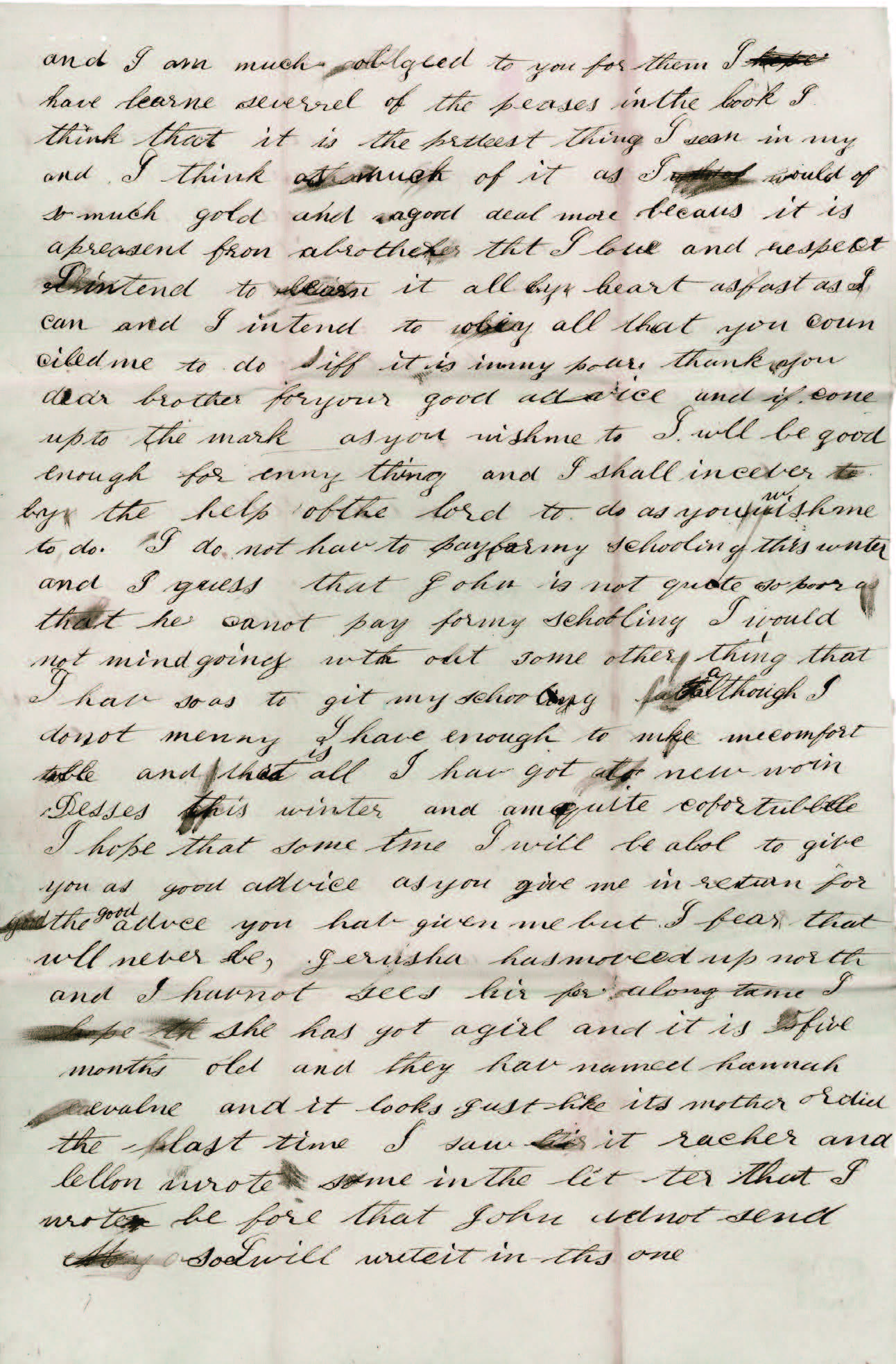 Martha Ann to Joseph F., 31 January 1856 (p. 3; p. 1 of this letter is displayed on p. xvii)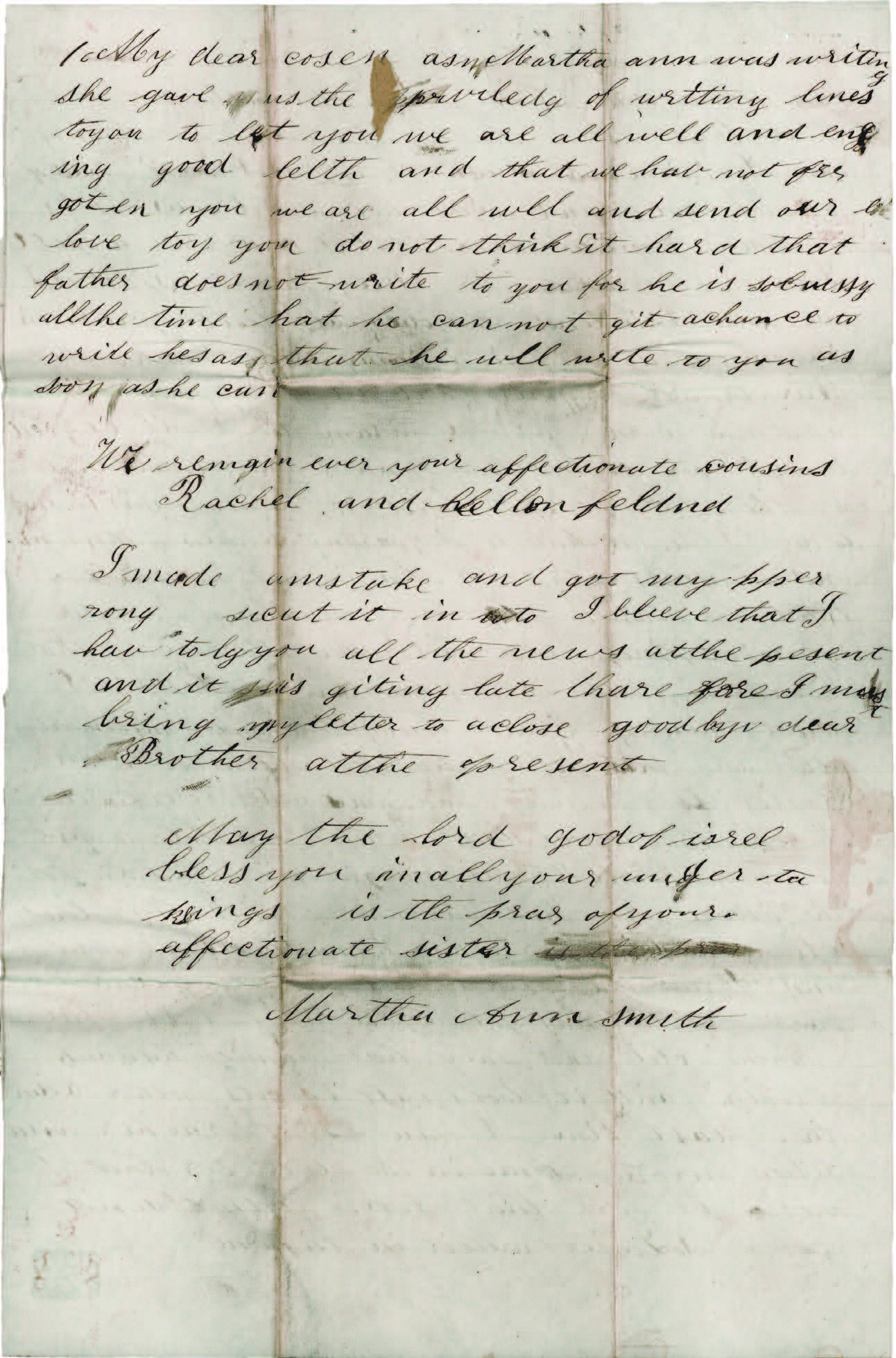 Martha Ann to Joseph F., 31 January 1856 (p. 3; p. 1 of this letter is displayed on p. xvii)
Joseph F. to Martha Ann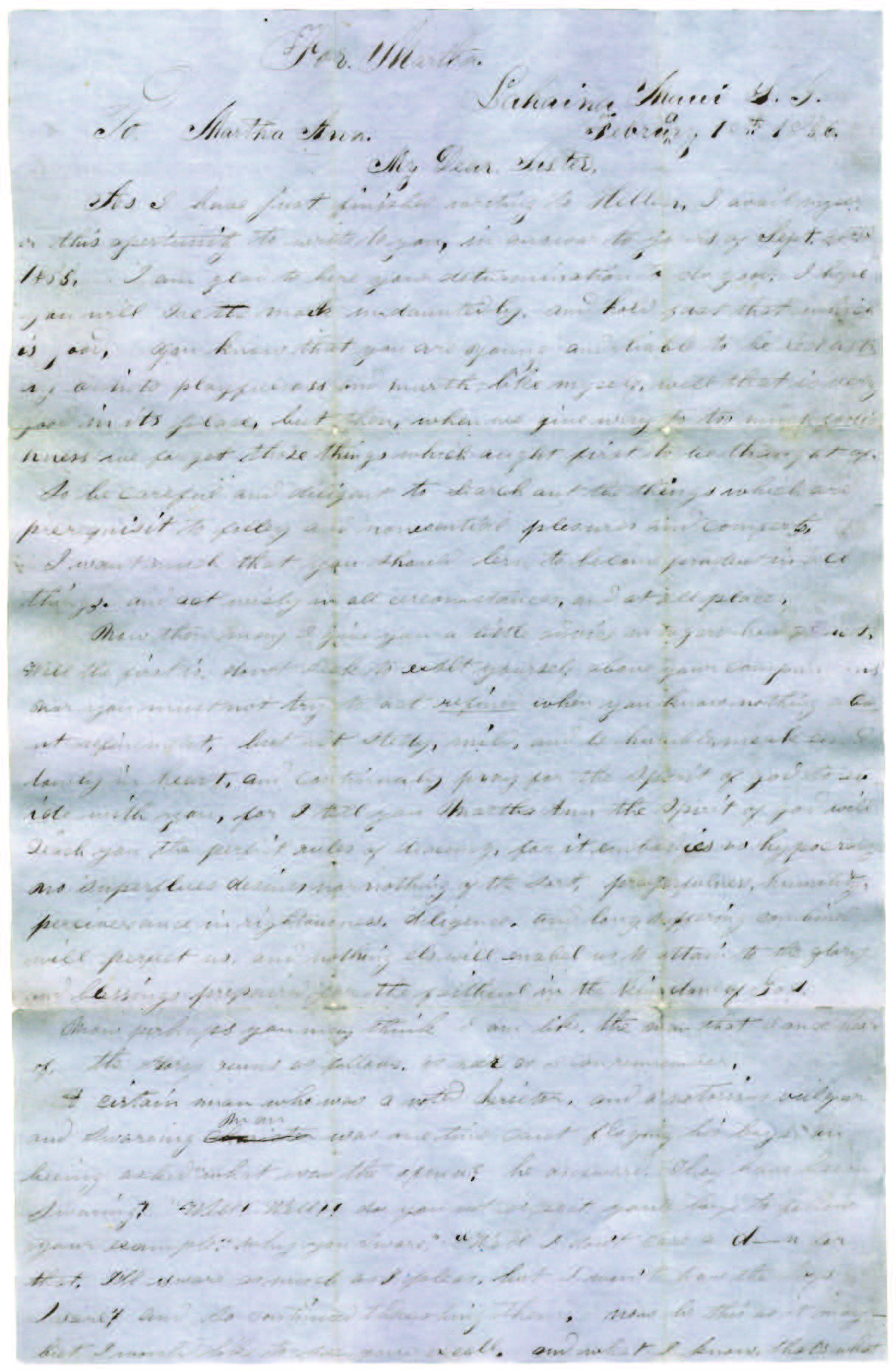 Joseph F. to Martha Ann, 18 February 1856 (p. 1)
For Martha.
Lahaina Maui S. I.
Febru<a>ry 18th 1856.[83]
To Martha Ann.
My Dear Sister,
As I have just finished writing to Hellen,[84] I avail myself of this opertunity to write to you, in answar to yours of Sept. 28th 1855. I am glad to here your deturmination to do good, I hope you will Toe the mark undauntedly, and hold fast that which is good.[85] You know that you are Young and liable to be led astray or into playfulnass and murth, like myself, well that is verry good in its place, but then, when we give way to too much foolishness we for get those things which aught first be thought of, so be careful and diligent to Search out the things which are prerequisit to folley and nonesential plesures and comferts. I want much that you should lern to become prudent in all things. and act wisly in all cercomstances, and at all places.
Now then may I give you a little advice in regard how [illegible word] act. Well the first is, donot seek to exalt yourself above your companyons nor you must not try to act refined when you know nothing about refinement, but act stedy, mild, and be humble, meak and lowly in heart, and continualy pray for the spirit of god to abide with you, for I tell you Martha Ann the spirit of god will Teach you the perfict rules of deacency, for it embodies no hypocracy, no superflues desines nor nothing of the sort, prayerfulness, humility, percivereance in rightousness, diligence, and long suffering combined will perfect us, and nothing els will enabel us to attain to the glory and blessings prepaired for the faithful in the kingdom of God.
Now perhaps you may think I am like, the man that I once heard of, the story runs as follows, as neer as I can remember.
A cirtain man who was a noted charictor, and notorious vulgur and swareing charicter<man> was one time caut floging his boys, on beeing asked "what was the ofense"? he answard. "They have been swaring"! "Well! Well!! do you not expect your boys to follow your example," why you sware," "Well I don't care a d—n for that, I'll sware as much as I pleas, but I won't have the boys sware"! and so continued thrashing them. now be this as it may—but I would like to see you excell. and what I know that's what [p. 2] I want you should know. Well, I suppose you would like to know how I am geting a long. My helth is good and I feel well, and hope that I shall ever have strength to continue in well doings. I enjoy myself first rate here so fare from you all. I hope you enjoy the same blessings at home.
The signs of the times here are about as useual, there is but one Ship in this harbar now. but the streats are sworming with sailors, and prostitutes of the lowest grade. I tell you it is differant here to what it is in the vallyes. Men and Women go about the streats day and night, one party seeking for money and the other seeking to spend it, we can only let them wolle[◊] it out, and work out their own damnation.[86] The hare you sent me came to hand in s[◊◊]y. I showed it to the nativs and they said, "Maikai Maoli!" "ai ai"[87] They asked me many questions about you. and wanted to know if you could tal[◊] [illegible word], they think you know that any body younger than I am, must be verry young, as I am the youngest on the mission, and they ware much surprised to hear of your highth.
They like to here about you folks at "Maunapohaku"[88] (rockey mountains) and they ask a great many questions about you all, and how the countrey looks, and in fact [illegible strike-through] how all things appear.
I will write to you again when I have more time, and feel more like writing. Study Martha with all fidelity to obtain wisdome, be humble and prayerful, and you will be blessed. Write to me ofton and I will do the same.
I hear that all the young people of your countrey are geting marred off—and that counsel is that they should continue to marrey. I think it is a good plan, the young folks are becomeing mormons fast. I am glad to here of it. I think it will be my turn next,(!) I hear that little Brigham Young[89] has been marred, thats the Talk, "walk right up like a chicken to the doe and aske for the artickal," that's a good plan. I tell you martha they are going to flud the world with "true blue"[90] or with true borne "Mormons" and I'm glad to here it. give my love to Sister Griffin and also to bro. Griffin, Charley, Sarah, William, Jrusha, John, Hellen,[91] and all enquireing friends. god bless you, as ever your brother, Joseph Smith.
[Place images 68 and 69 here]
Martha Ann to Joseph F.
G S L L C Sec March 1856[92]
My dear and affectionate brother I with pleasure take my pen in hand to write a few lines to you to let you know that I am well and all of the folks and I hope that this letter will find you well also. I hav just come from home this morning and I am at [illegible strike-through] cousin lucys[93] and she gave me some paper to write to you on and my school was out day before yester day and I thaught that I would gow up in town and visit a while with the folk. I did not git a letter from you this male but I have <not> answered <not> all that you wrote in the last letter you wrote me you may not read the last letter I wrote, for it was wrote in such a hurry I just got it [illegible erasure] after schol <and> was out at knight and we was out of candels and I was in such a hurry that I could not half write it. and I expect that thare was lots of mistakes in it but I guess that you can read it [illegible strike-through] or at least I hope you can with out much trubbul and <if> [illegible strike-through] is not wrote verry good I hope you will git it. I wish that I could write as good as you can and I aught to write better for I hav had a better chance than you have had but I have not opresheated a good chance as I aucht to hav done [illegible erasure] O I wish that I could see you Joseph and I could tell you a grate many things that you dont know any thing about you dont know how every thing is here but you will sometime I dare not write every thing just as it is you and wish you would could come home before long and see the folks and see how things are but I wil hav to wait a whille before that time Joseph you would hardley know me I iff you was to see me I am such a grate big girl I seven foot [p. 2]
G S L C Sec March
five foot and seven inches. but I dont know when I will git marred I wount till you git back enny how I tell you Joseph that it is hard work to sow all of my wild oats[94] yet but I hope that I will make it out ater a while but I have not yet. now I believe I hav ha told you all the news except the indens hav killed a good may of our folks over in sedar valley.[95] now I believ that I will bring my letter to a close preying the lord to bless you and prospr you is the <this is> prear of your sister excuse all mistakes and bad writing for my hand trembles so that I can not hold my pen still so good by for the present for I cant find enny more to say may the lord bless you Joseph
Martha Ann Smith
Receivd and answard May 24th 1'56[96]
Hilo[97] Hawaii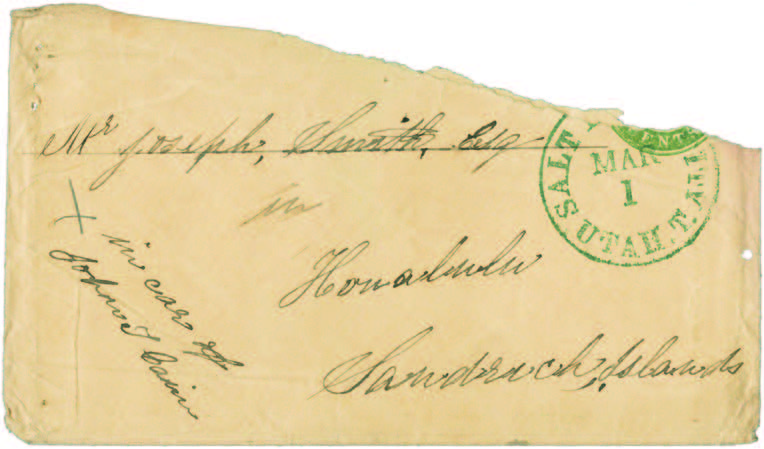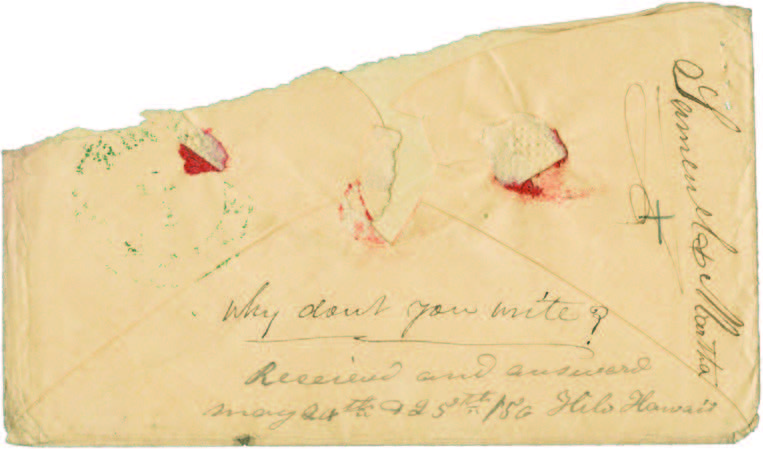 Martha Ann to Joseph F.
[CA. APR. 1856]
G S G
My Dear Brother Joseph
as I recievd a letter from you the last ma<i>l[◊] I thaught that I would answer it but I did not recieve till <after> the ma<i>l[◊] went out and so I thaught that I would answer it this male I recievd your letter and was glad to hear so kind and affectionate a letter it done me good to read it and it alway does do me good to read a letter from you for I alway learn something new that does me good. you said that you had felt stronger in boddy than [illegible strike-through] you do now I am sorry that you do not have better helth but I supose the climate does not agree with you as well as it does here in our mountain home it is the helthyest place in the wourld I believ. for I never hav benn sick to speak of sence you left home but I hav been poisoned this spring prity bad with poison iva[98] and i had as live be sick as to be botherd with that but I am gittng better now. and all of the folks are well and sarah has got a girl and it well was five weaks old the twenty first of this month., of aprile.[99] I wll tell you all of the [illegible strike-through] <news> now that I know of. rache <fielding> is [illegible strike-through] marriad to a man man by the name of william burton[100] and gon up north to live and hellon sais she is going to have him to and rachel sais she wants hur to hav him when she gits old enough.[101] and I forgot to tell you sarahs babys name <it is> allice lovina[102] and it is the picture of its mother. and little [illegible strike-through] rosey[103] is dead she died with the lollor horn[104] and she was poor for last winter was a hard winter and lots of catle ded she s<t>ood it till sprng and then she died I i was sorry but I done my best to save hur but I could not. I expect hur time had come to die you said that I might think that you thaucht I was wild but I donot I know what you want and and I will strive to do the best I can and the best I know how. I do not feel above taking your council but I want you [p. 2] to advise me what to do for you are older than I am and hav been tried mor than I hav. I consdder from whence your good advice comes I consider that it comes from a brother who wishes me wel and who I had rather re as live recieve advice from as any boddy in the world. I am glad that all of the bretheren are well and enjoying the sprret of the lord and I onely wish that you could enjoy good helth and then I should be satticefied but they hav sent some mor of our boys to the sandwch isleland and I perhaps they send for you. they hav sent frank young to take Johns place[105] and maby they have sent some one to take your place. if they hav it will <I hope so> be all right. now I wil tell you a little mor new that I did not think of be fore. Sarah Bollwinkel is marriad to a man by the name of nelson and she is second wfe.[106] and I wll be fifteen years old neext month and you wuld scarcely know me if you was to see me now I hav growed a foot sence you seen me I guess I expect that I hav <not> alterd as much as you have sence you left home. I am not ging to school now the school is out and I am staying with sarah[107] yet and I shall hav to learn all I can at home. for I dont expect that schol will beg<i>n again untill winter but I hope it wil. sarah is as good to me as any mother need to be she is kind to me and she will be rewarded for it. my hand is gittng tierd and my paper is git nearly fool and so I wll bring my [illegible strikethrough] <scroll> to a close excuse my it for I can not make enny thing else but a scroll. my for my pen is poor and had not got a better one it at the pesent
May the lord bless you and I remain yo prosper you in all of your under takei<n>gs is the prair of your sister Martha Ann Smith
Recieved[108] July 11th and answared July 14th 1856.[109]
Puneonka Hilo Hawaii.[110]
Joseph F. to Martha Ann
For, Martha[111]
Hilo Hawaii Sand. Islands
May 25th 1856[112]
My Dear Sister Martha
[illegible word due to faded paper] plesure I receievd & perused your kind note of March, (mind your dates Marty) and with plesure I seat myself to answer the same, tho' I have but little time to write as the mail gos out tomorrow. I shall undoubtedly be engaged most of this day in attending to Church affairs, such as preaching—visiting the saints (and sinners) &c. I allmost sometimes dread when sunday comes, for where the fiew saints who are left, are so dull and indifferant as those in my field, it is a hard task to preach to them in plainness, therefore it makes sundays Work a hard days work for me. where the saints are alive to the work, it is a chearing in sted of a labourious task to address them.[113]
I am Well and happy,—can't help but rejoice everry day,—for the goodness of the Lord. I sometimes think is too good for me, and is more than I realy merrit, but I always had a desire to be good anoug<h> to merit the blessing of Heaven at all times, how far I may have fallen short in acting out my own desires, is not for me to say, but as all other people I have no doubt fallen short in may things. but let us be courageous martha in bearing off the duties incumbent upon us, be not ashamed of do[◊◊] good, or any thing pertaining to our duty.— do nothing in secret we would not do in publich, or rather, do nothing in secret that we would be ashamed of in public, and then we will have nothing to doubt, nor fear.
I am geting along verry well at presant, my helth is good and my spirits buoyant, for which I feel to thank the Lord. I have se[◊]n but fiew sick days comparitively since I left home. and I still hope to [p. 2] enjoy with you all a continuance of the same good Blessings. I am now on the Largest Island[114] in the group. the greatly renouned volcano[115] is with in 5 or 6 miles from me, the light of its flames by night, and its smoke by day can plainly be seen for miles and miles. this is the Island also upon which Capt. Cook was killed some 70 years ago, by the Natives,[116] I suppose you mind reading of it. this also (which is of greater importance to you and I) is the Island upon which bro. Lawson and many others ware imprisened for some length of time for truths sake, and where he with many of the Bretheren have been compelled to travel on foot with out a shoe to their feet for days and days and laughed and sneared at by the, "Kahu hipa h[◊] hoolimalima," (hired sheepherds)[117] who had plenty, but by their narrow contractedness were so neerly robed of all philanthropey, that they looked upon all such as as Mormons to be wors than inhumain, and degadeing to look upon. I am sorry to say that is exactly the spirit that prevails to day, and the situation in which we are at the presant placed.
You was saying in your letter, that you were going to visit a little up in town, well be a good girl and observe good becomming behaviour where ever you may be, shake off rudeness and thoughtlessness when you are visiting in the midst of your friends.
Write to me ofton Martha and give me all the news, pertaining to the famely and building of Zion &c. &c.
I shall have to close, as I have no time to lengthen out at presant. remember what I have told you ofton to be a good girl.— Learn all you can, and be prayerful, &c. that is one great thing, never be ashamed of praying. May god bless you Martha with all neadful blessings with all of our friend and Reations, is the prayers of your, affectionate brother Joseph Smith
Joseph F. to Martha Ann
Hilo Hawaii Sandwich Islandes
July 14th 1856,[118]
To My Dear Sister Martha Ann.
I recievd your kind but short letter of ____ (date your letters Marta) which came to hand last day before yesterday it found me well and hearty as usual. I was glad to hear from you for you are my most punctual corispondent, and I'll reward you for it some day. I thank you for the information you gave me of home and her situations, the flocks, and the Herds &c. I'm sorry for little Rosy, poor little thing I would like to have seen her again, and another thing what has become of Mager?[119] I suppose he has gon the way of all the Earth before now? I want you to be some what observing and informe me in regard to all the affairs about home. John[120] I suppose will not have time to give me all the particulars, so you can do it. I feel anxious to know about all the folks, from John to all of our connections, so be careful observing, and particular to tell things just as they are nothing under nor over, then there will be no misunderstanding
And again, when you write try and take care of your paper that it may not be blotted. and see if you cannot punctuate your writing, and see that the ending of one word is not joined on the commencement of another. and be sure to commence all nowns with a capital, as John, Sarah, Rosy, Rachal, House, Ship, Sheep,—&c, &c, &c.
And when you come to the end of a full sentance, o[◊] paragraph, dot it with a period, and commence the next sentance with a Capital letter. Try also to get all the wordes on the line of the paper, and not have to poot it above, as, "I <am> going"—&c it does not look so well. but where you make a mistake and leave out a word, that is the way to fix it. When you commence a letter allways date it, and commence in any stile that sutes your notion, but have it neat. These are my rules, but whether they are acording to grammar, I donot know.
You might ask, why don't you obeserve them, the reason is I have allways to write in a hurry and so I can [◊]ot [0.3 x 1.3 cm tear along fold] particular, I have [p. 2] scarsely a day to call mine, but I hope you have.
Be attentive Martha to your work, when you are doing any thing confine your mind to that one thing till it is done, and then you will never have too many irons[121] in the fire at once, and you will not be figity and uneasy, and then as soon as you have done your worke and feel like takeing a 'rough-and-Tumble', all right.
You will hear all the news Martha in Charles'[122] letter, and also in Johns' so I have no need of writing one thing twice over.
You say in your letter Martha that Miss Bolewinkle[123] has been married. also—Rachel,[124] and Hellen[125] too, is in a fair way for it by all appearances.Well I hope their enjoyments will be full. I don't begrudge them their situation, nor any one els, I think it is a good plan. I suppose they are not all married yet?
I expect of course that Mary Jane[126] will soon go off as well as your self, paha (perhapes) well I may join you some time, but when I do not know, but make yourselves contented and Joseph will look out for No. One. I guess No. Two, will not suffer till I finde her. <P>pleas look out for Martha and be carful when you step that your foot is sollid that you may not fall throw.
I want you should allways tender my kind regardes to Aunt Thompson[127] and [0.1 x 6.8 cm tear along fold] fine to all of our relatives, and [◊◊]nds. Tell them I donot forget them in my prayers, and never will. I recievd a letter from Jerusha[128] this Mail she was well when she wrote, but I donot like the idea of them going so far from the City. she said she had just receievd a letter from Sarah[129] stating that you were all well, &c. she [Jerusha] sais her little girl grows fine and she has named it Hanah after Aunty.[130]
Well I will have to close, I am just going to attend a meeting with the saints, pray for me allways, and I will do the same. write ofton, and I wi[0.1 x 6.8 cm tear along fold] do the same also. give my love to all the folks and accept the same to yourself. may God bless you and you all that you may ever be strong, is the prayers of your Bro. Joseph Smith Be carful about going among Poison Iva. be a good girl.[131]
Martha Ann to Joseph F.
G S L utah ter July 29 1856[132]
My dear brother I wth pleasure set [illegible erasure] my self down to scribble a few lines to you to let you knonow how I am. and how I am gitting along I am well and enjoying good helth and all of the folks. sarah is well and the baby and chares[133] is well to. and I hope that this letter wll find you [illegible strike-through] enjoying the same bessing. I donot feal very well in mind if I do in [illegible strike-through] boddy I hav heard that you was [illegible strike-through] ingaged enageed[134] to some [illegible strike-through] pe<r>son tha is not honnest hearted, and it was not very good news to me now I assure you that for I thaught that one slice of a [illegible strike-through] <loaf> was enough. esspecialy of a sour loaf. it is none of my buisness but it hurt my feallings so that I could not help speaking about it. but<but> if it is out of the way you must excuse me [illegible strike-through] help speaking about it for I must speak as I think <some times> enny how if I dont always o Joseph thare is thousands of things I could tell you but my hand trembles and my heert beats so when I go to write to you that I can not wrte wat I wold like to and what I do wrte is not fit to be red some times I forgit what I am wrtings and go to writeting some thng elce but forgiv me [illegible strike-through] dear brother and I will [illegible strike-through] <con>tinue to do better until I be come pirfect if it is the will of the lord. I wll tell tell you some news loviana[135] is on her way to the valey and John[136] is going to meat her in about a weaks and help her in she has got four children [p. 2] and Anney tomson[137] has got mared and got to boys for the first start.
I am not ging to school yet and cant untill winter for I hav so much to do I am stopping at Johns again chares grain fell short this spring and John wanted me to come and live with him and so i went and I went thare in aprile and I hav been thare ever sence[138] helon has treted me better ths time than she did before but they wll tell lies be hind my back and mace fun of your sisters and call them liers and that isnet all neither if you should know them as well as I do you [illegible erasure] would not blame me for witing as I do and Johns iyes is blinded and he will not believ. they are hyocrtes they daw near to you wih thir lips but thir hearts is far from you.[139] I will ceac and talk of some thing elce May Jane has been looking is the peap stone[140] for you and
she seen you and and I sopose she wll tell you the pticalars for my paper is ner nearely [illegible strike-through] full you mst tell me whether you are promised or not that is if you are amnder <to Jane>[141] to you mut not tell enny thing elce. if John knew what I had wrote he would do I do not know what to me you must not mention it in enny of your leters. I will bring my [illegible strike-through] scrall to a close for my pper is fool nearely full write to me oftin and [illegible word] do the same.
May the [illegible erasure] lord bless you in all of you under takng is the prar of your sister Martha Ann Smith
Martha Ann to Joseph F.
G S L C Utah T Oct the <second 1856>[142]
My dear brother Joseth
with pleasure I received your too last kind and affectionate letters of may 25[143] and <of> Aprile 17 I did not received eather of them untill the ma<i>le went out and so I could not write before now I am not very well to day in boddy nor in spirets I hav nothng much to chear me now for you are gon and John[144] is gon. he is <has> not got home yet. and helon[145] is has got a very bad tooth ache and she sends her love to you and sais she could not write to you this time. sister griffin and Sarah[146] is over hear to day and sister <griffin> is the same womern she alway was. she sends her love to you and sar she sais that she is to old <to write> to you <you> know in her joke I am livving at [illegible strike-through] <Johns> yet and sarah sends hir love to you and sais she has not forgotton you but she has got a baby to worry wth and you must excuse hir. I [illegible strike-through] suppose you will wonder what has beecome of the ducks for I hav not said enny thing about it that it. last foll when I <went> to stay with Jerusha a while something cot them and I felt so sorry about it that I could not tell you enny thing about it but I could not help is it. Joseph you must e<x>cuse what I said in my last letter for I suppose you think it is none of my busness.[147] but out of the abncec of th heart the mouth speaketh but dear brother I thought I would giv you a timely [p. 2] worning and you must excuse my [illegible erasures] writing for my pen is poor and my ink is not thee best in the world and I am in a hurry for I hav got to send it to town to night or not atoll for a boy is going to town to night and I can send it wth him. I am not going to schol now but I think that I wil go this wnter. I hope so enny hoow you said you was on the island that capt cook was murded on[148] I rememberd readdng of it very well. and i hope that you wll be treatted different to when the elders ware. you say that you could not write enny thing sensubbul to me when you was in a hurry but I onely wsh that I could write enny thing half as sesuble as[◊] you can for when in a hurry. you O Joseth i wish i could see you and then I could tel you my fealling better than I could write them. the hand cart company has come in to the valley and they said that that the company that John is in is thre weaks behind and hey came in last [illegible erasure] friday.[149] wal I mist bring my scroll to a close for it is gitting dark and my papper is fool nearly fool excuse all mstakes and bad writing
May the lord bless you is the prayr of your own sister Martha Smith
Joseph F. to Martha Ann
For Martha / Sandwich Islands
Oct. 20th 1856.[150]
Dear Sister Martha
It is with plesure that I seat myself at this time to answer your kind letter of July the 29th which came to hand in safety on the 12th of this month.[151] it found me well and hearty as usual. I was glad to hear from you, and I should write you a good long letter but I have not the means at presant. I must tell you one thing which bothers me, (and all of us) to write, they have passed a law, that all letters to and from the Sandwich Islands are to be taxed 7 cts each, it has formerly been 5 cts, a letter but now you see it is much harder, but for all that I donot want any of you to stop writing, but if you are some times deprived (if it may so be called) of reading letters from me you must not be surprised, nor discouraged, but continue with your writing to me.[152]
I suppose you have learned that Elder John T. Ca[1 x 3.4 cm tear][153] has returned home, and all letters directed here of [1 x 3.4 cm tear] must be as follows, Honolulu Oahu S. I.[154] Care of Silas Smith.[155] Now dont forget, be presise.
Well marty Two of the Bretheren ware released last conferance to go home, viz. O. K. Whittney and Washington B. Rogers.[156] but there are no signs of my being released for some time yet, but I am perfictly contented, and I donot feel as tho' I had done my mission as yet and I donot want, [p. 2] to go home till then. You ware saying that you was living with John,[157] I hope you enjoy your self, all I have to say is, Marth be a good girl dont trubel yourself about other folkses business and then if they bother you and your business, you will have one consolation, that is you are not in the wrong. be sober martha, and, in fine try and cary yourself as streight as you can, and then if folks impose on you tell them in a sober way just what you think of them, and then let them alone, that is "moral courage" and it is the best thing on earth. never be afraid of any one, but calmly tell them if you think they insult you, and have an understanding about it, and then let them alone. that is all I have to say about that. you will understand me, and I am willing everry body els should, sute yourself about maters and things, as best you can.
In regard to my being indebted or obligated to any person on Earth, I am not. Thank the Lord [1 x 3.4 cm tear] am perfictly "free, and easy," and contented, and [1 x 3.4 cm tear] owe no more than respect to my fellow man, I am indebted no other way.[158] you will pleas show or let brother John read this, and write to me as often as you can also John must write as often as is posible, and give me all the news. I have no more to write at presant, but wish you all good luck and many blessings. I pray God to bless you all
Joseph Smith
Bro. Franklin Young[159] and the rest of the Bretheren wish a kind rememberance to you all.[160]
For Martha[161]
Martha Ann to Joseph F.
G G S G S Utah terrtory Dsemb<er the [illegible erasure] 17 1866[162]>
the 17
[illegible erasure] Dearest Brother
I received your kind letter of july the 14 and it gaave me mutch joyy to read your writing and to know that you wrote it with your own hand gave me cumfort I thaught that I would answer it the best I could and that willell not be very good. I am well and harty and strong I can be or as enny one need wish to be and I hope and pray that this letter will find you the same. you thanked me for the information I gave you of home. you are p<i>rfectelly welcome Joseph for <all> that<e> good that I can do you you speak of a reward but to read a letter from you is all the reward I want they allways do me more good than eny thing else I know of you wanted to know what had become of <old> mager[163] and so I wll tell you. he is well and harty and <and he> is mager yet and he wll be as long as sarah[164] keeps him, some times he is at sarahs and some times he is hear but his home is at sarahs, old watch[165] is alive yet to, and lives [illegible strike-through] hear to Johns, I also live to Johns[166] yet, and and expect to this winter and go to school. school commenced last monday and I did not go then for I did not have enny shoos and I intend to start next mnday. John has gon up north he started last satturday and on buisness and Hellon[167] has been up to her her mothers and I have been over to sarahes all <the> weak and I just came home to day and I hav been alone all day and I got lonesome and so I thaugh that I wold write a little to keep me company but I git along so slow that I cnnot finnish it to night [p. 2] I expect John home to night. you said in charleses[168] letter that you had had some bad luck wth your things I am sory for that and I thank my he<a>venly fother that I hav got a brother that can bare such thngs with paciencs [illegible erasure] I w<i>sh that such things had not happed but but I suppose it was to try you, and perhaps all for the bst did <did> you gitt your letters all burnt up[169] or did you save enny of them. pleas tell me about it in the next letter you write to me. I thank you for the kind advice you gave me in my last letter from you you spoke of [illegible erasure] Marry Janes[170] gitting m married and also me it may be so with her but not w<i>th me at present I am to ignorant to think of such things yet I hav not I want more lirning than I have got before I git married when I take that step I want to get some boddy that is of some account I can not the smartes in the world in intellect tharefore I would like to git some boddy that was smarter than I am that can [illegible strike-through] take me through this world in safety. can you blame me for that Joseph I do not think you can, I hav been looking at my self and noticeing my self and triiy to reform and I see that I need a good deal of tutuing before I can become perfect. I hav been <been> on a visit up north to Jrushas[171] and I must side wih you in not likng the idear of them goi<n>g up north so far.[172] but as the saying is all that is is [illegible erasure] writ and so it is not for me to complain. I allso hird Jerushas letter [illegible erasure] I was up north when she [illegible erasure] recie<v>d it [p. 3] she was well when I left thare she did not have enny paper when I was hare and so I was obligad to wte untill I could git home before I could write in answer to it and after I got home I detaind writing thou mistake that the ma<i>le sarted out sooner than common. but I hav got more neus to to you now than I had then. for John came home last night and told me that Isic bullock was marred to a young lady[173] from up north I have forgotten her name. [illegible strike-through] you enny how she has got a good man worthy of enny girls notice. such a man as him would suit me. if I got a man to my likeing he has got the pincipals about him them are the knd Joseph dont you think so. they war marr<i>ed twoo weaks agoo this is the frst time that I spoke of marry to you about my self but I am gitting faeuer[174] than I hav been I am in my sixteenth year but I am motly yet I am well aware of that you may tell that by the simple way that I write but it is naturel to me to be simpol althow I am sriving is over come it evry day, I suppose that it does not become a large girl like me but I hope I shall over come it and become noble minded afer a while and all of my other faults. John hass gon afer lelon hellon and the babys and I am olone again they all say that hyrum looks like you but [illegible erasure] that is fishers folks.[175] but I thin that he is the picture of elon only his eiyes are are a dark blue he has got a nose like hellen and mouth [p. 4] and chin like her a<l>so Elisebath[176] has as got large lite blue eyes and rosey cheeaks and lite heir hairr she looks like Jony sarahs baby[177] is a sweet little dear it has large blieu eys rosy cheeks and broun hare and dubble chin and very fat and Jerishas baby[178] is not very fleshey it has hare like Jerusha it looks like Jerusha. now I hav told you about the chldren I love them all. I feall first rate in [illegible erasure] sirets Josiph fisher[179] has just this minute come and told me that John and helon is not comeing home to night that they had gon down to cotton wood[180] to a meettng, and I think I wll gow to meeting to nigt to but I will hav to walk insted of riding in a slay like they hav I must go alone to but no matter, the snow is very deep but the evning is plasant when I hear enny boddy complaining I can not help thnking about you and of what you are going through for truths sake, I dar not complain but dear brother I isupose that it is all for the best. I hope that it will not injorre your helth by staying thre in that hot climate I hope it wll not. all of the flks is wel and harty we hav lost a fatthul friend in brother Grant[181] I supose that you will hear all about that in the nuse paper tharefore I w<i>ll not tell you enny thing about it for my paper is fool nearly and I must bring my letter to a close exuse all bad writing and mstakes for my pen is poor good by for the pesent may the lord bless you is the prar of your sister Martha ann Smith
Martha Ann Smith and William Jasper Harris to Joseph F. Smith
G S L County utah terry <feb the 3 1857>[182]
Dear and affecttionate brither Joseph I did not git a letter from you in neither of the last mails and I thaught that I would write wth out one for it is through my own neglect for I donot blame you for not writing when you a hav no promter.[183] I am expectting a letter this next [illegible word] from you wth all the patienc I hav got. I am well and am going to school I am at sister Harrises[184] to day. school has just let out and I am going to write a few lines to <you> and tell you how the folks is gitting along they are all well and they all send thir love to you sister smoot[185] sends her love to you al<l>so [illegible strike-through] Diana[186] sends her love to you. I live with Johs[187] yet I am gittng along as well as can be expected
I hav been on a visit with [illegible erasure] <aunt> thompson and mary Jane[188] up north to Rachels and she has got a fine little girl[189] nearly six weaks old they are well and in good helth. all of the folks are gitting marryed but me and Mary Jane.[190] <Mary Smthes is> marryed to brother kimbol[191] but th I supose my turn will come some time if it ever does but I do not know when that wll be yet I ope that you wll [illegible word] home wth you when you come home. I wll bring my [illegible strike-through] scrall to a close for I can not think of eny more to write at present I wll write mor the next time I write. pleas excuse all mistaks for it was wrote in <a> hurry write often and I wll do the same good by for the pr pesent
May the lord bles you in all your undertakngs is the prar of your sister
Martha Ann Smith [p. 3][192]
Great Salt L City febth 3, 157
Dear friend[193]
I am happy to have this opportunity of writing you a few lines to let you kow that I am still alive and kicking and hope that this will finde you the same Martha ann was here a writing she asked me if I had any thing to write to you I told her that I would write a little in her letter if there was room I wrote a letter to you be fore but did not get it in the mail in time I very often think of you and have intended to write but through neglect I have not done it I hope that you will save us all the trouble of writing for I think you will be a coming home some of these days there is great excitment among the young folks here about getting married but still more among the old ones there is from twenty to forty a getting married evry day there is a great many old men that <think> they will be cut off from the church and be damned if they dont get another wife[194] I believe that Gim[195] is a going to take a ribe[196] I dont know but I shall have to have you bring me some of them native girls well I dont that I have much more to write the folks are a reforming and waking up from their sleep and begining [p. 4] to live a new life and these poor deviles are getting in a hurry and leaving[197] and them that cant take the hint will take you know what well the boys are on hand for any thing will I hope that you will excuse me for this short note but remember that it is from a friend I hope that you will be reliesed and be caled home be fore long the folks are all well as far as I know Martha ann can tell you more about them than I can so no more at present. From
Wm J Harris to
[illegible strike-through] Joseph Smith
[198] Dear brother I did not git a chance to write the last mail and I wrote one the mail before last, and did not git it in in time to send it Willim Harris wrote a few lines in my letter and I thaught that I would write some more in it and tell you how it was I did not <git> now chance to send it in to town the last mail and so I did not write nor send this letter [illegible strike-through]. I would not hav sent <this> letter if William harris had not been sent on a missin to ingland.[199] and he will not have a chance to write to you be fore he gows he has got the same trial as you had and worse if enny thing for he has a mother[200] to leave a kind and affectionate mother which I suppose would have been a greate triel to you but alass, dear brother you had no mother to leave and I dar say that you hav felt the want of [p. 2] the Mother[201] hundreds of times sence you left your home at enny rate if you havent I have felt the want of her more than folks think I have I was young when she was taken away from me and I did not realise as much about it as you did becaus you was older than I was but I have realised it sence more so for the last to years. wal dear brother Im just waking up to the reffrmatinon I am hav been baptisedd[202] and am commenc<e>ing to to live my religion I am just beginning to [illegible strike-through] see my faults and mend my ways may my god enable me to continue striving that I may always be [illegible strike-through] <found> in the line of my duty I am well and harty and donot know whether I have stopped growing or not I do fell thankfull to my hevenly father for [illegible strike-through] <blessings> unto me for preserveing my life. I have had a trial la<i>tely thhat that has dampend my feeling some but I am gitting over it now, that is I am striveing to overcome it I will tell you what it is but do not say enny thing about it [illegible strike-through] in any of your letters exept [illegible strike-through] mine and tell me what you think about it. do not hint it him that wrote in this letter is is the one that I love my hand tembls when I say love but it is so verly so he is a good young man and has gaind my affections John thinks a good deal of him and he sais that thare is not a young man in the valleys of the mountains that he thinks more of than he does of William harris do not tell he is sent on a mission and I suppose it is all rite good by for the pesent may the lord bless you is the prarr <of> your <sister>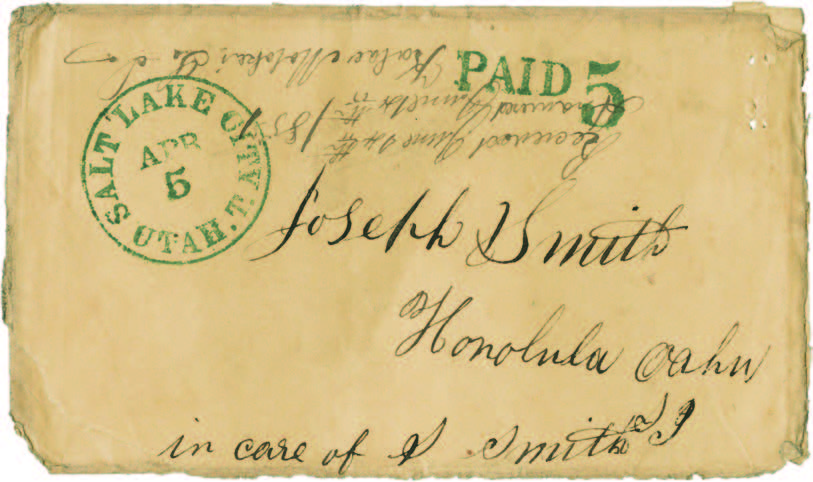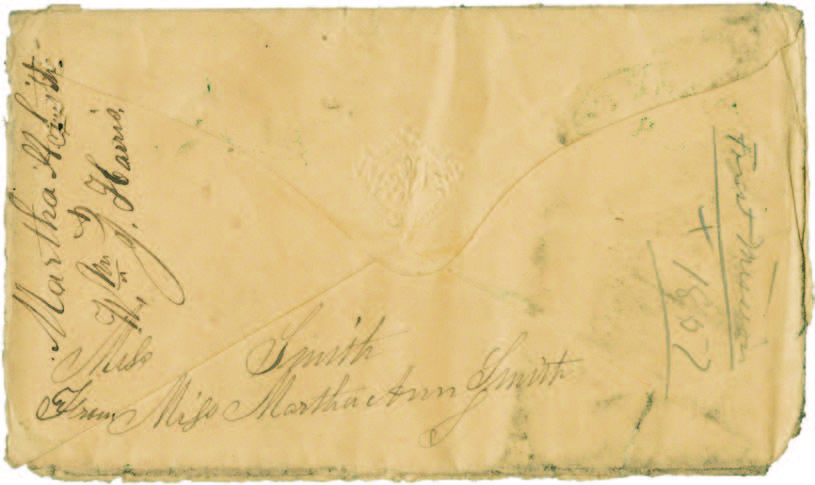 Martha Ann to Joseph F., 5 April 1856 (envelope)
Martha Ann to Joseph F.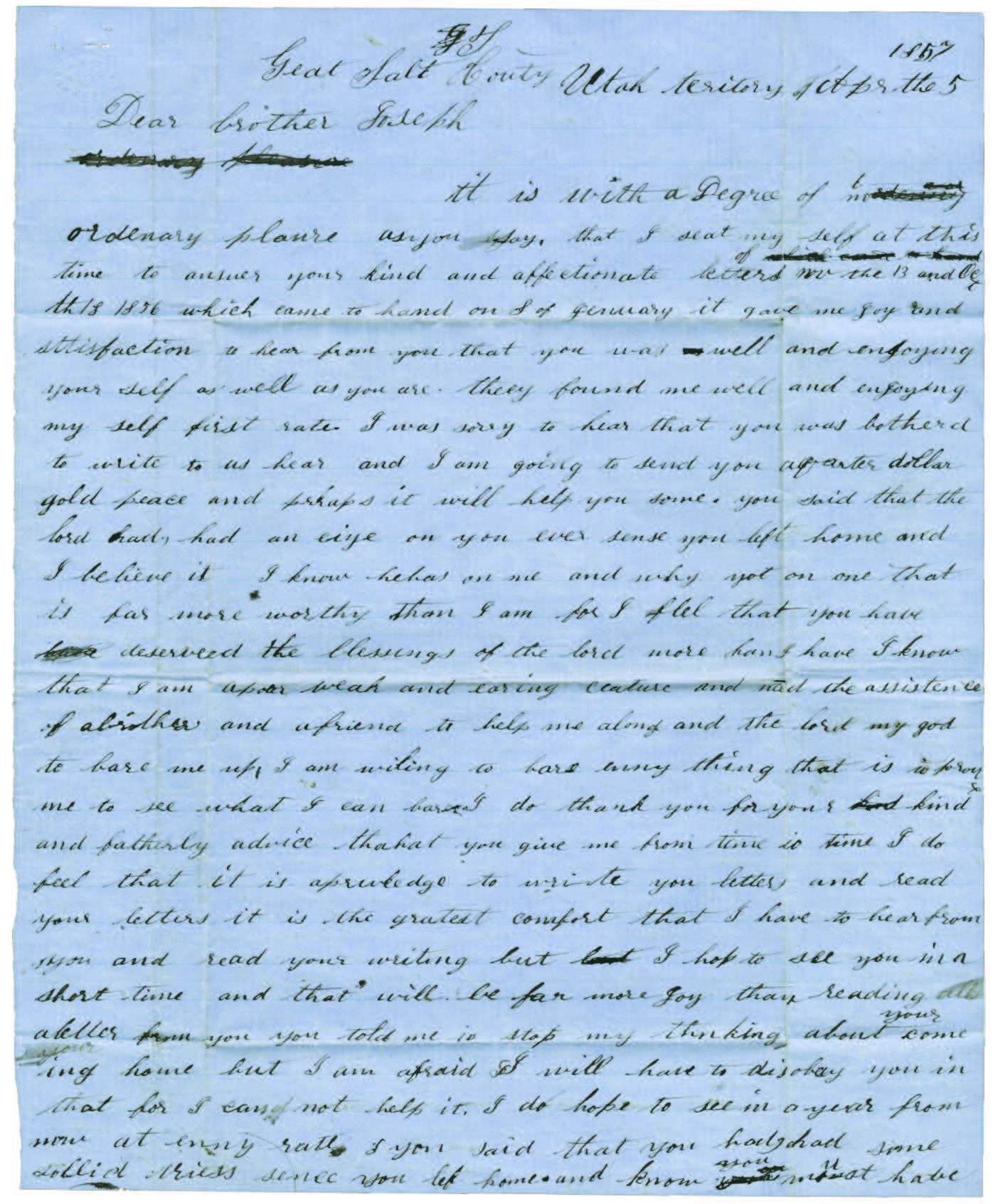 Martha Ann to Joseph F., 5 April 1857 (p. 1)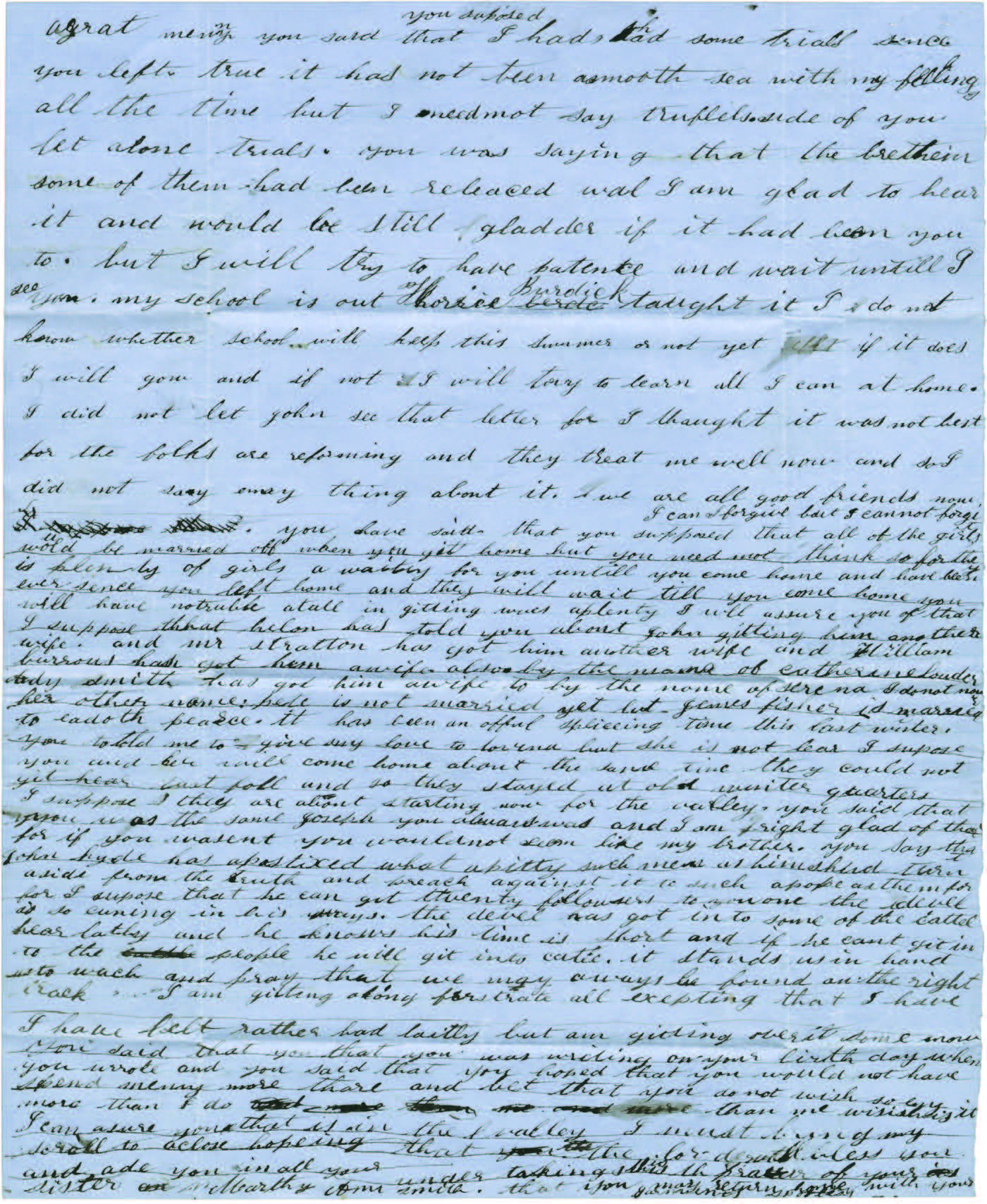 Martha Ann to Joseph F., 5 April 1857 (p. 2)
Geat Salt <G L> Couty Utah teritory Apr the 5 <1857>[203]
Dear brother Joseph
[illegible strike-through]
it is with a degree of no [illegible strike-through] ordenary plaure as you say, that I seat my self at this time to answer your kind and affectionate letters <of which came to hand> nov the 13 and Oct th 18 1856 which came to hand on 8 of Jenuary it gave me joy and sttisfaction to hear from you that you was [illegible strike-through] well and enjoying your self as well as you are. theey found me well and enjoying my self first rate. I was sorry to hear that you was botherd to write to us hear and I am going to send you a qarter dollar gold peace and prhaps it will help you some. you said that the lord had, had an eiye on you ever sense you left home and I believe it I know he has on me and why not on one that is far more worthy than I am for I feel that you have [illegible strike-through] deserveed the blessings of the lord more han I have I know that I am a poor weak and earing ceature and need the assistence of a brother and a friend to help me along and the lord my god to bare me up. I am witing to bare enny thing that is to prove me to see what I can bare. I do thank you for your [illegible strike-through] kind and fatherly advice thahat you give me from time to time I do feel that it is a privledge to write you letters and read your letters it is the gratest comfort that I have to hear from you and read your writing but [illegible strike-through] I hop to see you in a short time and that will be far more joy than reading all a letter from you you told me is stop my thnking about <your> <your> comeing home but I am afraid I will have to disobay you in that for I cand not help it. I do hope to see in a year from now at enny rate you said that you had, had some sollid triels sence you lef home and know <you> [illegible strike-through] m<u>st have [p. 2] a grat men<n>y. you said that <you suposed> I had, <h>ad some trials sence you left. True it has not been a smooth sea with my feelings all the time but I need not say trublels side of you let alone trials. you was saying that the brethein some of them had been releaced wal I am glad to hear it and would be still gladder if it had been you to. but I will try to have patence and wait untill I <see> you. my school is out Horice berdc <Burdlick>[204] taught it I do not know whether school will keep this summer or not yet [illegible erasure] if it does I will gow and if not I will try to learn all I can at home. I did not let John[205] see that letter for I thaught it was not best for the folks are reforming and they treat me well now and so I did not say ennay thing about it. we are all good friends now I can forgive but I cannot forgit[206]
[illegible erasure] you have said that you supposed that all of the girls wo<u>ld be married off when you git home but you need not think so for they is plenty of girls a waiting for you untill you come home and have been ever sence you left home and they will wait till you come home you will have no truble at all in gitting wves a plenty[207] I wll assure you of that I suppose thhat helon[208] has told you about John gitting him another wife.[209] and mr stratton has got him another wife[210] and William burrous has got him a wife also by the name of catherine louder[211] dody Smith has got him a wife to by the name of serena[212] I do not now her other name. pete[213] is not married yet but Jemes fisher is married to eadoth pearce.[214] it has been an offul spliceing[215] time this last winter. you to told me to give my love to lovina but she is not hear I supose you and her will come home about the same time they could not git hear last foll and so they stayed at old winter quarters I suppose they are about starting now for the valley.[216] you said that you was the same Joseph you alwais was and I am right glad of that for if you wasent you would not seem like my brother. you say that John hyde[217] has apostixed what a pitty such men as him shud turn aside from the truth and preach against it to such a pope as them for for I supose that he can git twenty followers[218] to you one the devel is so cuning in his ways. the devel has got in to some of the cattel hear latly and he knows his time is short and if he cant git in to the [illegible strike-through] people he will git into catle. it stands us in hand to wach and pray that we may aways be found on the right track I am gitting along first rate all exepting that I have I have felt rather bad laitly but am gitting over it some now you said that you that you was writing on your birth day when you wrote and you said that you hoped that you would not have spend menny more thare and bet that you do not wish so eny more than I do [illegible strike-through] more than me wisishis it I can asure you that is in the valley I must bring my scroll to a close hopeing that the lorde will bless you and ade you in all your undertakings this <is> th prauar of your [illegible strike-through] sister [illegible strike-through] Marthy Ann smith. that you may return home with your garments spotless
Joseph F. to Martha Ann
Sandwich Islands, Lahaina
April 17th 1857.[219]
My Dear Sister Martha Ann:—
It is with no ordinary feeling that I seat myself this morning to reciprocate your favor of December 17th '56, it graced my presence on the 28th ultimo,[220] but I have had no oppertunity of answering it untill now, owing to my travels to Conference, &c. which came off on the 7th, 8th and 9th of this month.[221] We had a good time togather. I am well and hearty at the present, altho' I feel verry sore and and dull this morning becaus of sleeplessness, and labor for the last three days and nights.
Eight of us started from the Island of Lanai on Wednesday, and on acount of contrary and high winds we ware compelled to return to port, here we slept out doors with nothing but a verry thin mat for a bead, and another one for a covering, our carpet-sacks serving for pillows, at moon rise in the morning, (1 o clock) we went on board of our little Boat and started for this Island. Martha it would make you wonder if you could see us being tossed and driven by the waves of the mighty Paciffic, when every wave seemed like it was the next moment going to engulf us in the its auful surge, yes, to see us in an open Boat, with a tract of Ocean before us of some 15 miles, and only a one fourth inch of pine boards between us and the tremenduous, dreadful, yawning grave of thousands of poor ill-fated beings, who ware not so fortunate as ourselves; when you get with in a quarter of an inch of death itself, then who can save you?[222] Marth, the arm on which we trusted is that which hath delivered, it is ever willing to deliver, and will deliver all who lean upon it, and put all their trust on it, therefore lets be faithful. [p. 2] Well, we arived at this place, at 10 o clock in the morning of the next day, after we started.— and this morning several of the Brethren started for Wailuku leaving three of us at this place. I have been appointed to preside over the Molokai,[223] conference, which is about 15 miles from this place, and on another Island, so you see I have to cross another strip of Ocean before I get to my field of labor.[224] When we arived at this place we found that 33.50$ of money recieved for Books of Mormon, that has been solde to the Native Saints had been stolen, who the perpetrator of this dead was, we are at loss to know or finde out. certain, it is we are in distress because of it, and that any person who would take money from us, who knew our situation, is wors than a murderor! but it seems that the Devil exerts his utmoste power to thwart every thing that we attempt to do for the prosperity and emelioration of this people. the Lord only knows what will take place next. to impede his moste holy work, who could endure what we have to, but mormon Elders? I do not believe, that man lives outside of the kingdom of God that would begin to endure to allmoste indurable trials and privations that seem to beset us on every hand, and that we have to pass thro' evry day of our lives on these degraded lands, yet it is all for the best. I feel to rejoice, Martha, all the day long. I feel buoyant & hopeful, and like pressing forward, notwithstanding the hardships I have to encounter, because I know what I am doing, and for whom I am laboring, it is not as though I was seaking for gane, or secularly striving for the vain things of this world. if it was so, no one could have escaped despondancy, provided this was his dernier[225] <prospects> for [p. 3] advancement.— Well, now for your letter; you asked me if all my letters ware burnt, or if any were remaining. all those I recieved before the misfortune ware burned,[226] but no axident has yet happened to those I've recieved since. I am glad that you manifest a desire to reform, you speak of observing yourself &c. well it is a good thing if you commence by degrees, you know this world, though small, cannot be circumscribeed with one huge stride, neither does the Eagle soar to the heavens with one fears flap of the wings, neither does the hour pass, with <out> the minutes, or even the seconds, therefore you see Martha that all our faults cannot be overcome in a moment, but they must be forsaken little by littel, with assiduous and and untireing exertion, but you must not look at all your faults at once, nor any ones elses, but look at them little by little, or they will discourage you. it is not the long, and ravishing strides that bring us to our journies end, but the stedy, slow-and-sure, the undigressive, and undeviating from the streight ahead course, that is what will accomplish the dead! I know sometimes when I look at my journies, my little privations, coupled with my inexperiance and incapability, it makes me allmoste sink under the burthen of my thoughts, it is not my inexperiance nor my incapability, neither my deprivations, but just the mear thaught, the Idea, of it, that is what weighs heavy on the mind, therefore it is well to bare in mind that all our inabilities, insufficiencies, defaults, soon &c. are not to be emeliorated at once, neither can we become perfect at once, but in time:—by picking up a little here and a little there, by gaining step by step. do not get discurraged, Dear Sister, nor weary in well-doing, but continually press forward, in the work of progression for there is a vast field lieing before us, and we ware not born in [p. 4] to existance for nothing. No! you speak of being inefficient, inept, &c, who is wise that was not foolish? who is erudite, or where is an adept, that was not ignorant,? why even the Lord Jesus Christe was once an infant, so ware we all, therefore be mindful that the wisest and moste learned was once ignorant, and as inept as you and I are, and never get discouraged, but press onward. You expressed a desire to know if the climate hurt or injured my helth. I am happy to inform you that it agrees verry well with me, since I have partially become inured to it, altho' I do not enjoy the strength that is custommary for me, and I think I never would as long as I stop here, because the atmosphere, climate, food, and the elements in general, are not so nutritious and strengthing, as at our peasful, happy mountain home. I suppose Martha, in about 8 months or a year I shall be released from the mission with the privelige of returning home as soon as I can make necessary arangements. therefore in about two years from now I will see you all again if the Lord spairs our lives untill then, it may be however before that, and it may be longor, I cannot tell. you must be patient, and do the best you can. you must be prayrful, and studious, and you will be blessed. improve in every thing you can, and ocupy ever moment and oppertunity in improveing, use the moments as they fly, for they are precious, particals of time which, when passed, never will return.— I have nearly filled my sheat, so I will have to close. Tell John[227] I wish the Deseret News to be stoped, also the "Mormon"[228] appropriated to his own use, tho' I spoke of it in his letter. write ofton, give me all the news, give my love to all the little Children, to all our folks, not excepting yourself, and recieve me ever your moste affectionate Bro. Joseph Smith
To Martha Ann Smith.[229]
Martha Ann to Joseph F.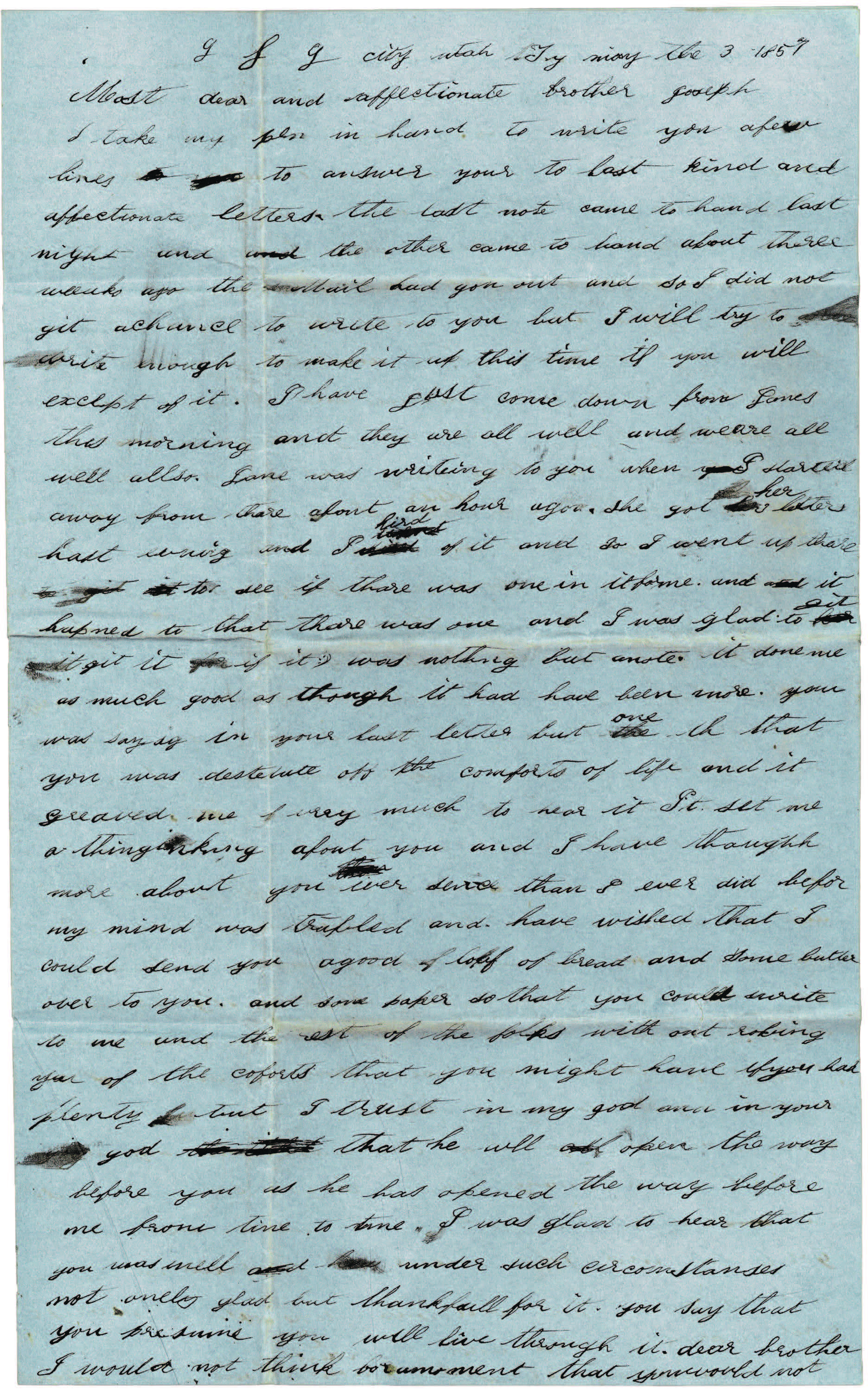 Martha Ann to Joseph F., 3 May 1857 (p. 1)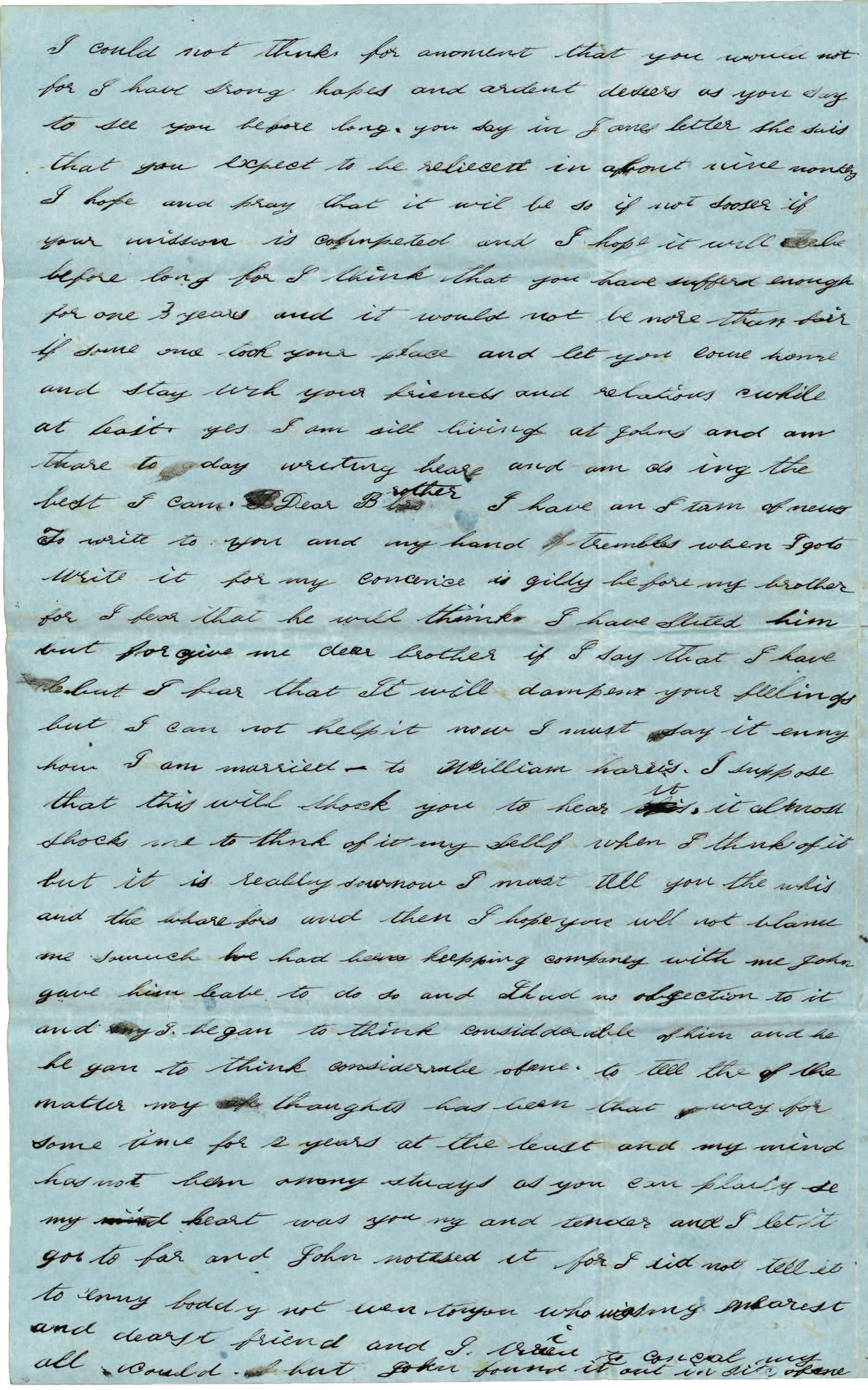 Martha Ann to Joseph F., 3 May 1857 (p. 2)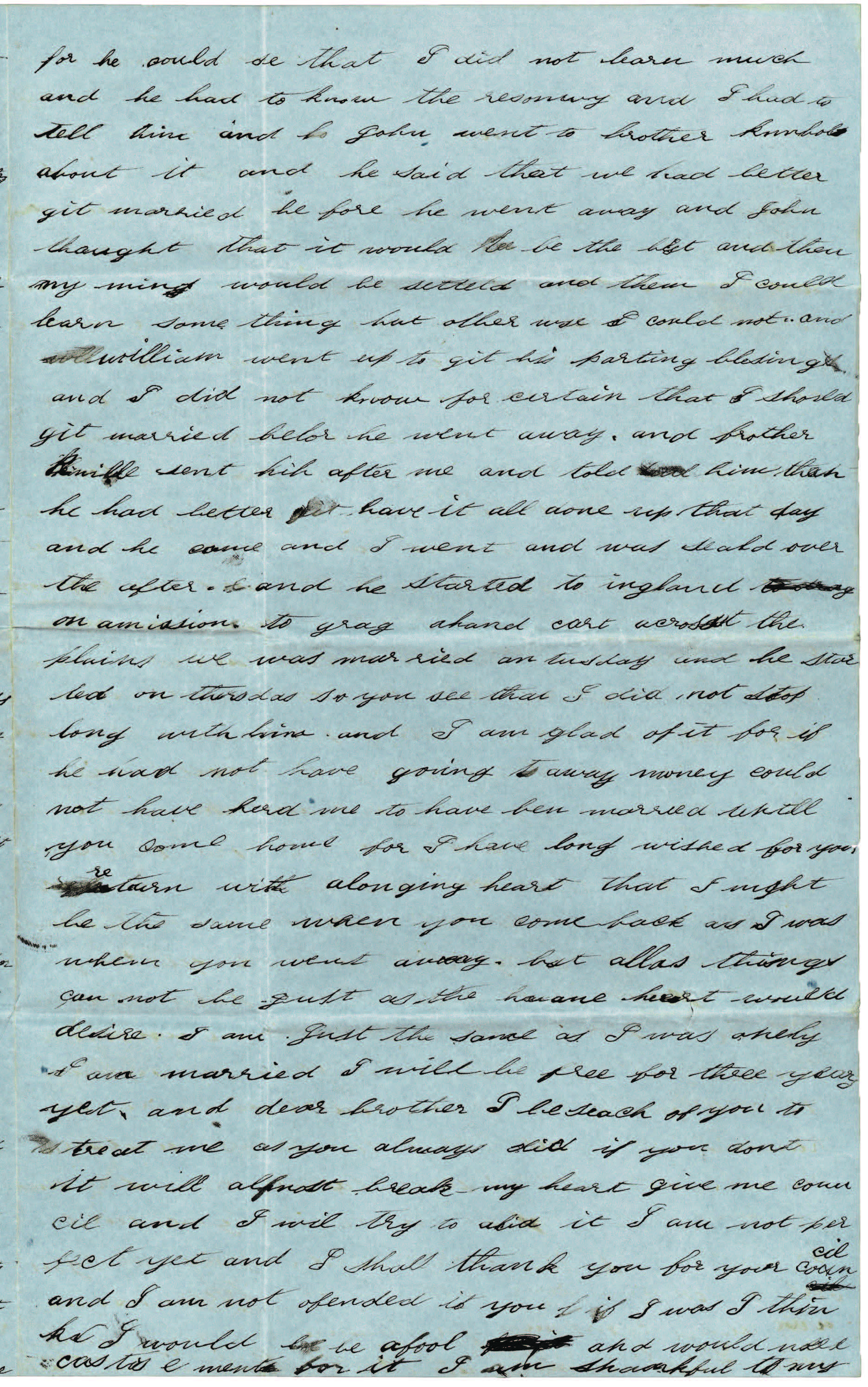 Martha Ann to Joseph F., 3 May 1857 (p. 3)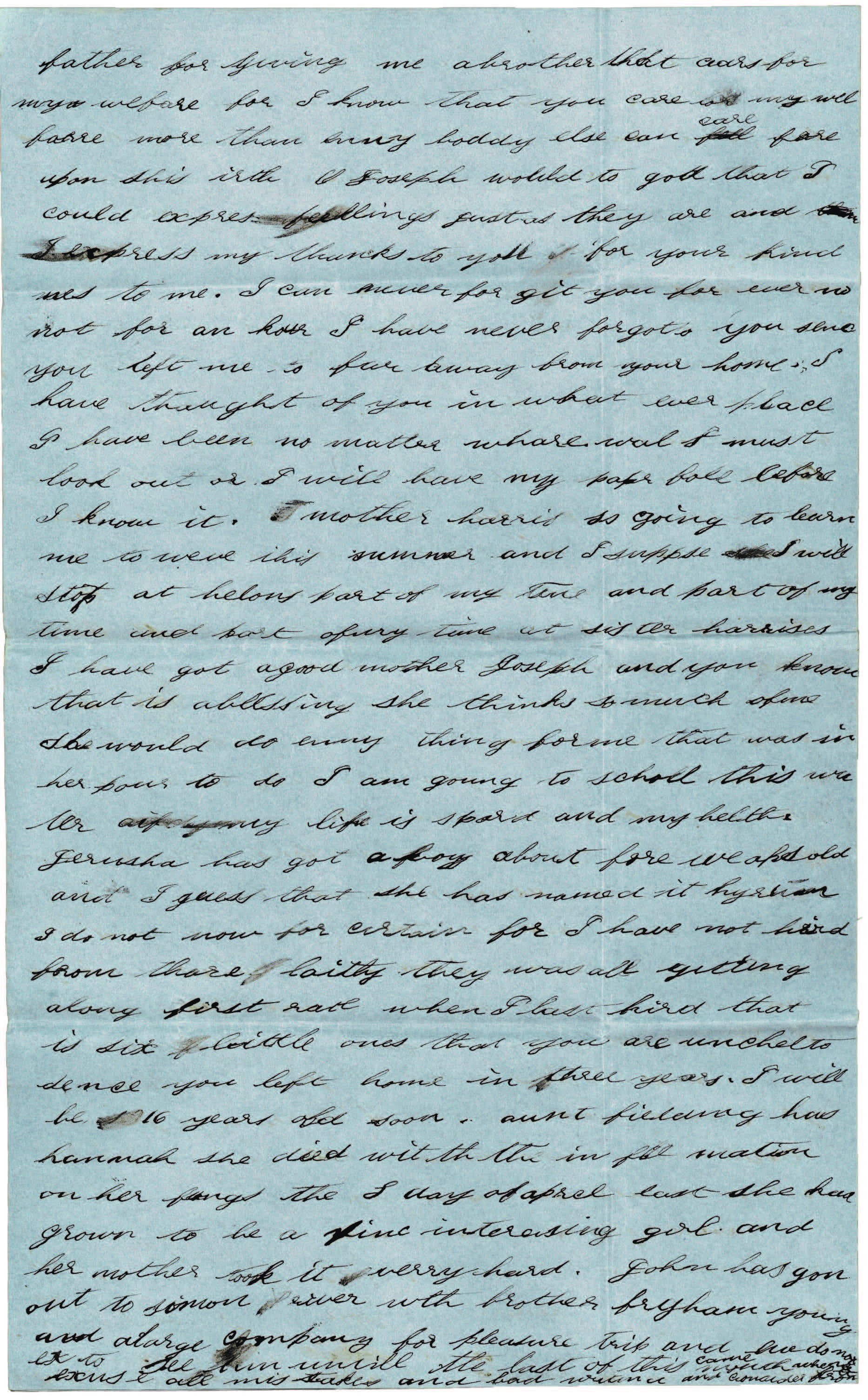 Martha Ann to Joseph F., 3 May 1857 (p. 4)
G S G city utah Ty may the 3 1857[230]
Most dear and affectionate brother Joseph I take my pen in hand to write you a few lines [illegible strike-through] to answer your to last kind and affectionate letters. the last note came to hand last night and and the other came to hand about three weeaks ago the mail had gon out and so I did not git a chance to write to you but I will try to write enough to make it up this time if you will except of it. I have just come down from Janes[231] this morning and they are all well and we are all well allso. Jane was writeing to you when [illegible strike-through] I started away from thare about an hour agoa. she got [illegible strike-through] <her> letters last evning and I [illegible strike-through] <hird> of it and so I went up thare to git it to see if thare was one in it for me. and [illegible strike-through] it hapned to that thare was one and I was glad to [illegible strike-through] <git> it git it for if it was nothng but a note. it done me as much good as though it had have been more. you was sayig in your last letter but the <one> th that you was destetute off the comforts of life and it greaved me very much to hear it it set me a thinginking about you and I have thaughh more about you <[illegible strike-through]> ever sence than I ever did befor my mind was trubled and have wished that I could send you a good loaf of bread and some butter over to you. and some paper so that you could write to me and the rest of the folks with out robing you of the coforts that you might have if you had plenty [illegible strike-through] but I trust in my god and in your [illegible strike-through] god [illegible erasure] that he will all open the way before you as he has opened the way before me from time to time. I was glad to hear that you was well and [illegible erasure] under such circomstanses not onely glad but thankfull for it. you say that you presume you will live through it. dear brother I would not think for a moment that you would not [p. 2] I could not thnk for a moment that you would not for I have srong hopes and ardent desiers as you say to see you before long. you say in Janes letter she sais that you expect to be relieced in about nine months I hope and pray that it wil be so if not sooner if your mission is competed and I hope it will be be before long for I think that you have sufferd enough for one 3 years and it would not be more than fair if some one took your place and let you come home and stay wih your friends and relations a while at least. yes I am sill living at Johns and am thare to day writing heare and am doing the best I can. B Dear b<rother> I have an itam of news to write to you and my hand trembles when I go to write it for my concence is gilty before my brother for I fear that he will think I have slited him but for give me dear brother if I say that I have [illegible erasure] but I fear that it will dampen your feelings but I can not help it now I must say it enny how I am married—to William harris.[232] I suppose that this will shock you to hear [illegible strike-through] <it>, it almost shocks me to thnk of it my sellf when I thnk of it but it is really sow now I must tell you the whis and the whare fors[233] and then I hope you wll not blame me so much he had been keepping companey with me John gave him leave to do so and I had no objection to it and my I began to think considderable of him and he began to think considerrabe of me. to tell the of the matter my [illegible strike-through] thaughts has been that way for some time for 2 years at the least and my mind has not been among studys as you can plainly se my mind heart was young and tender and I let it go to far and John notesed it for I did not tell it to enny boddy not even to you who was my nearest and dearst friend and I tr<i>ed to concal my all could [illegible erasure] but John found it out in site of me [p. 3] for he could se that I did not learn much and he had to know the resoning and I had to tell him and [illegible erasure] John went to brother kimbol[234] about it and he said that we had better git married be fore he went away and John thaught that it would [illegible erasure] be the best and then my mind would be setteld and then I could learn some thing but other wse I could not. and wll william went up to git his parting blesings[235] and I did not know for certain that I should git married befor he went away. and brother Kimible[236] sent him after me and told [illegible erasure] him that he had better git have it all done up that day and he came and I went and was seald over the alter. and he started to ingland to drag on a mission to drag a hand cart acrosst the plains we was married on tusday and he started on thursdas so you see that I did not stop long with him and I am glad of it for if he had not have going to away money could not have herd me to have ben married untll you come home for I have long wished for your <re>turn with a longing heart that I mght be the same when you come back as I was when you went away. but allas things can not be just as the huane[237] heart would desire. I am just the same as I was onely I am married I will be free for three years yet.[238] and dear brother I beseach of you to is treat me as you always did if you dont it will almost break my heart give me council and I wil try to abid it I am not perfect yet and I shall thank you for your council<cil> and I am not ofended to you if I was I thinks I would be be a fool [illegible strike-through] and would need castisements for it I am thankful to my [p. 4] father for giving me a brother that cears for mya. wefare for I know that you care for my welfarre more than enny boddy else can feel <care> fore upon this irth O Joseph would to god that I could expres feellings just as they are and [illegible erasure] I express my thanks to you for your kindnes to me. I can never for git you for ever no not for an hour I have never forgotts you senc you left me to far away from your home. I have thaught of you in what ever place I have been no matter whare. wal I must look out or I will have my papr fole before I know it. mother harris[239] is going to learn me to weve this summer and I suppse she I will stop at helons[240] part of my time and part of my time and part of my time at sister harrises I have got a good mother Joseph and you know that is a blessing she thinks so much of me she would do enny thing for me that was in her pour to do I am going to scholl this winter if [illegible strike-through] my life is spard and my helth. Jerusha has got a boy about fore weaks old and I guess that she has named it hyrum[241] I do not now for cirtain for I have not hird from thare laitly they was all gitting along first rate when I last hird that is six little ones that you are unchel to sence you left home in three years. I will be 16 years old soon. aunt fielding[242] has hannah[243] she died witth the inflemation on her lungs the 8 day of aprel last she had grown to be a fine interasing girl and her mother took it verry hard. John has gon out to samon river[244] with brother brgham young and a large company for pleasure trip and we do not ex to see him untill the last of this month[245] exuse all mistakes and bad writing and consider from whence it <came>
Martha Ann to Joseph F.
[Great Salt Lake County
May 11th 1857.][246]
Most dear and afectionate Brothr Joseph. as thare was room in Janes[247] letter I thaught I would write a word or to as she gave me leaf I can not say much for thare is not room I am well and feel first rate and I hope that this note will find find you the same I am verry buisey this weak for I am. thinking of going up north with jerusha and william[248] when they go they start next fryday and they want me to go with them and stay a [illegible strike-through] weak or to and then come home and I think I will go. we all had the pleasure of meeting to gather last su<u>nday and the 5 little neaces and nphew ware [illegible strike-through] <all> <to> gether and a sweetter little band never was. I know you would think so if you had saw them. from Martha Ann
Joseph F. to Martha Ann
Sandwich Islands
June 14th 1857[249]
Martha Ann; My Dear Sister:—
I recieved your kinde letters of Feb. 3rd <also April 5th> also of April 5th this morning about an hour since; I was glad to hear from you again. once more Dear Martha, I attempt to address you a fiew lines—altho' I do not feel verry much like writing, my hand feels verry stif and clumsy this morning. but I [1.7 x 0.8 cm tear along folds] you will look over and over-look all mistakes. if many there be. I feel this way, Martha, this morning.— God Bless you— what makes me feel so? because I read your letters with a brothers love, and with sympathy, Dearest Sister. one short sentence in your letter, struck me like the mighty surge of Occeans tempestuous swell! what was it?— "I feel that I am a weak and frail being—& why should not God bless you, who is much more worthy than I am, for, he has blessd me"— martha, do not tempt me. that language, tho' simple—speaks louder than the bolts of Heaven, that you do love me. and that you do desire to live humbe, and prayerful. Oh! humility! how beutious are thy influances. how profoundly, deep thy serenity and bliss! this subject, subdews—it melts me!— Martha what you said admonished me. I kindely accept its chastening influance, although quite undirected. when I read it something seemed to whisper gently in my minde, Joseph? "understandest thou what thou readest"?[250] "let him that readeth understand,"[251] these th admonishing thoughts came to my minde with the words, "wake up more fully to your duty!" I can look back and see where I might have bettered my course. where I might have been more dilegent in descharge of my duty. but then, these thoughts are dispelled by the strictly varacious adage "time once past never will return, the moment lost, is lost for ever"![252] therefore why morne for things we cannot help. or in the words of Dear [p. 2] Cousin Josephine, why, "sigh o'er the plesures now faided. And the joys time can never restore?"[253] there is no use, I am fully resolved to take things as they come, and as they fleet along by with [1.7 x 0.6 cm tear along fold] unchangible goings of time, I feel to say, farewell, thou hurring time. thou industrious time, that wateth not for the sluggard, neither can man stay thy speading progress. but do thy duty in hastening the period when all creation shall reach the end for which they were created.— I wish now to give you a fiew words of advise. Martha, I have had [1.9 x 0.6 cm tear along folds] opertunity of accepting the hand, and heart of many by mear sugjestion, I know it. for I can read the heart as well as moste any one. well, now am I bound to any one? No, I am not. is any one bound to me, by her sacred vows for life No, there are non. now what is the reason?— I will reveal the secret. I have not my life ensured, only by my own goodness, my own true merrit. then God will, or has ensured my life to enjoy many great blessings. therefor if I am spaired to join my life with one in whome there is a spark of heavenly fire, that beams and blazes in the dark hour of adversity and that is willing to shair the humble lot of One whome God knows loves the humble and honest heart. then I will say to God be the glory, what hour is mine? what moment is my own? at what time may God say, Joseph, thy soul is required of thee—? can I say no? I cannot, then I say thank the Lord no soul is bownd to mine at stake of houer. varasity, and vertue, no, I am free as the air, so are <is> avery one free from me, I wish to be tied to no one till I am able to provide and take care of her, untill then hear ye O—fair ones, ye are free from me,—where no vows are made no hearts are broken. now the whole amount of this is, when sumed up. I do not want you to make any vows, with any one if you can avoid it.[254] I have seen too many such things, and they [p. 3] they are allways attended with more or less disappointments, you know Martha where there is a law, then you are under the [1.3 x 0.2 cm tear along fold] Law, as long as you obey it,—when you become aggressor to that Law, then you are condemnable, and become liable to be punished by that Law, whereas, if there is no Law, how can you become punishable by that which is not? the words of Paul are more consise upon this point, he sais, "if one dies with out the Law he is judged with out the Law, if [1.8 x 2.6 cm tear along fold]ies with the Law then he shall be judged with that Law".[255]— sp[1.8 x 2.6 cm tear along fold] the reserection I write this for an example to you, if you [1.8 x 2.6 cm tear along fold] vows you can break no vows, and therefore are not guilty, but if you make vows then you live in constant fear of breaking those vows, the guilt of the guilty allways condemns them, so also the fear of the fearful, or those in fear <allways betr[1 x 0.9 cm tear along fold] them> it exc[1 x 0.9 cm tear along fold],—it discomposes them and they are more liabl to do what they moste dreaded. these are my thoughts upon this subject. I read Williams'[256] letter with respect and notwithstanding his peculiar mode of address, I thought it was first-rate. I hope his mission will bring him out of the bud into a full blooming flower, and make a man of him. I wish also to say to you Martha keep trying to improve, especially in writing, for you have had a good chance to learn, be sure to spell right, in writing—observe your capitals, I wrote to you and before about this. and then I did not excactly understand the affair myself, conciquently I made some mistakes. you will learn with casual observation that the names of the Deity aught allways to be comenced with a capital letter, also all proper nouns—or names as of John, Sarah &c—should be commenced with a capital, also in commencing new sentances, allways commence with a capital,—all these little difficulties may be easly obviated if you look earnestly into your grammar. all this counsel I take [p. 4] to myself—but my Dear sister I have all moste given up, <the idea of> ever becom[0.4 x 0.2 cm tear along fold] chiro[1.3 x 0.2 cm tear along fold]pher[257] m[1.5 x 1 cm tear along folds] hand has been too badly straned with hard work in its young days. you have not as much excuse, so improve the time— in writing Martha be sure to stile yourself genteelly, and polite,—at the same time do not get swollowed up in the Idea that you are polite, genteel &c—& thus neglect your cautions. I have recieved a letter from Charly[258] that has been opened, by some slipery-fing[1.6 x 2.3 cm tear along fold] Post-master of inqu[1.4 x 0.3 cm tear along folds]s[1.4 x 0.3 cm tear along folds]ive nature, I do not know how it [1.6 x 2.3 cm tear along fold] I would rather folks would let my letters alone, especial[1.6 x 2.3 cm tear along fold] for whome they were not designed—
I have recieved a letter lately from Cousin Josephine, also some poetry she composed on my absence from home. I would write it to you but I think I have not room if I write it to any one of the folks you will see it, it is splendid. in real poetic stile. she said she had written to you but had recieved no letter in return tolde me to speak to you about it, I would advise you to write to her. do your best to spell and write correct, for she is a good writer, this is what I wish you to progress in, till you are also a good writer.— I shall hav[2.1 x 0.6 cm tear along folds] to write several letters to day, some on rather peculiar subjects, which will probably take some more reflection than writing to any one, on common and every-day affairs. At generally takes me about two hours to write such a letter as this altho' I believe I have been writing about an hour on this may be a little more, so you will overlook mistakes and bad writing— I shall have to close for this time, for my sheet is full, and I have other letters to write, as I said before, give my love to Dear Bro. John, Hellen & Malissa, to Sarah—Charles.[259] Sister Smoot,[260] and all enquireing friends. I should write to William but donot know where to direct. to my affectionate Sister M. A. Smith— from your affectionate Brother, God Bless you— Joseph Smith
P.S. also give my love to Aunt Thompson, to Mary Jane,[261] and be sure to give my love to our Dear Sister Jerusha, to Uncle and Aunt Fieldings[262] and finally to All Joseph[263]
N. B. you mentioned something about sending some money, but said nothing definate, so, I am not certain how it stands. if you sent it, ts is lost, but if you did not send it—you nead not bother about it, for the lord has been with me & I have never wanted neither will I, so rest unconcerned about me. as ever Joseph.[264]
Martha Ann to Joseph F.
G S L Co utah Try Julie the 3 857[265]
Most Dear and affectiona Brother Joseph
it is with a trembling hand and a palptating heart that I again take my pen in my hand to write a few lines to you to let you know how how I am gitting along and the rest of the folks. I am gittng long very well and feel first rate in bod<d>y but some troubled in mind. I can not help thinking about you away of thare alone fear from your fri<e>nds and relatons all that is dear to you with out enay of the comforts of life and I suppose not heardley enough to sustain life, for I hear thare is a fammnie[266] thare. O that I could have shareed it with you, [illegible strike-through] or could have known for moment what you have suferd <I mean in my own mind> it would have done me good and made me feel lots better I never ralised your sittuation untill laitellly of or not near so much I I do <[illegible strike-through]> noow. I have been allmost sensless sence you left it seems to me like a dreem and I some times think and all most loose myself in thaught and I say is thare such a boy as Joseph F smith in the wourld and it seams like you had ben gon an age of most. to look back on the changees that has took place sence yo left home bu to look at years and months it looks like a shhort time sence [p. 2] we all stood round in a ring and bid you gooby, that was a sean that can not be forgotton by me. O Joseph I do look forward to that day when we shall aain meet. Would to god that it was now that I could meet you and be encirked in your arms and recieve that [illegible strike-through] warm kiss that I so ofton receive in dreams and it be in reality O dearest brother it would be the happest hour that ever I pent in my life O I can scarcelly wait for that day. but when you return home you will not see that little slender girl that you you left but a tall girl of some 5 foot and 8 inches tolerable light complctted dark [illegible strike-through] blue eyes and light [illegible strike-through] hare and a <g>rate big nose with a bone shticking upon it. I am not in the least hansm. but that does not hurt my goodness if I am good but I am not as good as I would like to be. I am not pirfect yet but I do desire to do right with all my heart, and improve my self all in my power. I have ben to meeting to day and enjoyd the best spirret that I ever enjoyd in my life life that I can remember off. it is fast day and I fasted untill 2 o O clock pm and I went to meeting 27 min<u>its ten O clock we have had got the finest shool house you ever saw in your life or not in your [p. 3] life one of the fineest in the in the valley at enny rate I now not how menny you have seen sence you left home of splended school housees. Joseph you must excuse my ill manner of composeing my letters if you pleas. and be like the man when <when> the jack ass kicked him you mus considder from whence it comes or they come. O Joseph I do not sopose that I have not got quite as good intellect as some folks has or elce I have not got the powers of collectting my feelling arite to bring up everry point like as I would [illegible strike-through] <like> to but you every booddy is not alik, and I must be contented with it. I have not got good memory as I would like to have or I might have been a good schallar. dearst brother you may have thaught that I was distant in my way of writing but thare thare is whare is whare my fault lays I can not convey my idars in a ways that can be under stood. but I prey god that he will enable me so to do. O Joseph you do not know my love for you my God onelly my love for you and <my> weell <my> wishes <for> your welfare. my dearst brother I never in my life done a little mean trick to you but what I have thaught of it a thousand times sence you left home with regret and sorrow. my heart is lots warmmer than it youst to be Joseph and thare is not a girl in the world that loves [p. 4] her brothers and sisters and friends and relations than I do and nothing in the world cold have inticeed me me to have got married if things had have not have been just as they my was. I can not tell you how it was with me, by leter. but I will tell you when you when come home. and I do not believe you will blame me for doing as I have done. when you come home I will tell you all. and do not condemn me untill you know all and then you will not blame me. I am learning to weve real well and when you come home I can [illegible strike-through] weave you a pair of pants. and weaving is the best trade that a womern can have in this country. and I am gld that I have got the chanch to learn. I have not went to meeting last night and Sarah[267] [illegible strike-through] stayd with me all and she is hear now and sister harris sent for sister griffin and emmoely[268] and they came over and they are all thare and sarah has got one of the prttyest little girls[269] you ever set eyes on I do believe. they are all pritty I think Sarah tels me to give her love to you and sais she will not write to you for she is no writer but it is not becaus she has forgotton you in the least. I migh might say the same but I love to write to you when I can git the chance. I must bring my letter to close and I will not have a chance to write [illegible strike-through] <to you enny more> to and I am glad of it for I do want to see you if you believe me [illegible strike-through] good by dear brother Martha ann
Joseph F. to Martha Ann
Lanai, Sandwich Islands
July 25th 1857—[270]
Dear Sister Martha Ann:— I recieved your long letter of May 3rd—about a week ago, and was verry glad indeed to hear from you; I was somwhat surprised on hearing of your marriage.[271] but as I was not there to partisipate in the in the scene, I can only wish you much joy;—and happy life You have now taken the moste important step of your life—or existance—under the Bonds of the Gospel. upon the step you have just taken is pending all the social enjoyments—and happiness of your present existance—and the Blessings of a happy and chearful home. as well as an obediant and God-like posterity,—or the misories and heart-rending scenes: of discontent,—discord & bitter unhappiness;—I almoste quake when I think upon this all obsorbing subject—to the center. when I look around me and reflect upon the many direful circumstanses accuring from day to day,—among the great and the Learned, the Small and the Ignorant, as well as the Rich and the Poor;—of "heart-Broken" women, distracted husbands, "Jealousy" in all its hideous formes—suspicion with all his train of poisonous rancour. with his drawn daggar and un-cheathed vengense. ready to spill the hearts Blood of "Wives", "Husbands", & "Children"! I shrink with horro<u>r from the scene:— It does seem curious in the extreem to me, why folks go so head-long into business that so greatly concerns their future prosperity and happiness on the other hand will bring down upon them ponderous grieveancies, and a world of truble,—from which they may never extract themselvs—and inverriably a Bad name—however—with all these conciderations—before us—it is not with us, as it is with the World at Learge—we have the the light of the Gospel the—influance of the Holy Spirit—the teachings of the Prophits & servants of God, to "Lead us into all truth"[272] and teach us our duty— If you have adhered to counsel—it is all right—and you will come off victorioous. You will certainly leave off Girl-ism now. I hope you will remem[p. 2]ber your possition, and let your actions and conduct in all things, and at all times be such as will store up for you Respect, Esteem, and Friendship in the heart of every honest and good person. now, do you want me to tell you the way to attain to this desireable possition?— prayer—with faith, and hope on Jesus and his Gospel, will alone do it. a person that holdes your stateon in the True Kingdom of God, need never fear the face of "Clay". be determined and resolute in prayer and the Gospel, so that you could see Joseph John—Jerusha—Sarah—and every one els go [0.5 x 0.5 cm tear along folds] Heel and be damned[273]—and never shake your faith! "lean not upon the arm of flesh".[274] I can never save you, neither can I be saved by aught but my own good faith and works—now if you are sinceerly prayrful, the spirit of prayer is the spirit of God and it will lead you "into all truth"[275] & will never urr <err>. you will never yeald to temptations, and allurements, but will stand fast, and ever True to him with whome you have covenented to abide through all the vicissittudes of Life and death. you can never suffer by scandal, defamation, pique and misrepresentations, for none but miserable wretches would ever indulge in such meanness, be sure you are true and guiltless, and then be calm and quiet—and let the world roal on just as it may never head or listen—nor associate with the Law and vulgar—eschew them as you would a hidious evil—unless you are capable of raising <them> from their degridation—then you must never desend to their ways and pract<ice>. but make them assend to yours. never indulge in "tale-Bearing"—"Tatteling" &c.—this is the moste miserable and outragious evil that is extant—hear the words of Bro. Brigham on this subject—Read the Deseret News—the "discourses" at least, and lay them at heart,[276]—adhibit yourself, Marth Ann, to sobriety—and taciturnity[277]—be studious with all—learn every thing you can—but when you have learned do not tell it—but "wear your knowledge like a watch, in a private pocket, and if you are asked what time it is, tell it—" but do not tell it before you are asked,[278]—I feel deeply for your intrest, and allways remember you in my prayers—feel for me the same. Martha Ann? [p. 3] Mormonism is the verry life of my soul—I love it—would die for it without a groan. when ever I bare my testimony to it—I feel as though I could sink the world—hurl the eternal Hills into perpetual space, or shake the verry heavens with my strength! by this I know that the Spirit of the Lord Bears record of the Latter Work, and I never can deny its truth unless I lie! yet, am I a perminent Rock which the fluds of Hell may <overwhelm> yet never shake? is it imposible for Saten to overcome me? no—when I look at the mighty Men that have rent the vail of Heaven and viewed the mansions of eternal Bliss, beheld the Throne of Almighty God—and yet have fallen!![279] never more to rise! my soul burns with-in me, and I fear and tremble. but those who have the same thoughts will know that feelings of this kind are easier experiansed than expressed— O! that we may "live our Religion!"
I recieved a letter from Cousin Josephine not long ago—but I believe I told you of it when I wrote before,—she was well—she did not say any thing about Agnes,—said her Mother[280] she feared was "sewing herself to death," they are living at a town Called Las Angelos[281]—some distance from San Bernardino,[282] and about 600 miles from San Francisco—they seem to be anxious for me to return. she says she has written to you several times, but has recieved no answers—just emulate her hand write, Martha—as neer as posible—she writes first rate. devote as much time as posible in learning to write. I have often tolde you I never expect to be a good writter, I've worked too much, at hard labor. I suppose you remember a certain ocasion on which I was lain up with a Broken Bone in my right hand,[283] I have never fully regained my usual agility in that hand, nor do I ever expect to;— It cramps my hand to write—so I am allways compelled to write as fast as posible—hence many mistakes and a bad hand-write.— I am verey careless too in writing—as I do not take much pride in it,—you should be more careful,—in writing—just say what you have to say—and then quit! take no round about course to tell any-thing—and make no apologies for what you are going to say [p. 4] but after you've said it—if necessary—smothe it over a little—in writing to me I do not want you to smothe any thing over—let it come indigenious and unsoffisticated with fals modisty, and it will relish well anoug.— if by taking this course your minde is not "Big" anough to fill three or four fools Cap[284] sheats, get some good piec[◊] of poetry—a "patent sermon"[285]—ore a good interresting moral story—a striking Historical event, a philological or philosophical problem, or any thing els—something that will help pass a lonly moment, or chear up a sad-fraught hour,—but do not exaust a hundred words to express just one Idea—like I do!— you must excuse me seeing I'm a learner like yourself=[286] the Idea of it, is, I scarcely know when to stop, when I get to writing to my folks at home,—I feel as though I would like to tell them the depths of my heart=[287] although they do not call me any way loquacious— Only when I write home!
I wrote a long letter to Aunt Thompson[288] yesterday-evening—gave her a short history of my travels for the last three or four months, it may b be interresting to you, if you have an oppertunity of hearing it. The 24th of July passed uncerimoniously with us here. I am now stoping with Bro. S. M. Molen[289] on the Island of Lanai, as you will see by the heading of this letter. I left my field of Labour on the 11th instent, expect to return in a short time. The Natives are verry poor here upon this Island as they have mostly all left their homes and came to this place, consonant with the Counsels of the President[290]— Bro. Molen and I are living on Boild Pumpkins and Squashes—with a little Goat meat which we are thankful to get. I think <we> will soon have more to subsist upon before long— I must now close.— I am short of poastage Stamps, so I will enclose a letter to Cousin Georg Gee[291] in this, you will pleas forward it to him, present my love and esteem to Sisters Smoot, & Harris, to Bro John,[292] his family and to all enquiring friends my cordial rememberance— may God Bless you allways is my prayr. your Bro, Joseph Smith Martha Ann to Joseph F.
Dear Brother I will write a word or to more as thare is room in Janes[294] letter I am ashamed of that I wrote in the other but I could not cut it out with out cuting some of hers of and so I had to send it but you will excuse the bad writng this time for this ink was made of gunpouger and vinager and you mist not git to near the fire when you read it or it may blow you up if you are not carefull. aint you afraid of it. Jane made it yester day and we have both wrote with it we had no other kind and so we had to. May the lord bless you is the prayer of your sister
Martha Ann to Joseph F.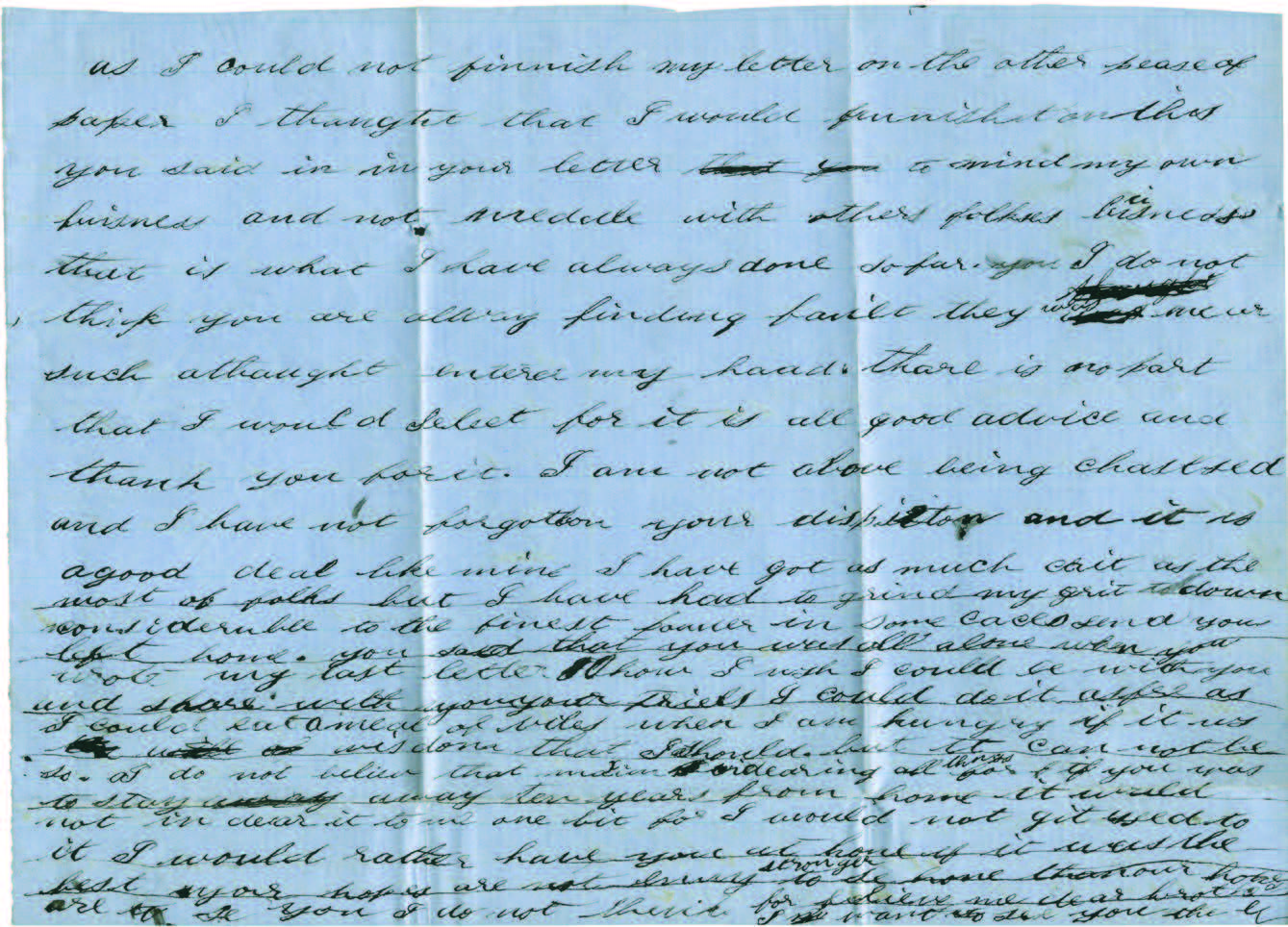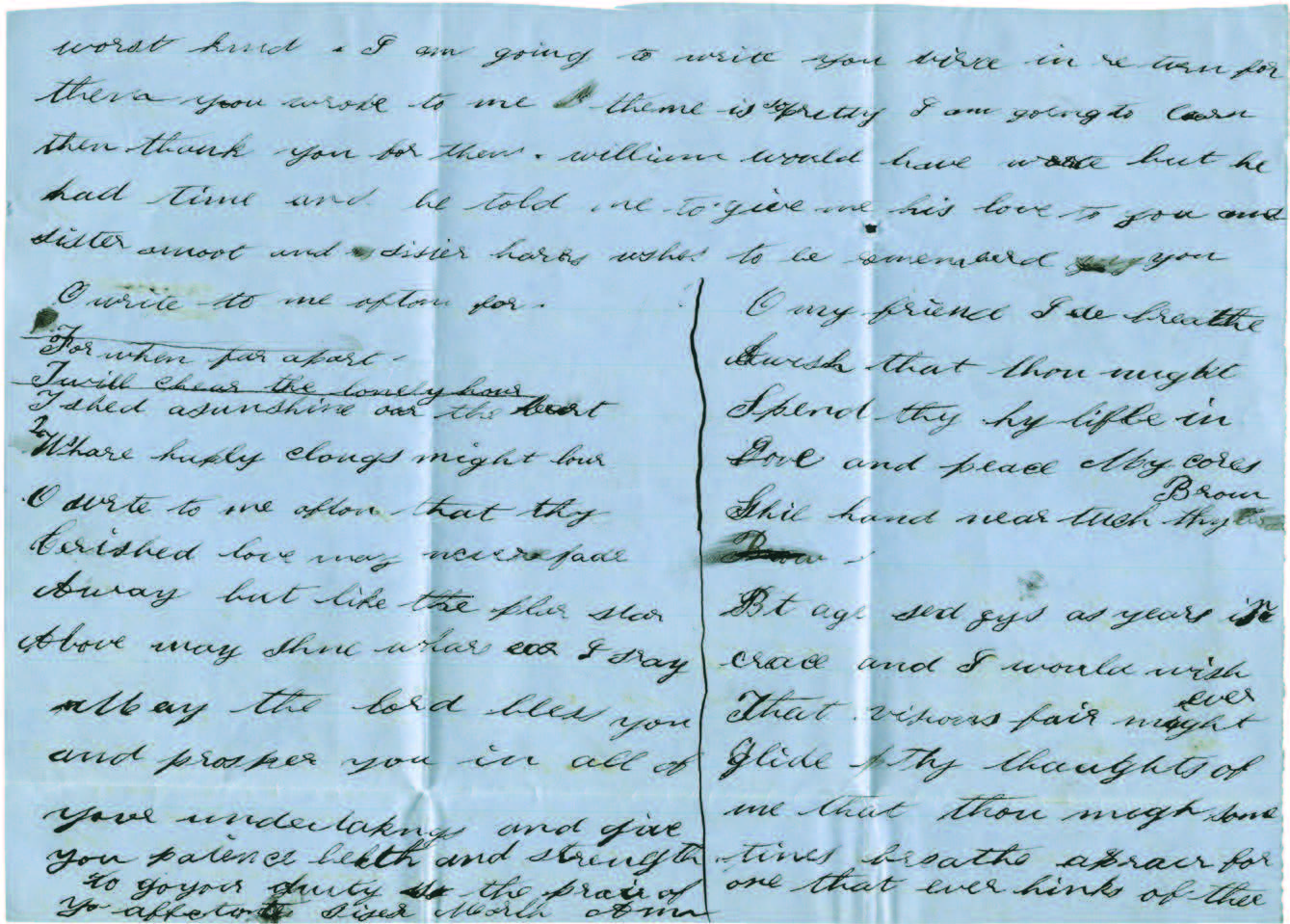 Martha Ann to Joseph F., [1857?]
[1857?][295]
worst kind [illegiable mark] I am going to write you twice in return for them you wrote to me [illegible erasure or mark] theme is <so> pretty I am going to c[◊]aser then thank you for them.william[296] would have wrote but he had time and he told me to give me his love to you and sister smoot[297] and [illegible erasure or mark] sister harris[298] wishes to be remena and [illegible erasure or mark] you write to me often for
For when far apart
Twill cheas the lonely hous
T shed asunshine on the heart
Whare haply clongs might lovr
O write to me often that they
Cerished love may never fade
Away but like the plar[299] star
Above may shine whare e[◊][◊] I stay
May the lord bless you
And prosper you in all of
Your undertakings[300] and give you patence helth and strength
To do your duty so the price of
You affection [illegible erasure or mark] sister Marth Ann
O my friend I do breathe
A wish that thou might
Spend thy hy lifle in
Love and peace cores
Thie hand near tuch <Brown> thy [illegible erasure or mark]
[illegible erasure or mark]
But age send guys as years in
crease and I would wish
That visions fair might <ever>
Glide they thoughts of
Me that thou might some
times breathe a praer for
One that ever thinks of thee
As I could not finnish my letter on the other pease of paper I thought that I would finnish it on this you said[301] in your letter <that> <you> to mind my own buisness and not meddle with others folks bi<u>sness that is what I have always done so far. [you] I do not think you are always finding fault they [illegible strike-through] <was> never such athought entered my head. Thare is no part that I would select for it is all good advice and thank you for it. I am not above being chastsed and I have not forgotten your dispi[◊]to[◊] and it is a good deal like mine I have got as much eait as the most of folks but I have had to grind my grit[302] <to> down considerable to the finest powder in some caces sence your left home. You said that you was all alone[303] when you wrote my last letter [◊] O how I wish I could be with you and share with you your trials I could do it as far as I could eat a meal of vites when I am hungry if it was [illegible strike through] [illegible strike through] [illegible strike through] wis dom that I should. but it can not be so. I do not believe that mation [◊] onsearing all <thanks> for [◊] if you was to stay [illegible strike through] away ten years from home it would not in dear it to me one bit for I would not git used to it I would rather have you at home if it was the best your hopes are not being <stronger> to be home thank our Lord for believe me dear brother are to be you I do not think I want to see you the[304]
[Place image 78 and 79 here]
Joseph F. to Martha Ann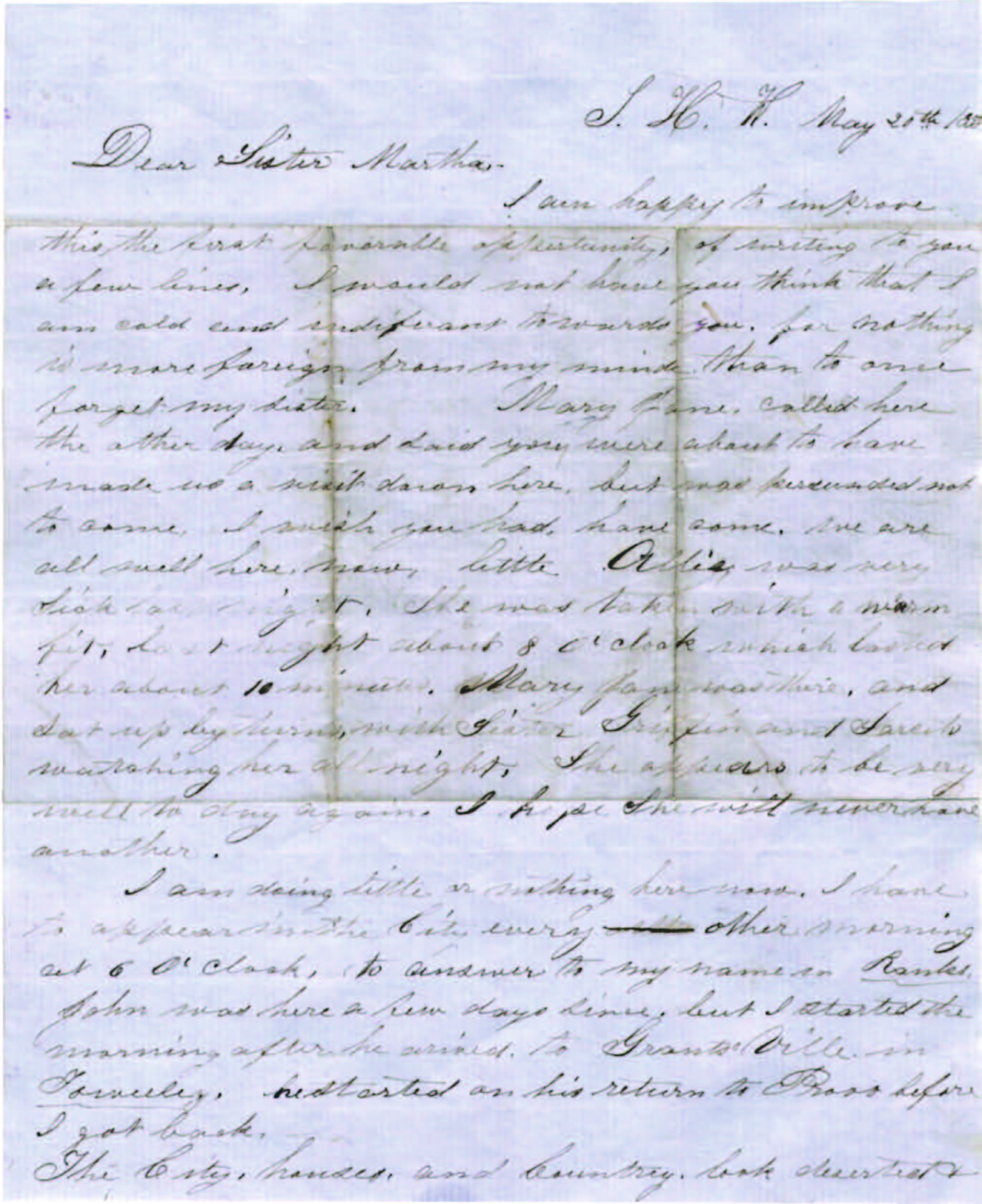 Joseph F. to Martha Ann, 20 May 1858 (p. 1)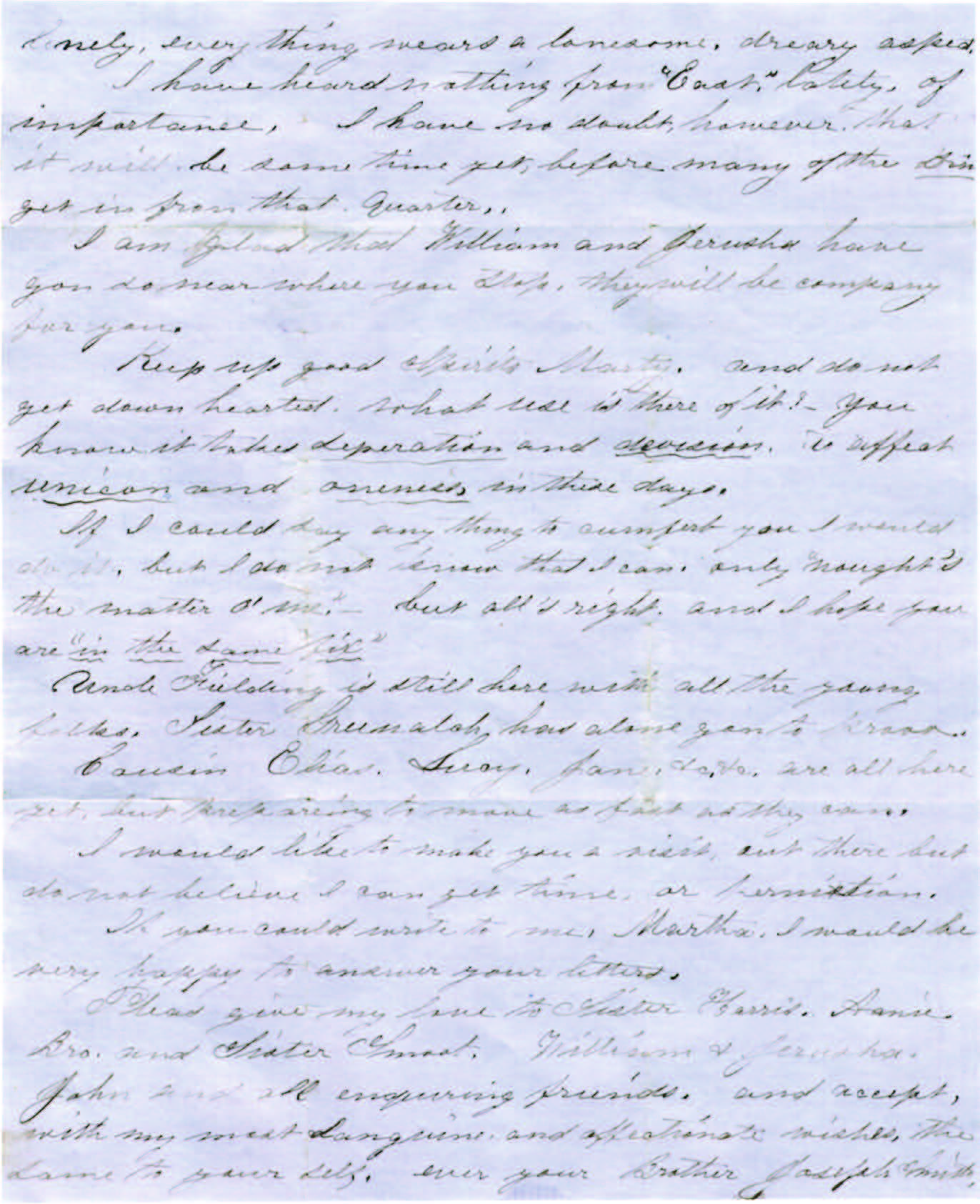 Joseph F. to Martha Ann, 20 May 1858 (p. 2)
S. H. W.[305] May 20th 1858[306]
Dear Sister Martha,—
I am happy to improve this, the first favorable oppertunity, of writing to you a few lines.[307] I would not have you think that I am cold and indiferant towards you, for nothing is more foreign from my minde than to once forget my sister. Mary Jane,[308] called here the other day, and said you were about to have made us a visit down here, but was persuaded not to come, I wish you had, have come. we are all well here, now, little Allis[309] was very sick last night. She was taken with a warm fit, last night about 8 O'clock which lasted her about 10 minutes. Mary Jane was there, and sat up by turns, with Sister Griffin and Sarah[310] watching her all night. She appears to be very well to day again. I hope she will never have another.
I am doing little or nothing here now.[311] I have to appear in the City every \ other morning at 6 O'clock, to answer to my name in Ranks.[312] John[313] was here a few days since but I started the morning after he arived, to Grants' Ville in Toweele,[314] he started on his return to Provo before I got back.
The City, houses, and Countrey, look deserted & [p. 2] lonely, every thing wears a lonesome, dreary aspect.[315]
I have heard nothing from "East,"[316] lately, of importance. I have no doubt, however, that it will be some time yet, before many of the Brn[317] get in from that Quarter.
I am glad that William and Jerusha[318] have gon so near where you stop, they will be company for you.
Keep up good Spirits Marty, and do not get down hearted, what use is there of it?— You know, it takes seperation and devision, to affect unicon and oneness, in these days.
If I could say any thing to cumfert you I would do it, but I do not know that I can, only "nought's the matter o' me,"—but all's right. and I hope you are "in the same fix"
Uncle Fielding[319] is still here with all the young folks. Sister Greenalch[320] has alone gon to Provo.
Cousin Elias, Lucy, Jane,[321] &c. &c. are all here yet, but prepareing to move as fast as they can.
I would like to make you a visit, out there but do not believe I can get time, or permistion.
If you could write to me, Martha, I would be very happy to answer your letters.
Pleas give my love to Sister Harris, Aanie, Bro. and Sister Smoot, William & Jerusha, John[322] and all enquring friends. and accept, with my most sanguine, and affectionate wishes, the same to your self, ever your Brother Joseph Smith.
Notes