Historical Background
Kip Sperry, Kirtland, Ohio: A Guide to Family History and Historical Sources (Provo, Utah: Religious Studies Center, Brigham Young University, 2005) 21–24.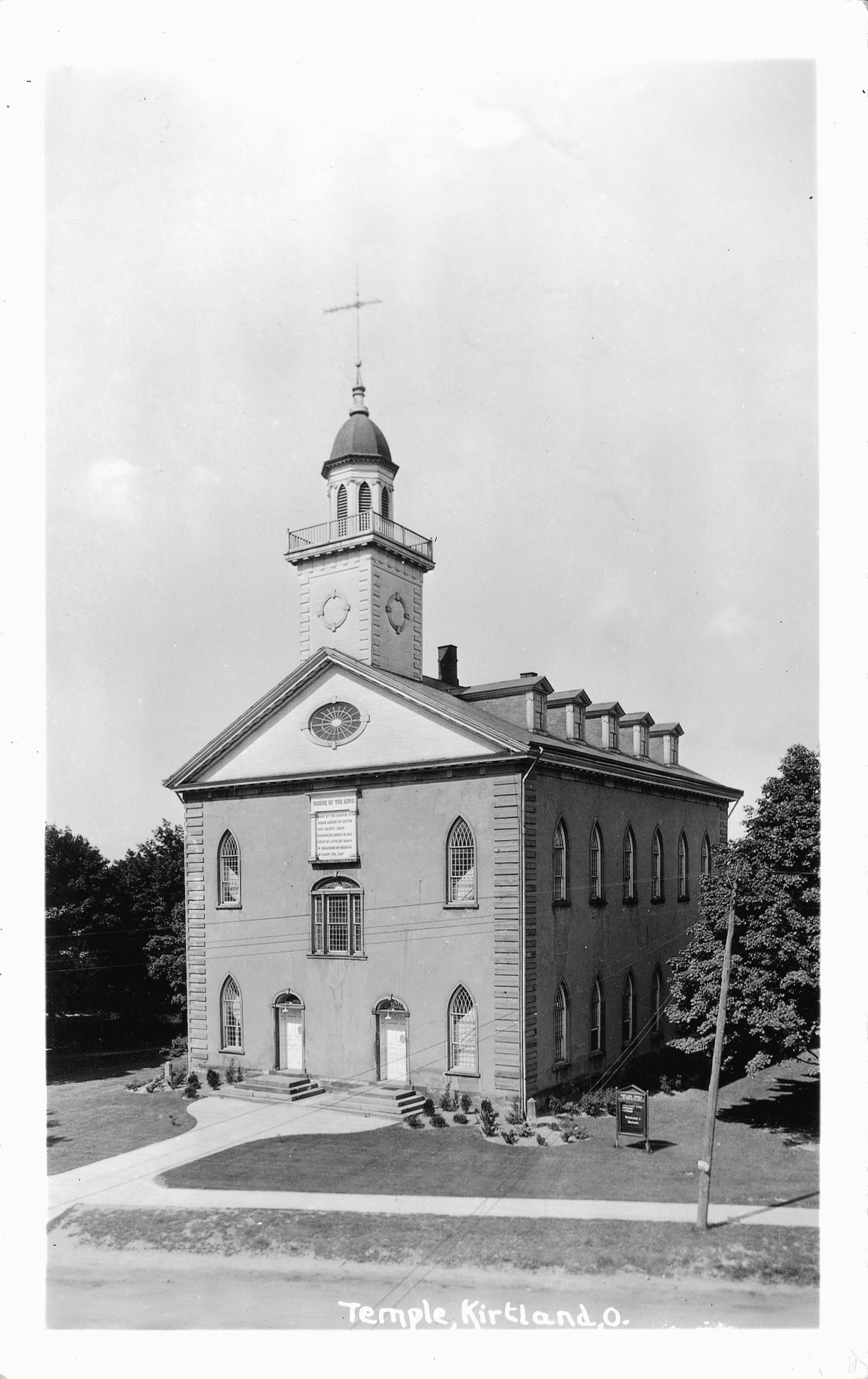 Temple, Kirtland Ohio, early 1900s. Courtesy of L. Tom Perry
Special Collections, Harold B. Lee Library, Brigham Young
University, Provo, Utah.
Kirtland is located about twenty-two miles east of Cleveland, in an area of northeastern Ohio known as the Western Reserve (sometimes known as the Connecticut Western Reserve since Connecticut once claimed this area for its own settlers). Early settlement began in what is now Kirtland Township, about five miles south of Lake Erie, in 1810. [1]
The town was named after Turhand Kirtland, an early explorer in what is now Kirtland Township and a stockholder and general land agent o f the Connecticut Land Company. From 1812 to the 1820s, early settlers from New England and the eastern states arrived in the Kirtland area. Here they erected homes, an ashery, a water-powered sawmill, a gristmill, a schoolhouse, a hotel, a general store operated by Newel K. Whitney, and other buildings. Life was hard during this period for the early settlers, who encountered bears, wolves, rattlesnakes, deer, elk, and other wild animals, as well as thick forests, hot summers, and cold winters. [2]
Kirtland was headquarters of The Church of Jesus Christ of Latter-day Saints (LDS or Mormon Church) from 1831 to 1838. The time the Mormons spent in Kirtland is often known as the "organization period for the Church." During this period the Church built its first temple—the Kirtland Temple, which is located on a hill south of the Chagrin River [3]—but some members had already migrated to Jackson County, Missouri. Beginning in 1838, most of the members left northeastern Ohio because of financial difficulties and an unfriendly environment in the Kirtland area. They migrated west to several northwestern Missouri counties, principally Caldwell and Daviess counties.
Kirtland was in Geauga County until 1840, when Lake County was formed. Chardon is the county seat of Geauga County, and Painesville is the county seat of Lake County. Kirtland land area covers about seventeen square miles and is bordered on three sides by the east and west branches of the Chagrin River.
While Kirtland served as LDS Church headquarters, from 1831 to 1838, the following historical events occurred in and near the town:
• LDS Church Presidency organized
• Quorum of the Twelve Apostles organized
• First Quorum of the Seventy organized
• First LDS Church Patriarch ordained
• First patriarchal blessing given at the John Johnson Inn, Kirtland
• High priests quorum organized
• First stake in the LDS Church organized (similar to a diocese)
• High council organized (a body of twelve high priests who advise and assist the stake presidency)
• First LDS bishop ordained (Edward Partridge)
• Second LDS bishop ordained (Newel K. Whitney)
• School of the Prophets organized at the Newel K. Whitney Store
• Nearly half o f the revelations in the Doctrine and Covenants received
• First edition of the Doctrine and Covenants printed
• Second edition of the Book of Mormon printed
• Portions of the Pearl of Great Price translated
• Inspired Version of the Bible translated by Joseph Smith Jr.
• Heavenly visions received in the Kirtland Temple and elsewhere in the Kirtland area
• Missionary work expanded to include foreign countries (the LDS Church presently has over sixty thousand full-time missionaries serving throughout the world)
• Welfare system in the LDS Church established (where local ecclesiastical leaders assist needy Church members and others)
• First Latter-day Saint temple built, the Kirtland Temple
• Preliminary temple ordinances introduced
• Spiritual manifestations received by Church leaders and Church members
• Church's health code established, known as the Word of Wisdom
Notes
[1] Anne B. Prusha, A History of Kirtland, Ohio (Mentor, Ohio: Lakeland Community College Press, 1982), 4.
[2] Prusha, A History, 5–6. For a description of pioneer life in nineteenth-century Kirtland, see Christopher Gore Crary, "Frontier Living Conditions in Kirtland," in Ohio's Western Reserve: A Regional Reader. Ed. Harry F. Lupoid and Gladys Haddad (Kent,
Ohio: Kent State University Press, 1988), 71–75; Christopher Gore Crary, Pioneer and Personal Reminiscences (Marshalltown, Iowa: Marshall Printing, 1893; Cleveland: Micro Photo, Inc., 1967; Ann Arbor, Mich.: University Microfilms, 1980); Harry Forrest Lupoid, The Latch String is Out: A Pioneer History of Lake County, Ohio (Mentor, Ohio: Lakeland Community College Press, 197A); and Lake County Historical Society, Here is Lake County (Cleveland: Howard Allen, 1964).
[3] The Kirtland Temple is now owned by the Community of Christ.