Appendix: Kirtland Temple pulpits
Kip Sperry, Kirtland, Ohio: A Guide to Family History and Historical Sources (Provo, Utah: Religious Studies Center, Brigham Young University, 2005) 225–226.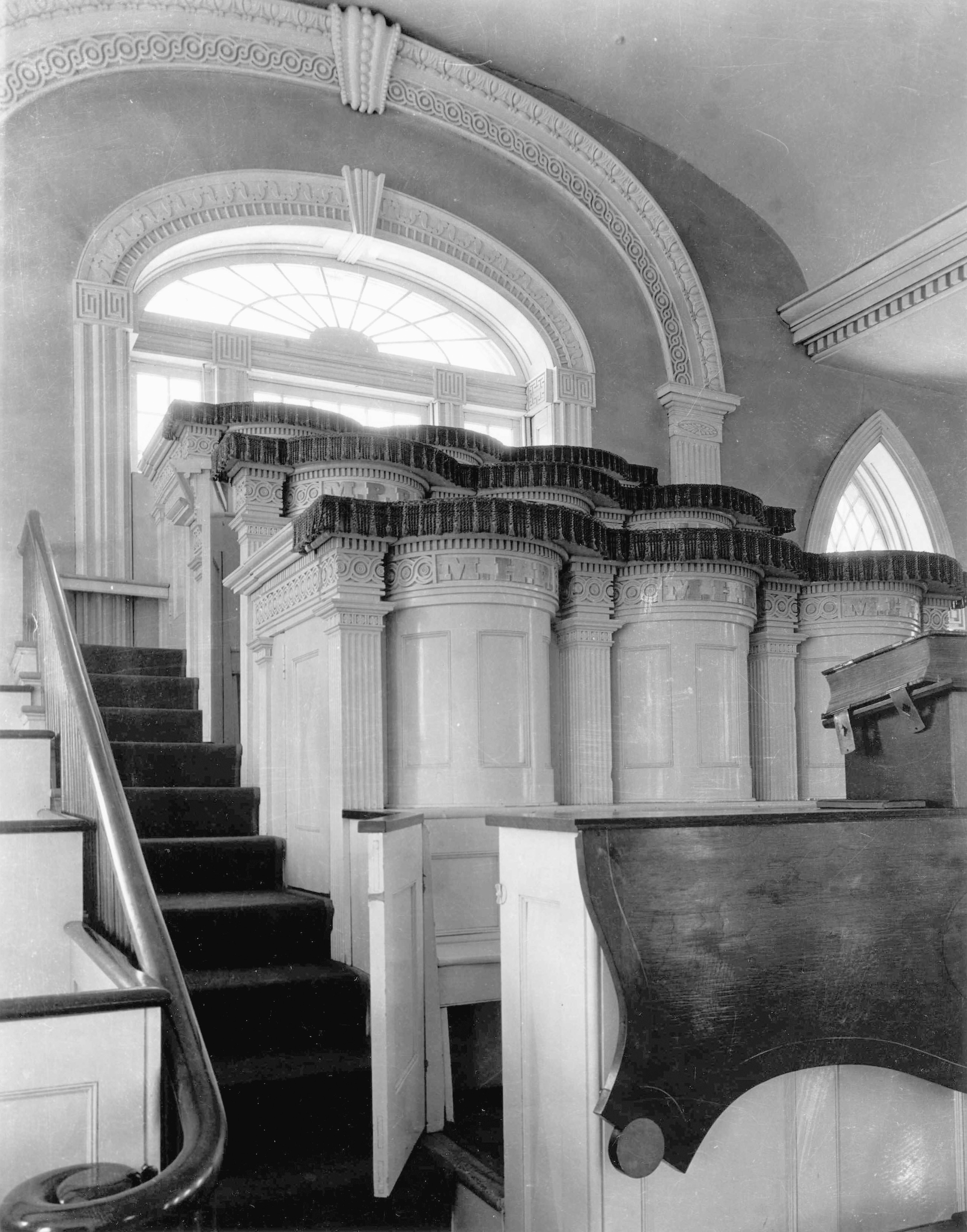 Kirtland Temple interior, Melchizedek Priesthood pulpits, August 1907,George Edward Anderson Collection. Courtesy of Church Archives, TheChurch of Jesus Christ of Latter-day Saints, Salt Lake City, Utah.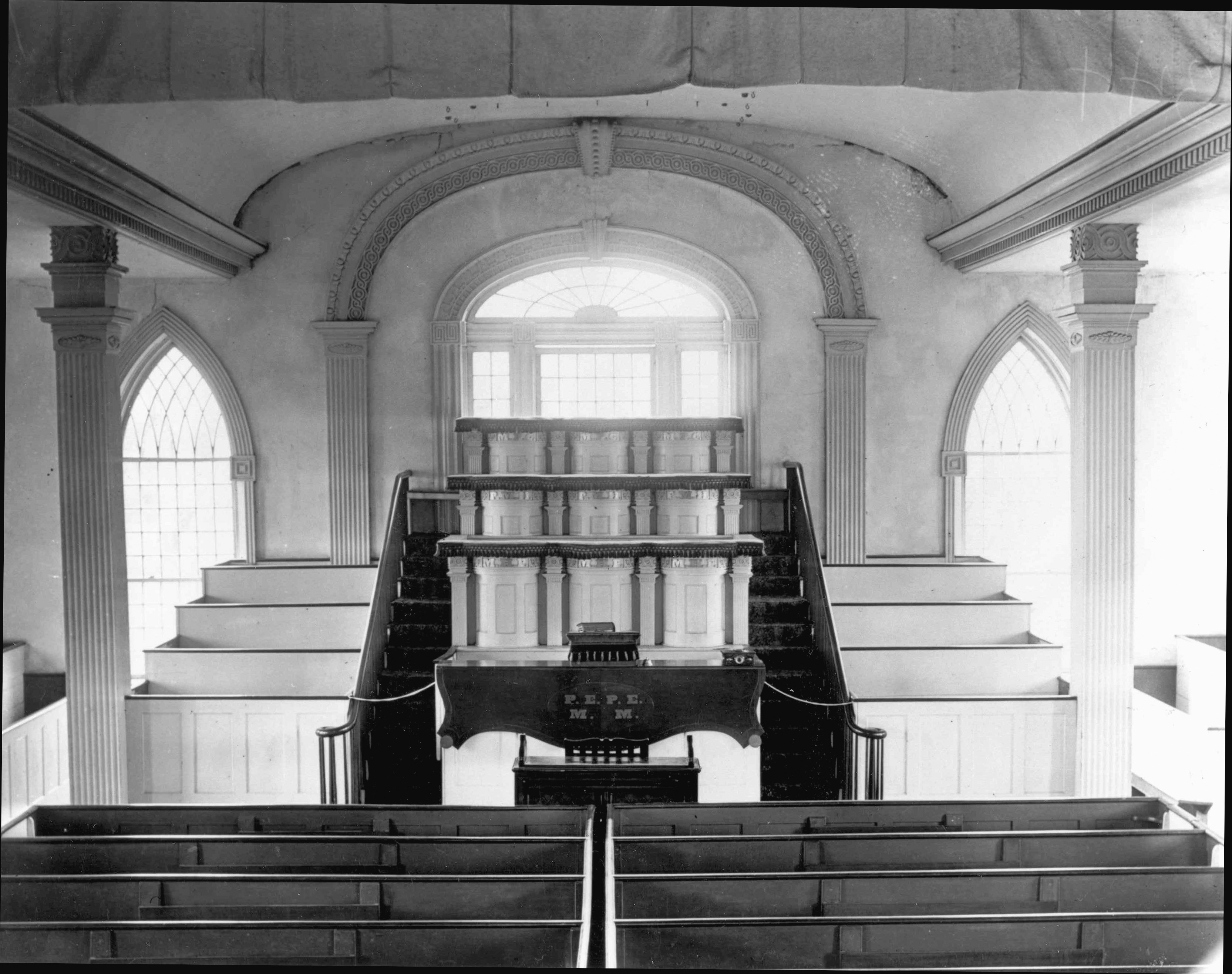 Kirtland Temple interior showing the Melchizedek Priesthood pulpits,detail of west pulpits, lower assembly room, 1935. Courtesy of Library of Congress Print and Photographs Department, Washington DC.
Kip Sperry
BECAUSE OF GENERAL INTEREST REGARDING THE INITIALS on the pulpits in the Kirtland Temple, they will be explained in this section. There are two sets of elevated pulpits (altars) in the Kirtland Temple, known as the house of the Lord—one set is located in the lower auditorium and another set in the upper (second floor) auditorium. Pulpits in the upper court (second floor) of the temple are not as decorative and are less elevated. The lower auditorium also has a drop-leaf table in front of the Melchizedek pulpits for preparing the sacrament. The initials engraved in gold letters on the curved panels of the Melchizedek Priesthood pulpits (facing east) and the Aaronic Priesthood pulpits (facing west) designate various presiding officers in the Church. Initials on the pulpits are described below. [1] The lower court was designated by revelation to Joseph Smith for offering the sacrament, preaching, fasting, and praying, while the upper court was built as a school for the Latter-day Saint Apostles. [2]
WEST TIER, MELCHIZEDEK PRIESTHOOD PULPITS
M.P.C. Melchizedek Presiding Council (First Presidency of the Church or Stake)
P.M.H. Presiding Melchizedek High Priesthood (Quorum of the Twelve Apostles, or Stake High Council)
M.H.P. Melchizedek High Priesthood (High Priests Quorum)
P.E.M. Presiding (Presidency) Elders Melchizedek (representing Elders Quorum)
EAST TIER, AARONIC PRIESTHOOD PULPITS
B.P.A. Bishop Presiding over Aaronic Priesthood
P.A.P. Presiding (Presidency) Aaronic Priests
P.T.A. Presiding (Presidency) Teachers, Aaronic
P.D.A. Presiding (Presidency) Deacons, Aaronic
Notes
[1] Milton Vaughn Backman Jr., The Heavens Resound: A History of the Latter-day Saints in Ohio, 1830–1838 (Salt Lake City: Deseret Book, 1983), 160; Harry Black, Kirtland Temple (Independence, Mo.: Herald House, 1958), 17–18; Richard O. Cowan, Temples to Dot the Earth (Springville, Utah: Cedar Fort Incorporated, 1997), 21–35; and Clarence L. Fields, "History of the Kirtland Temple," master's thesis (Brigham Young University, 1963), 28. There are some discrepancies regarding the description of the initials on the pulpits as shown in these and several other publications. In addition, some of the interpretation of the initials on the pulpits may not be contemporary to the early Kirtland 1830s time period.
[2] D&C 95:14–17. See also D&C 88:119–141; 94:1–17.