Appendix: Internet Sites
Kip Sperry, Kirtland, Ohio: A Guide to Family History and Historical Sources (Provo, Utah: Religious Studies Center, Brigham Young University, 2005) 203–212.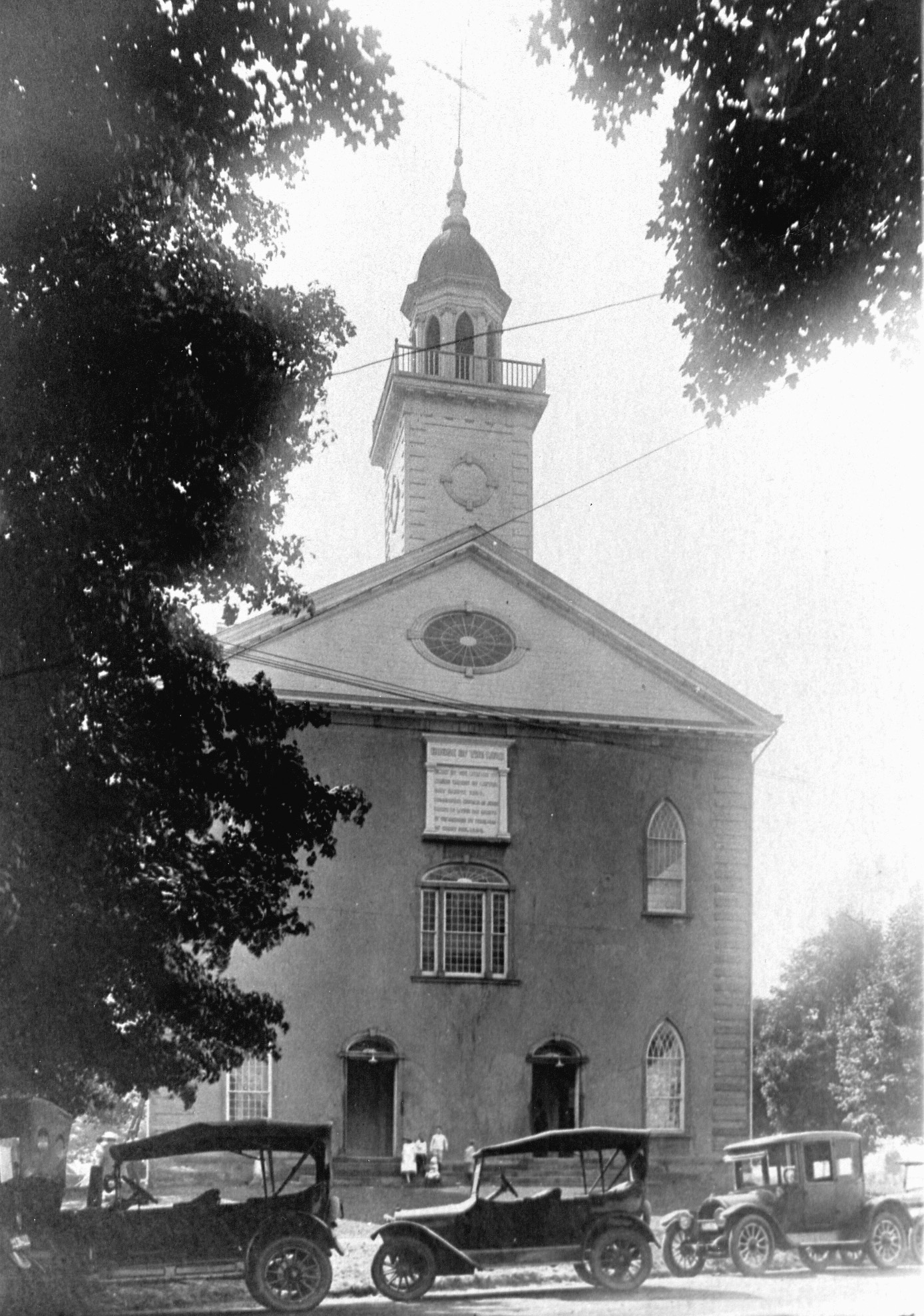 Kirtland Temple, ca. 1920, photograph probably taken between the years 1916 to 1922 (information from Al Unrein, manager of the Crawford Auto Aviation Museum, Western Reserve Historical Society, Cleveland,Ohio). Image (number D1653.2). Courtesy of Community of Christ Archives, Independence, Missouri.
Kip Sperry
Archives, Libraries & Societies: The Lake County Ohio Genealogical Society, by Dennis N. Partridge
www.genhelp.org/article.php?sid=61
Ayres & Osborn, Mormons, Kirtland, Ohio: A Composition www.geocities.com/Heartland/Meadows/7937/ayres_osborn_ kirtland_oh.htm
Cemeteries of Geauga County, Ohio
www.interment.net/us/oh/geauga.htm
Cemeteries of Lake County, Ohio
www.interment.net/us/oh/lake.htm
Census, Ohio, 1820–1930
www.ancestry.com
www.genealogy.com
www.heritagequestonline.com
www.censuslinks.com
Census, Ohio, 1880
www.familysearch.org
www.ancestry.com
The Church of Jesus Christ of Latter-day Saints (LDS)
www.lds.org
Community of Christ, Independence, Missouri
www.cofchrist.org
Community of Christ, World Headquarters Library-Archives, Independence, Missouri www.cofchrist.org/templeschool/library
CousinConnect.com—Geauga County, Ohio
www.cousinconnect.com/p/a/102041
CousinConnect.com—Lake County, Ohio
www.cousinconnect.com/p/a/102056
East Kirtland (Ohio) Cemetery
www.rootsweb.com/~ohlcgs/kirtland/browncem.html
FamilySearch Internet Genealogy Service
www.familysearch.org
Geauga County Archives and Records Center www.co.geauga.oh.us/departments/archives.htm
Geauga County Genealogical Society
www.geaugalink.com/adultorg/gcgensoc.html
Geauga County Genealogy Queries
www.cousinconnect.com/p/a/102041
Geauga County Government
www.co.geauga.oh.us/index.htm
Geauga County Government Offices and Departments
www.co.geauga.oh.us/departments.htm
Geauga County Historical Society
www.geaugahistorical.org
Geauga County, Ohio
www.co.geauga.oh.us
www.rootsweb.com/~ohgeauga/geauga.html
Geauga County, Ohio, County Information
http://homepages.rootsweb.com/~maggieoh/mgeauga.html
Geauga County, Ohio, Genealogy Links www.genealogylinks.net/usa/ohio/geauga.htm
Geauga County, Ohio, Historic Sites
www.tourgeauga.com/historic_sites.html
Geauga County, Ohio—Index to Folders
www.rootsweb.com/~ohgeauga/gcoancestors.htm
Geauga County, Ohio—Index to Surnames, Queries, Researchers
www.rootsweb.com/~ohgeauga/qryindex.htm
Geauga County, Ohio Link
www.geaugalink.com
Geauga County, Ohio, Tombstone Transcription Project www.rootsweb.com/%7Ecemetery/ohio/geauga.htm
Geauga County, Ohio (US Gen Web Project)
www.rootsweb.com/~ohgeauga/geauga.html
Geauga County Public Library, Chardon, Ohio
www.geauga.lib.oh.us
Geauga County Public Library: Genealogy Programming
www.geauga.lib.oh.us/GCPL/Genealogy/Genie.htm
Historic John Johnson Home, Hiram, Ohio
www.lds.org/placestovisit/location/0,10634,1834-1-1-1,00.html
Historic Kirtland, Kirtland, Ohio
www.HistoricKirtland.com
Historic Kirtland Visitors' Center, Kirtland, Ohio
www.lds.org/placestovisit/location/0,10634,3986-1-1-1,00.html
Historical Collections of Ohio: Cuyahoga, Geauga, and Lake Counties
www.isle-of-man.com/manxnotebook/fulltext/ohl849
Index to the Folders of Geauga County, Ohio Genealogical Society Members
www.rootsweb.com/~ohgeauga/gcoancestors.htm
Isaac Morley Farm, Kirtland, Ohio
www.lds.org/placestovisit/location/0,10634,3985-1-1-1,00.html
John Johnson Inn Resource Center, Kirtland, Ohio
www.lds.org/placestovisit/location/0,10634,3987-1-1-1,00.html
John Whitmer Historical Association
www.jwha.info
Kirtland, Ohio: All About Kirtland
www.kirtlandohio.com/city/ABOUT-HIST.htm
Kirtland, Ohio, City Page
www.usacitiesonline.com/ohcountykirtland.htm#history
Kirtland (Ohio) Government
www.kirtlandohio.com/city/Gov.htm
Kirtland, Ohio, Sites
www.kirtlandtemple.org/sites.htm
Kirtland, Ohio—Temple Cemetery
www.rootsweb.com/~ohlake/cemetery/temple.html
Kirtland: Places of Worship
www.kirtlandohio.com/city/Worship.htm
Kirtland Public Library
www.kirtland.lib.oh.us
Kirtland Temple Historic Center (Community of Christ)
www.kirtlandtemple.org
Kirtland Temple—Interactive CD-ROM
www.historickirtland.com
Kirtland Temple Photograph
http://scriptures.lds.org/chphotos/9
Kirtland Temple Resources
www.historickirtland.com/resources.php
Kirtland Township Cemeteries (Lake County Genealogical Society)
www.rootsweb.com/~ohlcgs/webkirtlandintro.html
Lake County, Ohio
www.lakecountyohio.org
Lake County, Ohio, 1820 Census (Enumeration of Townships in Geauga and Cuyahoga Counties that Became Lake County in 1840)
www.rootsweb.com/~ohlake/census/1820f.html
Lake County, Ohio, Biographies
www.rootsweb.com/~ohlake/bios/index.html
Lake County, Ohio, County Information
http://homepages.rootsweb.com/~maggieoh/mlake.html
Lake County, Ohio, Enumerations of Youth, 1838–44
www.rootsweb.com/~ohlake/census/youth/index.html
Lake County, Ohio, Genealogical Society
www.rootsweb.com/~ohlcgs
Lake County, Ohio, Genealogical Society Gravestones
www.rootsweb.com/~ohlcgs/alphaindex.html
Lake County, Ohio, Genealogical Society Projects
www.genhelp.org/article.php?sid=6l
www.rootsweb.com/~ohlcgs
Lake County, Ohio, Genealogy Links
www.genealogylinks.net/usa/ohio/lake.htm
Lake County, Ohio, Genealogy Queries
www.cousinconnect.eom/p/a/102056
Lake County, Ohio, General Health District—Genealogy www.lcghd.org/FormattedText.asp?IncludedPageID=4366
Lake County, Ohio, Historical and Genealogical Societies
www.rootsweb.com/~ohlake/societies
Lake County, Ohio, Historical Society
www.lakehistory.org
Lake County, Ohio, History
www.rootsweb.com/~ohlake/history
Lake County, Ohio—Index to Cemetery Inscriptions
www.rootsweb.com/~ohlcgs/alphaindex.html
Lake County, Ohio, Obituary Index
www.morleylibrary.org/comm.opac
Lake County, Ohio Queries
www.rootsweb.com/~ohlake/cchl/index.html
Lake County, Ohio, Tombstone Transcription Project
www.rootsweb.com/~cemetery/ohio/lake.htm
Lake County, Ohio (US Gen Web Project)
www.rootsweb.com/~ohlake
Lake County, Ohio, Visitors Bureau
www.lakevisit.com
Latter-day Saints and Kirtland, Ohio: Then and Now
www.lds.org/newsroom/extra/0,15505,3881-1---6-596,00.html
LDS GetAway.com—Kirtland
www.ldsgetaway.com
www.ldspro.com/ldsgetaway/dest.asp?dest=Kirtland
LDS Historic Sites
www.lds.org/placestovisit
LDS Member Name Index, 1830–1845. Online: www.ancestry.com/search/rectype/inddbs/4165.htm
Life in the Stones: Gravestones of Geauga County, 1800–1825 http://dave.burrell.net//life.html
Media Tour Historic Kirtland, Ohio
www.lds.org/newsroom/showrelease/0,15503,4085-1-16658,00.html
Morley Library, Painesville Ohio
www.morleylibrary.org
Morley Library (Painesville, Ohio), Obituary Index
www.morleylibrary.org/comm.opac
Morley Library, Painesville, Ohio, Genealogy Page
www.morleylibrary.org/genealogy.htm
Mormon Historic Sites Foundation
www.mormonhistoricsitesfoundation.org
Mormon History Association
www.mhahome.org
Mormon Pioneer Overland Travel, 1847–1868
www.lds.org/churchhistory/library/pioneercompanysearch
Newel K. and Elizabeth Ann Whitney Home, Kirtland, Ohio www.lds.org/placestovisit/location/0,10634,3984-1-1-1,00.html
Newel K. Whitney Store, Kirtland, Ohio
www.lds.org/placestovisit/location/0,10634,1835-1-1-1,00.html
Newel K. Whitney Store Photograph
http://scriptures.lds.org/chphotos/7
North Kirtland "Temple" Cemetery, Kirtland, Ohio
www.mcquivey.org/cemeteries/cemeteries/oh_temple.html
Ohio Cemetery Records
www.idreamof.com/cemetery/oh/counties_a-l.html
Ohio Family History Centers
www.genhomepage.com/FHC/Ohio.html
Ohio Historical Society, Ohio Death Certificate Index, 1913–1937
www.ohiohistory.org/dindex
Ohio Past and Present Locations (Cemeteries, Churches, etc.)
www.geocities.com/ohioplaces/index.html
Ohio Public Library Information Network—Lake County www.oplin.lib.oh.us/index.cfm?ID=3–3053–3054–3091
Partridge, Dennis N. Archives, Libraries & Societies: The Lake County, Ohio Genealogical Society
www.genhelp.org/article.php?sid=61
Pioneer Women of the Western Reserve—Geauga County
www.rootsweb.com/~ohgeauga/ pioneer.htm
Readings in Early Mormon History: Painesville Telegraph www.lavazone2.com/dbroadhu/OH/painetel.htm
saintswithouthalos.com (Mormon History Since 1830)
www.saintswithouthalos.com
South Kirtland (Ohio) Cemetery
www.rootsweb.com/~ohlcgs/kirtland/southkirtland.html
Temple Cemetery, Kirtland, Ohio
www.rootsweb.com/~ohlake/cemetery/temple.html
USGenWeb (see localities where Mormons settled in Ohio, etc.)
www.usgenweb.org
Welcome to Kirtland, Ohio
www.drelocation.com/ohio/lakeco/kirtland.htm